Why persons of African heritage should register for the Census 2010
We must therefore participate in the forthcoming US Census exercise as one unit and one community. There is no need for the usual pretenses of some of us who pretend to be British, French, or Black Chinese. Continental Africans, African Americans, and all peoples of African descent are perceived the same way, whether and even if, they are President Obama, or Professor Louis Gates or Tiger Woods of the multiple racial background ambivalence or notoriety.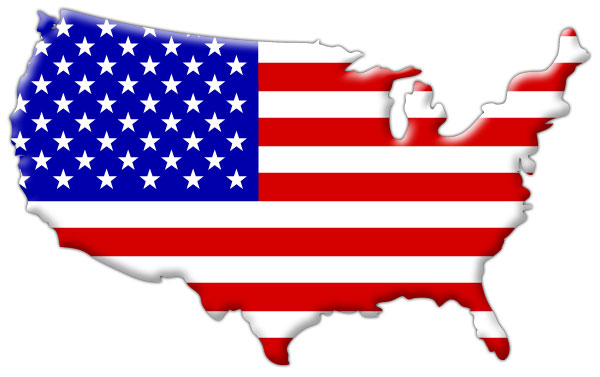 Why persons of African heritage should register for the Census 2010
By Paul I. Adujie in New York
Special to USAfrica The Newspaper, Houston and USAfricaonline.com
There is strength in numbers. So goes an age old adage. That adage seems to be a perfect   imperative for continental Africans and all peoples of African descent who need to be counted in the US Census of 2010, and even beyond.
Recently, I was in the city of Harlem, the hometown of all of New York City, and the premier cultural nerve center or capital city for African Americans and continental Africans, and all of Diaspora Africans in the United States. I attended an all-day event planned by the United States Census Board. The event was held at the City University of New York (CUNY) Campus and it was coordinated by some continental Africans' social cultural and religious groups led by Ben Afrifa
The US Census Board was represented by a panel which comprised several persons, and the officials made presentations and thereafter invited questions during an extensive questions and answers session.
The purpose of their presentation was to emphasize the crucially important nature of US Census exercises which are conducted once every ten years. The preceding census was conducted in the year 2000, hence there is a US Census exercise scheduled for March 2010.The next exercise will be in the year 2020 as stipulated in the U.S constitution.
It is important to say that some African American leaders including The Reverend Jesse Jackson, The Reverend Al Sharpton and others have in the past few days joined the public enlightenment campaigns to ensure complete and accurate count of black peoples during the Census.
It is apparent that previous US Census exercises have seen rampant incidents of continental Africans and peoples of African descent being under counted and under represented in the total US population.
The implication of being undercounted and under represented is very consequential. In the United States and most parts of the world, knowing the true census figure allows for policy formulations and implementations. It facilitates political districting and redistricting for electoral and electioneering purposes. Knowing the census figures and the components parts thereof, also allows for the accurate or at least, the near accurate allocation of resources. Demography remains a key component part of public policy tools and machineries of government system, and more particularly so, in the American representative democracy.
Knowing the total population of Americans in each state helps in the allocations of public infrastructure, housing, senior citizens centers, social amenities, healthcare, childcare, social services, job training and projects in a representative democracy. The creation of Schools and their funding, the establishment of hospitals and government support for them, the allocation of trains, buses and other public transportation systems  and sundry matters of daily community living  are directly affected by population of people and other organs of societies  through the determination of the population of various communities. Our communities should no longer be hardest to count or undercounted. Accurate census figure or demography assists local state and federal authorities in decision making.
The United States government attaches a value of $400 billion dollars in federal dollars and political representation for the benefit of all residents of the United States and this can be lost or diminished through apathy, undercounting and ignorance.
We are here, and since we are already here, we should participate in the census and be counted. Our clout and cohesiveness, political and economic will derive from knowing accurately what our exact numbers really are.
In my view, it is almost irrelevant whether some of us arrived these shores of North America by force or otherwise, haven survived the horrors and brutalities of slavery, or through fairly recent political asylum statuses or merely as refugees or as seekers of greener pasture.
Make no mistakes, the American legal and political structures regard all of us as Blacks, irrespective of our manners of arrival here. Therefore, it would be a great disservice to ourselves and our children should we decide to remain uncounted or under-represented in this political and socio-economic makings of this great nation.
We must therefore participate in the forthcoming US Census exercise as one unit and one community. There is no need for the usual pretenses of some of us who pretend to be British, French, or Black Chinese.
The truth is, in America, the law has established a very singular categorization for all of us and it is Blacks. Like it or dislike it. Besides, we should endeavor to always think the big picture, which is, the fact that our history, our present and future are irreversibly and inextricably linked forever, and we might just as well  do everything possible to enhance, exemplify and advance our economic and political powers, and harness and harvest them for our collective benefits.
There seem to be some immigrants who would rather prefer to be counted as Ghanaians, Haitians, Jamaicans or Bahian of Brazil or Black Cuban or Black Honduran or Nigerian, South African or Black British or Black French Girl and the list is endless. But my advice is that we unite and work with what there is. It is what it is- Blacks!
The reality of our situation is that we are all Blacks or Africans. We should cease being too fancy or engaging in self-denials. We should stop being clever by half. We should stop being afflicted with the Tiger Woods complex and complicated definition of who we really truly are.
American laws, American social structures, and the realities of practical everyday life define all of us as one, regardless of some strenuous albeit, unimportant objections for a more nuanced definition of our origins.
An American Comedian, Chris Rock, I think it was or David Chappelle, who once joked, presciently, that an American police officer accosting a Black motorist on any American highway, if motivated by racism, such police officer would not care at all, the nationality or racial variation-combination of the person who is driving-while-Black. And the guy or lady, who is overwhelmed because of a black person's presence in his business premises, say, in a store, and if motivated by racism  only sees a Black does not care about your profession or income level and or sense of decency, you are seen just as Black, such is the irrationality of racism.
Continental Africans, African Americans, and all peoples of African descent are perceived the same way, whether and even if, they are President Obama, or Professor Louis Gates or Tiger Woods of the multiple racial background ambivalence or notoriety.
As a practical matter, the current US Census forms  only provide an all- embracing, all -encapsulating category or definition for continental Africans, African Americans, and peoples of African descent from everywhere worldwide. Period. We should make this singular definition work for us all, and it is almost irrelevant whether the definition was originally intended as an evil spite or disregards for us.We do know that there is strength in the large number which will come about if we follow the current configuration of the current US Census Forms. The current US Census Forms only allow or permit our categorization by skin color, and we should check it, it is the appellation or description which we all already know, it is, BLACK.
As we participate in the 2010 US Census, we should check the column which is designated for our race by the US Government. As an additional measure for those so inclined, there is a blank column or portion of the US Census Form where a participant could handwrite specific or particular nationality after checking Black in the requisite column. You could then handwrite Kenyan or Trinidadian.
The US Census officials also informed us at the gathering that depending on the strength of our demand  (strength in numbers again), it  could in 2020 and subsequent census exercises amend and fine tune the forms  to accommodate certain or peculiar categories and that the US Census Bureau has  actually made such adjustments in the past except that the number of demands have to justify the expense and more importantly such demands have to be made well in time and well in advance of a census season which as we all know, occurs once every ten years. The important thing is for all of us to participate and be actively engaged in the economic, political, social, and cultural activities of our new places of residence.
I strongly hold the expansive view that we are one and indivisible part of collective past and future. And as such, continental Africans, African Americans, and all peoples of African descent should always join hands in soulful embrace for our economic, political and social cultural betterments. We are not peculiarly unique or distinctly different from each other. We have a common origin. We share a common checkered history, and we should be united in creating a wonderfully great future for all of us together as one. The forthcoming US Census exercise should be seen by all of us from this and not a divisive perspective.
In the end and at the end of the 2010 US Census exercise, it may turn out that we are actually 60 million instead of the current undercount which hovers at 40 million within the US total population of over 300 million people.
There are genuine reasons for disenchantments by continental Africans, African Americans and all other peoples of African descent in America. This disenchantments or apathy with the American legal and political system is historical and understandable. It is the case, it has been the case that all through the checkered history of our peoples in these parts of the world, our votes and our numbers and our labors have been denied, undervalued, and demeaned or disregarded. It therefore takes little convincing for so many in our peoples to become apathetic, disenchanted and disengaged from activities such as the census exercise.
It is public knowledge that among and within the Black community in the United States these days, there is also a sizeable population of immigrants. Some are continental Africans, others are mostly from the Caribbean nations or West Indies, and yet, other peoples of African descent from Europe and other continents. A subset of immigrants who are persons of African descent in America has additional hurdles and burdens of concern regarding regularizations of immigration status. But one step at a time.
New immigrants, it must be understood, are primarily focused on and concerned with matters solely related to the issues of their daily survival in the new country. These are the rather mundane issues of food and shelter and the barest minimum of daily human existence. And new immigrants are, as well, understandably in trepidations of any act on their parts which could or might expose their imperfect immigration statuses.
Therefore, it is surely understandable  that a new immigrant, and in particular, a new immigrant with average education level may be unaware that the US Census by law and as a practical matter  does not share information with the US Immigration Department, Homeland Security/ICE or any other law enforcement agencies. The US Census's primary obligation is to determine how many persons are in the United States at a given census season and this is regardless of the citizenship and or, imperfect immigration statuses of  the persons in the United States. And as such, they are counted by the enumerators of the US Census Board. Only in very few cities in America, such as New York City, where mayors, have through  immigrant friendly executive orders, enjoined city agencies and departments to refrain from exposing immigrants' immigration statuses to federal authorities, whose duty it is to enforce immigration.
We, among other things, suggested to the officials to nudge and encourage relevant US agencies, such as the Department of Justice and the Attorney General Eric Holder, and the Department of Homeland Security and Secretary Janet Napolitano (the former governor of the state of Arizona) Federal Bureau of Investigations (FBI) and Immigration and Customs Enforcements (ICE) to make conspicuous and even ostentatious announcements to the effect  of making it abundantly clearly  and publicly  that enumerators, US Census managers and anyone connected with the US Census exercise is prohibited and forbidden  from disclosing   any confidential information  including  an immigrant's irregular immigration status to anyone just the same way  medical conditions are considered a matter of absolute privacy except and unless necessary for the protection and preservation of the life of the individual concerned.
Just like a patient's Bill of Rights ensures, among other things, confidential medical information remains as such, confidential. And the US Census officials assured us that they would pass our suggestions along. They repeatedly assured us that immigrants should voluntarily participate in the forthcoming US Census exercise without fear of repercussion or hassles over any immigration statuses.
And that as a matter of fact, some census employees are immigrants themselves. They speak various African and Diaspora Languages spoken by peoples of African descent. There just is no excuse to be left out. The US Census 2010 motivational phase begins March 19, 2009 through April 19, 2010. Then the non-response or follow-up operations are from April through July 2009. US Census Day is April 1, 2010.
Tell your family, your friends, your colleagues, and your fellows at your place of worship, and at the barber shop, grocery and other corner stores that a complete and accurate count is in our own hands. If you miss out we all miss out and might not get the community benefits that we stand to get should our total population be known.
Following May 30 successes, will Biafra agitators compel restructuring Nigeria? By Olu Ojewale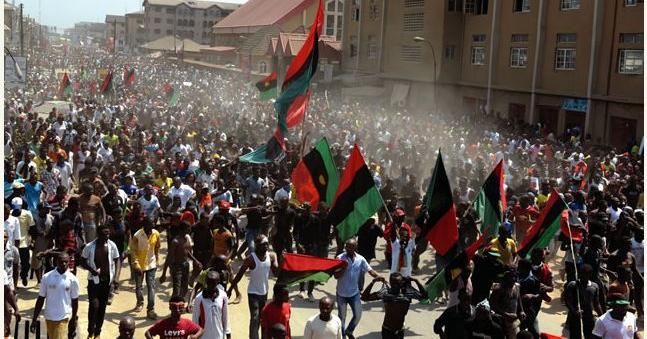 By Olu Ojewale
Special to USAfricaonline.com  • @USAfricaLIVE
[quote font="georgia" bgcolor="#eded9c"]
IT was a day that would be remembered for a long time to come. On Tuesday, May 30, the Ndigbo from different walks of life chose to commemorate the day the agitation for a Biafran state was declared 50 years by the late Chukwuemeka Odumegwu-Ojukwu, a soldier, politician and statesman.
As it happened, Odumegwu-Ojukwu and fellow agitators after fighting in a civil war that lasted for about 31 months, eventually decided to keep Nigeria as one. Although Ojukwu and probably majority of those who shared his Biafran dreams have all passed away, the younger generation of agitators appear unwilling to let them die.
Hence, all the pressure groups that have been formed over the years came together to declare that all the South East indigenes should participate in the stay home protest to commemorate the day. The protest turned out to be a resounding success as many as 75 countries all over the world participated in the protest. It is now common knowledge that activities, business, social and all others were paralysed in the whole of South East that day. Mercifully, there were no reports of bad incidents throughout the period the protest lasted.
[/quote]
That notwithstanding, the message to the federal government, albeit the political class, was unambiguous: Nigeria needs to change it attitudes to the Igbo nation or give it a country of its own. But it appears that the Ndigbo would need more than such agitation to change the current configuration of the country to suit every segment of the country.
In the past 50 years there appears to be an unending agitation for the realisation of Biafra dream as envisioned by Odumegwu-Ojukwu when he led the region in a civil war in which more than three million people were killed. Since then, the same old issue of marginalisation of the Ndigbo has almost been turned into a sing-song, no matter which government was or in power.
Articulating those issues recently, many Igbo extractions said when the civil war ended in 1970, the then military government had declared a no-victor-no-vanquish situation but the reality on ground have always showed the opposite
as Ndigbo were regarded as a conquered people.
Not only that, the apostles of Biafra State have also said that the Ndigbo have been marginalised in all aspects of the Nigerian polity including the economy and politics. They have similarly pointed that despite the pogrom that they suffered, the promise of the Gowon government of reconciliation, rehabilitation and reconstruction were never applied to the people of the South East. Besides, instead of the federal government to harness the industry of the Ndigbo people they are being treated like second class citizens in a country where they should have equal rights.
That, perhaps, gave Uchenna Madu, leader of the Movement for the Actualisation of the Sovereign State of Biafra, MASSOB, to say that: "the existence and sojourn of the people of Biafra can be likened to the affirmation of Jesus Christ himself when he compared the Hebrew children to the salt of the earth noting that the earth, would be worthless without its salt.
"Just as the children of light is the salt of the earth, so are the Igbos the salt of Nigeria. Political scene without the Igbo, Nigeria will lose its taste and Nigeria will be no more. In all ramifications, men of goodwill and uprightness know that this assertion is true."
Madu said trouble appeared to have started for the Ndigbo as far back as before and after the war. He said: "This attempt at establishing an independent state of Biafra was dependent upon the premeditated genocidal pogrom against the Igbo and other people of eastern region of Nigeria then outside of their homeland. This choreographed genocide was followed by the coup of July 29, 1966, during which Nigerian troops of Northern origin systematically killed many southern officers and men, of whom at least three quarters were easterners.
"It is apt to say that the involvement of military officers of Northern extraction in these massacres effectively destroyed the Nigerian army as an effective agent of Nigerian unity.
"The subsequent massacre of citizens of the Eastern region in the north, starting again in September 1966 and the mass migration back to the east that ensued widened the rupture in national unity. It was at this point that issues such as problems of refugees, economic support of displaced persons and intensified fears of citizens of the Eastern region for their personal safety combined to escalate the tension between the Eastern region and central government.
"Nobody could have blamed Ojukwu for declaring Biafra, which was brutally resisted by the Nigerian state but today the situation has not changed. What Ndigbo suffer today seems to be more. Harsh economic policies aimed at reducing the capacity of the Igbo."
Madu argued that the policies of marginalisation were efficiently and effectively carried out throughout the military era which dominated Nigerian politics at the time from 1970 to 1999. "Interestingly, the current democratic dispensation has also coincided with the emergence of a post-war Igbo generation who do not accept the obvious marginalisation of the Igbos in Nigeria. The manifestation of this resentment is seen in the number of Biafran groups and movements that have emerged to demand for the re-establishment of an independent Biafran state as a panacea to the alienation of the Igbos in the Nigerian polity," MASSOB boss said.
According to him, the new Igbo nationalism is anchored on a shared vision that the Ndigbo are better off as an independent state than being an integral part of the Nigeria state.
He vowed: "We the people of Biafra will never relent in promoting, projecting and upholding all the legacies of General Chukwuemeka Odumegwu Ojukwu, the supreme leader and Commander of Biafra Nation."
Supporting the separatist idea, Elliot Ugochukwu-Uko, the founder of Igbo Youth Movement, IYM, said that there was not much for him to say because of the grim situation in the country, especially among the youths. He said: "You need no other barometer to  feel the pulse of the people judging from their feelings of despair. The youths are so despondent that they are now asking to be allowed to opt out of the country. I do not need to say anything further.
"We are a country and but not a nation. As we celebrate the 50th anniversary of the declaration of Biafra, we remember the time we were invaded; we remember the killing of over three million Igbo and we also remember how we managed to survive. We are asking for self- determination
Kanu
Similarly, Chilos Godsent, president of the Igbo National Council, INC, said in an interview that the economic policies of Nigeria had made things for the Igbo difficult. Godsent expressed the fear the Igbo would continue to find it difficult until the Nigerian  state is liberalised to accommodate every ethnic nationalities in the country. He said he was convinced that the marginalisation of the Igbo people was deliberate.
The INC president said: "I can tell you authoritatively that those issues before and after the Nigeria/Biafra civil war have not been addressed. The issue of lopsidedness of political structure of the Nigerian state is still there. The deliberate marginalisation of the Igbo, the conspiracy of the Arewa and Oduduwa bloc against the Igbo nation is still very strong. Let me tell you that these issues led to the fear of uncertainty and made the Igbo feel so unwanted in the Nigeria federation.
"That was what started self determination, which they eventually called the Biafra Republic. The struggle is ongoing but what we are concerned about is the tactical approach and the existing frame work on the modus operandi of all the organisations that are struggling for the sovereign state of Biafra."
That notwithstanding, Nnamdi Kanu, leader of the Indigenous People of Biafra, IPOB, was pleased with the success of the sit-at-home protest, saying the realisation of a Biafra republic was near.
Speaking through Emma Powerful, the IPOB'S media and publicity secretary, Kanu said he was encouraged by the outing, vowing that he would stop at nothing in ensuring that the people of the area were liberated from the stranglehold of their oppressors.
He used the medium to thank "friends of Biafra and lovers of freedom all over the world for their tenacious efforts that made our Heroes Day Sit-At-Home Order a resounding success."
The IPOB leader said the fact that people obeyed the order to sit at home "is confirmation that IPOB which I lead has the mandate of all Biafrans to spearhead the ongoing Biafra restoration effort."
He added: "With near total compliance with this sit-at-home order I issued when I was still in Kuje Prison Abuja, it has proven to me beyond every conceivable doubt that Biafra restoration is a priority to all and sundry and I promise never to let Biafra down even upon the pain of death because you never let me down.
"We must join hands together, with all genuine and sincere individuals and groups, to restore Biafra with truth and honesty."
However, rather than join hands with the IPOB leader, the South East Peoples Assembly, SEPA, has asked the federal high court, Abuja, to revoke the bail granted Kanu.
The IPOB in collaboration with other groups, on Tuesday, May 30, organised a successful sit-at-home in South East, an action SEPA regarded as a breach of the bail conditions granted Kanu.
Indeed, the IPOB leader has been facing trial for treason and terrorism, being a major sponsor for the secession of South East from Nigeria on the platform of his group.
He was arrested on October 15, 2015, in Lagos, and eventually granted bail in May this year on health grounds with some conditions.
Justice Binta Nyako said that she was convinced that Kanu was ill and needed more medical attention than the Nigerian Prisons was giving him and therefore, granted him bail on conditions that he must not hold any rally, grant any interview or be in a crowd of more than 10 people.
Nyako gave other bail conditions to include three sureties in the sum of N100 million each and ordered that Kanu to deposit both his Nigerian and British passports with the court and that a report on the progress of his health must be made available to her on a monthly basis.
She adjourned the matter till July 11 and 12, for definite commencement of trial.
However, based on the sit-at-home order, the SEPA has accused Kanu of infringing on the bail conditions.
In a letter to Justice Ibrahim Auta, the chief judge of the high court, Chukwuemeka Okorie, president of the SEPA, asked the court, as a matter of urgency, to revoke Kanu's bail.
He said that Kanu had continued to conduct himself in a manner that was totally at variance with terms and conditions of his bail.
He listed the infractions to include holding rallies, grant of interviews or be in a crowd of more than 10 people.
"Obviously, the recklessness with which he made media statements and even organised the 'Sit at Home and Stay Indoor' protest to mark the so called Biafra heroes day on Tuesday, 30th May, 2017, is a threat to the unity, security and peace of Nigeria as a sovereign nation.
"We have no iota of doubt that he is trying to push our dear country Nigeria into an unnecessary precarious situation for his personal agenda and those of his paymasters.
"Sir, our decision to write this demand letter to your good office at this time is to forestall another civil unrest in Nigeria, particularly around the Igbo speaking region.
"As you well know, the struggle by Kanu to be relevant under the guise of actualisation of Biafra does not enjoy the support of right thinking Igbo people both at home and in diaspora.
"That he suddenly addresses himself as the Supreme Leader of Biafra points to how arrogant and disrespectful he is to legitimately constituted authority in the Federal Republic of Nigeria.
"The pertinent question on our minds as stakeholders is: Has Kanu been consistent in providing the court with reports on the progress of his health and treatment on a monthly basis since he was granted bail?
"We fear that if Kanu is not tamed by Your Lordship as a matter of urgency, the IPOB may create a situation where it becomes difficult if not impossible for genuine development to take place in the South East under the administration of President Muhammadu Buhari.
"History has taught us that the Civil War of 1967-1970 started gradually and later turned out to be something that caused our people unimaginable losses.
"We cannot afford to fold our arms this time and allow a stooge imported from the United Kingdom by stark enemies of Nigeria to maintain a state of belligerence against the nation and keep the name of Igbo people in the news for the wrong reasons."
In any case, the SERAP's opposition has, no doubt, shown that not everyone is in support of the separatist movement of Kanu and his co-travellers.
Monday Ubani, a human rights lawyer and second national vice president of the Nigerian Bar Association, similarly disagreed with the agitation for Biafran state. Rather, he said that the Igbo cause could be better realised within the context of one Nigeria instead of plunging the whole South East into another avoidable crisis.
He admitted that there had been elements of marginalisation against the Ndigbo in the structure of Nigeria, but it was now left for the Ndigbo to build confidence with other ethnic groups in order to get whatever they want.
Ubani said: "If you say you want Biafra, in asking for Biafra what are the plans in place. Have you consulted your political office holders who are holding offices everywhere? Who is going to be the President and then where is the capital to be located? I don't have any problem with Biafra but I want to see what the plans are. Let's agree before you pull out."
He also said Biafra would be difficult to actualise by being hostile and rebellious to other ethnic groups in the country. According to him, the last Biafran war was a waste of lives and opportunities. "I will not at this level of my education now support the Igbo man to go to that level again, war, because I have kids. I will rather like us to get a larger chunk of our right in a more legitimate way in this country God has blessed.
"If you say Igbo should return home because of war, where are the industries to work. Please you don't sit down and create problems for others and generations yet unborn because you are frustrated. I will advise if we love our land let's begin to carry our investment home and attract foreign investors," he said.
Besides, he said that Odumegwu-Ojukwu who started Biafra, before his death said that Biafra was now a thing of the heart. Hence, Ubani said that if Ndigbo want to achieve Biafra "all of us must sit down and work out the modalities of a Biafra state."
For Nnia Nwodo, president general of the Ohanaeze Ndigbo, the marginalisation of the South East by successive administrations necessitated agitation by the youths for a sovereign state of Biafra. At the forum of leaders of the South-South and South-East geo-political zones earlier in May, Nwodo noted that he aspired for a country where every part would be fully involved and the future generation would have a better country than the current generation.
"Our children are agitating. Our children do not want to be part of this country anymore because they feel that we are second-class citizens and because they feel that their parents are incapable of standing out for them.
"They want the Republic of Biafra because most of them feel they are discriminated against and are not equal with others," he said. He, however, argued that the country would be better as one, as the impact of war on any country could never be over-emphasised.
"We think that in the African continent, our size is our asset. We have built a brotherhood over the years since 1960 and we cannot break. Consequently, we have to put our heads together and find a better federal structure, a constitutional structure, which gives every part of this country satisfaction. In weeks and few months to come, the socio-cultural organisations will come together to seek an end to this impending catastrophe," Nwodo said.
On his part, former President Olusegun Obasanjo said engaging in dialogue with those agitating for an independent state of Biafra would be a sure way to resolving the issue.
At the Biafra conference in Abuja, on Thursday, May 25, the former president said Nigerians must treat the country with care. He recalled what happened during the Biafran war and why such should be avoided.
"I have maintained that the young officers who struck in 1966 were naive but there were some element of nationalism in some of them. Be that as it may, it set us back. The language used in the war did not help matters, the people on the Biafra side called us vandals and we called them rebels…
"We thought we would end the war in three months, but it took us 30 months, and the federal side nearly lost it. Civil war is more difficult than fighting in a foreign land because we are fighting to unite… Some of the people agitating for Biafra today were not even born then. They don't know what it entails," he said.
"But I think, we should even appeal to those saying they want to go, we should not tell them to go. We should make them understand that there is enough cake to share. We should massage Nigeria just like in a love relationship."
Similarly, Balarabe Musa, a veteran politician and a former of Kaduna State, in a newspaper interview, agreed that the Ndigbo have not had their fair share in the scheme of things in Nigeria since the time of the civil war. Musa, however, disagreed that majority of the Igbo are in support of Biafra.
He said: "Sincerely speaking, the South-East has not had a fair-share since the civil war. Their marginalisation is quite obvious. But if the policy of reconstruction, reintegration and reconciliation of General (Yakubu) Gowon and the late General (Murtala Mohammed) Murtala's administrations had continued, the agitation by the few Igbo for Biafra state would have been a thing of the past. It is the marginalisation that is making a small section of the Igbo to agitate for Biafra.
"If the reconstruction and reconciliation had been sustained, there wouldn't have been any need for Biafra because the number of those Igbo asking for Biafra is not more than 10 percent. The majority of the Igbo crave for a better Nigeria particularly because of their experience and they are prepared to fight for the unity of Nigeria. Majority of Igbo leaders have said in clear terms that they want a better Nigeria where they can expand because they are enterprising in nature.
"As you are aware, people who are enterprising would prefer a big community as against a small one. Some of them desire a better Nigeria because they don't want the previous experience of war to repeat itself. But the agitation for Biafra is a ticking time-bomb just as the level of poverty in Nigeria.
"Like I said earlier, the system of development in Nigeria tends to divide the people. There were times in history when the Igbo were targeted and isolated because they were enterprising and because of the system that operates in Nigeria. And probably the system could marginalise everybody until there is a brutal revolution."
Perhaps, fearing the untold damages that may result from another civil war in Nigeria, the only popular agitation in the country today is restructuring, which appears to be unpopular among some Northerners. But that has not diminished the debate for the need to restructure Nigeria to speed up its development.
Lending a voice to the argument, Olusegun Adeniyi in his newspaper column of May 25, said: "All said, as we reflect on 50 years after the declaration of Biafra and what might have been, I agree with the proponents of restructuring that there are sufficient grounds to question some of the assumptions on which the unity of Nigeria is predicated, especially in the light of our serial failings. But to beat war drums at the least provocation or to continue to marginalise (in critical appointments and projects) a significant section of our country are signposts that we have not come to terms with our past and that we have not learnt enough lessons from that tragic episode in our history to say NEVER AGAIN!"
Indeed, that was the view of the late Odumegwu-Ojukwu, who declared Eastern Nigeria a sovereign state on May 30, 1967, known as Biafra, when he gave his candid opinion on the same agitation in a video that had gone viral on social media.
He said in the video: "I led the first one and I can say I led 'proudly' the first one  I don't think a second one is necessary. We should have learnt from the first one, otherwise, they would all have been in vain."
But whether the agitators for a Biafran state are going to heed to the advice is another matter. That notwithstanding, the fear of Biafra state, may after all be the necessary harbinger to reconfigure the country and give everyone a sense of belonging.