American citizens, others charged with aiding Al-Qaeda-linked Somali group
Some of those charged are believed to be in Somalia fighting for the Shebab, which has claimed responsibility for deadly attacks in Uganda last month.
Holder said four separate indictments unsealed in various locations charge the 14 "with terrorism violations for providing money, personnel, and services" to the group.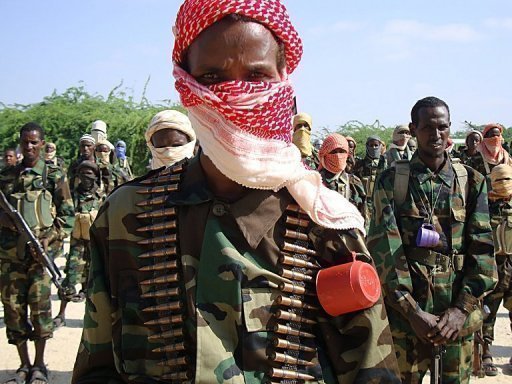 14, including U.S citizens, charged with aiding Al-Qaeda-linked Somali group
By Rob Lever (AFP). WASHINGTON DC: Fourteen people, including a number of US citizens, were indicted on charges of aiding the Shebab, a Somali-based Islamist group linked to Al-Qaeda, US Attorney General Eric Holder announced Thursday.
Some of those charged are believed to be in Somalia fighting for the Shebab, which has claimed responsibility for deadly attacks in Uganda last month.
Holder said four separate indictments unsealed in various locations charge the 14 "with terrorism violations for providing money, personnel, and services" to the group.
The indictments "shed further light on a deadly pipeline that has routed funding and fighters" to the Shebab, Holder said.
Two of those charged were arrested earlier in the day in Minnesota, officials said, including one man and one woman accused of raising money for the Shebab on the pretense of collecting funds "for the poor and needy."
Several of those named in the new indictments had been previously charged by US authorities, and several are believed to be overseas, likely in Somalia where they may be fighting for the Islamist group.
Holder said the latest charges were part of a broader investigation that had charged a total of 19 people, of whom nine had been arrested in the United States or abroad.
"Ten of the charged defendants are not in custody and are believed to be overseas," he said.
One indictment unsealed Thursday in Minnesota charges 10 men, including at least three US citizens, with terrorism offenses for leaving the United States to join the Shebab as foreign fighters, he added. Seven of these had been previously charged by either indictment or criminal complaint.
Also in Minnesota, FBI agents arrested Amina Farah Ali, 33, and Hawo Mohamed Hassan, 63, both naturalized US citizens from Somalia. The woman and man are charged with conspiracy to provide material support to the Shebab.
In two separate cases, two US citizens were charged in separate cases with providing material support to the Shebab. Both are believed to be in Somalia.
The Shebab, an Islamist extremist group that controls most of central and western Somalia, claimed responsibility for the attacks in Uganda's capital on July 11 that killed 76 people gathered to watch the World Cup final.
Earlier media reports said 14 Americans had been arrested in the probe.
Holder said the Justice Department would continue to pursue cases of so-called homegrown terrorism involving Americans joining foreign extremist groups.
"As demonstrated by the charges unsealed today, we are seeing an increasing number of individuals — including US citizens — who have become captivated by extremist ideology and have taken steps to carry out terrorist objectives, either at home or abroad," he said.
"It's a disturbing trend that we have been intensely investigating in recent years and will continue to investigate and root out. But we must also work to prevent this type of radicalization from ever taking hold."
In Alabama, prosecutors unsealed a September 2009 superseding indictment against Omar Hammami, 26, a US citizen accused of providing material support to the Shebab. He is believed to be in Somalia.
In California, officials today unsealed an October 2009 indictment against Jehad Serwan Mostafa, 28, a US citizen also believed to be in Somalia, on similar charges.
In Minnesota, 10 others were named in indictments in addition to the two arrested Thursday. They include three US citizens and four legal US residents, all of whom are believed to be overseas.
Among those named are US citizens Abdikadir Ali Abdi, 19, Abdisalan Hussein Ali, 21, and Cabdulaahi Ahmed Faarax, 33; Farah Mohamed Beledi, 26, and Abdiweli Yassin Isse, 26. They are charged with conspiring to kill, maim and injure persons abroad and other charges.
Five others who had been previously charged by indictment, on related charges, are Ahmed Ali Omar, 27; Khalid Mohamud Abshir, 27; Zakaria Maruf, 31; Mohamed Abdullahi Hassan, 22; and Mustafa Ali Salat, 20.
The announcement came a day after a US man was arrested hours before he was scheduled to travel to Somalia to fight with the Shebab.
Shaker Masri, 26, was charged with attempting to provide material support to two US-designated terror organizations, Al-Qaeda and the Shebab.
USAfrica: Buhari's uninspiring administration, long medical leave and politics of 2019. By Chidi Amuta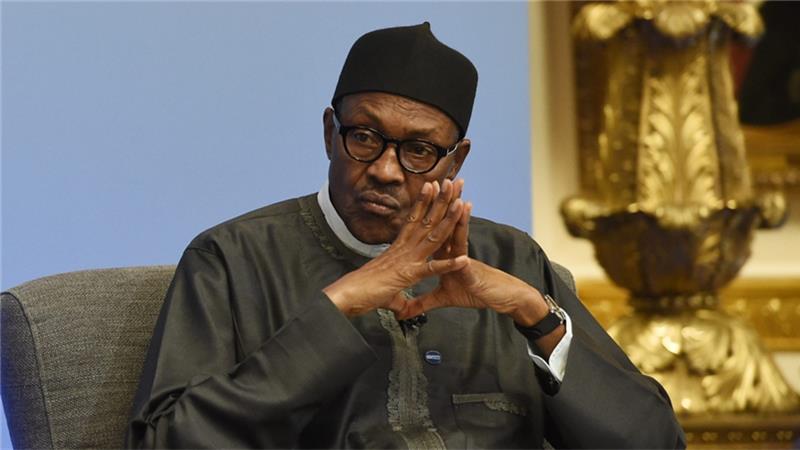 Special to USAfrica [Houston] and USAfricaonline.com @USAfricaLIVE
We must quickly draw the line. Between a groundswell of sincere well wishes for a president on medical leave and exporting our penchant for silly opportunistic sycophancy to London, there is a wide margin. We need to carefully mind the gap before it deepens into a dangerous political gorge.
Empathy for the ailing president is normal and appropriate. Our common humanity and basic patriotism demand no less. Variously, our citizens have prayed, fasted, commiserated and even marched in procession in sympathy with Mr. Buhari in his present indisposition. In spite of the extreme hardship and multiple privations of the times, a painful calm now defines the current mood of the nation in deference to the absent president. The angry have swallowed their bile while the hungry have further edited meal plans. The tenuous hope endures among many that the man who promised us so much would soon return to deliver some happiness.
Photo opportunities of the president receiving empathisers in London have largely reassured a cynical home audience. Visiting officialdom has reassured us, mostly with no credible medical evidence, that the president is 'hale and hearty'. What is yet to happen is for the man Nigerians elected to govern them to return and resume work. That is where we need him most since his motley visitors insist he is fit. Nigerians await the president's return to full active duty. That expectation is our entitlement because Mr. Buhari's job description is clear and specific: president and commander in chief of the Federal Republic of Nigeria.
While 'we the people' anxiously await the return of our president, a wild traveling circus of political and special interest sycophants is steadily building up in London. The Senate president and House speaker have led the train. That visit is perhaps understandable given the strategic place of the legislature in our order of precedence. Innocuous special interests (mostly businessmen) have also reportedly sneaked into London to 'greet' the president. Factions of the presumptive leadership of the ruling APC have been to London. A delegation of the Governor's Forum is reportedly underway. Many more are likely to follow in typical Nigerian fashion. Soon delegations of the Federal Executive Council, Service chiefs, permanent secretaries, governor's wives, market women, imams, bishops, herdsmen etc. cannot be too far off. Some may even travel with full complement of soothsayers, prophets, imams, colourful dance troupes and traditional drummers.
A motley circus of fawning Nigerians is converting Buhari's ill health into a traveling theatre with London as the stage. Public funds are being spent while major international airlines are smiling to the bank. The British audience must be somewhat bemused. But ordinary Nigerians are no doubt astonished at this festival of prodigality in a time of democratised hardship.
If the object of the president's medical vacation was for him to get some rest and obey his doctors, the purpose is dead because we are transferring the schedulers and protocol officers of Aso villa to London to manage this deluge of presidential well-wishers.
For those visitors who occupy important government posts, it is disguised vacation time with the usual racketeering in estacodes and allowances. Perhaps this is a dramatisation of the joblessness of these officials at a time when the Nigerian commonwealth is terminally stressed and requires even more committed work by key officials of state.
I am not sure Mr. Buhari intended this traveling circus to accompany him to his health vacation. The president is reputedly a shy, self-effacing, compulsively austere and private man. He must be thoroughly embarrassed by this endless stream of political well-wishers. I am sure he would have preferred to be left alone to rest, undergo his medical tests and telephone Acting President Yemi Osinbajo to check on the affairs of state until it is time to return home. But political dramatists seem to be overwhelming Buhari's more austere preferences.
We cannot totally blame the pro-Buhari touring band. The president is first and foremost a political persona. Wherever he goes, in health or infirmity, politics will follow him. Not surprisingly, most of the politicians jetting into London to wish him well know their art well. They visit the president in the day and retire to their hotels to hold innocuous nocturnal meetings to plot his 2019 succession. Politicians are dramatists of outcomes; they define their ends but act out their route.
However, embedded in this whole London drama are some of the contradictions of Mr. Buhari's endangered presidency. Here is a president that Nigerians expected to place a moratorium on officially sponsored medical treatments abroad but who prefers to jet out to check an ear infection. Here is a man that many expected would provide the best health facilities for most Nigerians in Nigeria but allows for huge budget provisions for the state house clinic that he hardly trusts to run routine tests on him.
Here is the one leader that many expected would actively discourage the kind of sycophancy that is driving these comic trains to London. Even now, many Nigerians still expect that Mr. Buhari ought to summon the moral courage to insist that those officials who wish him well should stay home and discharge their responsibilities with even greater commitment.
In fairness, the president has spared us the confusion that his absence would have caused. He quickly transmitted the relevant authority for an acting president to the National Assembly. By the letter and spirit of the constitution, my friend and brother, Yemi Osinbajo is doing what he has to do, holding the fort for his boss and ensuring that the machinery of state grinds on. But Buhari's communication machinery has failed a basic rule of public accountability. At his inauguration, the president declared that he belongs 'to all and to none'.
His health status is public business and belongs to 'all'. His vacation time and how he spends it is his private part and belongs to 'none' other than he. The task of walking that fine line is what seems to have overwhelmed his handlers. In these matters, there is no substitute to prompt, credible and sensible information. It is the absence of this rather than any appetite for mischief that has created room for wild rumours and 'fake news'. The best way to course correct is to press the restart button, not to fruitlessly hunt for imaginary regime foes.
Admittedly, the general aloofness of the president and his self-effacing nature has not made the burden of his communicators any easier either. A public communicator at the apex of the place of power, no matter how ingenious, cannot put a spin on what he does not know. I would not know how much Buhari's official communicators know about the situation of their boss. Mr. Buhari's personal style (or lack of it) has unfortunately established the unflattering identity for his presidency as one that thrives on protracted silences.
This has led many Nigerians to see the president as distant and even insensitive at the best of times. Yet he is tenacious about his concern for the common folk and presents as a combatant against elite privileges. But his policies have ended up migrating the highest number of Nigerians into abject poverty and spreading misery to the most unlikely segments. These are perhaps unintended interim dividends of an otherwise well-intentioned presidency. However for those who share the optimism that our present misery is part of the foundation for future prosperity, the gate of optimism remains open. The fact that the president's most spirited strivings and famed good intentions have so far rapidly pauperised and saddened most of the populace is enough to send even the healthiest of men to hospital.
At this point, the president needs to have a frank discussion with his London doctors. They need to agree on a workable schedule that enables him to return to work while pursuing whatever treatment options he needs. The mood of discomfort among the people could worsen if the president allows his prolonged absence to deepen the growing feeling that he is after all dispensable. While the supremacy of the constitution ordinarily makes every president dispensable, the unwritten law of political longevity compels every sensible incumbent to feign indispensability. And the risk for Buhari is even higher because the nation that elected him to improve things is in a sad state. Soon, people will begin to argue that there is no difference in their lot whether or not the president is in Abuja or London. Politically, that will literally end Buhari's reign and incinerate the endangered myth that he could fix Nigeria's multiple crises.
There still remains a bit of political capital that Mr. Buhari and his followership can recover. That depends on how much longer the president remains in London. If he returns home now and manages to do a quick rejig of his uninspiring administration, he might be able to take on the severe economic problems that we face.
If, however, he stays away for longer than is defensible, the Nigerian public may get used to life without him for as long as the machinery of government continues to run constitutionally. In either direction, a key political proposition has already been irreparably and fatally compromised by President Buhari's long medical vacation: his basic political viability and electability in 2019.                                                                                                      Dr. Amuta, the Executive Editor of USAfrica since 1993, and USAfricaonline.com, is Chairman of Wilson & Weizmann., Lagos.