USAfrica: A Tribute to Dan Orji of Peacocks. By Mazi E.A.C Orji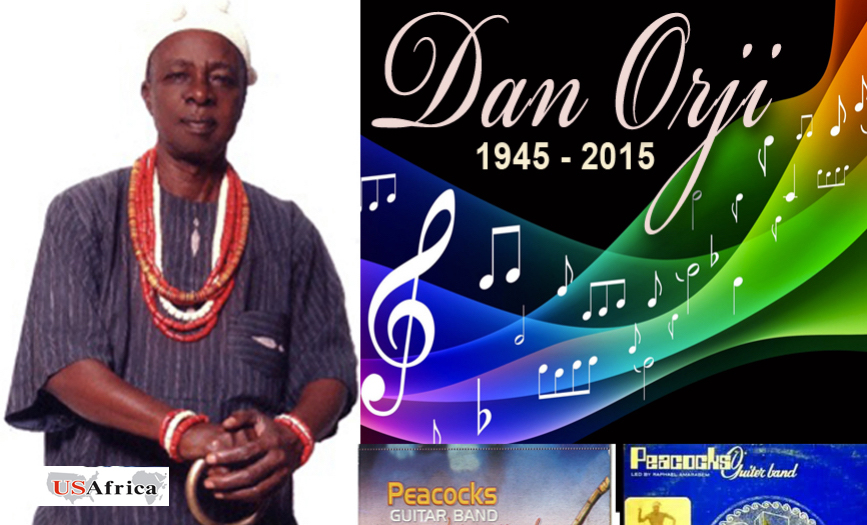 A Tribute to Nze Dan Chukwuemeka Orji.                                                                                                                               By Mazi E.A.C. Orji (and the Orji Chima Family of Aro-Orji, Urata, Owerri North LGA, Imo State, Nigeria)
Special to USAfricaonline.com,  and USAfrica multimedia networks, Houston. Follow USAfrica at Facebook.com/USAfricaChido , Facebook.com/USAfrica247 and Twitter.com/Chido247 
"In the midst of life, we are in death." The unexpected and sudden demise of Nze Daniel Chukwuemeka Orji aptly confirmed the truth of the quote above taken from the Episcopal Book of Common Prayer.
In the language of literature, arts and music,  Dan Orji (as he was popularly and widely known and called), was a great classical musician. The  beauty of his works and the wisdom expressed in them have continued to hold out massive appeal to people of different ages and in differen
t countries. People of all ages that have tasted the lyrics and music of his songs have continued to want to read or hear them over and over again. They never seem to get tired of discovering new beauties and new truths in the works of this artful musician, insightful composer, versatile arranger and inimitable vocalist.
Born on December 6, 1945 to Maazi Joseph Chima Orji and Orihe Cecilia Nwachi Orji at Aro-Orji, Urata, Owerri North Local Government area of Imo State of Nigeria, Danny was educated in Orji Town Primary School where he manifested great musical talent by singing at social events around Owerri. He had his Secondary education at the prestigious Saint Patrick's College, Ikot Ansa, Calabar, where he played meritoriously in the College Band.
At the end of the Nigeria/Biafra war in 1970, he played a major role in the founding of the famous Peacocks International  Guitar Band. It was while with Peacocks that he produced some of his greatest hits, including the ever popular and classical SAMBOLA MAMA, which earned a gold, and sold more records in Ghana than in Nigeria, demonstrating  the wide appeal  of his compositions, a further proof of the truism that music knows no boundaries, as well as the English saying that ' good wine needs no bush'( which translates into Igbo as ahia oma na ere onweya). When the Peacocks International Guitar  Band disbanded, he founded the Skylarks Universal Band of Nigeria in 1976.
Nze Dan Orji's abundant natural musical endowment was inherited from his mother, who was a good singer, and his maternal uncle, late J. U. Kamalu  of Umuonyeche, Owere(which the British called Owerri), who played the Accordion with great skill. Danny's natural musical endowment was enhanced by his incredible capacity for hard work that is easier imagined than described. Little wonder that he  produced such classical masterpieces and dominated the music scene for more than four decades. Danny  had a large and generous heart and was always quick to forgive. Although his works have been severally plagiarized, he never exercised his rights  under the existing Copyright Laws to sue for compensation.  Rather, he would chuckle  and say that those artists may continue to plagiarise his work if that would make them survive in life. What good spirit ! What bonhomie !
Danny was a good family man, a great family builder, who would resist any temptation to compromise the peace and progress of the Orji Chima family of which he was a proud member. His talent was not restricted to music alone; he was also an accomplished builder; and this was not surprising because architecture  has been defined metaphorically as 'FROZEN MUSIC.' Danny was also a committed farmer. Indeed,  he was a versatile talent who excelled in whatever he focused his interest and attention. Full of initiative and drive, Danny had the capacity to carry anything before him.
During  his lifetime, Danny was conferred with a lot of accolades. He was made an Nze with the title Aku Jeshiobi ike of Orji. During the interregnum that followed the demise of the first Eze of the Orji Autonomous Community, Nze Dan Orji served as the Vice Chairman of the Orji Regency Council. The Arochukwu Kingdom conferred its highest honour, namely, Ugwu Aro, on him. And until his death, Nze Dan Orji was serving his second term as Chairman of the Aro-Orji village meeting.
We shall all  miss Danny's wisdom which was ever spiced with humour and profound imagery. The more you saw Danny, the more you admired him; the better you knew him the greater you valued his friendship. He had the knack for knowing peoples great needs and when they needed them most. In concluding, I seek understanding;  and if I appear to write with the affection of a brother, I am just one of a large number.
Danny did not live long.  He did not reach the biblical age of three scores and ten (indeed, he was to have been 70 years old on December 6, 2015!). But we are consoled by the fact that it is more important to live well than to live long. The quality of life lived takes precedence over its length, for life is a matter of art rather than mere duration. "Life is not a matter of counting years. It is a matter of making years count." Danny did make his years count in blessing. Although we shall miss Danny physically, he will continue to live in the memories of all those he has left behind.
We prefer to end this tribute therefore, with the following immortal words of United States hymnist, Ira David Sankey (1840 – 1908):-
"Fading away like the stars of the morning,
Losing their light in the glorious sun,
Thus would we pass from the earth and its toiling,
Only remembered by what we have done."
Thank you for sharing our moment with us. Shalom.
Maazi E. A. C. ORJI is the head of the Orji Chima family.                                                                                                       August 12, 2015
CHUBA OKADIGBO: Philosopher, scholar, strategist and mentor (1941-2003). By Chido Nwangwu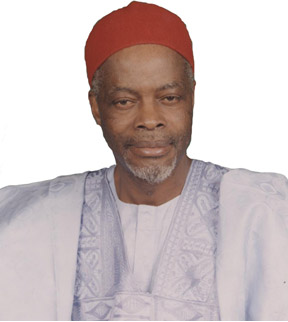 Dr. CHUBA OKADIGBO (1941-2003): Philosopher, scholar, strategist, wordsmith, publisher, activist, orator, traditionalist (Oyi of Oyi) and former President of the Senate of the Federal Republic of Nigeria.
 By Chido Nwangwu,  Founder & Publisher of  USAfricaonline.com, CLASSmagazine and USAfrica multimedia networks, Houston.  
USAfrica, Houston, September 26, 2003: A big tree fell in the political and intellectual landscape of Nigeria; and indeed Africa. Dr. Chuba Okadigbo, philosopher, master of political intrigues scholar, publisher, activist, orator, traditionalist (Oyi of Oyi), and former President of the Senate of the Federal Republic of Nigeria, on Thursday September 25, 2003, at the age of 61, in Abuja. He was vice presidential aspirant of the All Nigeria Peoples Party (ANPP) with retired 
Gen. Muhammadu Buhari, as leader of the ticket.
Chuba, a 
hard-nosed political operator, was a bridge between the transited "old brigade" of the Azikiwes and Awolowos and the new, unsophisticated, impatient new breed of politicians in Nigeria. He was colorful, flamboyant and sometimes controversial in his activist life. But one of his misadventures was the oft-cited statements where he allegedly said that Dr. Azikiwe's opposition to the NPN "victory" of 1982 could be "likened to the rantings of an ant."
On many issues, he showed rigor and lucidity in intellectual discourses. Chuba was in Kano for an ANPP rally on Tuesday in Kano where federal police sprayed tear-gas to disperse their opposition to the Obasanjo presidency and "reelection."
Okadigbo, who holds a doctorate in philosophy, had a health record of respiratory issues.
Meanwhile, a key member of Okadigbo's ANPP in Kano State Hajiya Naja'tu Mohammed has told the Voice of America (VOA) Hausa Service the former senate president may have died from the impact of of an "offensive liquid" which the Nigerian police poured on ANPP leaders dignitaries at the same rally in Kano. "Immediately Okadigbo inhaled the offensive liquid, he was not himself again and party men started administering first aid on him to revive him…. It was something else, I and Okadigbo were soaked, even Buhari was soaked by the offensive liquid. The Police will not say they don't know Buhari. That was the beginning of Okadigbo's travails, because he started behaving like an asthmatic patient."
On his part, durable journalist and nationalist Chief MCK Ajuluchukwu pointedly said that Chuba's death is a "national calamity which was sure to embarrass President Olusegun Obasanjo and the Inspector General of Police (Tafa Balogun). It is a national calamity. It must be an embarrassment to the president and IGP that the police in Kano had to throw teargas at a rally being addressed by the Governor of Kano State and the Presidential candidate of the ANPP (Buhari) and his running mate (Okadigbo). There should be a revisit to the constitutional provision for freedom of Assembly without police molestation. This death is a kind of incident that can bring the North and the East together because they share a common sense of grief. Things like that should not be allowed to happen. The death of Bola Ige is shocking enough, Okadigbo's death is even more bizarre. There should be an investigation regarding the real cause of death, which is now being attributed to police teargas in kano. I don't believe he died a natural death. It seems like a respiratory collapse arising out of poisonous gas."
Also, the Kaduna State chairman of ANPP Alhaji Kabir Umar has said his party "vehemently object to the way and manner Okadigbo was tear gas(ed) during the Kano rally…the death of Okadigbo was unfortunate, this is because we believe that his sudden death is not unconnected with the use of tear gas fired by the police. If they know that a man like Okadigbo was asthmatic and the security men still went ahead to fire tear gas in that environment, what did they expect?"
USAfricaonline.com contacts indicate that Dr. Okadigbo was taken to his Jerome Udoji Close residence in Asokoro, Abuja, the city where he has a home, to get additional medical attention and some rest. He was also planning for next day to see if could make another court appearance in the ANPP's electoral-legal challenge to President (retired (Gen.) Olusegun Obasanjo's controversial reelection of May 2003. The petitioners, the alliance of Nigeria's political parties, the European Union, Human Rights Watch, and many international observers have since described the "reelection" in various terms as "rigged, unfair, and not credible" – citing certain cases of vote inflation and violence.
Chuba's police orderlies were withdrawn recently and he has been getting threatening calls. A number of his supporters are outraged by his sudden death.
Chuba told me in an interview during the 2002 World Igbo Congress in Houston that "Nigeria's President Obasanjo is sorely lacking in the mannerisms of running a democratic government. We fell out because I insisted and worked constitutionally on the principle of separation powers. He believe he owns the government. He's a soldier and acts like one. But this is a democracy." He fell out with Obasanjo and the party, PDP, and said the following in Nigeria "Now, the Nigerian polity is sick of second term syndrome, a threatening political cancer. Sadly, I must say that the PDP, which had been a big party of the people, is fast becoming a problem party for Obasanjo and his associates, which is run by his sycophantic cronies. They now lie prostrate in the trauma wing of a political hospital. Some good persons have been trying to nurse the PDP back to good health. But Obasanjo and his cronies are unwilling to let go, due to their 'second term' mania. So, what next? We all know that nothing succeeds like failure…."
Before then, Dr. Okadigbo informed USAfricaonline.com in another brief interview after his election in 1999 as Nigeria's 7th Senate president that "we'll continue to place the overriding interests of all Nigerians at the top of our legislative agenda. We'll return quickly to the task of rebuilding the country and its democratic institutions."
Chuba was key negotiator for Nigeria's government led at the time (1979-1983) by Alhaji Shehu Shagari in securing the return of Biafra's leader, Dim Chukwuemeka Odumegwu Ojukwu. He was Shagari's political adviser. On the same issue of Biafrans and rehabilitation into Nigeria, he argued in 2001 that calling "ex-Biafran soldiers traitors is nonsensical, as it is inflammatory and unpatriotic….it is an attempt to boost up this anti-Igbo sentiment."
On June 24, 2002, as he was planning to be president of Nigeria, he said "I do not wish to be a South-East nor an Igbo President. Nor do I wish to be a Southern President. I wish to be a Nigerian President, because I am thoroughly Nigerian, very Nigerian. I want my fellow Nigerians to accept me, to endorse me, to vote for me, because I will run a programmatic government which will get things done for Nigerians and for Nigeria and thereby, Move Nigeria Forward- positively."
On the issue of the Presidency of Nigeria, and a subtle dig at retired Gen Obasanjo, Chuba said elsewhere the same month that Nigeria "As a country, we have been endowed by God Almighty with so much resources and potentials to be great. However, we have to free our Nation from direction-less, authoritarian rulers who are suffocating our democracy and have arrested our growth. What we need to do is simple- with our votes; we can free our nation and free ourselves.
Nigerians, free yourselves and fly!
Nigerians, free yourselves and fly!"
Regarding the ruling PDP which he co-founded with Nigeria's vice president Atiku Abubakar, and others, later joined by Obasanjo, Chuba said, pointedly, "Sadly, the PDP has been unable to manage victory. The party has burst at the seams and has been in persistent trouble, no thanks to self-inflicted wounds. The problem began in June 1999, when President Olusegun Obasanjo of the PDP induced Senators in the opposition parties, namely, the All Peoples Party (APP) and the Alliance for Democracy (AD) to defeat the PDP candidate for the post of Senate President in the person of Dr. Chuba Okadigbo. Thereafter, discord between the executive and legislative arms of government began.
"Next, Obasanjo engineered the ouster of the PDP National Chairman, Chief Solomon Lar, whom he replaced with Chief Barnabas Gemade, whom he again replaced with Chief Audu Ogbe. Then. Gen. Olusegun Obasanjo made it known that he wanted a second term as President. So did all PDP Governors and Local Government Chairmen. The APP and AD Chief Executives have followed suit. Now, the Nigerian polity is sick of second term syndrome, a threatening political cancer. Sadly, I must say that the PDP, which had been a big party of the people, is fast becoming a problem party for Obasanjo and his associates, which is run by his sycophantic cronies. They now lie prostrate in the trauma wing of a political hospital. Some good persons have been trying to nurse the PDP back to good health. But Obasanjo and his cronies are unwilling to let go, due to their 'second term' mania. So, what next? We all know that nothing succeeds like failure. What may happen next can be anybody's guess. Bearing in mind the fact that success has many friends whereas failure is an orphan."
In an address to Nigerians in London on July 14, 2002, he directed his sharp mind to the issue of Incumbency as factor in Nigeria's politics, and what Nigerians should learn from the U.S. He noted that "Incumbency is a two-edged sword. It can be quite raw. It can cut an opponent and it can also cut the holder of the sword. If the holder is a good performer, he can use the relevant performance as a sword of incumbency. But if he is a bad performer, that same sword can cut him, even to pieces. In the contemporary Nigerian setting, it all seems that incumbency will hurt many of its holders, due to dubious performances. Remember that George Bush, Snr, was an incumbent President of the United States when Bill Clinton defeated him. Bush led the US to fight and defeat Saddam Hussein and Iraq in 1990 but the American thought he did not perform at home. They turned out to be right in that Bill Clinton gave America eight straight years of unprecedented prosperity and peace."
He continued: "Similarly (at the time) incumbent President Kenneth Kaunda, incumbent President Kerekou and incumbent President Gerald Ford were defeated at one time or the other, when the incumbency sword cut its holders in favour of opponents. When voters are appalled by bad performance and when they are vigilant, watch out for change. Moreover, change is the only thing that does not change. Every thing else is subject to change. No one, no class, no nation can stop the mind of change from blowing when it must and none can halt change itself when it is in real motion."
With an erudite mind and powerful political connections, Okadigbo achieved most of his ambitions. But he could have even been more with just a little more discipline.
Fact is: like or hate him, you cannot ignore Chuba Okadigbo and his imprints on the sands of Nigeria's politics. Thank you!
Finally, I offer you the gift of the wise words of my Aro elders: Oyi of Oyi, Ikenga Iguedo, may your lineage endure!!
---
•Dr. Chido Nwangwu,  author of the forthcoming 2013 book titled 'Mandela & Achebe: Footprints of Greatness'  www.MandelaAchebeChido.com, is the Founder & Publisher of Houston-based USAfrica multimedia networks since 1993, first African-owned, U.S-based newspaper published on the internet USAfricaonline.com;  CLASSmagazine, AchebeBooks.com, IgboEvents, Nigeria360 and several blogs. He has been profiled by CNN International for his pioneering work on the news and public policy interests of Africans and Americans.  Chido, former adviser on Africa business to Houston's ex-Mayor Dr. Lee Brown, appears as an analyst on CNN, London-based SkyNEWS,  NBC, ABC, CBSNews and other platforms. e-mail: Chido247@Gmail.com.  Follow Twitter.com/Chido247, Facebook.com/MandelaAchebeChido, Facebook.com/USAfricaChido , Facebook.com/USAfrica247
•• The preceding tribute appeared first at http://usafricaonline.com/chubaokadigbo.chido2003.html
---
A thumbnail biography of Okadigbo's and some of his thoughts will include, the following:

Birth: December 17, 1941
Marital Status:
Married to Margery Okadigbo (they have children and he has other kids before then)
Education :
Diploma in Trade Economics Blankenburg College of Technology, Germany, 1963.
Master der Philosophie Karl Marx Universitaet, Leipzig, Germany, 1967.
Master of arts in philosophy the Catholic University of America, Washington, D.C., USA, 1972.
Post-doctoral fellow of politics the catholic university of america, Washington. D.C., USA, 1973-1975
Teaching experience :
Assistant professor, later adjunct associate professor of philosophy University of the District of Columbia Washington D.C., 1973-75.
Adjunct assistant professor of politics the Catholic University of America, Washington D.C., U.S.A, 1973-75.
Adjunct assistant professor of politics Howard University, Washington D.C., U.S.A, 1974-75.
Director-general centre for inter-disciplinary and political studies, University of Nigeria, Nsukka, 1975-1978.
Lecturer in philosophy University of Nigeria, Nsukka, 1975-78.
Professor of philosophy Bigard Memorial Senior Seminary [Roman Catholic Mission]. Enugu, Nigeria, 1975-77.
Academic visitor and research scholar [visiting professor] London School of Economics and Political Science, Department of Government. London, United Kingdom, 1984-1987.
Author:
Logic for Black undergraduates,
1973 on Hegel's treatment of Egypt: the middle-point between nature and spirit,
1973 Time for change,
1978 The mission of the NPN,
1979 Consciencism in African political philosophy,
1985 Power and Leadership in Nigeria,
1987 Transition to Transition: a senate profile,
1995 -several articles in national and international journals, magazines and newspapers-
Politics :
Organizing secretary, later administrative assistant, NCNC national secretariat. 2 Ikorodu road, Yaba, lagos, 1959-1962.
Secretary, academic board of NCNC, 1960-1963
Assistant publicity secretary Zikist National Vanguard lagos branch 1961-1963
Special correspondent: the Cock monthly newspaper of the NCNC, 1960-1963
Founder/Secretary, Lagos municipal tenants movement, 1960-1961
Founder/President, Nigeria Tenants movement, 1961-1963
General secretary Nigeria Union of students, East Germany1964-1966
General secretary NCNC, East German branch, 1964-1966
Vice president NCNC, East Europe wing, 1964-1966
Elected member, constituent assembly federal republic of nigeria, 1977-1978 (which framed the constitution of the federal republic of nigeria 1999).
Deputy national secretary later, acting national secretary national party of nigeria [npn], 1978-1979
Special adviser on political affairs to the president of nigeria, 1979-1983.
Secretary elders council [national] social democratic party [sdp] 1990-1992
Senator of the federal republic of nigeria 1992-1993
Chairman, senate foreign affairs committee dec. 1992-nov. 1993
National vice chairman [south east] Peoples democratic movement [pdm], 1993-date
Proponent of the name and title "peoples democratic party [pdp]"
Proponent of the flag of the pdp [green, white, red]
Proponent of the motto of the pdp [power to the people]
Co-proponent of the symbol of the pdp [umbrella]
Chairman pdp national publicity committee, 1998-1999
Re-elected as a Senator of the federal republic of Nigeria, 1999
Chairman, senate foreign affairs committee jun.1999- nov.1999
President of the senate of the federal republic of Nigeria. nov.18, 1999 – Aug. 8, 2000.
Founder/chairman Institute of civic affairs, July 2001 till date
Chairman, senate committee on Riots, crises and conflicts, sept. 2001 till date
Honours:
Ekwueme of Ogbunike, 1976.
Ikenga Iguedo, 1980
Oyi of Oyi, 1992
Ikenga Omaballa, 1999
Okwuluoha Ndigbo, fct, 1999
Orji [okeosisi] of Anambra state,
1999 Ijelle Awka, 1999
Ezeudo na Ihembosi, 2000
Okaome Ndigbo [Orlu], 2000
Ode jim jim [Okigwe], 2001
Enyi Nawfia, 2001
Order of diplomatic merit, gwanghwa medal of distinguished international service of the republic of korea, 1980.
National order of the Republic of Guinea, 1981.
Chuba had his way with words. Remarkable, among many, is an excerpt from his interview with erudite journalist Lewis Obi, in the Concord newspaper in July1982, on Statistics: "Statistics are useful, indeed necessary. But you must examine, indeed re-examine statistics before you take really rational decisions. Let me put it another way. Statistics are like bikinis. What they show are quite interesting. What they conceal is even more interesting. In other words, you must look deeper &endash;beyond the first flash of statistical data.
On Ideology:
An ideology is a world outlook or world view, a Weltanschauug to be more scientific. From the stand-point of government, you can call it a framework or the mirror of a leader or ruler for looking at the State and the world generally. In the specific case of Nigeria, there is an ideology in the form of the Fundamental Objectives and Directive Principles of State Policy, given in Chapter Two of the Constitution. Take note that every councillor, chairman, legislator and executive in Nigeria must take an oath of office wherefore he swears to maintain the Constitution. This is mandatory. In ADDITION, A LEGISLATOR, RULER OR LEADER SHOULD ADHERE TO THE MANDATE given in the manifesto and Constitution of the party on whose platform he came into office. Usually, they do NOT contradict any Constitution of our Fatherland. The central point is that Nigeria should be a welfare state, as originally ordained by the Founding Fathers of Nigeria and their political parties. Nevertheless, there is room for particularisations and rationalised ordering of priorities, according to existential circumstances. This must include the reality of free competition, marketi-sm, and the reward of Merit in the contemporary world.
On Money and Power:
Every body needs money to live and cope with life. You can use money to do good and you can use government money to do good for the many. But as they say, money is the root of all evils. Like the incumbency sword, money can cut both ways, the giver or taker, the rich or the poor. The worst part of money is to have more than you need. With respect to power, the greedy but very important personalities (VIPs) who seek or have more money than they need are among the shamelessly corrupt. They can do any thing bad to stack money and to induce any body to do evil. In business, some persons who worship money are fraudsters, while others may even sell drugs to little, innocent children. Some of the moneybags have often told me that the only way to get power is have money or to be a slave of moneybags. I did ask them how much personal money they think or know that Dr. Nnamdi Azikwe, Alhaji Tafawa Belewa, Sir Ahmadu Bello, Mallam Aminu Kano and Alhaji Shehu Shagari had to be Heads of State or Governments. Also, I told them that it is God, not money that gives or takes power to who He wills. Furthermore, I know that God provides money through good men to any one that He wanted to give power.
On Travails and setbacks:
"When one door closes, another opens". A man may rise or fall. Otherwise, he is static and this can be very boring. When you rise, try to hang in there but never abandon principles. When you fall, stand up, dust up, and move. In addition, I always remember the deep British thinker, Rudyard Kiplins, when I rise or when I fall. He wrote: if you can meet with Triumph and Disaster and treat those two impostors just the same…if you can fill the unforgiving minute with sixty seconds worth of distance run, yours is the Earth and everything that's in it &endash;And which is more-you'll be a Man, my son!" during a chat with students in Umuahia, June 2001.
On Foreign Policy:
At the beginning, Nigerian foreign policy was non-alignment, with either the West or East, as power blocks and as capitalist or communist nations. In 1976, this policy was revised, wherefore Africa became the centrepiece of Nigerian foreign policy. Thanks to this doctrine, Nigeria facilitated the independence or liberation of a host of colonized African countries, including apartheid South Africa, Angola, Mozambique and Zimbabwe. Recently, this policy was made to include military intervention for unity and peace in troubled African states, such as Liberia, Sierra-Leone and the Democratic Republic of the Congo. This has been overly expensive, in terms of money, human life and property. This spontaneous policy review is in search of yet a more rational review. In addition, the world is no longer as ideologically divided as it was before the fall of the Soviet bloc of nations. It is no longer bipolar or multipolar. The world is now unipolar. This is an additional rationale for some inevitable but dynamic review of Nigerian Foreign Policy. Therefore, I should propose an All Nigerian Foreign Policy Conference, as distinct from any unilateral and undemocratic decision by any ruler or group.
On Nigeria's Budget
…In his Budget Address, President Olusegun Obasanjo aptly observed in page 2: "for this Government and most Nigerians, our hard-won democracy is yet to translate into significant improvements in our lives." I completely agree with this. But why? The major reason for this pitiful failure was given by several Senators who spoke yesterday. To wit: The Y1999 Supplementary Budget and the Y2000 Budget, with all their Amendments, have not been properly implemented by the Executive, whose two hands were totally free to implement. You will recall that a highly placed public officer in the Ministry of Finance has been quoted as saying that less than 30% of budgeted money for projects in Y2000 has been spent! Ironically, the Senators, after all, are right at last.
Mr. President, I hereby suggest that the political economy approach, as opposed to the bookkeeper, is the best way for budget formulation and costing in Nigeria. From this standpoint, our national budget must be made to be consistent with the federal principle. In this connection, no state or zone may have more than the other, excepting when and where the Rationale are clear, empirically verifiable, and socially/morally defensible. Unfortunately, in the Y2001 Budget, there are many manifestation of disproportion, with regard to the allocation of fluids and projects to our Zones and States in several particulars. For example, I cannot find any justification for the reduction of my Zone, the South-East, to the sixth and lowest position in the Y2001 Budget of President Obasanjo. Why can't all Zones have equal share and why must the South-East be at the very bottom of the 'Zonal Distribution of Core Projects'?
——
Why Obama's late to symbolic, historic meeting with Mandela.  By Chido Nwangwu.  http://usafricaonline.com/2013/06/26/obamas-late-to-symbolic-historic-meeting-with-fit-mandela-by-chido-nwangwu/
VIDEO of the CNN International broadcast/profile of USAfrica and CLASSmagazine Publisher Chido Nwangwu.   http://edition.cnn.com/video/#/video/international/2010/07/29/mpa.african.media.bk.a.cnn  
——-
Forthcoming 2013 BOOK: In this engaging, uniquely insightful and first person reportage book, MANDELA & ACHEBE: Footprints of Greatness, about two global icons and towering persons of African descent whose exemplary lives
 and friendship hold lessons for humanity and Africans, USAfrica Founder Chido Nwangwu takes a measure of their works and consequence to write that Mandela and Achebe have left "footprints of greatness."
He chronicles, movingly, his 1998 reporting from the Robben Island jail room in South Africa where Mandela was held for decades through his 20 years of being close to Achebe. He moderated the 2012 Achebe Colloquium at Brown University in Providence, Rhode Island.
"I'll forever remember having walked inside and peeped through that historic Mandela jail cell (where he was held for most of his 27 years in unjust imprisonment) at the dreaded Robben Island, on March 27, 1998, alongside then Editor-in-chief of TIME magazine and later news chief executive of the CNN, Walter Isaacson (and others) when President Bill Clinton made his first official trip to South Africa and came to Robben Island. Come to this island of scourge and you will understand, in part, the simple greatness and towering grace of Nelson Mandela", notes  Chido Nwangwu, award-winning writer, multimedia specialist and founder of USAfricaonline.com, the first African-owned U.S-based newspaper published on the internet, in his first book; he writes movingly from his 1998 reporting from South Africa on Mandela. http://www.mandelaachebechido.com/
There's a compelling political trinity to Nelson Mandela: the man, the messiah and the mystique. http://usafricaonline.com/2013/07/18/mandela-95-hearty-cheers-to-his-footprints-of-greatness-by-chido-nwangwu/
——- ——
——