For Obiano, accountability is the issue on Obi's N75bn claim, Interfact and Denca deals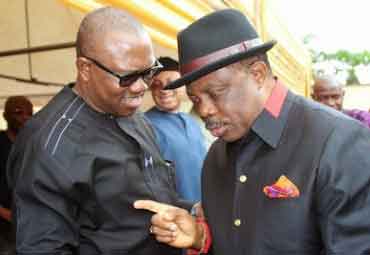 For Obiano, accountability is the issue on Obi's N75bn claim, Interfact and Denca deals
By Oji Nnaka
Of the 22 items on the famous handover note by the immediate past Governor of Anambra State, Peter Obi, let's take a look at two of them just to provide an insight to the mindset of the authors of the handover note. Deliberately, that note was largely scripted to mislead and misinform.
The two companies stated above featured prominently as items 8 and 11 on Peter Obi's famous hand over note which bequeathed the so called N75bn to Governor Willie Obiano. The hand over note stated that his administration invested N3.5bn in Interfact Beverages, Onitsha. Meanwhile, it was discovered that he invested only N1.4bn, leaving a shortfall of N2.1bn. It was only after Governor Obiano took over that an additional N540m was invested in the company to finance its expansion plan. The question we should be asking now is: what happened to that balance?
Then, item 11 of the same hand over note claims that the sum of N250m was paid as the State's investment to Denca Resources, the project developers of the Anambra State Independent Power Generating Company Ltd (ASIPGC) for the proposed 400MW project in Ogbaru, my Local Government Area.
So far, Denca has done nothing and has refused to honour all government's invitation to a meeting where the project would be discussed. The question Ndi Anambra should be asking again is: was this money actually paid
to this company? It is strange that a company with that kind of naira spinning project would spurn the invitation of a new government to chart the way forward. The company's reluctance to come forward is suspicious.
Beyond these highly questionable transactions, there are other sections within the hand over note where the previous administration referred to provision of counterpart funds to specialized financial institutions (e.g. Bank of Industry) as 'investment', another brazen attempt to mislead the public. I don't want to delve into other fatuous investments in financial instruments which are clearly shortsighted and highly unprofitable. The so called hand over note is a clumsy attempt in financial photo-shopping, nothing more. Now to the most Frequently Asked Question since government gave its on side to the N75bn – why is government talking about it now, almost two years after hand over?
First, government did not wish to create panic among contractors and investors who were already primed to move into the State in view of the secure environment. As an experienced banker, Governor Obiano believes that without the money he could through prudent financial reengineering get the system working; and that's exactly what he's been doing.
Secondly, government was reluctant to wash its dirty linen in the public hoping that good conscience would prevail on the part of Obi. But when it became obvious the immediate pass governor could not rein in his Alsatian hounds who wouldn't relent in constituting themselves into cyber nuisance on account of this N75bn fiction which was beginning to misinform Ndi Anambra, government had no alternative than to put the facts in public domain.
Even though Ndi Anambra knew their immediate pass governor isn't a saint, his meek façade and deceptive "ada ora" voice notwithstanding, it has become exigent for the people to have the raw facts. Government's silence should not be mistaken for cowardice.
In fact, it is about time the EFCC and ICPC got interested in this matter. They will collectively have more than a mouthful to chew. At least, we now know where and how Peter Obi's PDP Anambra is getting the massive fund with which it destabilized the polity in the last election.
———-
[embedyt] http://www.youtube.com/watch?v=68DP3rtPS0c[/embedyt]
VIDEO #CNN special #CHIBOK Girls n #BokoHaram Live intvw wt the Founder of USAfrica multimedia and public POLICY
 networks Chido Nwangwu. CNN anchors John Berman n Michaela Pereira.  
———-
Forthcoming 2016 BOOK: In this engaging, uniquely insightful and first PERSON
 reportage book, MANDELA & ACHEBE: Footprints of Greatness, about two GLOBAL
 icons and towering PERSONS
 of African descent whose exemplary lives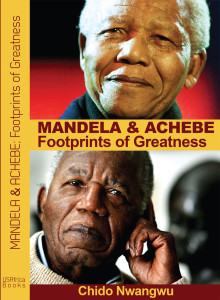 and friendship HOLD
 lessons for humanity and Africans, USAfrica Founder Chido Nwangwu takes a measure of their works and CONSEQUENCE
 to write that Mandela and Achebe have left "footprints of greatness."
He chronicles, movingly, his 1998 reporting from the Robben Island jail room in South Africa where Mandela was held for decades through his 20 years of being 
CLOSE
 to Achebe. He moderated the 2012 Achebe Colloquium at Brown 
UNIVERSITY
 in Providence, Rhode Island.
"I'll forever remember having walked inside and peeped through that HISTORIC
 Mandela jail cell (where he was held for most of his 27 years in unjust imprisonment) at the dreaded Robben Island, on March 27, 1998, alongside then Editor-in-chief of TIME magazine and later news chief EXECUTIVE
 of the CNN, Walter Isaacson (and others) when PRESIDENT
BILL
 Clinton made his first official trip to South Africa and CAME
 to Robben Island. Come to this island of scourge and you will understand, in part, the simple greatness and towering grace of Nelson Mandela", notes  Chido Nwangwu, award-winning writer, multimedia 
specialist and founder of USAfricaonline.com, the first African-owned U.S-based newspaper published on the 
INTERNET
, in his first book; he writes movingly from his 1998 reporting from South Africa on Mandela. 
http://www.mandelaachebechido.com/