USAfrica: Nigeria's economy on fire while Buhari's APC government is busy chasing rat. By Arthur Nwankwo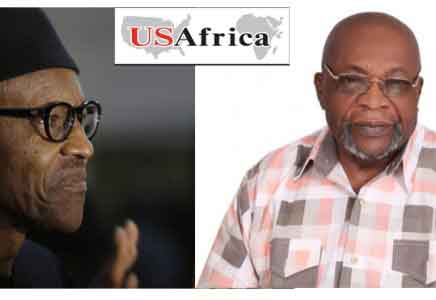 Nigeria's economy on fire while Buhari's APC government is busy chasing rat.
By Dr. Arthur Agwuncha Nwankwo
Special to USAfricaonline.com,  and USAfrica multimedia networks, Houston. Follow USAfrica at Facebook.com/USAfricaChido , Facebook.com/USAfrica247 and Twitter.com/Chido247
A story was told about a certain man who would eat his meal without any piece of meat. Not that he did not like meat but rather he could not afford it. So on a sunny day during the harmattan his thatched house caught fire from a hunter's tinder. Unknown to him, he was sharing his hut with a giant rat, so as neighbors raised alarm that his house was on fire he contemplated the unimaginable. He saw one rat dash into the nearby bush and vowed that no other rat would escape him. While his hut was engulfed in a raging inferno this man was busy chasing the rats. He was catching the rat, determined to improve the quality of his feeding –even when his cooking utensils were burnt to ashes. The moral story from this anecdote is that it snacks of foolery and insanity for a man to be busy chasing rats while his house is on fire.
Nigeria is on fire and the APC government from all indication is busy chasing rat. What is happening to this country? The truism that he who the gods want to kill, they first make mad is eminently true of this country and its rulers. The
recent remarks by President Buhari that he would not "kill'' or devalue the naira , to me, smacks of lack of understanding of economic forces and inability to articulate any genuine economic development programme for Nigeria.
Buhari or anybody for that matter does not need to tell us that Naira is dead. Devaluation of a country's currency is indicative of one thing –that the country's economy is sick and cannot sustain growth in real terms.
The meat of real and visionary leaders always is to steer the economy back on track. Such leaders are pathfinders not fault-finders. By their actions, such leaders are able to fire an ember of hope from the ashes of hopelessness, he is able to inject new verve into exhausted possibilities and to create a path through a cul-de-sac for the people .Such leaders come into positions of leadership convinced and determined on how to re-engineer society for the over-all benefit of the people. Such is the mindset that propelled the Barack Obama presidency. You will recall that Obama came to power in the USA at a time the world and particular, the USA economy was in recession. So many business were going under igniting an era of ''bail-out'' in the USA and many western European countries. Realizing the delicate condition of the USA economy, Barack Obama initiated a regime of economic stimuli and reengineering which has led to the rapid reversal of fortunes for the USA .He did not dwell on the short –coming of the preceeding George Bush administration or the billions of dollars spent in prosecuting the war against terror in the middle east as reasons why he will fail or succeed .He knew he was thrown up to leadership for such a perilous time , He approached his work with utmost commitment, curtailing foreign trips and concentrated on re-building the American economy .

The exact opposite appears to be the case in Nigeria. Its indeed lamentable that the massive failure of the Buhari administration in only eight months would always be blamed on the much maligned PDP . I have heard and read several APC stalwarts attributing Buhari's failure to PDP's regime of ''corruption''. This, to my mind , is begging the issue at best , and escapist at worst.
The essence of change is to move Nigeria to the next level. This indicates that the APC should have had a blue print for Nigeria's development. Blaming the PDP for the ineptitude of Buhari's APC government amounts to taking Nigeria for granted. This is why it appears nobody is calling the president to order, asking him to curtail his foreign trips that have brought no dividend and concentrate on building the Nigeria economy. Does it not worry the president that in the past eight months, the number of Nigerians feeding from the garbage dumps has increased dramatically, that in the past eight months, Nigeria have had to endure more hardship than they did in the last seven years, that in the last seven month that the fire of ethnic nationalism has burned with greater intensity, their frustration, anger and nadir have become emblematic of the people existence.
Does the President and APC not know that these constitute the ingredient of social upheaval of cataclysmic proposition. It appears to me that PMB does not really appreciate the enormity of the Nigerian condition. If he does, perhaps his approach to addressing these problems would be different.
It has also exposed the fact that Buhari's government is deficit on several fronts, one of which is the inability to understand the synergy between a quiescent political system and sustainable economic growth. One begets the other. In truth, If a country does not get its politics right, it will not get its economy right. This is a very simple analogy. Our politics is acutely wrong. There is so much structural deformity in Nigeria and this has led to structural exclusion and marginalization .Political exclusion and marginalization in any society are hugely consequential and antithetical to sustainable economic growth. Is it too difficult to appreciate this fact? I don't think so.
I would rather submit that it is only stiff-neck foolishness or stubborn adhesion to the path of self –destruction that would motivate any government to act the way the Buhari government is doing. As many people would say, the stubborn fowl would always find shelter in the old woman's pot of soup. Time to retrace steps is now!                          
•Dr. Nwankwo, the Chancellor of the Eastern Mandate Union and Chairman of Fourth Dimension publishing corporation, is the author of several books, political scientist and human rights defender. 
————– 
@Chido247 

Boko Haram: SkyNews London interview wt USAfrica Publisher Dr. Chido Nwangwu on BOKO HARAM vs BUHARI (Nigeria's President inaugurated May 29, 2015). Interview on May 30 (Houston) May 31 (London) 2015
————–
VIDEO #CNN special #CHIBOK Girls n #BokoHaram Live intvw wt the Founder of USAfrica multimedia and public POLICY networks Chido Nwangwu. CNN anchors John Berman n Michaela Pereira.  
USAfrica:: Buhari's rejection of Rolls-Royce ride in London, Obasanjo and lessons of history. By Chido Nwangwu.  http://usafricaonline.com/2015/05/24/buharis-rejection-of-rolls-royce-ride-in-london-obasanjo-and-lessons-of-history-by-chido-nwangwu/
Forthcoming 2017 BOOK: In this engaging, uniquely insightful and first PERSON
 reportage book, MANDELA & ACHEBE: Footprints of Greatness, about two GLOBAL
 icons and towering PERSONS
 of African descent whose exemplary lives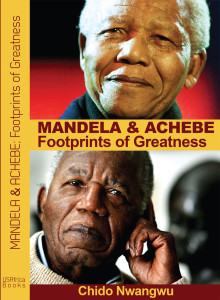 and friendship HOLD
 lessons for humanity and Africans, USAfrica Founder Chido Nwangwu takes a measure of their works and CONSEQUENCE
 to write that Mandela and Achebe have left "footprints of greatness."
He chronicles, movingly, his 1998 reporting from the Robben Island jail room in South Africa where Mandela was held for decades through his 20 years of being CLOSE
 to Achebe. He moderated the 2012 Achebe Colloquium at Brown UNIVERSITY
 in Providence, Rhode Island."I'll forever remember having walked inside and peeped through that HISTORIC
 Mandela jail cell (where he was held for most of his 27 years in unjust imprisonment) at the dreaded Robben Island, on March 27, 1998, alongside then Editor-in-chief of TIME magazine and later news chief EXECUTIVE
 of the CNN, Walter Isaacson (and others) when PRESIDENT
BILL
 Clinton made his first official trip to South Africa and CAME
 to Robben Island. Come to this island of scourge and you will understand, in part, the simple greatness and towering grace of Nelson Mandela", notes  Chido Nwangwu, award-winning writer, multimedia 
specialist and founder of USAfricaonline.com, the first African-owned U.S-based newspaper published on the INTERNET
, in his first book; he writes movingly from his 1998 reporting from South Africa on Mandela. http://www.mandelaachebechido.com/
  •Dr. Chido Nwangwu, moderator of the Achebe Colloquium (GOVERNANCE
, SECURITY
, and PEACE
 in Africa) December 7-8, 2012 at Brown UNIVERSITY
 in Rhode Island and former ADVISER
 on Africa business/issues to the Mayor of Houston, is the Founder & Publisher of Houston-based USAfrica multimedia networks since 1992, first African-owned, U.S-based newspaper published on the INTERNET
 USAfricaonline.com; CLASSmagazine, AchebeBooks.com, the USAfrica-powered e-groups of AfricanChristians, Nigeria360 and the largest pictorial events megasite on the African diaspora www.PhotoWorks.TV . He was recently profiled by the CNN International for his pioneering works on multimedia/news/public policy projects for Africans and Americans.