Corruption and the acquittal of Nigeria's Senate president Saraki. By Bayo Oluwasanmi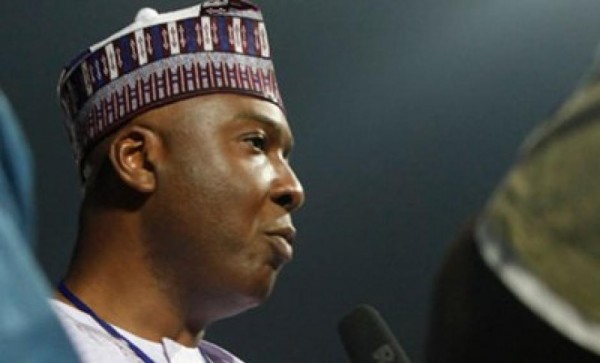 By Bayo Oluwasanmi
Special to USAfricaonline.com   @USAfricaLIVE
 The hypocrisy, violence, hatred, and subversion of democracy and justice with our blood letting politics will provide the minefield for thugs and hooligans like Dino Melaye and other ultra loyalists of Mesujamba Saraki. Plundering of the ruling class will crush the working class. All power and economic privilege will reside and remain with the oppressors, their cronies, friends, and families.

We cannot be reminded too often that the leopard doesn't change its colors. With greater frequency and audacity, the senate will continue to illustrate immoral and political debauchery, compromise and confusion. Senators will take their foolishness to dizzying levels….
The verdict is in: Bukola Abiku Mesujamba Saraki has no case to answer after,   allegedly, bribing CCT Chairman Danladi Umar a whopping $2 million. No surprise at all. Mesujamba Saraki is synonymous with corruption. We know it will all come to this because the lawless criminal climate with a corrupt judicial system, makes it impossible to successfully prosecute and convict the reputable boss of the Saraki Family Corruption Dynasty.
Mesujamba Saraki's trial is a textbook case how corruption undermines democratic accountability, discourages good governance, and worsens poverty. I'm not going to waste space on how and why he was acquitted. I'm concerned about the implications of having a reprobate like Mesujamba Saraki to continue leading the Senate, the highest law making body of Nigeria.
So, what are the socioeconomic and political implications of the head of the Saraki Family Corruption Dynasty as the  president for the life span of the current senate?
Nigeria's political Armageddon stares us in the face with great trepidation. We stand at a sacred moment when the elemental forces would coalesce to bring about the frighteningly prediction of the  Armageddon of one Nigeria. The time capsule of life for Nigerians will be between intensely bitter taste and disgust. Nigerians will be pushed further to the nadir of main indices of quality of life. Corruption would escalate and make life more miserable and unbearable for the citizens. The frenzy for corruption would assume a demonic crave.
The 180 million  Nigerians will continue to be kept in the dark, uneducated, uninformed, castrated and too docile to rebel. Nigerians will continue to live in poverty, hunger, and d[quote font="verdana" font_size="18″ color="#ffffff" bgcolor="#0d0859″ bcolor="#dd9933″ arrow="yes" align="left"][/quote]isease. Greed, filth, and viciousness will be the norm. Ruined cities and towns will compete for a place in the refuse dunghill. Social decay will reign like we have never experienced before.
The ruling class under the control and direction of Mesujamba Saraki senate will expand and extend plundering, looting, luxuries, and lusts while the proletariat will live in poverty, and are kept sedated with crumbs, fears, propaganda, and lies. The political drum beat will be louder, noisier, and messier marching Nigerians to the beat of illicit desires of the ruling class. The hypocrisy, violence, hatred, and subversion of democracy and justice with our blood letting politics will provide the minefield for thugs and hooligans like Dino Melaye and other ultra loyalists of Mesujamba Saraki. Plundering of the ruling class will crush the working class. All power and economic privilege will reside and remain with the oppressors, their cronies, friends, and families.
We cannot be reminded too often that the leopard doesn't change its colors. With greater frequency and audacity, the senate will continue to illustrate immoral and political debauchery, compromise and confusion. Senators will take their foolishness to dizzying levels of raw candor with revolutionary zeal. They will continue to be a sad example of representatives who failed to take responsibility. As a matter of fact, they'll wash their hands of responsibilities in the following ways:
They'll evade ownership of the consequences of their choices and behaviors. They'll be paralyzed by conflict. They'll have a problem with futility – no good would come from a right decision, so why waste time? So they'll reason. Their apathy would stem from their belief that taking a right decision seems useless. As usual, they'll continue o look out for their own selfish interests.
They'll be imprisoned by fear and preoccupied with survival – loss of control, image, and position. They'll continue to lack focus – be neutral or passive over crucial decisions. They'll exhibit bizarre antics and unrestrained behavior. We will see endless parade of swindlers, con men and women, crooks, and charlatans the country ever witnessed. Nigerians will become butlers to wait on every command of their hapless leaders.
The number of scams and scandals in the senate will be chaotic, they will defy explanation or description. Moral failure, financial chicanery, and public scandals will become deeper and dirtier. The actions of the senators will be repeated bizarre practices and exaggerated pronouncements based on hollow shell of human imagination from the hollow chamber.
The senate under the continuous leadership of Mesujamba Saraki, Nigeria will become an utterly horrible and degraded society that is generally headed to an irreversible oblivion or dystopia. There will be exponential mass poverty, squalor, suffering, and oppression. Suppression of justice, freedom, and happiness will be on the rise. Sick Nigerians will be punished  as criminals while thieves will continue to be ferried to foreign hospitals for treatment.
Nigerians will be doubly exploited as a slave class conditioned and drugged to obey and enjoy their servitude. Nigeria will be a country of decaying and squeezed morals buried under tremendous pressure of shame and greed. And much more.
The above requiem portrait may look like an unbeliever's pilgrimage inspired by unrepentant atheists. Well, we can't prepare for a future we cannot predict. We cannot predict the future of Nigeria and Nigerians under the prolonged direction of soiled image of Mesujamba Saraki as the senate president. The history of the Saraki Family Corruption Dynasty shows Mesujamba Saraki was manufactured in a lab for franchise corruption designed to appeal to legislators and public officials and for recruitment as plunderers of our treasury.
Nigeria under the senate direction of Mesujamba Saraki as the top law maker will be thrown into a national funeral which no one will attend. History will remember him not as senate president, but as a top raider and recidivist of gang of thieves who served as law makers that plunge our people and nation into the abyss of poverty and penury.
• Oluwasanmi contributes commentaries to Houston-based USAfricaonline.com. His e-mail bjoluwasanmi@gmail.com
USAfrica: Obiano's 2nd term in Anambra offers hope in governance. By C. Don Adinuba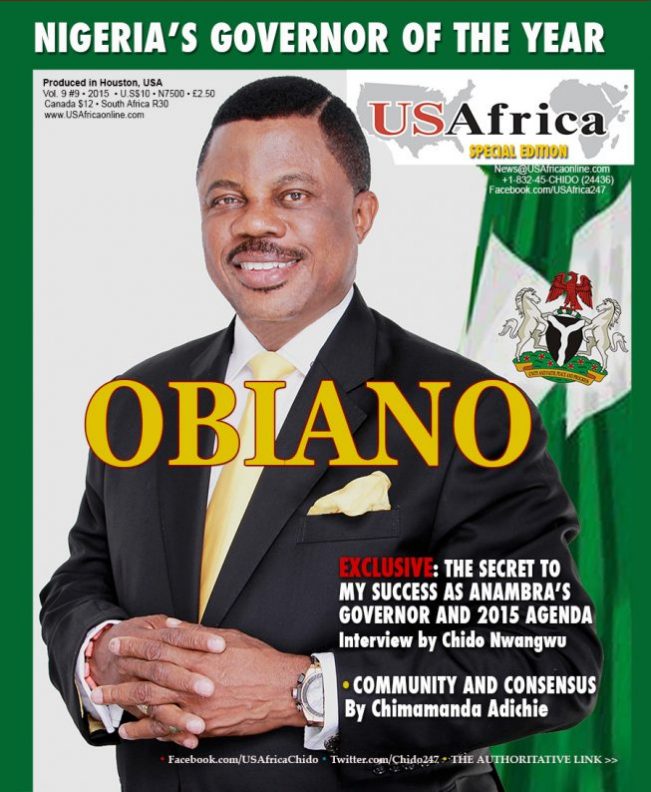 Obiano's 2nd term in Anambra offers hope in governance
By C. Don Adinuba
Special to USAfrica [Houston]  @USAfricaLive
Since the relationship school, closely associated with Peter Drucker, made a robust comeback in the 1990s among leadership and management researchers, top management schools around the world have displayed a greater interest in the role of passion in the success of organizations.
The resource-based view (RBV) in strategic human resource management argues that a fundamental difference between high achieving organizations and average ones is the passion difference. While ordinary firms are run by people who work without passion, super performing organizations have members who go far beyond the call of duty to deliver the goods.
Two expressions which are closely associated with passion by organizational members are deliberate practice and stretch. By deliberate practice, applied psychologists refer to the fact that people who put in greater effort than most of their competitors. Stretch in management science is a term first used in 1990 by General Electric under Jack Welch to refer to a task that seemed initially impossible but eventually got done.
Passion is extremely important in political leadership, too, especially in crisis situations and transformation of societies. Passion, sometimes referred to as commitment, is the heart of nationalism. One of the critical success factors for the phenomenal transformation of South Korea, Singapore, Taiwan, Hong Kong and other southeastern societies is the passion of the people and their leaders. Nationalism is now regarded as one of the core Asian values. We all saw how everyday people in South Korea brought out highly cherished personal assets like trinkets and sold and gave the proceeds to the government to enable it to weather the storm when their country's economy went into a tailspin in the late 1990s. Western scholars, who used to mock the Asian countries for their acute nationalism, have since acknowledged that nationalism was a key factor in the quick recovery of Asian nations and territories from the profound currency crisis. That Biafra survived for a whole 30months during the Nigerian civil war of 1967 to 1970, despite all the great odds, owed to the passion of the people.
The first thing which struck new members of the Willie Obiano administration in Anambra State as they assumed office on Monday, March 25, was passion writ large. In fact, the passion thing had become manifest three days earlier, on the first day of the two-day retreat to prepare the members for the task ahead. The governor arrived at the retreat when most of the commissioners, special advisers, permanent secretaries and heads of the agencies were still eating. Because he uses no siren, the governor took most people by surprise. On the second day, he also arrived ahead of the time.
Obiano sat through the two-day retreat, taking notes, contributing to every discussion on the scintillating presentations by Chukwuma Soludo, ex Central Bank of Nigeria governor; Osita Ogbu, an economics professor and director of Development Studies at the University of Nigeria, Enugu Campus, who is a former chief economic adviser to the president and chairman of the National Planning Commission; Ibrahim Magu, head of the Economic and Financial Crimes Commission; Daniel Okafor, a director of the Code of Conduct Bureau; Bismarck Rewane, the chief executive of Financial Derivates, a Lagos-based consulting firm; Macaulay Atasie of Nextzon, also in Lagos; Twinkle Oruware, an engineer and management consultant in Ibadan, Oyo State; Collins Onuegbu, a software consultant; and Fela Durotoye, an exceptional motivational speaker . Each presenter provided sufficient food for thought.
Passion was also at display on the day the new appointees were inaugurated. Just before the inauguration, a short ceremony was conducted for those who worked with Obiano in his first term. John Emeka, the Anambra State deputy governor from 1999 to 2003 who was to serve under Obiano as Commissioner for Science and Technology, delivered a soul-stirring speech which was apparently spontaneous. Far from showing bitterness for not being reappointed like most departing members of the council, Emeka told Obiano: "I will cherish participating in your government every day of my life. People of Anambra are very proud of you. This is why they voted for you overwhelmingly in the last November 18 governorship election". Turning to the new members of the council, the ex deputy governor said: "You must prove your mettle from Day One. He is accessible and amenable. He wants you to disagree with him because he knows you are no robots; he likes good, healthy debates". Like other members of the outgoing council, Emeka received a certificate of merit, a lapel pin of the state and all his entitlements right there.
The inauguration was followed immediately by the first Executive Council meeting which the governor led, and he spoke for about four hours on various topics without leaving his seat for a second and without notes. He remembered the minutest detail of discussions held at the last Exco meeting on March 5.Throughout the long hours the first Exco meeting lasted, he left no one in doubt that he genuinely believes in his mantra of "achieving more with less".
The governor was passionate during his meeting with the board of the Anambra Broadcasting Service (ABS) two days later. Having built the most technologically advanced radio and television stations in Africa, he demanded that the TV channel go digital in less than three months and that it do 24-hour broadcasting which has to be available on DSTV, the popular pay channel operated by Multichoice of South Africa. Expressing disgust at the quality of buildings at the ABS, he said work would soon begin on the construction of tall and elegant buildings there. Turning to me, he declared: "We must learn how to use our land resource very efficiently, since the state is the smallest in the country in terms of land mass, after Lagos. Even so, erosion has reduced our land mass considerably. See how Singapore, Israel, Hong Kong and Taiwan use their limited lands to create wonders".
The meeting with the ABS board had hardly ended when he entered the weekly Security Council meeting where he dominated the environment. Members of the council include not just the state police commissioner, the DSS director in the state, the Civil Defence and security Corps commander, the army and naval commanders in the state, the Commissioner for Information and Public Enlightenment, the governor's special adviser on security, his special assistant on security and head of the state vigilante who is a respected retired police commissioner, but also heads of the Customs Service, the Immigration Service, the Prison Service, and the Federal Road Safety Corps.
Obiano invites some other people to participate in the security council meetings depending on the issues for deliberations; this time a representative of the traders unions attended because of some market issues. The governor takes security so seriously that he counts the number of road blocks by security agents and the number of soldiers and policemen manning each at any point. He even noticed that some sandbags used by the police in remote riverine communities sharing border with Kogi State were torn and ordered their replacement.
The next day, he ran straight from Onitsha where he was attending the Maundy Thursday mass in Onitsha, as part of the Christian Holy Week of Easter, and headed straight to the Alex Ekwueme Square in Awka where he handed over 40 vehicles from the Innoson Vehicles Manufacturing firm in Nnewi to security agencies. He promised an additional "100 made in Anambra vehicles soon to the agencies to ensure our state remains the most peaceful in West Africa". Val Ntomchukwu, the Deputy Inspector General of Police who represented IGP Abubakar Idris on the occasion, said: "Other states should emulate Anambra which has become the country's safest state. The governor means every word he utters".
I have never seen the Anambra people so optimistic of their state as they have been in the last few months. Having been in office for just two weeks, I now have a better understanding of why Chukwuma Soludo, Bart Nnaji, Victor Umeh, Chris Okoye, Okey Ndibe and even Emeka Anyaoku and the Obi of Onitsha encouraged me to go to Anambra State and make my contribution to the development of the state, after my initial hesitance. Babatunde Fashola, the Minister of Power, Works and Housing, calm , cool and very measured as ever, spoke about Obiano the way I have never heard him praise any governor. Anambra State provides a glimmer of hope for Nigeria.
Adinuba is Commissioner for Information and Public Enlightenment, Anambra State.
Obasanjo slams Buhari as "ineffective, incompetent, a failure"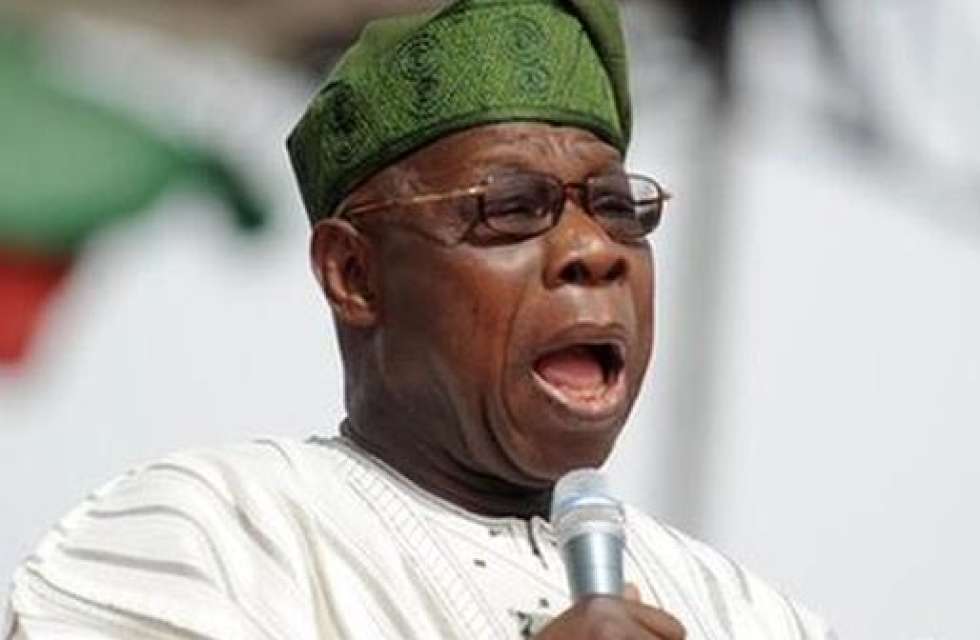 Nigeria's former military ruler (from February 14, 1976-1979) and elected President (1999-2007), Chief Olusegun Obasanjo has castigated the current leader, Muhammadu Buhari, who like him, ruled as a dictator (from December 31, 1983 to August 27, 1985) and elected President in 2015 for "bringing hardship on Nigerians",, "running ineffective economic policies," and causing a high number of "crippled businesses."
The first lesson I learnt in my military training is to never reinforce failure. What we have now is failure. Never you reinforce failure. Let failure be failure.

Obasanjo who failed in a multi-pronged quest for an unprecedented 3rd-term as President (see/search USAfrica and USAfricaonline.com news index) told a delegation of the New Nigeria group (led by Chima Anyaso) that it will be foolish and counter-productive for Nigerians "to reinforce failure by re-electing ineffective and incompetent government in 2019…. The truth is this: When you have an ineffective and incompetent government, we are all victims. And don't let anybody deceive you. Those of you who are in business, your business could have been better today if we have a competent and effective and performing government."
He continued: "As I said, stop giving excuses; we met challenges. If there were no challenges, then we wouldn't need you to come."
"You came in because you know there were challenges and then giving us excuse that you have many challenges, that is why you haven' t achieved results.
"And then you still want to go [for re-election]….  And if you do not see what you should see, you will then be a victim of what you don't like, because it' s only when you see what you should see and you do what you should do that you put away what you do not like.
"You see, I have publicly said and I mean it, that as a party, neither PDP nor APC can get us there as they have been. Never mind about reforms and apology and all that."
Obasanjo was a key power broker who supported Buhari of the APC and abandoned his PDP then incumbent President Goodluck Jonathan. Several retired army Generals and civic leaders are expressing their disappointment with the current leader.
Buhari has faced trailer-loads of problems, as he has with many members of his team exposed their relative inadequacies across various sectors of government.
Buhari contested and won under the banner of the APC, a party and presidency stifled by its naked instinct for nepotism, regional impunity, ideological sectarianism, punitive engagements as standard instruments of governance  and self-defeating insularity.
Lest we forget, Obasanjo became President under the umbrella of the corruption-ridden confederacy of financial locusts called the PDP.
Evidently, the battle for Nigeria's 2019 elections has started, almost….                                                                                                 By Chido Nwangwu, Founder & Publisher of USAfricaonline.com, CLASSmagazine and USAfrica magazine, appears occasionally as an analyst on CNN International, SKYnews (London). He is the author of the soon-to-be-released 2018 book,  MANDELA & ACHEBE: Leadership, Identity and Footprints of Greatness. ISBN 978-0-9893970-0-1
USAfrica: Gov. Wike tells Buhari the APC is "dead" in Rivers State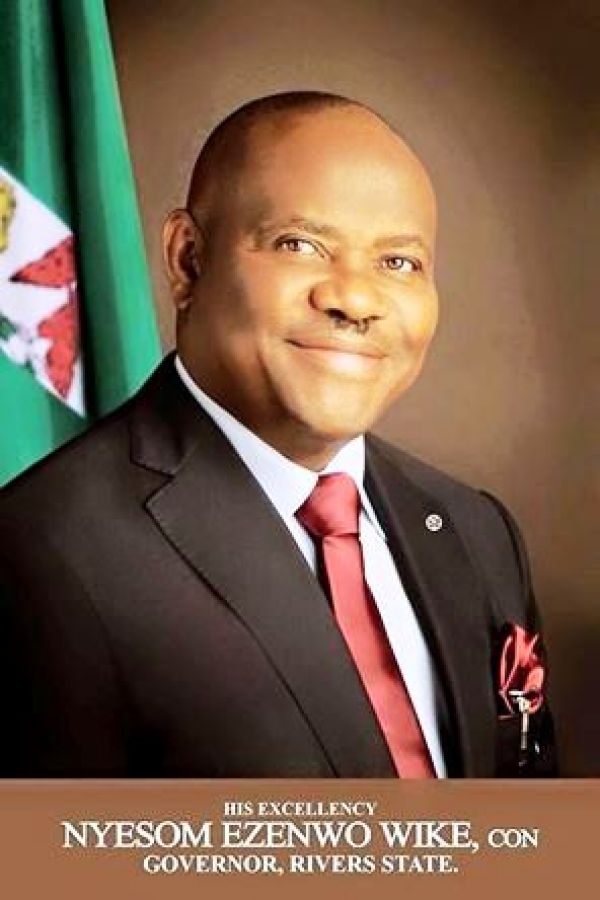 Special to USAfrica [Houston] and USAfricaonline.com @Chido247
Nigeria's Rivers State Governor Nyesom Wike of Rivers state says President Muhammadu Buhari will need a miracle to revive what he called a "dead" All Progressives Congress, APC, in the state. Buhari belongs to the APC while Wike is a catalyst in the PDP.
He said the federal government has not briefed him on the planned visit of Buhari to the state. "I hear they say that the President is coming to our state. I have not been told the President is coming and why he is coming. He has the right to come to any state," he said.
"Maybe the President is coming to make sure that he will improve the fortunes of the APC that is dead in Rivers state."
"Apart from Jesus Christ, we don't know of anyone who has risen a dead thing. APC is a dead party in Rivers state. No matter how you fast and pray, it will never wake up."
Rivers is, reportedly, listed among the states Buhari plans to visit regarding recent killings in some parts of the country– especially by the Fulani herdsmen.
Wike added: "Let nobody bother him or herself that the President is coming for security reasons. We don't have security challenges in the state. We have never had herdsmen killings or crisis in the state, except when some criminals tried to disrupt the peace and they were checked. We resolved that challenge."
Wike made these remarks on Thursday while flagging-off the reconstruction of Egbelu Street and link roads in East-West in Rumuodara, Obio Akpor area of the state. By Chido Nwangwu