Ide Alex Ekwueme: philosopher and king; visionary and practician. By Chido Nwangwu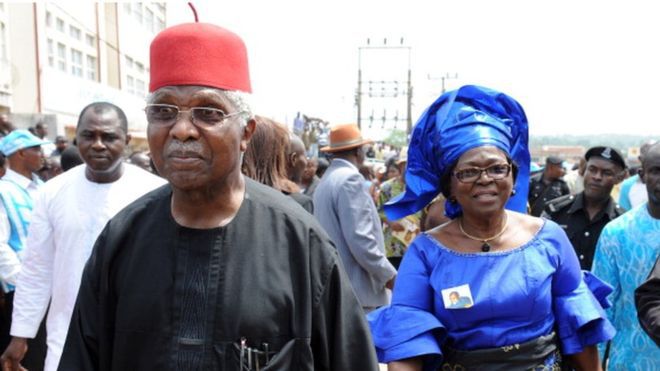 Ide Alex Ekwueme: philosopher and king; visionary and practician….
By Dr. Chido Nwangwu
"To honor him whom we have made is far from honoring him that hath made us." It was Michel de Montaigne, the 16th French Philosopher and Writer who wrote those magnificent words. I think and know Dr. Alex Ekwueme as one of those who hath made us.
Those were my first response and words of acceptance of the request to me that I serve as keynote speaker at the August 24, 2012 international event celebrating 80 years of a great, impactful and purposeful life.
Ide Alex Ifeanyichukwu Ekwueme, born October 21, 1932, is both philosopher and king; visionary and practician; philanthropist and resourceful role model for millions.
It remains a great privilege for me to appreciate Dr. Ekwueme — respectfully, to his face and esteemed presence.
It is a continuation of my trans-generational commitment to appreciate and honor outstanding leaders and persons who continue to make a difference and inspire our commitments.
What do I say when the man who is older enough to be my father?
What do I say to a gentle giant whose signature humble personality and mild speaking style stands in contradistinction to the towering strings of Olympian, concrete achievements.
Yes; I do know that Dr. Ekwueme, recipient of Nigeria's high national award of the Grand Commander of the Order of the Niger (GCON), lived a quintessential embodiment of public service and living example of an individual — working in cooperation with his wife Mrs. Beatrice Ekwueme– engaged in strategic generosity for almost 45 years!!
He established the first indigenous architectural firm in Nigeria, Ekwueme Associates, Architects and Town Planners, and improved the face of Nigeria.
In the arena of politics, he will, forever, be remembered as the man who formally led, through his democratic election in 1979-1983 as Vice President of Nigeria, the most comprehensive reintegration of the Igbo into the geo-political and socio-economic pillars of power in the country.
Set aside other fanciful claims of that period.
I do know that VP Ekwueme used his appointment of Mark Okoye as Nigeria's Minister for the Abuja Federal Capital (with the city then under construction) to empower thousands of the Igbo and other easterners who, today, have become key economic factors in Abuja. Remarkably, Ekwueme does not cite or brag about this critical role. He will not talk about it but I will.
Again, he is one of those who hath made us.
Dr. Alex Ekwueme's philanthropy, relatively and in terms of community impact, compares to the Carnegies, the Mellons, the Gates, Mohameds, Bank-Anthonys, the Buffets, Annenbergs, Mosingers, Ilodibes and many other cheerful givers. Moreso, for me to capture the modest totality of Ide Alex Ekwueme's meaningful life will require a special book.
Dr. Ekwueme was, by no means, perfect; he also had issues where some disagreed strongly with him.
Permit me to note that our Igbo and Yoruba nativist refuseniks and hardliners dismissed Ekwueme and others such as my mentor the late Dr. Chuba Okadigbo who worked politically with the Sokoto caliphate, Alhaji Shehu Shagari, the Kaduna 'mafia' and the northern Nigeria conservative leadership as "sell-outs." Such arguments still feed some quarters as it did in 1979 through the 1980s.
As a matter of fact in the early 1980s, while I was a very young staff of the Electronic News Gathering (E.N.G) unit of the Nigerian Television Authority (NTA) Channel 6, Aba, I joined in covering VP Ekwueme and President Shehu Shagari news events in our broadcast area which included the old Imo, Abia, Anambra, Enugu, Cross River, Rivers and Bayelsa States.
Let me note that Nigeria's incumbent President Muhammadu Buhari toppled the democratically-elected presidency of Shehu Shagari and VP Ekwueme on December 31, 1983 when Buhari was an Army General; Buhari kept Ekwueme in jail and held Shagari in cordial house arrest.
Ide Alex Ekwueme values education; got the best, and gave hundreds of scholarships. His own primary school started at St John's Anglican Central School, at Ekwulobia, a few miles from his hometown of Oko; attended the prestigious King's College, Lagos; showed such excellence he was given the U.S Fulbright Scholarship; 1955 admitted to the University of Washington where he bagged a Bachelors degree in architecture and city planning; a Masters degree in urban planning; from the University of London, he excelled with degrees in sociology, history, philosophy and law; from the University of Strathclyde his Ph.D. in architecture. A well-rounded intellectual, he continued to earn the Bachelor of Law degree from the Nigerian Law School in Lagos.
At his 80th birthday, I said during my keynote presentation that: "Dr. Alex Ekwueme, you have planted human seeds through large scale scholarships and empowerment of Oko persons and other communities; many will thank you; may be a few will scorn you with their violent ingratitude that the sun and moon you showed them were not bright enough…. No matter what, Ide, your name and legacies are greater."
As a chronicler of history, ancient and modern, of current affairs and the business of power for the past 35 years of the Igbo nation, of Nigeria, of Africans and Americans, I
can state without any concerns of contradiction that Dr. Alex Ekwueme is among the top 50 greatest Africans of the 20th century!
Finally, I offer you the gift of the wise words of my Aro elders: Ide, may your lineage endure!!
•Dr. Chido Nwangwu, moderator of the Achebe Colloquium (Governance, Security, and Peace in Africa) and author of the forthcoming 2018 book titled 'Mandela & Achebe: Footprints of Greatness'  www.MandelaAchebeChido.com, is the Founder & Publisher of Houston-based USAfrica multimedia networks since 1993, and the first African-owned, U.S-based newspaper published on the internet USAfricaonline.com. He has been profiled by CNN International for his pioneering work on the news and public policy interests of Africans and Americans.  Chido, former adviser on Africa business to Houston's ex-Mayor Dr. Lee Brown, appears as an analyst on CNN, London-based SkyNEWS,  NBC, ABC, CBSNews and other platforms. e-mail: Chido247@Gmail.com. Follow him on Twitter @Chido247
USAfrica: PDP, Obasanjo and Jonathan failed Nigeria. By Hafsat Abiola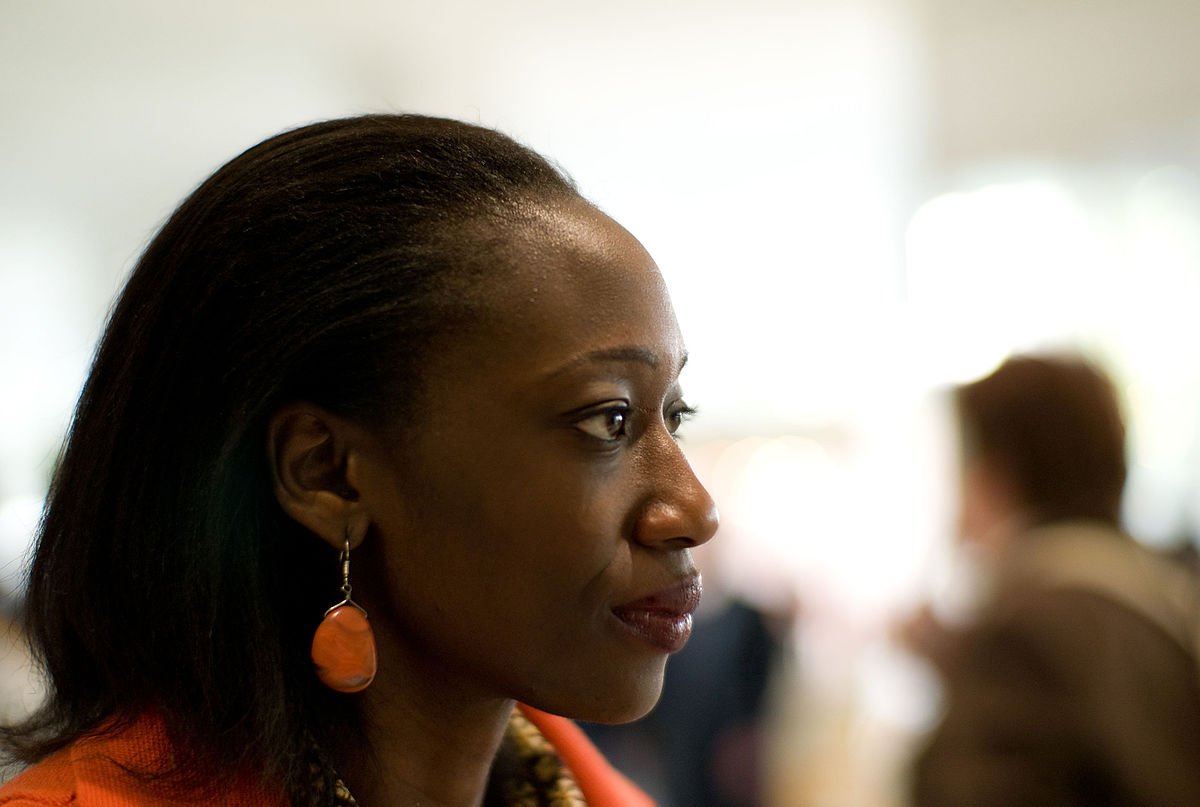 Special to USAfrica [Houston] • USAfricaonline.com  • @Chido247
(slightly edited for context by USAfrica)
Please nobody should abuse my late father (MKO Abiola).. with this sudden noise that "Buhari was playing politics" (by honoring MKO through declaring June 12 as Nigeria's democracy day).
When did it become a crime for politicians to play politics? 
Were they not voted in to play politics? 
Will it be wrong to develop our roads, infrastructure, free education, return oil blocks to the State instead of individuals? 
What is this noise all about? 
Jonathan was voted for by the South West in 2011, the same SW voted for Buhari in 2015, what is all this noise all about the SW going for Buhari? 
Former president Obasanjo, the direct beneficiary of #June12, is from the same State with MKO; why didn't he play politics and declare June 12? 
Jonathan  had opportunity for 5 years to do same, he rather gave Abacha from the North posthumous honor, pardoned ex-convict from the West, Alams from the South… 
What do you call that? 
Is that politics or chemistry? 
16 years opportunity to acknowledge #June12 they refused to use the #PoliticalUndertone…
So are you expecting Buhari to use Biological or Chemical undertone to take such decision? 
Why are you guys fixated about those supporting Buhari, is it not a choice and must you dictate to others? 
You brought up religious sentiments prio to 2015 election, yet blamed Buhari fr being the religious bigot….
Jonathan was running from one Church to another, Sambo openly told them in the North that they must not vote for Buhari because Osinbajo is a Pastor of a big Church….Who is a religious bigot here? 
I mean, who was running from one religious organisation to another in 2015 because of politics? Pastor Bosun came up with that sudden apostasy, wrapped up Jonathan PDP politics in the name of "wake up call" message.
I'm happy that I'm still here. I asked him when most of you were analyzing that heretic message that "Jonathan is fulfilling prophecy"…..
I asked a simple question: "Which prophecy is Jonathan"? Pastor Bosun went ahead to say "even if the Islamic party (APC) presents a Christian Governor in Lagos, you must not vote for him, you must vote for the other party (PDP)…." Wait, who was using religion?
Obasanjo removed Senate Presidents at will, removed any opposing voice, removed Fayose for a small insult, removed Ladoja with thugs in Ibadan…. Who are you calling "DICTATOR"? Muhammadu Buhari……… 
Obasanjo withheld Lagos State fund for 3 years, not minding how Lagosians would eat. President Yar'adua [Obasanjo's successor] got there and released the funds.
Nigeria's National Assembly [NASS] members are abusing Buhari openly, messing up everything at will, Fayose has been abusing Buhari for 4 years now….. 
Not a single State in Nigeria has been denied their constitutional rights because of politics till date, all their funds, Paris fund, bail out, FAAC etc… But who is the DICTATOR? BUHARI. 
Jonathan ensured that NASS opposition members were locked out including Tambuwa the Speaker of the house. They had to climb gate to gain access…..
Jonathan empowered OPCs in Lagos and they were destroying anything in Ikorodu to Ojota that looked like opposition party. Orga of DSS was used to invade APC secretariat, Journalist arrested and Newspapers siezed, we forgot all these….
Ekiti was militarised, Fayose was given power from Aso rock to order Military guys at will. Fayemi the incumbent at that moment was rendered powerless that he was shouting when Police commissioner was used by PDP and a guy was shot…All these videos and pictures are still here (google is your friend)…
But who is the dictator? BUHARI. Jonatahn met FX+ECA at $62 billion+. He DEPLETED it to less than $30 Billion in 5 years Jonathan sold crude oil for 5 years at an average of $100 per barrel of 2.2 million daily (2010-2014). Did he add a DIME to Nigeria purse in 5 years? NO. 
Buhari the ILLITERATE sold oil at an average of $50 of less than 700,000 barrel at some points because of militancy, yet had moved that FX to $47 Billion in 3 years. Don't say how much did he borrow if you don't even have the figure borrowed between 2010-2015 without adding a dime to FX. Who is the ILLITERATE? BUHARIIII. 
Jide Omokore, Aluko and oil goddess Alinson made an oil deal of N1 trillion and chose not to remit to Nigeria under GEJ. Did anyone raise eyebrow? INTEL of Atiku refused to remit to NPA, not until last year that "ordinary" Hadiza the NPA boss challenged INTEL and insisted the funds must be remitted. 
A Christian Professor had been leading JAMB all through Obasanjo to Jonathan; yet for 40 years of JAMB, only N52 Million was remitted to FG….A Muslim Professor who was appointed just in two years of handling JAMB remitted over N15 Billion……FIFTEEN BILLION.
So who is following after righteousness?
For five years [of the Obasanjo and Jonathan's different presidencies as Finance Minister Dr. Ngozi] Okonjo Iweala was paying over 45,000 ghost workers unabated, yet just within 3 years, "ordinary" Kemi Adeosun removed such nonsense.