USAfrica: Obiano's 2nd term in Anambra offers hope in governance. By C. Don Adinuba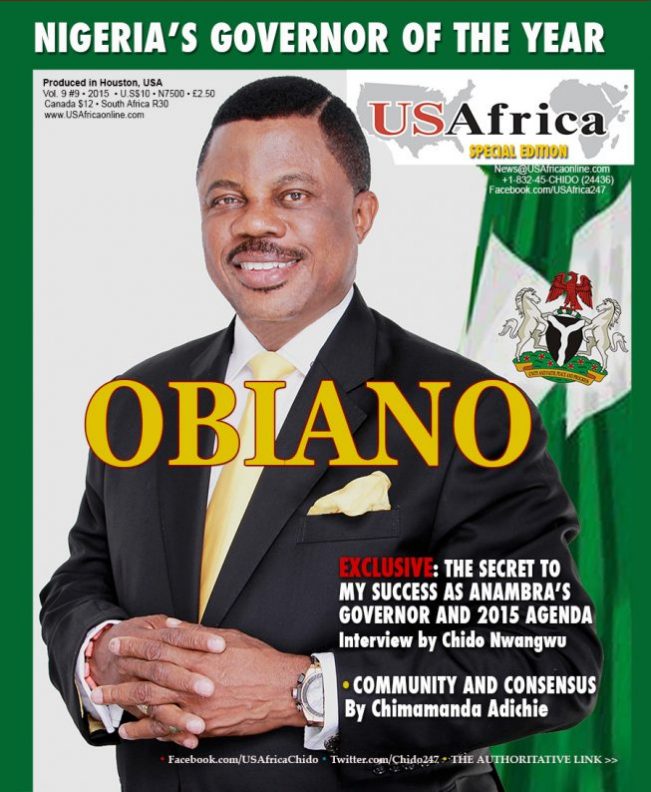 Obiano's 2nd term in Anambra offers hope in governance
By C. Don Adinuba
Special to USAfrica [Houston]  @USAfricaLive
Since the relationship school, closely associated with Peter Drucker, made a robust comeback in the 1990s among leadership and management researchers, top management schools around the world have displayed a greater interest in the role of passion in the success of organizations.
The resource-based view (RBV) in strategic human resource management argues that a fundamental difference between high achieving organizations and average ones is the passion difference. While ordinary firms are run by people who work without passion, super performing organizations have members who go far beyond the call of duty to deliver the goods.
Two expressions which are closely associated with passion by organizational members are deliberate practice and stretch. By deliberate practice, applied psychologists refer to the fact that people who put in greater effort than most of their competitors. Stretch in management science is a term first used in 1990 by General Electric under Jack Welch to refer to a task that seemed initially impossible but eventually got done.
Passion is extremely important in political leadership, too, especially in crisis situations and transformation of societies. Passion, sometimes referred to as commitment, is the heart of nationalism. One of the critical success factors for the phenomenal transformation of South Korea, Singapore, Taiwan, Hong Kong and other southeastern societies is the passion of the people and their leaders. Nationalism is now regarded as one of the core Asian values. We all saw how everyday people in South Korea brought out highly cherished personal assets like trinkets and sold and gave the proceeds to the government to enable it to weather the storm when their country's economy went into a tailspin in the late 1990s. Western scholars, who used to mock the Asian countries for their acute nationalism, have since acknowledged that nationalism was a key factor in the quick recovery of Asian nations and territories from the profound currency crisis. That Biafra survived for a whole 30months during the Nigerian civil war of 1967 to 1970, despite all the great odds, owed to the passion of the people.
The first thing which struck new members of the Willie Obiano administration in Anambra State as they assumed office on Monday, March 25, was passion writ large. In fact, the passion thing had become manifest three days earlier, on the first day of the two-day retreat to prepare the members for the task ahead. The governor arrived at the retreat when most of the commissioners, special advisers, permanent secretaries and heads of the agencies were still eating. Because he uses no siren, the governor took most people by surprise. On the second day, he also arrived ahead of the time.
Obiano sat through the two-day retreat, taking notes, contributing to every discussion on the scintillating presentations by Chukwuma Soludo, ex Central Bank of Nigeria governor; Osita Ogbu, an economics professor and director of Development Studies at the University of Nigeria, Enugu Campus, who is a former chief economic adviser to the president and chairman of the National Planning Commission; Ibrahim Magu, head of the Economic and Financial Crimes Commission; Daniel Okafor, a director of the Code of Conduct Bureau; Bismarck Rewane, the chief executive of Financial Derivates, a Lagos-based consulting firm; Macaulay Atasie of Nextzon, also in Lagos; Twinkle Oruware, an engineer and management consultant in Ibadan, Oyo State; Collins Onuegbu, a software consultant; and Fela Durotoye, an exceptional motivational speaker . Each presenter provided sufficient food for thought.
Passion was also at display on the day the new appointees were inaugurated. Just before the inauguration, a short ceremony was conducted for those who worked with Obiano in his first term. John Emeka, the Anambra State deputy governor from 1999 to 2003 who was to serve under Obiano as Commissioner for Science and Technology, delivered a soul-stirring speech which was apparently spontaneous. Far from showing bitterness for not being reappointed like most departing members of the council, Emeka told Obiano: "I will cherish participating in your government every day of my life. People of Anambra are very proud of you. This is why they voted for you overwhelmingly in the last November 18 governorship election". Turning to the new members of the council, the ex deputy governor said: "You must prove your mettle from Day One. He is accessible and amenable. He wants you to disagree with him because he knows you are no robots; he likes good, healthy debates". Like other members of the outgoing council, Emeka received a certificate of merit, a lapel pin of the state and all his entitlements right there.
The inauguration was followed immediately by the first Executive Council meeting which the governor led, and he spoke for about four hours on various topics without leaving his seat for a second and without notes. He remembered the minutest detail of discussions held at the last Exco meeting on March 5.Throughout the long hours the first Exco meeting lasted, he left no one in doubt that he genuinely believes in his mantra of "achieving more with less".
The governor was passionate during his meeting with the board of the Anambra Broadcasting Service (ABS) two days later. Having built the most technologically advanced radio and television stations in Africa, he demanded that the TV channel go digital in less than three months and that it do 24-hour broadcasting which has to be available on DSTV, the popular pay channel operated by Multichoice of South Africa. Expressing disgust at the quality of buildings at the ABS, he said work would soon begin on the construction of tall and elegant buildings there. Turning to me, he declared: "We must learn how to use our land resource very efficiently, since the state is the smallest in the country in terms of land mass, after Lagos. Even so, erosion has reduced our land mass considerably. See how Singapore, Israel, Hong Kong and Taiwan use their limited lands to create wonders".
The meeting with the ABS board had hardly ended when he entered the weekly Security Council meeting where he dominated the environment. Members of the council include not just the state police commissioner, the DSS director in the state, the Civil Defence and security Corps commander, the army and naval commanders in the state, the Commissioner for Information and Public Enlightenment, the governor's special adviser on security, his special assistant on security and head of the state vigilante who is a respected retired police commissioner, but also heads of the Customs Service, the Immigration Service, the Prison Service, and the Federal Road Safety Corps.
Obiano invites some other people to participate in the security council meetings depending on the issues for deliberations; this time a representative of the traders unions attended because of some market issues. The governor takes security so seriously that he counts the number of road blocks by security agents and the number of soldiers and policemen manning each at any point. He even noticed that some sandbags used by the police in remote riverine communities sharing border with Kogi State were torn and ordered their replacement.
The next day, he ran straight from Onitsha where he was attending the Maundy Thursday mass in Onitsha, as part of the Christian Holy Week of Easter, and headed straight to the Alex Ekwueme Square in Awka where he handed over 40 vehicles from the Innoson Vehicles Manufacturing firm in Nnewi to security agencies. He promised an additional "100 made in Anambra vehicles soon to the agencies to ensure our state remains the most peaceful in West Africa". Val Ntomchukwu, the Deputy Inspector General of Police who represented IGP Abubakar Idris on the occasion, said: "Other states should emulate Anambra which has become the country's safest state. The governor means every word he utters".
I have never seen the Anambra people so optimistic of their state as they have been in the last few months. Having been in office for just two weeks, I now have a better understanding of why Chukwuma Soludo, Bart Nnaji, Victor Umeh, Chris Okoye, Okey Ndibe and even Emeka Anyaoku and the Obi of Onitsha encouraged me to go to Anambra State and make my contribution to the development of the state, after my initial hesitance. Babatunde Fashola, the Minister of Power, Works and Housing, calm , cool and very measured as ever, spoke about Obiano the way I have never heard him praise any governor. Anambra State provides a glimmer of hope for Nigeria.
Adinuba is Commissioner for Information and Public Enlightenment, Anambra State.
USAfrica: PDP, Obasanjo and Jonathan failed Nigeria. By Hafsat Abiola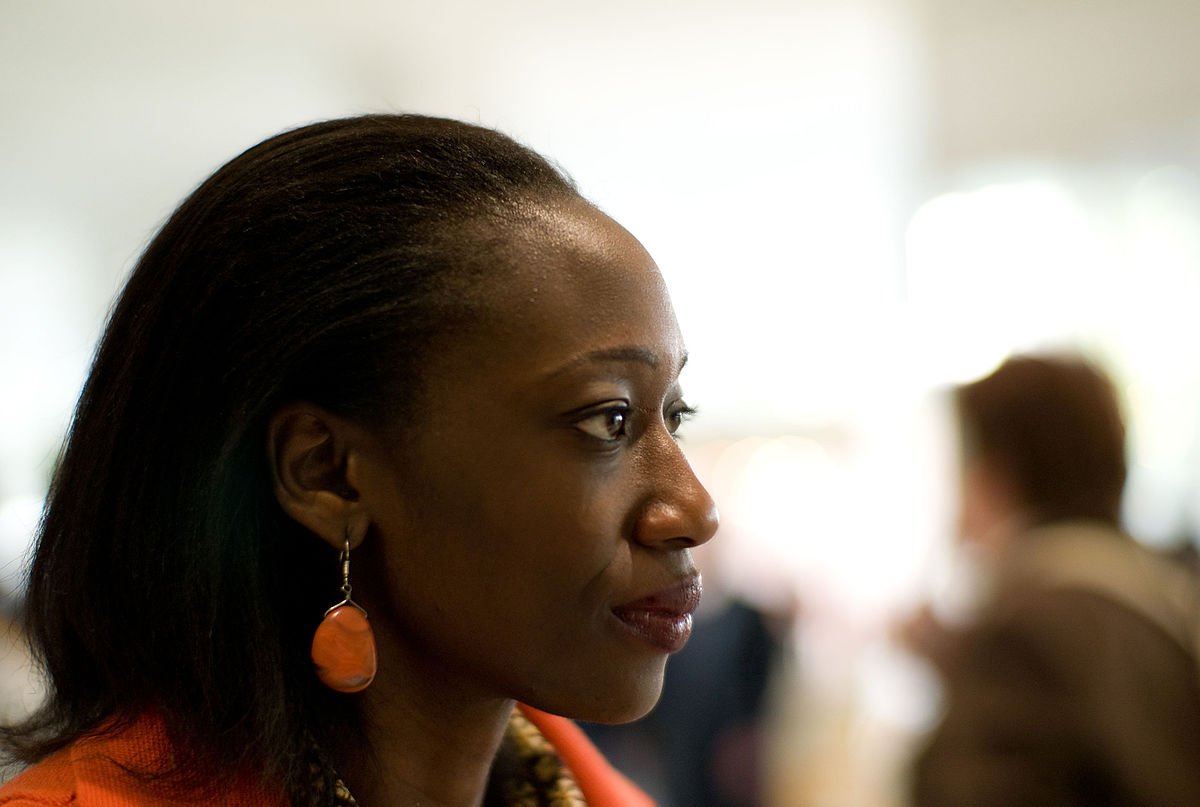 Special to USAfrica [Houston] • USAfricaonline.com  • @Chido247
(slightly edited for context by USAfrica)
Please nobody should abuse my late father (MKO Abiola).. with this sudden noise that "Buhari was playing politics" (by honoring MKO through declaring June 12 as Nigeria's democracy day).
When did it become a crime for politicians to play politics? 
Were they not voted in to play politics? 
Will it be wrong to develop our roads, infrastructure, free education, return oil blocks to the State instead of individuals? 
What is this noise all about? 
Jonathan was voted for by the South West in 2011, the same SW voted for Buhari in 2015, what is all this noise all about the SW going for Buhari? 
Former president Obasanjo, the direct beneficiary of #June12, is from the same State with MKO; why didn't he play politics and declare June 12? 
Jonathan  had opportunity for 5 years to do same, he rather gave Abacha from the North posthumous honor, pardoned ex-convict from the West, Alams from the South… 
What do you call that? 
Is that politics or chemistry? 
16 years opportunity to acknowledge #June12 they refused to use the #PoliticalUndertone…
So are you expecting Buhari to use Biological or Chemical undertone to take such decision? 
Why are you guys fixated about those supporting Buhari, is it not a choice and must you dictate to others? 
You brought up religious sentiments prio to 2015 election, yet blamed Buhari fr being the religious bigot….
Jonathan was running from one Church to another, Sambo openly told them in the North that they must not vote for Buhari because Osinbajo is a Pastor of a big Church….Who is a religious bigot here? 
I mean, who was running from one religious organisation to another in 2015 because of politics? Pastor Bosun came up with that sudden apostasy, wrapped up Jonathan PDP politics in the name of "wake up call" message.
I'm happy that I'm still here. I asked him when most of you were analyzing that heretic message that "Jonathan is fulfilling prophecy"…..
I asked a simple question: "Which prophecy is Jonathan"? Pastor Bosun went ahead to say "even if the Islamic party (APC) presents a Christian Governor in Lagos, you must not vote for him, you must vote for the other party (PDP)…." Wait, who was using religion?
Obasanjo removed Senate Presidents at will, removed any opposing voice, removed Fayose for a small insult, removed Ladoja with thugs in Ibadan…. Who are you calling "DICTATOR"? Muhammadu Buhari……… 
Obasanjo withheld Lagos State fund for 3 years, not minding how Lagosians would eat. President Yar'adua [Obasanjo's successor] got there and released the funds.
Nigeria's National Assembly [NASS] members are abusing Buhari openly, messing up everything at will, Fayose has been abusing Buhari for 4 years now….. 
Not a single State in Nigeria has been denied their constitutional rights because of politics till date, all their funds, Paris fund, bail out, FAAC etc… But who is the DICTATOR? BUHARI. 
Jonathan ensured that NASS opposition members were locked out including Tambuwa the Speaker of the house. They had to climb gate to gain access…..
Jonathan empowered OPCs in Lagos and they were destroying anything in Ikorodu to Ojota that looked like opposition party. Orga of DSS was used to invade APC secretariat, Journalist arrested and Newspapers siezed, we forgot all these….
Ekiti was militarised, Fayose was given power from Aso rock to order Military guys at will. Fayemi the incumbent at that moment was rendered powerless that he was shouting when Police commissioner was used by PDP and a guy was shot…All these videos and pictures are still here (google is your friend)…
But who is the dictator? BUHARI. Jonatahn met FX+ECA at $62 billion+. He DEPLETED it to less than $30 Billion in 5 years Jonathan sold crude oil for 5 years at an average of $100 per barrel of 2.2 million daily (2010-2014). Did he add a DIME to Nigeria purse in 5 years? NO. 
Buhari the ILLITERATE sold oil at an average of $50 of less than 700,000 barrel at some points because of militancy, yet had moved that FX to $47 Billion in 3 years. Don't say how much did he borrow if you don't even have the figure borrowed between 2010-2015 without adding a dime to FX. Who is the ILLITERATE? BUHARIIII. 
Jide Omokore, Aluko and oil goddess Alinson made an oil deal of N1 trillion and chose not to remit to Nigeria under GEJ. Did anyone raise eyebrow? INTEL of Atiku refused to remit to NPA, not until last year that "ordinary" Hadiza the NPA boss challenged INTEL and insisted the funds must be remitted. 
A Christian Professor had been leading JAMB all through Obasanjo to Jonathan; yet for 40 years of JAMB, only N52 Million was remitted to FG….A Muslim Professor who was appointed just in two years of handling JAMB remitted over N15 Billion……FIFTEEN BILLION.
So who is following after righteousness?
For five years [of the Obasanjo and Jonathan's different presidencies as Finance Minister Dr. Ngozi] Okonjo Iweala was paying over 45,000 ghost workers unabated, yet just within 3 years, "ordinary" Kemi Adeosun removed such nonsense.