Why Nigeria is a country divided against itself and cannot stand. By Bayo Oluwasanmi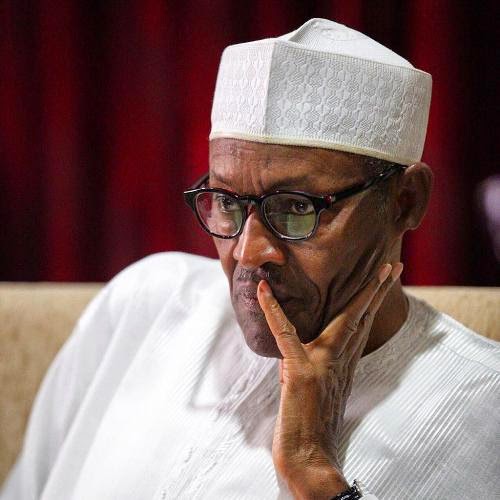 By BAYO OLUWASANMI
Special to USAfricaonline.com
[quote font="georgia" font_size="16″ color="#ffffff" bgcolor="#04135b" bcolor="#dd9933″ arrow="yes" align="right"]The recent proclamation of northern youths and the ultimatum given to Igbo people to vacate the north within three months [until October 1, 2017] shed much needed light on why Nigeria is not, and will never be, one united nation. There is no mystery as to how we got to this point. There is also no mystery as to who to blame. There is no need for conspiracy theories. The polarization of public life exacerbated by government corruption and incompetence has become so tense it will lead to widespread civil disorder, culminating in chaos and crises…. Nigeria is a country divided against itself and cannot stand.[/quote]
We have witnessed the independence of Slovenia from the former Yugoslavia, the collapse of the Soviet Union, the division of the former Czechoslovakia, and the separation of both Eritrea from Ethiopia and South Sudan from Sudan.
Numerous of successful secessions have allowed people greater freedom and self-determination: Greek independence from the Ottoman Empire, the Hungarian split with the Soviet Union in 1989, Singapore's secession from Malaysia in 1965, Ireland's independence from the UK, and countless others.
Nigeria's impotence as ungovernable, divided, separate, hostile, and unequal nation is apparent for all to see. Nigeria, as we know it, is dead! The country is irrevocably broken along ethnic, linguistic, geographical, religious, and cultural lines. The sooner the Nigerian people accept this, the sooner the break-up and the sooner we can move on.
From time to time, the break-up of Nigeria becomes inevitable to many of us who believe that "In the course of human events, it is necessary for one people to dissolve the political bands which have connected them." We're in one of those periods now, and while the reasons are unique, the historical moment is not new. In 1953, the northerners considered secession from the Nigerian colony that would soon be an independent nation.
The words of our founding fathers that Nigeria is not one country remain prophetically instructive.
Listen to them:
"Nigeria is not a nation. It is mere geographical expression. There are no 'Nigerians' in the same sense as there are 'English,' 'Welsh,' or 'French.'  The word 'Nigerian' is merely a distinctive appellation to distinguish those who live within the boundaries of Nigeria and those who do not," Chief Obafemi Awolowo said in 1947.
"Since 1914 the British government has been trying to make Nigeria into one country," Alhaji Abubakar Tafawa Balewa said, "but the Nigerian people themselves are historically different in their backgrounds, in their religious beliefs and customs, and do not show themselves any signs of willingness to unite… Nigerian unity is only a British invention."
Dr. Nnamdi Azikiwe argued in 1964 that "It is better for us and many admirers abroad that we [Nigeria] should disintegrate in peace and not in pieces. Should the politicians fail to heed this warning, then I will venture the prediction that the experience of the Democratic Republic of the Congo will be child's play if ever it comes to our turn to play such a tragic role."
The recent proclamation of northern youths and the ultimatum given to Igbo people to vacate the north within three months shed much needed light on why Nigeria is not, and will never be, one united nation. There is no mystery as to how we got to this point. There is also no mystery as to who to blame. There is no need for conspiracy theories. The polarization of public life exacerbated by government corruption and incompetence has become so tense it led to widespread civil disorder, culminating in chaos and crises.
Nigeria is fast approaching a complete collapse. For long, many of us have raised alarm that our government and the way the system is being run are not working, and cannot guarantee delivery of basic essential services. The ominous declaration of the northern youths has left Nigerians in fear of what tomorrow may bring. While all this plays out, Nigerians watch in horror and amazement from the sidelines and wonder when the inevitable will occur.
Inequality between the looting ruling class and the poor has become increasingly intolerable. The native tyrants in the National Assembly, better still, National Asylum, are in stupor of random pleasures and whims, feasting on plenty of food and sex, and reveling in the non-judgment that democracy is civil religion. From all indications, our democracy is in retreat, close to being destroyed by vast corruption, ineptitude, incompetence, and fraud. Those in Abuja couldn't care less about our people. They couldn't care less that for 58 years we couldn't get along.  They couldn't care less that Nigeria is as good as dead. Nigerians are angry – Igbos, Hausas, and Yorubas. They are all angry for being sick and poor and tired of being cannon fodders. They are tired of being jobless and hopeless. Brother is turning against brother. Killing of families and children are the norm rather than the exception. Nigerians are nickel-and-dimed to death in their everyday life. Workers, if paid at all, are paid peonage wages. The nation's peonage wage is at subsistence level. This is simply incompatible with self-determination.
With subsistence living, Nigerians are constrained into a desperate state. Their horizon is limited to the present day, to getting enough of what they need to make it to the next. The minimum wage in Nigeria is N18,000 per month. This is criminally below the poverty line. That's a scrambling, anxious existence, narrowly bounded. It's impossible to decently feed, clothe, and shelter yourself on a wage like that, much less a family, much less have money to see the doctor,  or pay for your kids college, or participate in any of those good things of life. Down to the peon level, the pursuit of happiness sounds like a bad joke.
The critical mass of our people is kept in peonage. All its vitality spent in the trenches of day-to-day survival with scant or no opportunity to develop the full range of its faculties. That's why I'm miffed by the numbed-out, dumbed-down, make belief Nigerians who still believe that Nigeria could be saved from falling apart. This is deceptive and uncharitable given our past political history and the present political realities of our nation. Those who see future or unity in one Nigeria are deluded, ignorant, unrealistic. They don't know what's real, what's possible, and can't differentiate fact from fiction.
How can the proponents of one Nigeria explain the humiliation and insult heaped on Vice President Osinbajo when Buhari's Chief of Staff Abba Kyari referred to him as "Coordinator of National Affairs" instead of Vice President? The freest and fairest presidential election in our history was won by MKO Abiola. The election was annulled by a northerner. He was robbed of the presidency and he was killed.  If Osinbajo and Abiola were Hausas, nothing of such would have happened to them. Examples of such second class treatment abound. We need not bury our heads in the sand like the proverbial ostrich as if all is well with a troubled and traumatized nation suffering from history of division and disunity.
Nigeria is a country divided against itself and cannot stand. Nigeria is virtually bankrupt. The clamor for separation is the manifestation of a nation grounded as it were, without hope of moving forward after 58 years. I believe it's too late to save Nigeria from disintegration. Our union for the past 58 years has produced no peace, no progress, and no prosperity for the poor majority. The only beneficiaries and the loudest advocates of one Nigeria are those profiteers from the miseries of the pulverized poor – the ruling class.
USAfrica: Is Nigeria's President Buhari above the Law? By Chidi Amuta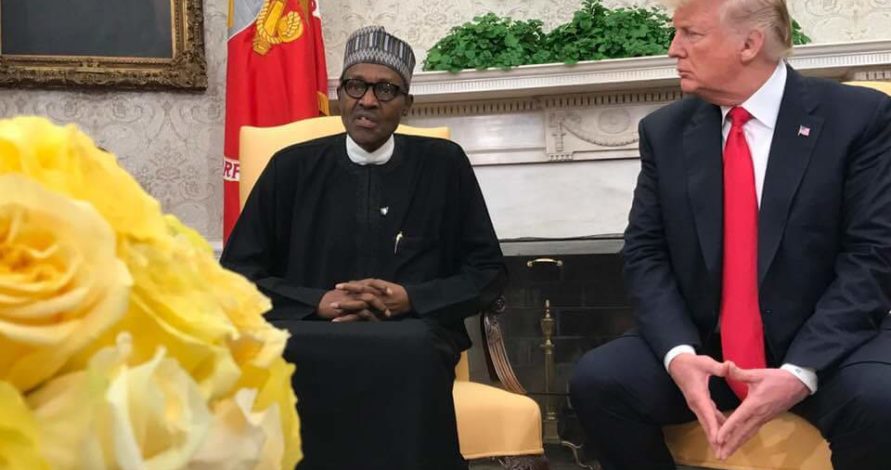 Nigeria is striving to build a democracy. Our history is steeped in a variety of authoritarian excursions of sometimes frightening extents. President Buhari is quite conversant with that history. He has the singular distinction of being easily the prime author of the most draconian chapter in the history of human rights abuses by the Nigerian state in history to date.

It is a chapter in which national security was mystified, degraded and routinely abused. It became a myth that was conjured by state minions to justify horrendous violations of the rights of innocent people. Crating and boxing citizens in foreign lands for repatriation as cargo to face trial, routine public executions of citizens for criminal infractions , gagging of the Press and jailing of factful journalists as well as lengthy prison terms handed down by kangaroo tribunals fell under 'national security'.

National memory can forgive. It never forgets. Therefore, Nigerians have difficulty in trusting even a democratically elected president, let alone the former military dictator Buhari, to invoke national security to justify acts of state that could violate individual rights and freedoms. Justifiably, the burden of distrust weighs heavy on this land.

 Even then, it is our collective subordination to the constitution as ultimate law that makes us citizens of a republic.
By Dr. CHIDI AMUTA, Executive Editor of USAfrica magazine since 1993, and USAfricaonline.com
Nigeria's President, retired General Muhammadu Buhari has just advanced what may pass as his most debatable and far reaching proposition on law and sovereign responsibility in a democracy since he assumed power almost four year ago. He reportedly told the annual conference of the Nigerian Bar Association a few days back in Abuja that where the rule of law and the imperatives of national security collide, the arc of supremacy would bend in favour of national security.
 
The inherent controversy is old but its relevance to today's Nigeria is boiling hot.
This is perhaps an elaboration of a position earlier articulated by Attorney General, Malami to justify the continued detention of both Shiite leader, Sheikh El Zakzakky, and former National Security Adviser, Sambo Dasuki, in persistent violation of an avalanche of court orders to the contrary.

In that preceding submission, Mr. Malami, himself a lawyer of some repute, had argued that the crimes for which both detainees were being held are matters of severe national security interest that supercede judicial adjudication. Therefore, the administration cannot but hold them in defiance of court orders. 

In particular, Mr. Dasuki's alleged crimes, he argued, touched on grave security issues that have to do with the Boko Haram insurgency.
Mr. Malami almost ruined his own argument then when he argued that vicariously, Mr. Dasuki as NSA may have omitted or committed acts which led to loss of lives in the insurgency war. His detention he inferred was partly to atone or compensate for those deaths and therefore his freedom to continue facing justice would endanger national security hence his continued detention. This consideration of national security lies above the democratic imperative of the supremacy of the rule of law.
Implicit in Buhari's and Malami's mutually reinforcing positions is the presumption that the determination of national security is the exclusive preserve of the president or the federal government as sovereign authority who is implicitly above the law.
Without necessarily linking both positions, it is safe to say that both the president and his chief legal surrogate have touched a rather contentious issue in both jurisprudence and political thought. In a nation that is replete with all manner of lawyers and judicial pundits, a land where the rule of law can appear more like the rule and even tyranny of noisy lawyers and legalistic intellectuals, it would perhaps be futile to engage on the matters of legality and jurisprudence that have been raised by the executive branch..

But on the political implications, implications and meaning, fidelity to democracy and its originating liberal ethos dictates that we as a public openly interrogate the proposition further. We We may not be equipped to wrestle with lawyers on the matter but we do have a stake as to who decides what constitutes national security and also the ultimate source of the authority to decide what threatens us as individuals and as a national community. Even more important, it is our right to know and agree on where national security ends and individual rights begin.

In a democracy, the most fundamental assumption that attracts us all to subscribe to a republic by surrendering our rights and liberty to a sovereign is a certain belief in the equality of all men(and women) before the law.
The fair assumption is that both the sovereign and we the people are presumed equal before the law. Therefore we exercise the freedoms which democracy confers in reasonable assurance that those we empower to rule over us will do so in fairness and justice according to law.

There is a further assumption that in the conduct of the affairs of the republic, the leader will be guided by fidelity to the law. This is why the oath of office is worded the way it is and taken with hands on a holy book- a symbol of the divine source of all secular power- literally, God in the absence of a pope or grand Imam!

Belief in the rule of law and sovereign equality before the law is perhaps the only guarantee we all have that those we elect to rule over us will not turn into a band of outlaws. This is my personal perennial quarrel with the immunity provisions in the Nigerian constitution which, ab initio literally empowers and emplaces authorized 'outlaws' to preside over the affairs of law abiding citizens.

Be that as it may, there are certain concessions that must be granted to the president's proposition.
First, the premier condition in the job description of an elected president in a free democratic state is to preserve law and order by guaranteeing the security of life and property.
The assumption is that without national Security, there will be no order let alone the application of law. It is only fair then that we trust the president in determining what constitutes national security and what acts of citizens could endanger nation's security.
There is in the management of national security an implicit assumption that the president has privileged access to intelligence and information that is not available to the rest of us. After all, the president is the boss of a network of professional security experts on the basis of whose judgment and inputs he determines matters of national security.
To that extent, we can assume that presidential judgment on such matters will be in the highest national interest and in conformity with the values that inform every democracy.

There is the additional convention that estimates of national security at the highest level of state can be ascribed to the 'reason of state', an indication that those who manage the affairs of state possess a collective wisdom that embodies the highest interests of the nation.
Yet, it is often the case that a governing collective finds it difficult to rise above their own narrow interests. Thus, national interest becomes the interests of the power collective or in local parlance, the 'cabal'. In Nigeria, such successive cabals almost now approximate a Nigerian deep state. It will be unfortunate if the enemies of the Nigerian deep state are canvassed as enemies of the nation.

Therefore, great care needs to be applied in granting the president the prerogative of absolutely determining what constitutes national security.
It should not be a blank cheque because we remain largely a compromise nation state, ruled by revolving tribal chieftains, persons 'elected' as representatives of geo political appeasement.

Where a president's conception of national security infringes on the fundamental rights of individuals and groups in open violation of the constitution, then we are in the region of abuse of sovereign power or authority.
Also, where the definition of national security is skewed to resemble a partisan, sectarian or sectional bias, then there is a further danger to the entire polis. 

In either case, it is only the courts that can intercede to decide where presidential authority and responsibility end and fundamental the rights of individuals begin. Both the president and those individuals whose rights are violated or who feel aggrieved must go to court to obtain justice according to the law whose grund norm remains the constitution. The situation requires justice, not just judgments.
And once a court of decisive jurisdiction makes a ruling on the matter, the republic expects obedience by both king and public.

To constantly scale the wall of rule of law by citing national security as an absolute unquestionable prerogative of the sovereign is to veer in the direction of autocracy and medieval
absolutism.
While no court will overrule a president on genuine national security assessment or decision, no credible court will grant a president the authority to violate individual rights under the guise of national security. Where both positions clash, it is still the courts that will have to make the final determination. In the final analysis, then, authentic democratic order dictates that both kings and plebeians should obey the law.

In the recent history of the United States, for instance, president Donald Trump had to repeatedly return to court to obtain the right to exclude certain categories of immigrants from the US on grounds of national security.
Even the US Supreme Court in its ruling on the matter was very careful. While upholding the right and responsibility of the president to act to protect national security at all times, it insisted that that presidential obligation must not infringe on the rights of innocent individuals nor must it violate the non discriminatory principles that underly the American constitution.
Nigeria is striving to build a democracy. Our history is steeped in a variety of authoritarian excursions of sometimes frightening extents. President Buhari is quite conversant with that history. He has the singular distinction of being easily the prime author of the most draconian chapter in the history of human rights abuses by the Nigerian state in history to date.

It is a chapter in which national security was mystified, degraded and routinely abused. It became a myth that was conjured by state minions to justify horrendous violations of the rights of innocent people. Crating and boxing citizens in foreign lands for repatriation as cargo to face trial, routine public executions of citizens for criminal infractions , gagging of the Press and jailing of factful journalists as well as lengthy prison terms handed down by kangaroo tribunals fell under 'national security'.

National memory can forgive. It never forgets. Therefore, Nigerians have difficulty in trusting even a democratically elected president, let alone the former military dictator Buhari, to invoke national security to justify acts of state that could violate individual rights and freedoms. Justifiably, the burden of distrust weighs heavy on this land.

 Even then, it is our collective subordination to the constitution as ultimate law that makes us citizens of a republic.
On a scale of supremacy, therefore, national security as defined by any one particular sovereign remains inferior to the eternity of individual rights and freedoms guaranteed by law as deriving from the constitution.
Kofi Annan's legacy complicated by genocide in Rwanda. By Prof. Danny Bradlow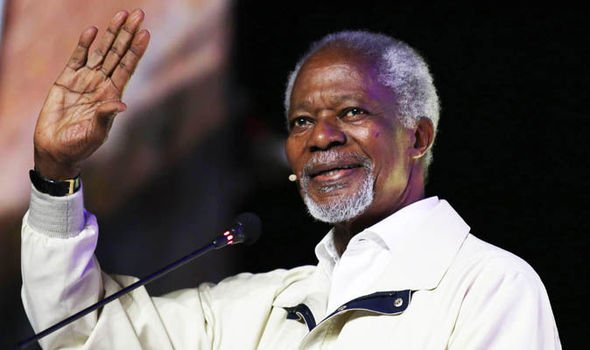 By Danny Bradlow, SARCHI Professor of International Development Law and African Economic Relations, University of Pretoria, South Africa.
Kofi Annan (80 years old) was an important historical figure who played a critical role in many key events of the 1990s and 2000s. His death is therefore an opportunity to both celebrate his life and to begin honestly assessing his contributions to the world.
The Ghanaian diplomat's legacy is complicated. He served as both head of the United Nations peacekeeping and as secretary general of the UN. His tenure in these high offices – from 1992 to 2006 – were marked by great human tragedies as well as episodes of progress. His role in these events raises difficult questions about individual responsibility and the role of international organisations and their leaders in creating a more peaceful and just world.

On the plus side, his contributions were impressive. He was an effective diplomat, a shrewd negotiator and an intelligent strategist. He was such a successful bureaucratic operator that he was the first UN employee to rise to the position of secretary general.

When he took over the organisation it was facing numerous challenges. They included a tense and often hostile relationship with its most powerful member state, the US, a difficult budgetary situation and what appeared to be an inability to fulfil its core peacekeeping, human rights and development functions.

By the end of his term, things looked very different. Relations with key member countries had been restored, the UN had a sound fiscal position and both he and the organisation had won the Nobel Peace Prize.
In addition, the organisation had launched some important new initiatives. It had adopted the Millenium Development Goals, which contributed to significant gains in health, education and human welfare in many countries around the world. The initiative was so successful that it was succeeded by the even more ambitious Sustainable Development Goals.
In addition, the international community had established the International Criminal Court and had begun prosecuting war criminals for their deeds in the wars in the former Yugoslavia and Rwanda.
He had also initiated the process of getting corporations to recognise and accept their responsibility for the environmental, social and human rights consequences of their activities. This process moved slowly. But his efforts ultimately led to the UN Human Rights Council unanimously endorsing the Guiding Principles on Business and Human Rights in 2011. These have now been incorporated into the human rights policies of many companies and have led to a number of countries adopting national action plans on the human rights responsibilities of business.
After he left the UN, Annan continued to do good work with both the Elders, a group of global leaders working for peace and human rights, and his own foundation. In these capacities he had some notable achievements. He helped resolve the post-election violence in Kenya, helped ensure peaceful elections in Nigeria and a number of other countries, and helped promote more productive and sustainable agriculture and good governance across Africa. He also tried, albeit unsuccessfully, to end the civil war in Syria and the campaign against the Rohingyas in Myanmar.
But there's also a darker side to Annan's record.
Annan was the head of UN Peacekeeping operations in the 1990s when two of the biggest failures in UN history happened. Under his watch both the Rwandan genocide and the massacres in Srebrenica took place.
In both cases his commanders on the ground requested authority to take stronger action to limit the risk of tragedy to those under their protection. In both cases he declined their request – with tragic results.
In addition, under his leadership UN peacekeepers in a range of countries, including Liberia, Sierra Leone and the Democratic Republic of Congo, were found to be sexually exploiting those they were charged to protect. The UN failed to respond promptly to these actions and they continued into the 2000s.
In most organisations, a leader who is responsible for such profound failures would be held accountable. If not fired, or forced to resign, they would at the very least be moved to a position of lesser authority. But this didn't happen because the UN has poor mechanisms and a weak culture of accountability. In fact, the UN and its member states, decided to promote Annan, selecting him to replace the first African secretary general, Boutros Boutros Ghali, who was deemed to be too independent minded by the US.
Annan continued relying on the UN's lack of accountability once he was in office. His son was implicated in the infamously corrupt food-for-oil programme that was initiated to help the Iraqi population during the period of sanctions against Saddam Hussein.
Eventually, under pressure, he appointed the independent Volcker Commission to investigate the programme. It concluded that, although Annan himself was not guilty of any wrongdoing, his actions in response to the abuses were inadequate, including that he had failed to refer the matter to the UN's independent watchdog agency.
He also tolerated sexual harassment within the UN Secretariat, protecting the former head of the UN refugee agency when he was accused of sexual harassment, penalising his accuser and then relying on the UN's legal immunity to avoid having to respond to her efforts to seek justice. The adverse publicity eventually forced the guilty official to resign.
There is no doubt that running a complex international institution like the UN is difficult and requires leaders who are willing to compromise. Given the secretary general's weak position, it may also be inevitable that its leaders will have to turn a blind eye to some acts and omissions that have tragic and possibly evil consequences in order to advance higher priorities.
Annan showed throughout his career that he was a master at playing this game. As a result, his record includes both some impressive achievements and some profound failures. It will be up to history to decide if he made the right choices and struck the correct balance between doing good and tolerating evil.
In the meanwhile, we should all draw lessons from the life of this important historical figure about the importance of holding leaders and the institutions that govern our world accountable for their actions and decisions.
Houston, April 2, 2009: April 7 is the 15th anniversary of the 1994 Rwanda genocide by the same country's Hutu zealots who viciously set upon Rwanda's 1 million Tutsis for the most brutal decimation of an ethnic group within 100 hours in Africa and the world.
On Wednesday April 7, 2004, Rwandan President Paul Kagame  specifically named Belgium, Britain and the United States for  withdrawing their forces when Rwandans needed them, asserting that: "Injustice of powerful nations should be stopped. Rwanda should be a good example to learn a lesson."
The first, key lesson of the Rwanda genocide is that moral and courageous leadership serve our collective and singular moral interests. Kagame's view dovetails with the words of the civil rights icon Martin Luther King Jr. in his  'Letter from Birmingham Jail (April 16, 1963) arguing that "Injustice anywhere is a threat to justice everywhere." Also, later the holocaust survivor, Nobel Peace Prize winner Elie Wiesel in his book 'Un die welt hot geshvign (And the World Kept Silent)' later updated as 'Night', wrote: "Sometimes we must interfere. When human lives are endangered, when human dignity is in jeopardy, national borders and sensitivities become irrelevant. Whenever men or women are persecuted because of their race, religion, or political views, that place must- at that moment- become the center of the universe."
Biafra. Rwanda. Darfur, and other geopolitical zones of killings and human tragedy are reminders of past and continuing centers of the universe.
Reflecting on the crises of 1994, Gen. Romeo Dallaire, the UN commander whose call for reinforcements was ignored said recently: "The international community didn't give one damn for Rwandans because Rwanda was a country of no strategic importance." Bill Clinton was the president of the United States at the time.
The second lesson of the Rwanda Hutu-imposed genocide is that we have all seen the face of evil; sometimes, they reside among us. The Rwanda genocide is still fresh as the zone where next door neighbors and teenagers used knives and machettes and dane guns and assault rifles to kill those they played soccer with and fetched water from the same stream only a few hours earlier. Hutus set Tutsi houses on fire to destroy the lives of those who sang and played at the church churches and village squares.
The slaughter of women and children and all moving objects with any and all available weapons marked a new low in the depravity of malice and prejudice. The Rwandans have been for decades almost 92% christians (57% Catholic). There are almost 10 million Rwandans. Demographically, the Hutus (Bantu) form 84% of the population while the endangered Tutsis (Hamitic) constitute only 13%. There are the Twas (Pygmy) who form 1.4%
A third lesson of the domestic slaughter in 1994 in Rwanda is the highlight of the wider bloody history of annual violent bigotry inside Africa by Africans, what I call Africans-on- Africans- violence. They remind me of an interview the Voice of America (VOA) international service on September 11, 2002 where I said that:  "The armies of bigotry, and murderous hatefulness have left a very severe and deadly impact on Africa." Those armies, to be sure, are both external and local.
Which leads to the fourth lesson; a question: when will the blame everything on  the "white man-white person" and "colonialists and colonialism" think beyond the instinct to hold external factors entirely responsible for the continent's problems? I must note, frankly, that for all the divide and conquer and arbitrary mapping and lumping of dissimilar ethnic nationalities into awkward countries, for all the despoliation and degradation and exploitation of our African continent, "White people" did not compel the Hutus to express such primitive, medieval hateful, mechanized malice against their compatriots, the Tutsis.

The fifth lesson of the Rwanda genocide reveals the nakedness of one of the dirty secrets of African leaderships over the past 60 years: the weak-kneed clause of "non-interference" into the "sovereign" issues in other "member states" of the defunct organization of African Unity (OAU), now the African Union. They strive to protect their priviledged ponds of opulence and umbrellas of dictatorship and autocracy.

It is important to note that long before 1994 Rwanda, it is to the eternal credit of the late, great sage and President of Tanzania, Dr. Julius Nyerere that he tore the veil off the tawdry non-interference/ sovereignty in the face of human catastrophe when he interfered progressively against Nigeria's starvation policies against then Biafrans (Igbos, Anangs, Efiks, and 13 million other south eastern Nigerians during their 1967-1970 war for survival and independence from the rest of Nigeria).

After Biafra, Nyerere stood up against the dictator Idi Amin of Uganda in 1979, forcing Amin's regime to fall.
The sixth lesson derives from another question: long before and 15 years after the bloody genocide in Rwanda, millions of people still wonder when the looters and dealers masquerading as African leaders will be responsive and sensitive to providing the basic, fundamental justification for the creation of these countries/nations/ states?
Why are Africans and other parts of the world held in some of these corrupt cages, sorry countries, by very corrupt leaders?
Who would have believed that for all his sanctimonious animations, holier-than- thou dramatics and posturing as Nigeria's morality high-priest, retired Gen. Olusegun Obasanjo, the country's two-time president reportedly collected several rounds of cash/bribe from the Halliburton squad?
The seventh lesson demands that the problems are not 100% local. Political economy fact is that the Western world and colonialist Europe, especially, have some responsibility for sowing the festering seeds to some of these problems by cobbling ethnic nations arbitrarily. Some of the countries have been hampered through neocolonialist financial structures and wealth transfers, predatory actions which fuel their collapse as another of bankrupt African economies and geo-politically failed states.
The eight lesson is that humankind overcomes evil, over time. Today, Rwandans are healing and rebuilding their infrastructure but the question remains.  When will Africans, their leaders and all of the world's leaders aggressively defend the lives of all people as a stand for the common thread of our shared humanity?
I entirely agree with the prophet Dr. King's global connectedness of injustice and justice. Those leaders who failed all of us on Rwanda failed to heed the lessons of history and King's moral challenge.
https://usafricaonline.com/2009/11/01/chido-8lessons-rwanda-genocide/
——–
Chido Nwangwu, honored by the Washington-D. C.based National Immigration Forum for utilizing multimedia to fight authoritarianism and foster freedom of expression in parts of the African continent, is the Founder & Publisher of first African-owned, U.S-based professional newspaper published on the internet USAfricaonline.com, The Black Business Journal and AchebeBooks.com. He served on the board of the oldest civil rights organization in the U.S., the NAACP Houston, a publicity committee of the Holocaust Museum, Houston and on Houston former Mayor Lee Brown's international business advisory board (Africa).
——–
USAfricaonline.com hás several article/reports/insights on Rwanda's genocide at www.usafricaonline.com/rwanda.genocideyears.html
Saraki: Flagrant persecution by Buhari's government forced me to quit APC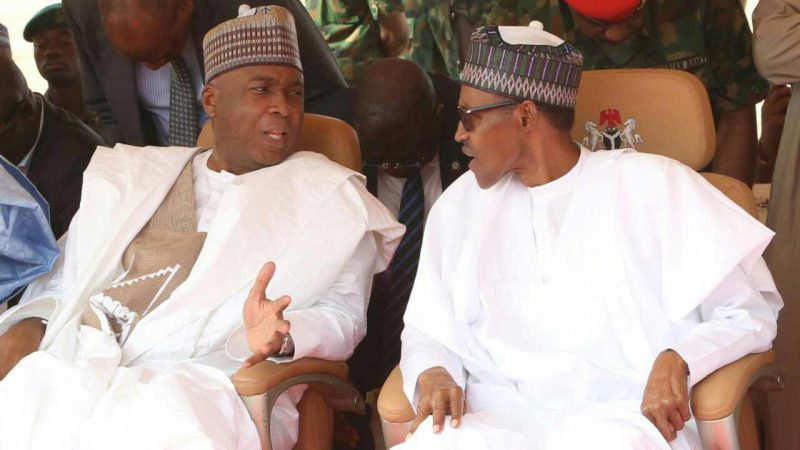 By Dr. Abubakar Bukola Saraki, CON
President of the Senate of Nigeria
Special to USAfrica [Houston] and USAfricaonline.com
I wish to inform Nigerians that, after extensive consultations, I have decided to take my leave of the All Progressives Congress (APC).
This is not a decision that I have made lightly. If anything at all, I have tarried for so long and did all that was humanly possible, even in the face of great provocation, ridicule and flagrant persecution, to give opportunity for peace, reconciliation and harmonious existence.
Perhaps, more significantly, I am mindful of the fact that I carry on my shoulder a great responsibility for thousands of my supporters, political associates and friends, who have trusted in my leadership and have attached their political fortunes to mine. However, it is after an extensive consultation with all the important stakeholders that we have come to this difficult but inevitable decision to pitch our political tent elsewhere; where we could enjoy greater sense of belonging and where the interests of the greatest number of our Nigerians would be best served.
While I take full responsibility for this decision, I will like to emphasise that it is a decision that has been inescapably imposed on me by certain elements and forces within the APC who have ensured that the minimum conditions for peace, cooperation, inclusion and a general sense of belonging did not exist.
They have done everything to ensure that the basic rules of party administration, which should promote harmonious relations among the various elements within the party were blatantly disregarded. All governance principles which were required for a healthy functioning of the party and the government were deliberately violated or undermined. And all entreaties for justice, equity and fairness as basic precondition for peace and unity, not only within the party, but also the country at large, were simply ignored, or employed as additional pretext for further exclusion.
The experience of my people and associates in the past three years is that they have suffered alienation and have been treated as outsiders in their own party. Thus, many have become disaffected and disenchanted. At the same time, opportunities to seek redress and correct these anomalies were deliberately blocked as a government-within-a-government had formed an impregnable wall and left in the cold, everyone else who was not recognized as "one of us". This is why my people, like all self-respecting people would do, decided to seek accommodation elsewhere.
I have had the privilege to lead the Nigerian legislature in the past three years as the President of the Senate and the Chairman of the National Assembly. The framers of our constitution envisage a degree of benign tension among the three arms of government if the principle of checks and balances must continue to serve as the building block of our democracy. In my role as the head of the legislature, and a leader of the party, I have ensured that this necessary tension did not escalate at any time in such a way that it could encumber Executive function or correspondingly, undermine the independence of the legislature. Over the years, I have made great efforts in the overall interest of the country, and in spite of my personal predicament, to manage situations that would otherwise have resulted in unsavoury consequences for the government and the administration. My colleagues in the Senate will bear testimony to this.
However, what we have seen is a situation whereby every dissent from the legislature was framed as an affront on the executive or as part of an agenda to undermine the government itself. The populist notion of anti-corruption became a ready weapon for silencing any form of dissent and for framing even principled objection as "corruption fighting back". Persistent onslaught against the legislature and open incitement of the people against their own representatives became a default argument in defence of any short-coming of the government in a manner that betrays all too easily, a certain contempt for the Constitution itself or even the democracy that it is meant to serve.
Unfortunately, the self-serving gulf that has been created between the leadership of the two critical arms of government based on distrust and mutual suspicion has made any form of constructive engagement impossible. Therefore, anything short of a slavish surrender in a way that reduces the legislature to a mere rubber stamp would not have been sufficient in procuring the kind of rapprochement that was desired in the interest of all. But I have no doubt in my mind, that to surrender this way is to be complicit in the subversion of the institution that remains the very bastion of our democracy. I am a democrat. And I believe that anyone who lays even the most basic claim to being a democrat will not accept peace on those terms; which seeks to compromise the very basis of our existence as the parliament of the people.
The recent weeks have witnessed a rather unusual attempts to engage with some of these most critical issues at stake. Unfortunately, the discord has been allowed to fester unaddressed for too long, with dire consequences for the ultimate objective of delivering the common good and achieving peace and unity in our country. Any hope of reconciliation at this point was therefore very slim indeed. Most of the horses had bolted from the stable
The emergence of a new national party executives a few weeks ago held out some hopes, however slender. The new party chairman has swung into action and did his best alongside some of the Governors of APC and His Excellency, the Vice President. I thank them for all their great efforts to save the day and achieve reconciliation. Even though I thought these efforts were coming late in the day, but seeing the genuine commitment of these gentlemen, I began to think that perhaps it was still possible to reconsider the situation.
However, as I have realized all along, there are some others in the party leadership hierarchy, who did not think dialogue was the way forward and therefore chose to play the fifth columnists. These individuals went to work and ensured that they scuttled the great efforts and the good intentions of these aforementioned leaders of the party. Perhaps, had these divisive forces not thrown the cogs in the wheel at the last minutes, and in a manner that made it impossible to sustain any trust in the process, the story today would have been different.
For me, I leave all that behind me. Today, I start as I return to the party where I began my political journey, the Peoples Democratic Party (PDP).
When we left the PDP to join the then nascent coalition of All Progressives Congress (APC) in 2014, we left in a quest for justice, equity and inclusion; the fundamental principles on which the PDP was originally built but which it had deviated from. We were attracted to the APC by its promise of change. We fought hard along with others and defeated the PDP.
In retrospect, it is now evident that the PDP has learnt more from its defeat than the APC has learnt from its victory. The PDP that we return to is now a party that has learnt its lessons the hard way and have realized that no member of the party should be taken for granted; a party that has realized that inclusion, justice and equity are basic precondition for peace; a party that has realized that never again can the people of Nigeria be taken for granted.
I am excited by the new efforts, which seeks to build the reborn PDP on the core principles of promoting democratic values; internal democracy; accountability; inclusion and national competitiveness; genuine commitment to restructuring and devolution of powers; and an abiding belief in zoning of political and elective offices as an inevitable strategy for managing our rich diversity as a people of one great indivisible nation called Nigeria.
What we have all agreed is that a deep commitment to these ideals were not only a demonstration of our patriotism but also a matter of enlightened self-interest, believing that our very survival as political elites of this country will depend on our ability to earn the trust of our people and in making them believe that, more than anything else, we are committed to serving the people.
What the experience of the last three years have taught us is that the most important task that we face as a country is how to reunite our people. Never before had so many people in so many parts of our country felt so alienated from their Nigerianness. Therefore, we understand that the greatest task before us is to reunite the county and give everyone a sense of belonging regardless of region or religion.
Every Nigerian must have an instinctive confidence that he or she will be treated with justice and equity in any part of the country regardless of the language they speak or how they worship God. This is the great task that trumps all. Unless we are able to achieve this, all other claim to progress no matter how defined, would remain unsustainable.
This is the task that I am committing myself to and I believe that it is in this PDP, that I will have the opportunity to play my part. It is my hope that the APC will respect the choice that I have made as my democratic right, and understand that even though we will now occupy a different political space, we do not necessarily become enemies unto one another.