USAfrica: IPOB tells Buhari to release Nnamdi Kanu; after Fani-Kayode claimed Kanu is held on a warship, far off Bayelsa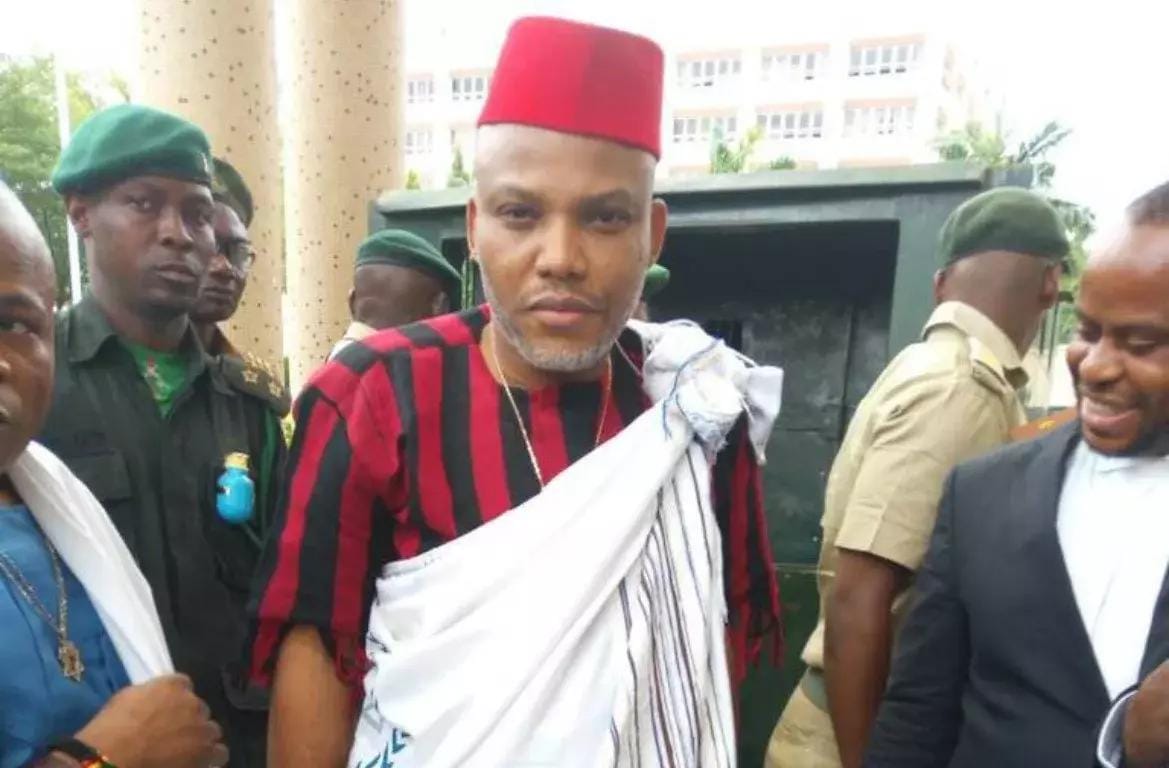 USAfrica: IPOB tells Buhari to release Nnamdi Kanu; after Fani-Kayode claimed Kanu is held on a warship, far off Bayelsa
 By Chido Nwangwu.
Special to USAfrica (Houston} and  USAfricaonline.com
Following up on the July 2, 2018  viral tweet by former Aviation Minister, Femi Fani-Kayode that:
"Nnamdi Kanu is being kept on a Nigerian Naval warship, far off the coast of Bayelsa," the controversial but popular organization, the Indigenous People of Biafra (IPOB), has again called on the government led by retired Gen. Buhari to produce IPOB leader, Nnamdi Kanu, for a judicial court assessment/trial on charges of treason.
"We call President Muhammadu Buhari to immediately release Kanu and those abducted alongside with him or await the catastrophic consequences their extra-judicial killing spree will cause in the near future."
The statement reads: 
"Nigerian Army that abducted him (Kanu) should charge him to court or release him to the British government.
It is now clear to all and sundry that the orchestrated sightings of our leader in Cameroon, Ghana, Niger Delta creeks, Malaysia, London and other weird and wonderful places were lies concocted and planted in mainstream Nigeria media to fool and confuse the public.
We, the global family of the indigenous people of Biafra (IPOB), and its leadership wish to reiterate our call to United Nations, Britain, USA and other civilised nations to compel Nigeria to produce our leader. Nigerian Army abducted him when they raided his home with deadly intent.
The periodic harassment of those that stood surety for our leader through Justice Binta Nyako's court is a clever ploy to drum the false narrative into the brains of Nigerians that our leader jumped bail when in actual fact it was the army that invaded his home and killed 28 people in the process.
The government through its antics may have succeeded in convincing Nigerians that the deadly invasion of Kanu's home by Nigerian soldiers that led to the killing of 28 persons does not matter and should be forgotten."
 Kanu and his parents have not been seen since September 14, 2017 when Nigerian soldiers bombarded the Kanus' home in Isiama Afaraukwu, Abia state.
USAfrica: Fani-Kayode tells Buhari to "step down" like Nigeria's Finance Minister Adeosun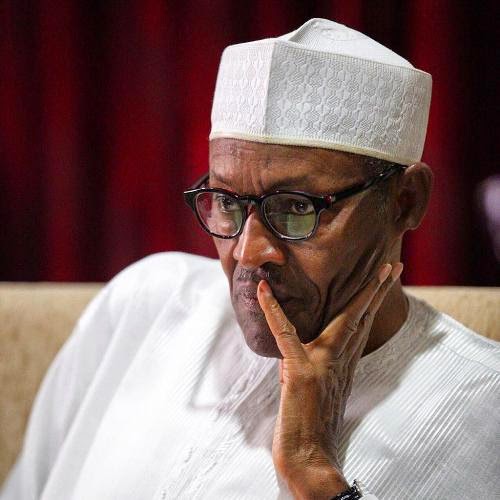 Special to USAfrica [Houston] and USAfricaonline.com @Chido247
Femi Fani-Kayode, one of the prolific critics of Nigeria's President retired Gen. Mohammadu Buhari has called on Buhari to emulate his Finance Minister Kemi Adeosun who resigned two days ago over national youth service misrepresentations.

"I was one of her harshest critics but the fact that she has stepped down impresses me. How I wish that Buhari himself would take a cue from her and step down as well." Fani-Kayode, former Aviation Minister commended Adeosun "for courageously treading the path of honor by resigning."
Buhari has also faced criticism for his factually lopsided appointments especially against the south eastern Igbo who.form at least 1/5th of Nigeria's population.
Aretha Franklin's melodious voice, dignity and clarity were triple drivers of her artistic excellence. By Chido Nwangwu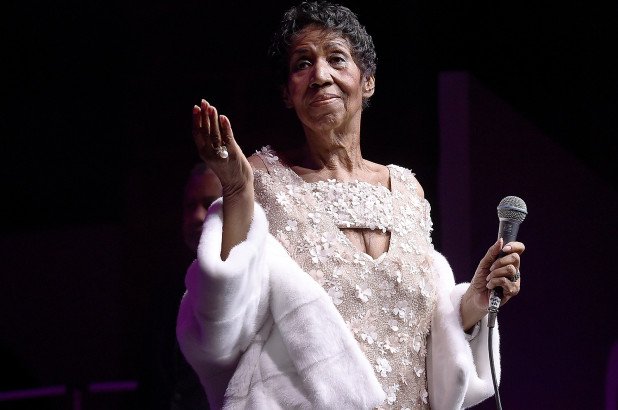 @Chido247
I believe that Aretha Franklin's melodious voice, dignity and clarity were triple drivers which continue to make her artistic excellence a trans-generational gift to humanity.
Aretha Franklin who made an outstanding entry into both gospel and soul music with the release of her first album in 1956, titled 'Songs of Faith', died today, August 16, 2018, at her home in Detroit. She was 76 years old.

Aretha was born on March 25, 1942, in Memphis, Tennessee.

She is the first woman to be inducted into the Rock & Roll Hall of Fame, and affectionately and deservedly called the Queen of Soul — especially in high regard for songs such as "Respect." She was a part of the U.S civil rights movement.

I believe that Aretha Franklin's melodious voice, dignity and clarity were triple drivers which continue to make her artistic excellence a trans-generational gift to humanity.
By Chido Nwangwu, Founder & Publisher of USAfrica [Houston], USAfricaonline.com and author of the soon-to-be-released 2018 book titled MLK, MANDELA & ACHEBE: Power, Leadership & Identity
SOYINKA accuses OBASANJO of awarding OIL blocks in return for SEX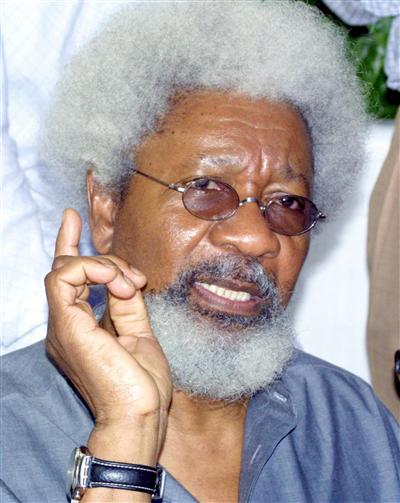 Special to USAfrica [Houston] and USAfricaonline.com
Nobel laureate Prof. Wole Soyinka, calling former President Olusegun Obasanjo, a degenerate, liar, predator and sadist, has challenged him to swear whether he never awarded oil blocks in return for sexual gratification while he presided over the affairs of Nigeria.
Soyinka spoke in his Interventions VIII series, titled: 'Quis Custodiet Ipsos Custodes?' also sub-titled 'Gani's Unfinished Business," launched recently in Lagos, Southwest Nigeria.
He said Obasanjo knows him so well that he does not make accusations lightly and that he despises snide insinuations. "I now challenge you (Obasanjo) to search your soul, very deeply, and swear to this nation that you never awarded oil blocks in return for sexual gratification. I do not make accusations lightly and I despise snide insinuations. I believe you know me well enough. And I am no prude, I am not a hypocrite of sexual desire, nor am I interested in the seamy side of Power. Take your time, think deeply and remember that each day brings you closer and closer to your Maker and the Day of Judgment-going by your own
professions."
Soyinka said sex-for-grades as a solution to that burdensome energy seemed to have become the practice, saying that even when Donald Trump and Bill Clinton were accused of sexual misconduct, no one ever accused Trump of using his nation's assets for a romp on the presidential desk of the oval office and that not even Clinton who nearly lost his office through Monica Lewinsky, was ever accused of passing off any of the White House heirlooms, or influenced contracts in return for sexual favour. "If I denounce you (Obasanjo) as a degenerate in need of help, remember that I do not require fiction. Verifiable truth is solemnly at my disposal. I do not concoct a thousand snipers for a thousand listed enemies of governance-one of the most impudent egregious fantasies ever manufactured by a former ruler, simply to destroy a successor and persuade oneself that one is a maker and breaker of governments," he said. Soyinka also said that during Obasanjo's celebration of the 10th anniversary of his Presidential library, the former president accused him of blocking his ambitions to become the Secretary General of the United Nations.
According to Soyinka, "could someone please stop crediting me with that level of international clout? Of course, I feel totally content and fulfilled with my contribution to that operation to 'save our world' from the clutches of a predator, sadist and liar-convincing evidence of which we provided in our successful diplomatic offensive-but the umbrage should also go to that very Femi Falana and the late Beko Ransome-Kuti, with whom I worked in close collaboration."
Soyinka also said that under Obasanjo's watch, and with proven collaboration, an elected governor was kidnapped, locked in a toilet and held there under duress to force him to sign cheques on the state treasury, saying that "he escaped confinement, thanks to a sympathetic policeman , but the state went up in flames. The state radio and television houses were torched. The House of Assembly and the law courts—my own special preserve-were vandalized. Who did you say was President at that time?" Soyinka made reference to a letter written to Obasanjo by Col. Abubakar Umar, in which the former military governor accused Obasanjo of awarding oil block indiscriminately and illegally. (News Agency of Nigeria and PMNews)