Ribadu draws first contrast with President Jonathan and PDP ahead of April 2011 presidential elections in Nigeria.
USAfrica, Houston. Jan 15, 2011: Mallam Nuhu RIbadu,  the presidential candidate of the predominantly southwest regional Action Congress of Nigeria (ACN) party and Nigeria's former anti-corruption czar at the Economic and Financial Crimes Commission (2003-2007), has set forth his counter-point to continuing under four more years of the PDP-led government of President Goodluck Jonathan.
Ribadu, lawyer and former police officer, considered by millions of Nigerians and international community as a progressive and potential departure from the ethnic politics and massive corruption of Nigeria's recent past, said in his acceptance speech in words which will partly frame the April 2011 presidential elections: "The People's Democratic Party [PDP] has been in government for a little over a decade, but our people have gained nothing for it. Naturally, Nigerians feel angry and cheated. Our people are justifiably disappointed, especially when you realize that the PDP administration has earned far more money than any administration in the history of our country. Understandably, the question majority of Nigerians are asking is: what positive value has this PDP legacy brought to our lives? Of course, the answer is none!"
USAfrica notes that those are direct references to the fact that since Nigeria's third major return to civilian rule since 1999 under 8 years of retired General Obasanjo; 2007 to 2009 under Umar Yar'Adua and Goodluck Jonathan; 2010 to date under Jonathan and Namadi Sambo) administrations have had mixed and controversial reactions from millions of Nigerians.
Those comments came at the ACN convention in Lagos, yesterday Friday January 14, 2011; a few hours after the incumbent President of Nigeria took the People's Democratic Party nomination around 6am Nigerian time.
Mallam Ribadu, a courageous former policeman, was born November 21, 1960, in Yola, Adamawa State in north eastern Nigeria, raised the issues, further in impressive, populist words, despite the limits of his own personal delivery style: "In the silent cries of the poor and the aged; the muted pains of our widows; for the teeming army of the under-privileged and the voiceless; for the endless dry days of the toiling man and woman; and for the majority of honest and proud Nigerians, the hunger is real that we need a leader that will help create the Nigeria of our great dreams. We can no longer leave the destiny of our land in the hands of those who have failed us time and again."
He raised the generational challenge to change Nigeria. Ribadu reminded his party members that "By asking me to be the torch- bearer of this important process of retrieving our dear nation from the scars and abuses of a visionless PDP administration, I fully understand that Nigerians are also asking that we put a new agenda of transformation on the table. Every generation must keenly measure the heartbeat of its time, and the change we desire today is one that puts the unity of our people above other things as we proceed to entrench the values of good governance, true democracy, humility in government, and a credible anti-corruption programme as state priorities."
Ribadu's big advantage is the anti-corruption profile but USAfrica news archives show that several politicians and stakeholders who opposed the man (Obasanjo) who appointed him to the EFCC faced severe scrutiny and some allege they were hounded by Ribadu for being Obasanjo's economic and political enemies.
Ribadu counters that those are corrupt individuals who participated in destroying the resources of Nigeria, which he projected (1960 to 2007) to be in excess of more than $370 billion. One of those he threatened to go after but really never did was the former military ruler of Nigeria General Ibrahim Babangida. Among those he prosecuted who is still in jail is PDP strongman, a former soldier, Olabode George; see Ribadu's thoughts on the issue, published on October 28, 2009 on USAfricaonline.com https://usafricaonline.com/2009/10/28/ribadu-obj-confidante-olageorg/
USAfrica notes that an important reality is that most of those Ribadu took on while he was at the EFCC and those he may still go after (if elected President) are members of the ruling PDP, especially Governors who are strongly backing and funding President Jonathan.
According to a former deputy national chairman of the PDP who spoke to me and USAfricaonline.com  this morning, "We're not folding our hands. We will raise any amount of money necessary and bring the political resources to stop the Ribadu challenge. Baba Obasanjo, the man who appointed him and told him what to do at the EFCC is with us at the Jonathan PDP campaign. He does not know how the game is played."
Evidently, the PDP top guns are under-estimating Ribadu and his largely muffled, yet-to-break-through campaign for change in Nigeria, and into the diaspora. Increasingly, he has the support of the youth while many in the older guard still see him as relatively inexperienced. It is debatable but on April 8, the day of reckoning for the political combatants and Ribadu  will come due.
• 
Chido
Nwangwu is the Founder and Publisher of USAfrica, and first African-owned, U.S-based newspaper published on the internet
USAfricaonline.com
; The Black Business Journal, CLASSmagazine,
PhotoWorks.TV
,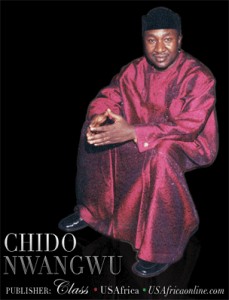 AchebeBooks.com, Nigeria360, USAfricaTV and several blogs, assessed by The New York TImes as the largest and arguably most influential multimedia networks for Africans and Americans. He served on the editorial board of the Daily Times of Nigeria in Lagos and worked for the Nigerian Television Authority (news) in the 1980s; served on a publicity committee of the Holocaust Museum, Houston; recipient of an honorary Doctor of Humanities degree in May 2009; adviser on Africa to Houston's former Mayor Dr. Lee Brown. Chido appears as an analyst on CNN, VOA, SABC, CBSNews, ABCNews, FOXNews, NBCNews, etc. Chido@USAfricaonline.com. wireless: 1-832-45-CHIDO (24436). Office: 713-270-5500.
USAfrica multimedia networks' Founder 
Chido
Nwangwu and our editorial executives plan to do a profile interview of Ribadu and his vision for Nigeria in February 2011. We welcome USAfrica readers' questions to 
news@USAfricaonline.com
—————-
https://usafricaonline.com/2009/07/07/chido-obamaafrica09/
—–
310 killed by Nigeria's 'talibans' in Bauchi, Yobe n Maiduguri; crises escalate. USAfricaonline.com  on  July 28, 2009.
www.usafricaonline.com/chido.ngrtalibans09.html
—
Special News Insight by Chido Nwangwu, USAfrica multimedia networks, Nigeria360 e-group and CLASSmagazine, Houston.
———-