Inter-ethnic clashes in Nairobi after bus blast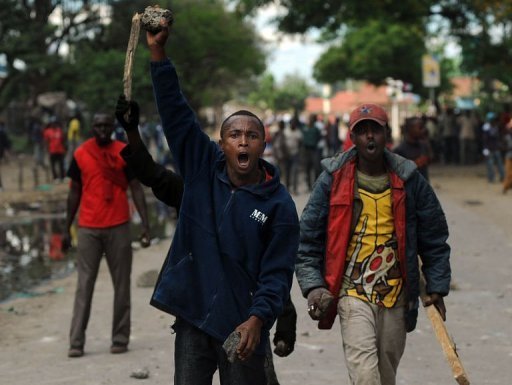 By Aymeric Vincenot (AFP) in Nairobi: Clashes erupted in a mainly Somali area of Nairobi after a deadly weekend bus bombing, the latest attack in Kenya blamed on sympathisers of Somalia's Al-Qaeda-linked Shebab, while gunmen killed three soldiers in the northeast.
Police and hospital sources also said a further two people had succumbed to their injuries from Sunday's bus bombing in the capital's Eastleigh district, bringing the death toll to nine.
Police used tear gas and fired into the air to contain rioting in Eastleigh on Monday after non-Somali Kenyans turned on Somalis and attacked their shops and stalls, accusing them of responsibility for the bomb.
"There is chaos. Several people have been injured but we are doing everything possible to contain the riots," Nairobi police chief Moses Nyakwama told AFP.
Rioting also broke out briefly in Garissa, a town some 350 kilometres (220 miles) to the northeast, after unidentified gunmen killed three soldiers.
"The three were shot as they replaced a flat tyre on their vehicle. The gunmen caught them by surprise," said a police source who requested anonymity.
Regional police chief Philip Tuimur confirmed the incident.
Calm was restored in Garissa after police and military were deployed in the town, which has over the past several months been the scene of numerous attacks, some of them targeting the security forces and others churches or bars.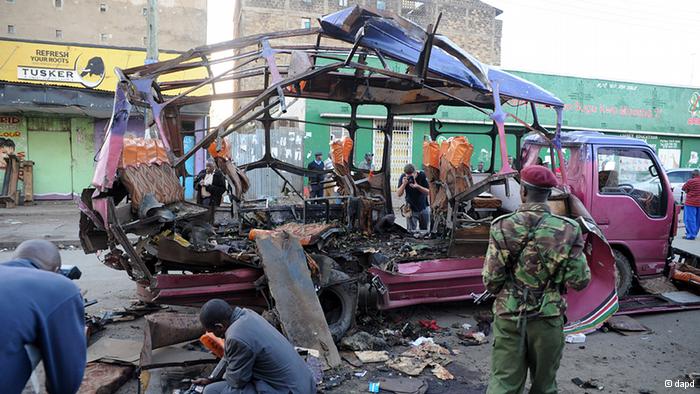 In Eastleigh, most businesses remained closed and roads were blocked for part of the morning as youths from the two communities fought running battles and hurled stones.
An AFP reporter at the scene counted seven injured people being rushed to hospital. Bystanders said several others had been taken for treatment earlier.
"Three of my relatives have been taken to hospital after they were beaten up. We are being accused of causing insecurity and bombings, yet we don't know who is doing it. Let the government protect us," said Abdulahi Hassan, a trader.
"I closed my shop and stayed to guard it after we were attacked by youths throwing stones," said Ali Sheikh Ahmed, who sells gold and jewellery.
"Around 30 boys with sticks and machetes came to destroy our market, but we fought back," textile seller Asha Hirsi told AFP, adding: "We are not Shebab members and we are not accountable for their actions."
No one has claimed responsibility for Sunday's blast, which also left many injured.
Kenya has suffered a wave of grenade and gun attacks, often blamed on Shebab sympathisers, since its army went into Somalia last year to flush out the Islamist rebel group.
Eastleigh, known as "Little Mogadishu" because of its predominantly Somali population, has often been a target of the violence. So has Garissa, which lies close to the Somali border.
On Wednesday, a grenade attack in a supermarket in Eastleigh wounded one person, and two weeks earlier another explosive device went off, wounding two.
Earlier this month, attackers hurled a grenade into a church in Garissa, killing one policeman and wounding 14 people.
Kenyan troops, now integrated into an African Union force, in September seized the Shebab bastion of Kismayo, a key southern Somali port, prompting warnings of retaliation.