USAfricaBooks: AdaOkere Agbasimalo on her novel The Forest Dames and agenda for 2013
I think Women writers (WRITA), and women in the Association of Nigerian Authors (ANA) and others are not doing badly in this regard. If practical steps are not taken to remove cultural, social, political, religious and economic obstacles in the path of women, there can be no actualisation of their role in national development. By that I mean that the role of women cannot be achieved in "chains". Their role starts to manifest in their homes where they are pillars of support and nurture cradle of the products of reproduction.

USAfricaBOOKS: Exclusive Profile Q&A with ADAOKERE AGBASIMALO, Nigeria-based writer on her new book, Women and national development, Chinua Achebe, and her next agenda.  She has written three books: Bow You Must, Waves of Destiny and The Forest Dames.  
Interview by  Chido Nwangwu, Founder & Publisher, USAfrica & CLASSmagazine.
Special to USAfrica multimedia networks, Houston •  www.USAfricaonline.com                                                  @Twitter.com/Chido247, Facebook.com/USAfricaChido n Facebook.com/USAfrica247
"The Forest Dames", published in 2012, is a true life account of what happened during the Nigeria-Biafra war of 1967-1970. While war raged at the battle ground, a lot transpired at the home front. I was a teenage girl then and found myself in the middle of the hell that Biafra, our Eldorado, was turned into. I experienced the elasticity of human suffering which brought me to the conclusion that from whichever way you look at it, war portends evil and its other name is suffering.
The horrors were of such magnitude that I had to plead with God to spare my life so I would tell the world my story, for I would not like to leave mother earth without documenting what I went through during that war. Prayer answered, I wrote "The Forest Dames". The invading troops were after young girls who they captured and ravaged. Some of the soldiers took the girls to the trenches for their comfort, and quickly abandoned them there during emergency retreats resulting from counter attacks.
Two mothers however vowed that their daughters would not belong to the soldiers. They consequently tucked away their girls in the African evil forest where they spent months and constantly heard roars of wild animals. The sweet mothers paid the girls nocturnal visits in the forest every other night, with food, water and personal effects. The invading soldiers avoided night outs for obvious reasons. Three out of the four dames of the forest are alive, one of them having died just six months ago. One of the two sweet mothers (my mother) is still alive. She is 82. These facts are verifiable.
Chido: You attended the 2012 Achebe Colloquium at the Brown University in Rhode Island December 7-8, 2012; what are your impressions of that special gathering of scholars, writers and leaders? 
Oh yes, I attended the colloquium after I returned from Florida, where I went for book signing at the Miami Book Fair International, which took place in the spacious environment of the Dade college. I got my book registered for the fair through my publishers, AuthorHouse; and was there signing and giving out copies of my book as people queued up to get signed copies. It was one great experience for me, from where, Chido upon your USAfrica invitation and information, I went over to another exciting gathering at Providence, Rhode Island, for the Achebe colloquium first week of December 2012. 
That colloquium was the greatest eye opener for me since after the Biafran war of 1967-1970. It provided a huge opportunity for me to participate in a beneficially important discourse on governance, security and peace in Africa; and way forward. Erudite scholars shared immense knowledge from which participants tapped and which I have added to my personal knowledge tool box. It was a two-day programme fully loaded with viably relevant topics aimed to salvage and protect the image of Africa. It was very impressive and I imagine that it has added to the "medical kit" of Africa. I also think and hope that the colloquium and other such gatherings will help in accelerating the process that could eventually lead to the achievement of good governance, security and peace in Africa. Like I said earlier, it was and still is an eye opener to me and a reiteration of my fears and beliefs. For instance, it was reiterated that without good governance, which is identified as the main driver of conflicts in Africa, poverty which is also the root of most violent acts, thrives. The greatest admonition I took home is that African leadership must embrace and come to terms with the act of good governance, for security, and peace to be cradled in Africa.
Professor Chinua Achebe, father of African literature is undoubtedly a colossus. The towering figure of Chinua Achebe and one of his books, "Things Fall Apart" has not ceased to mesmerise humanity when the giant poured out his heart into, and released another masterpiece, which he aptly titled "There was a Country." It is as if he has just said to humanity, "This is a free will gift to you, from my old age."  I, as one of his literary offspring, also wrote a true and no-holds-barred personal experience and horror account of the war, which was published in January this year, 2012.
I was apprehensive about those who might feel hurt by the facts laid bare in the book so I could not market my book boldly and openly. Can you imagine that? But the daddy of African literature dropped his own true account, and smoked us all out of our hide-outs. I am very grateful to this "odogwu" called Chinualumogu Achebe for strengthening my resolve; and the Achebe Foundation for floating this meeting. I would like to be part of it again and again.
Chido: Please tell us about your motivation for writing, especially this new novel, The Forest Dames.
My motivation? The existence of societal imbalance, injustice and inequity, which form the bedrock of the environment, in which we live. This drives me to dream of how to create balance, justice, fair play, equity, equality and wholesomeness. And so I feel motivated to do something no matter how small, to help stop global, regional, national and communal injustice and ethnic hate. I think that they just have to stop. Every part of humanity needs its own space and identity. It is called freedom and human rights. I have seen enough of contrary ideas and deeds since my growing-up days, especially in the ill treatment of the female folk; and that has motivated me to write.
As for this third book of mine, the horrors of war and the need to cry out about the futility of war motivated me to write it. No more wars please! Whoever that wants to beat the drums of war should first come and ask us how horrible the dance steps of war are.
Chido: In this novel, you write a fictional story alongside some poems about your life as a very young woman during the Nigeria-Biafra war of 1967-1970. As you know, this is an issue for some people in our immediate communities; speak more to this issue.
My novel "The Forest Dames" can be termed a fictionalised non-fiction in that it is the true story of what happened, what I experienced and not what I was told or what I read up somewhere. It is the story of a young girl who lived with her parents in the relatively calm and peaceful British colony of Nigeria, where shortly after independence, compatriots went for each other's throats and from that time on, nothing was ever the same again.
During that war, I had to run for dear life by jumping over walls and fences to avoid having my chastity, integrity and self esteem rubbished by some intruding soldiers. My story of survival through wits and smartness should make a strong case for sheer ability and possibility to move from the valley to the mountain. It should be an inspiration to all those who have tasted suffering and those who are still suffering that there is hope. For girls and women, this book should lift their souls and tell them that success erases the mark of suffering and degradation. So all should work hard towards success in spite of all odds, and cheer up despite what happened during that war, part of which is in the poem below, which begins and wraps up my book:
"LAMENTATION!!
They stripped us and savoured our nakedness
Went in and out of our women
Like needlework
They defecated in the backyard on our sacred places
Urinated over our kitchen furnace
Like inebriated bulldogs
There are no more secrets
There is no more privacy
Virgin places are denuded
The glory is gone
For they had the gun
We had only our pride
To ride
JUBILATION!!
Yesterday I could not touch them
Today they have become my play thing.
Ha! Ha! Ha!
AFFIRMATION!!
Not for much longer… Not anymore!!!"
Our fellow compatriots who did not experience Biafra should believe us when we write or speak about what transpired. They must believe that what happened to one at that time, happened to all. And it is true. For instance, I got my book published in January and Chinua Achebe's book came out in June or July but everything in his book is in mine. He presents a textual non-fiction with dates and bibliography, while I present a textual non-fiction fictionalized and put in form of a novel, demonstrating the facts that have been put down in writing. How come we wrote as if we compared notes? It is because we experienced the same horrors. We could not both have written falsehood, differently. There is no need for any one or group to get worked up. What we wrote is the truth. God Almighty knows it. I wrote my war experiences in order to free the mind, disseminate information and prick the conscience of war agitators but I had to fictionalize it to reduce impact.
Chido: You are driven and work very many parts to be and remain successful. What is success for you? What are you planning for 2013?
Success for me is being so sure of the power of God in realising my heart's desire, that I go to sleep with both eyes closed. Success to me is being surrounded by those who understand me and do not feel any envy or intimidation. Success is when life, love and laughter fuse. Success is having the warmth and ambiance of my family intact. Success is sitting with my mum and discussing those days when the mouths of wild animals appeared bound and the evil forest turned benign towards defenceless women. Success is knowing that my book is being read by all.
As per 2013? By God's grace, I should be getting another book out. Another book that mirrors the society. I see myself tavelling a lot in 2013, going to address gatherings and talking about how we survived in the forest and why we must not fight again. I see questions coming in about the dames and the surviving mother. I see features explorers coming to Africa to cofirm the story of the forest dames and see the spots mentionned in the book, with a view of sketch-planning for the big screen. I see a bright and vibrant 2013.
Chido: Assess the reading habits of the Nigerian and African communities.
Nigerians do not read, period. Fortunately the Nigerian government and individuals, especially writers, are working hard towards changing all that.Information on African communities confirms the same trend but I want to put back this question to my readers. How can we reduce the influence of electronic gadgets, because there lies the culprit? When I was in secondary school at Egbu Girls Secondary School Owerri, our then principal, Miss Hubbard did not only make us read one book every week, she made sure we wrote a thumbnail description of what we read. There was a form which every student filled after reading. We applied gum to the top back part of the form and pasted it in one of the pages of an exercise book and submitted for marking. The form had provision for student's name, title of book and author, setting of the story, publisher and date of publication, etc; and an area for the summary of the story. That was awesome and made us very knowledgeable. How that was killed, I do not know but I just wish schools in Nigeria and Africa could revive it and perhaps acknowledge the source. My own personal effort involved my writing down every unknown word in a note book and also writing by its side, the dictionary meaning, which I studied from time to time. I believe these are very helpful tips.
Chido: What do you see as the role of Women in national development?
Writing as I am doing. And I think Women writers (WRITA), and women in the Association of Nigerian Authors (ANA) and others are not doing badly in this regard. If practical steps are not taken to remove cultural, social, political, religious and economic obstacles in the path of women, there can be no actualisation of their role in national development. By that I mean that the role of women cannot be achieved in "chains". Their role starts to manifest in their homes where they are pillars of support and nurture cradle of the products of reproduction. The homes they nurture, form in a collective way, communities which in turn form the towns which form the nation. Where ever women are in position of administration, remarkable differences have been noted. Women form a large population of teachers, nurses, farmers, traders and home makers. A wise government should lift all impediments for women to soar. Then the real meaning of their role will emerge.
Tell us about your family
Born to Imo parents from Nekede now in Owerri west LGA, I am married to an Anambra man Engineer Emmanuel Agbasimalo from  Ezinifite, Nnewi South LGA. By the grace of God, we have four grown children.
Who are mentors, favorite artistes and writers?
My mentors are my father before he died in 1998, my mother and my husband. Some may see it as strange that I also learnt a lot from my late younger brother Reginald Chukwuemeka  Okere, who died in the Dana plane crash in Nigeria in June 2012. I call him my junior mentor. May his soul rest in deserved peace! He was more of a role model, alongside my father, husband and mother. I have role models in Rosa Parks and Martin Luther King of the US and Nelson Mandela and the late Thomas Sankara from Burkina Faso in northern section of west Africa.
Tell me a brief bio-sketch/profile of you.
I am Mrs. Adeline Ada Chimeziem Agbasimalo (nee Okere) who has been an International Civil Servant, a Development Consultant, a Communicator,Social Mobiliser, Community Mobiliser,  Counsellor, Trainer, Facilitator, Mentor and author of books. I'm a very hardworking, friendly, jovial and humorous woman, who at the same time believes in calling a spade a spade. I'm multi lingual, being fluent in three local Nigerian languages – Igbo, Hausa and Yoruba; and two international languages – English and French. I also speak and write fluent Pidgin English.
From 1998 to 2005, I held the position of Program Officer and Field Office representative for the whole of the Eastern states; for the John's Hopkins University/Centre for Communication programs (JHU/CCP) under the sponsorship of the United States Agency for International Development (USAID) office, and was based in Enugu, Nigeria. I held the position of Communication Specialist and Community Mobilisation Coordinator with the COMPASS project, another USAID funded project, in Abuja Nigeria, from where I resigned, to practicalise my skills in Gender Motivational Speaking. Later in 2006, I picked up an appointment with Society for Family Health (SFH) as Gender Mainstreaming Specialist. This meant ensuring that both male and female benefitted optimally from projects, services and care; and were treated with equal consideration and respect, not looking down on anybody.   
I was born in Kaduna, Northern Nigeria, attended primary school education there at the then Anglican Girls School and my secondary education, at Egbu Girls Secondary school, Owerri. My university education took place at the University of Nigeria, Nsukka, where I studied Languages (French major, German subsidiary), and received the Bachelor of Arts (B.A. Hons.) degree. I have a Master of Science (M.Sc) degree from the Political Science department of the University of Lagos. I'm currently working on my Ph.D program, in Women Studies, at the University of Nigeria Nsukka.
Your hobbies?
Writing, reading, listening to music and dancing; singing church hymns, playing badminton, photography, and meeting good people.
What's on your top 5 music playlist, and top 5 books, ever?
Music – "Quand tu chantes" by Nana Mouskouri, Fanta Dialo by Alpha Blondy (my late brother made me like it), all types of Bongo music, "What U say" by Clubstar and "O nyere m udo…" by Patti Obasi.
Books – Message from NAM by Danielle Steel, All Shakespeare books, 'Waves of Destiny" by Ada Agbasimalo, "She Who Must Be Obeyed" by Rider Haggard and "There was a Country: A personal History of Biafra"  by Chinua Achebe.
One wish…
May my book, "The Forest Dames" be as the oceans and seas of the world, for the oceans and seas are all over the world! Amen!
———-
WHY I CELEBRATE THE LIFE AND WORKS OF NELSON MANDELA. By Chido Nwangwu  https://usafricaonline.com/2010/07/15/mandela-why-i-celebrate-his-life-works-by-chido-nwangwu/
Nigeria's Federal Republic of Insecurity. By Chido Nwangwu, Publisher of USAfrica, USAfricaonline.com and the Nigeria360 e-group. https://usafricaonline.com/2011/12/17/nigeria-federal-republic-of-insecurity-by-chido-nwangwu/ : IF any of the Nigerian President's 100 advisers has the polite courage for the extraordinary task of reminding His Excellency of his foremost, sworn, constitutional obligation to the national interest about security and safety of Nigerians and all who sojourn in Nigeria, please whisper clearly to Mr. President that I said, respectfully: Nigerians, at home and abroad, are still concerned and afraid for living in what I call Nigeria's Federal Republic of Insecurity. FULL text of commentary at USAfricaonline.com https://usafricaonline.com/2011/12/17/nigeria-federal-republic-of-insecurity-by-chido-nwangwu/
Obama's Africa agenda, our business and democracy. By Chido Nwangwu, Publisher of USAfricaonline.com and CLASS magazine and The Black Business Journal
USAfrica: As Egypt's corrupter-in-chief Mubarak slides into history's dustbin.  By Chido Nwangwu. https://usafricaonline.com/2011/01/30/chido-nwangwu-as-egypt-corrupter-in-chief-mubarak-slides-into-historys-dustbin-egyptians-not-waiting-for-obama-and-united-nations/
Tunisia, Egypt . . . Is Nigeria next? By Prof. Rosaire Ifedi           https://usafricaonline.com/2011/02/13/tunisia-egypt-is-nigeria-next-by-prof-rosaire-ifedi/
USAfrica: Awolowo's Starvation Policy against Biafrans and the Igbo requires apology not attacks on Achebe. By Francis Adewale.
VIDEO of the CNN International broadcast/profile of USAfrica and CLASSmagazine Publisher Chido Nwangwu. http://edition.cnn.com/video/#/video/international/2010/07/29/mpa.african.media.bk.a.cnn
U.S says it will investigate Zimbabwe presidential election violence; MDC disputes result; winner acknowledges there were "challenges"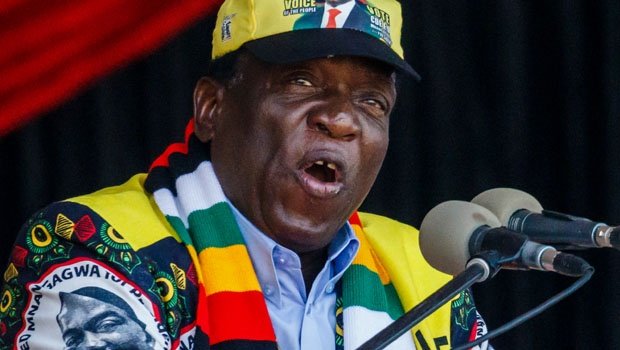 Special to USAfricaonline.com
The MDC Alliance led by 40-year-old Nelson Chamisa is disputing the outcome of the polls alleging that they were rigged to the point of having more votes than registered voters.
While the winner, ZANU PF leader and incumbent president, Emmerson Mnangagwa, 75, acknowledged that there were "challenges" he insisted the polls were free and fair.
The US Department of State said Zimbabwe's 30 July elections presented the country with a historic chance to move beyond the political and economic crises of the past and toward profound democratic change.
"Unfortunately, Zimbabwe's success in delivering an election day that was peaceful, and open to international observers, was subsequently marred by violence and a disproportionate use of deadly force against protestors by the security forces," the department's spokesperson Heather Nauert said in a statement.
Six people were shot dead on Wednesday by soldiers and many others were injured. A seventh person is reported to have succumbed to gunshot wounds on Friday at a hospital in Chitungwiza.
The US said it welcomes the commitment by Zimbabwe Electoral Commission (ZEC) to release comprehensive election results in a form that provides full transparency. ZEC maintains that the election results were an accurate reflection of the voters' will.
Former colonial master, Britain, also remained concerned about the developments.
"The UK remains deeply concerned by the violence following the elections and the disproportionate response from the security forces," said UK Minister of State for Africa, Harriett Baldwin.
She, however, urged electoral stakeholders to work together to ensure calm.
"While polling day passed off peacefully, a number of concerns have been raised by observer missions, particularly about the pre-election environment, the role of State media, and the use of State resources. There is much to be done to build confidence in Zimbabwe's electoral process."
Baldwin urged that any appeals against the results or the process be handled swiftly and impartially.– African News Agency (ANA)
Zimbabwe's presidential election offers opportunity for post-Mugabe progress. By Wilf Mbanga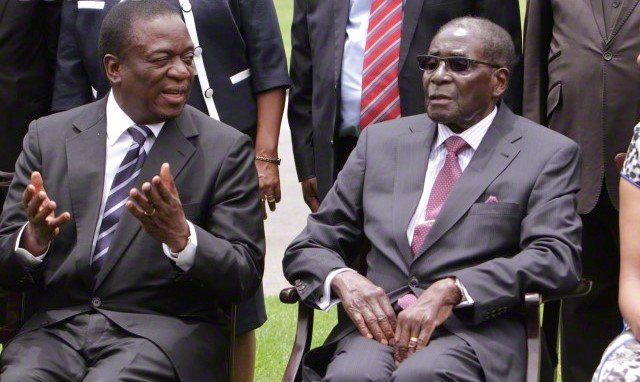 Today, Monday July 30, 2018, Zimbabweans [went] to the polls to elect Robert Mugabe's successor. For pretty much the average life expectancy of many Zimbabweans, one man has ruled the country with an iron fist. Eight elections were held during his rule – and every time, that fist ensured victory for Mugabe.
The current president, Emmerson Mnangagwa, 75, the man who finally ousted Mugabe in a bloodless coup last November, has also crushed his enemies ruthlessly in the past – but his iron fist lies within a well-padded velvet glove.
Mnangagwa goes head to head at the polls with Nelson Chamisa, 40, who took over as leader of the opposition Movement for Democratic Change (MDC) after Morgan Tsvangirai died earlier this year.
Whoever wins, this election heralds a new dawn for Zimbabwe. Mugabe has gone. Things will never be the same again. Certainly, Mnangagwa brings a lot of baggage from the Mugabe era – having been the former president's righthand man.
But he is different in many significant ways – today, Mugabe even urged voters to turn their backs on his leadership, and went so far as to wish Chamisa well. Most importantly, Mnangagwa understands business and is determined to resuscitate Zimbabwe's moribund economy and give the people what they so desperately want and need – jobs.
He is primarily a soldier, having left Zimbabwe as a teenager in the early 1960s for military training in China. He has fashioned himself after the former communist leader Deng Xiaoping, who modernised China and laid the foundations for the economic powerhouse it has become, while maintaining a strictly authoritarian regime.
Deng abandoned many orthodox communist doctrines to incorporate elements of the free-enterprise system. Mnangagwa seems determined to do the same for Zimbabwe. He is a wealthy man in his own right, having run Zanu-PF's and his own businesses since the early 1980s. He has been mentioned in a UN report on the plundering of mining and logging resources in the Democratic Republic of the Congo together with General Sibusiso Moyo, who is now the foreign affairs minister.
Over the eight months since he took the reins from Mugabe, Mnangagwa has given clear signals of a clean break with the past – actively courting the west, preaching and practising peace instead of violence, eschewing corruption, meeting business leaders and white farmers, and generally projecting himself as a reformist. He has met personally the many business missions that have visited the country this year, and has promised to get rid of the cumbersome bureaucracy that currently stifles new investment. He has suspended Mugabe's populist indigenisation act, which required foreigners to cede 51% of their shares to locals (ZANU-PF, of course) in all sectors except gold and diamond mining. He has even made it his election slogan – with party supporters everywhere sporting T-shirts proclaiming "Zimbabwe is open for business".
While Mugabe was a consummate manipulator, skilfully playing people off against each other and weaving a complex web of patronage, Mnangagwa is a much more of a strategist. He will be prepared to make tough decisions that could ultimately benefit the economy. He has certainly been more successful in attracting foreign investment in the short time he has been in power than Mugabe was in decades of berating the west.
The MDC's Chamisa is just as pro-business as Mnangagwa, and to his credit has surrounded himself with several capable technocrats. There is no whiff of corruption about him and he has been drawing massive crowds in many rural areas which, under Mugabe, were no-go areas for his party. And of course the MDC's democratic and human rights credentials are well established – while those of Zanu-PF are a constant cause for concern.
Should Chamisa win the election, there is no doubt that the world would welcome Zimbabwe back into the fold with open arms. But Mnangagwa is smart enough to realise that international recognition of his government can only come if this election is acknowledged as free and fair by the global community. While Britain has been unswervingly supportive of the post-Mugabe regime, the US has reserved judgment – recently renewing its sanctions on Zanu-PF leaders and companies, but promising to lift them once credible elections have taken place.
And there's the rub.
Many believe it is impossible for the Zimbabwe Electoral Commission to run a free and fair poll. It is accused of rigging every election since it was established in 2004; it is still staffed largely by the military and Zanu-PF loyalists; and it has shown shameful bias towards the ruling party in recent months. For example, the law says the ballot paper should be in alphabetical order, which places Chamisa second on the 23-person list. The commission cleverly formatted the paper into two lop-sided columns, in order to place Mnangagwa at the very top of column two.
So this election could bring three possible results: if Mnangagwa wins, the MDC already has enough ammunition against the electoral commission to cry foul.
If Chamisa wins convincingly, it will be a new dawn indeed – but the military might not
accept this, as the Generals have already invested a lot in Mnangagwa.
But if there is no clear winner, the most sensible way forward would be for the two protagonists to agree to a marriage of convenience – otherwise known as a government of national unity.
• Wilf Mbanga, once falsely classified by Mugabe's government as 'enemy of the people', is the founder, editor and publisher of The Zimbabwean weekly, published in the UK and Johannesburg
USAfrica: "Resign! Get out of office!" – Bishop Oyedepo tells Nigeria's President Buhari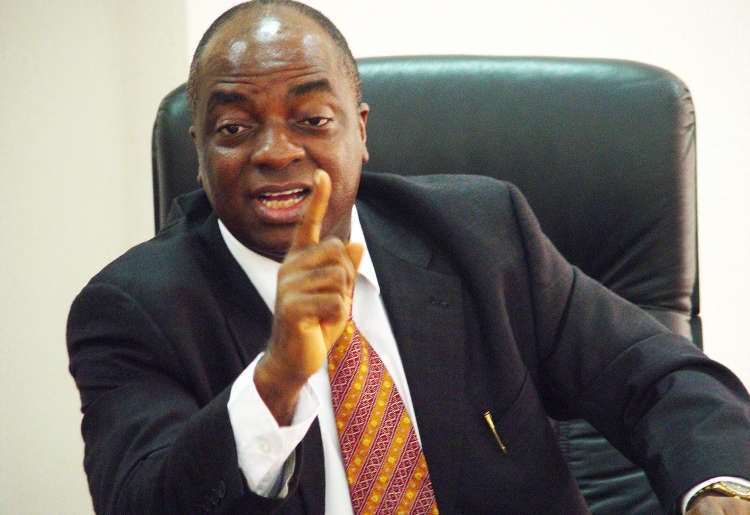 The founder of the Living Faith Church Worldwide, aka Winners' Chapel, Bishop David Oyedepo, has called on Nigeria's President Muhammadu Buhari, a retired army General, to resign due to what he considers to be the continuing failure of Buhari to stop  the incessant killings by militant Fulani herdsmen.
Oyedepo who spoke on the theme, "Enough is enough" recalled that "When I was talking in 2015, people were saying my own was too much, now everybody can see what's happening," he said. "What has moved forward in anybody's life? You don't know it's war. Why are they attacking the Christian communities? Why has nobody been arrested? I can tell you this, the authorities and the powers that be are behind them."
"We must wake up and push this evil back. Not one of those so-called herdsmen – they are jihadists – has been brought to book till date. Herdsmen don't shoot; they have been here all along. They are just taking cover under the herdsmen to assault innocent citizens. They wake up in the night and slice innocent children to pieces. Yet, you have a government in place. What!
"The most honourable thing for any non-performing leader to do is to resign. The most honourable thing is to resign. That's my own for Mr President. Resign! Get out of office! Even our Islamic friends in the North are calling on him to resign. Because that's the noblest thing to do. Or are we going to look at one system destroy a whole nation?"