Achebe was an icon, national treasure and prophet
Chinua Achebe lived as an icon, national treasure and prophet.
By C. Kingston Ekeke, Ph.D.
We have lost a national treasure.
The late Prof. Chinua Achebe was a man of dignity, honor, and integrity.  He was a brilliant scholar and intellectual giant.  Chinua Achebe was a literary giant, a prolific writer, an iconic figure and Nigeria's pride.
He was a rare human-being, a man of moral consciousness and divine integrity. Prof. Achebe was Africa's pride and a gift to the world.
As a poet, novelist and essayist, Chinua Achebe's notable achievements include his famous 1958 novel, "Things Fall Apart," which have sold more than 10 million copies and translated in more than 50 languages.  Things Fall Apart is read and studied in schools, colleges and institutions of higher learning in over 100 countries of the world. Achebe's writings have influenced and inspired the global community for more than half a century.
As a philosopher, Chinua Achebe was a great thinker and intellectual icon. He was a true gem, a sage and an incomparable personality in human history.  He was a prolific author, a master writer and one of the most celebrated writers in the world.  Prof. Achebe stands incomparable amongst the world's greatest writers, poets and novelists of all time.  Millions of writers—aspiring and skilled, as well as millions of readers around the world, found in him their inspiration. Even the world's greatest poets are inspired by his writings and style.  His writing style reads like music and melody.
As a prophet, Chinua Achebe showed an intense concern about the nation's corrupt and failed leadership.  In his famous book entitled: "The Trouble with Nigeria," he succinctly writes, "The trouble with Nigeria is simply and squarely a failure of leadership."   He was so concerned with the pandemic poverty, disease, corruption, violence, ethical and moral decadence in Nigeria due to failure of leadership. In his lifetime, he saw Nigeria degenerate from a nation of hope to a nation of lawlessness and irresponsible leadership.
Today, the wealth of the nation is being fleeced by a leadership cult that does not care for the common good of the country.  What we have today is a lawless and disorderly nation—a country with repugnant culture of callousness and irresponsibility.  A nation of ethnic jingoism and tribal hatred, a nation where truth is portrayed as false and false as truth depending on who is saying it. Chinua Achebe, the poet, philosopher, prophet and sage always spoke truth to power no matter whose feelings is hurt.
Like prophet Amos, Chinua Achebe spoke to a crumbling nation, a nation since independence has not been able to govern itself, a nation that has not truly enjoyed any period of political peace and economic prosperity despite its abundant resources—human and natural.
Like prophet Amos, Professor Achebe spoke to a nation that is inwardly rotten, against perverted religious nation and corrupt spiritual leaders—hypocritical priests, pastors, bishops, and syncretic church.
Like prophet Isaiah, Achebe possessed prophetic consciousness and spoke against a rebellious nation, a nation of cheaters, looters, liars, hypocrites and irresponsible leaders. He cried out for the ordinary folk who are cheated and exploited by those who claim to be their leaders. He understood the hurt and pains of millions of suffering Nigerians.  Like prophet Jeremiah, he wept for Nigeria and condemned social injustice and deceptive prosperity and warned her against injustice, idolatry, and immorality.  However, the sage also believed in the power and greatness of Nigeria that can only come when Nigeria buries its tumultuous past; make a sincere decision to live in peace again and genuine effort to re-integrate the Igbos and minorities in the affairs of Nigeria.
As a poet, he was a combination of Dante and Milton.  As a philosopher, he was Socrates, Plato, and Aristotle combined. And a prophet, he was the conscience of the nation and a combination of Hosea, Amos, Micah, Isaiah, and Jeremiah.  When one reads the writings of Chinua Achebe, one cannot help comparing him among the great and Greek Homeric epics, or English Shakespeare and other greats.  Chinua Achebe had a heightened sense of divine agony against the culture of callousness, corruption as well as lawless and disorderly country Nigeria had become.
His recent book, "There Was A Country— A Personal History of Biafra," which has been described by New York Times as classic, the foremost novelist and world renowned essayist, Professor Chinua Achebe, not only recounts his experiences of the ethnic genocide against Ndi-Igbo, but the deliberate effort to exclude his ethnic people from the affairs of running the nation—a nation in which the Igbos constitute more than one-third of the population and contribute tremendously to the federation.
Despite the barrage of criticisms against his Biafra memoir by some political crabs and idlers because of his facts of genocide, pogrom and wicked monetary policy meted  against  Ndi-Igbo by Awo and Gowon, the literary icon and Nobel Peace Prize winner, Novelist Wole Soyinka agreed with most of the facts in Achebe's book.  Frankly, it strikes me that most Nigerian political leaders are still living in denial.  As one commentator said, words and facts in Chinua Achebe's latest sacramental book: "There was a country", are sacrosanct. Nigeria cannot move forward until she deals with her past.  Nigeria cannot and will not move forward until repentance, genuine forgiveness and true reconciliation are made.   Ethnic jingoism and hatred, religious bigotry and intolerance, corruption and vision-less leadership are just some of the challenges hindering Nigeria's development and progress.  Until the national leadership courageously deals with such issues, Nigeria will continue to exist in absolute vanity.
Chinua Achebe is a man of honor and integrity. He was a rare human-being and a heavenly gift to the world.  He was a great thinker and intellectual giant, the moral conscience of Nigeria and moral fighter for his ethnic people, Ndigbo. Among the dead and those living, even those who claim to be anointed writers today, none is comparable to the late Chinua Achebe.  He was a sage, an intellectual giant and global treasure. He possessed an indomitable spirit, and was a champion for justice and a prophet who used his pen to speak against a nation that continues to squander its greatness and glory because of religious intolerance, ethnic hatred and bad leadership.
Let it be noted that the Achebe's family alone did loose their beloved father, grand-father, uncle, brother, etc., but Ndi-igbo, Nigeria, Africa and indeed the world lost a gem, a sage, and a rare man, whose name and books will continue to resonate throughout the entire global community.
In his book, a 'Call to Conscience,' Rev. Dr. Martin Luther King Jr. wrote, "death is not a period that ends the great sentence of life but a comma that punctuates it to more loft significance."
May Chinua Achebe and his works will live forever in our minds and hearts.
•Dr. Ekeke, Atlanta-based editorial contributor to USAfricaonline.com, a theologian, consultant and leadership scholar, is the author of several books—including Leadership Wisdom and Leadership Liability. He's completing the writing of two books: "Leadership Prayer" and "The Problem with Nigeria" to be published this year. He is the founder & president of Leadership Wisdom Institute and the Rector of All Saints Anglican Church in Atlanta, Georgia.
——
—-
Long Live, CHINUA ACHEBE! The Eagle on the iroko.                                                                                       By Chido Nwangwu, moderator of the Achebe Colloquium (Governance, Security, and Peace in Africa) December 7-8, 2012 at Brown University, is the Publisher of USAfrica and first African-owned, U.S-based newspaper published on the internet USAfricaonline.com
Africa's most acclaimed and fluent writer of the English Language, the most translated writer of Black heritage in the world, broadcaster extraordinaire, social conscience of millions, cultural 
custodian and elevator, chronicler and essayist, goodwill ambassador and man of progressive rock-ribbed principles, the Eagle on the Iroko, Ugo n'abo Professor Chinua Achebe,joined his ancestors a few hours ago, at the age of 82, in a peaceful and graceful transition in the warm company of his family.
Reasonably, Achebe's message has been neither dimmed nor dulled by time and clime. He's our pathfinder, the intellectual godfather of millions of Africans and lovers of the fine art of good writing. Achebe's cultural contexts are, at once, pan-African, globalist and local; hence, his literary contextualizations soar beyond the confines of Umuofia and any Igbo or Nigerian setting of his creative imagination or historical recall.
His globalist underpinnings and outlook are truly reflective of the true essence of his/our Igbo world-view, his Igbo upbringing and disposition. Igbos and Jews share (with a few other other cultures) this pan-global disposition to issues of art, life, commerce, juridical pursuits, and quest to be republicanist in terms of the vitality of the individual/self. 
In Achebe's works, the centrality of Chi (God) attains an additional clarity in the Igbo cosmology… it is a world which prefers a quasi-capitalistic business attitude while taking due cognizance of the usefulness of the whole, the community.
I've studied, lived and tried to better understand, essentially, the rigor and towering moral certainties which Achebe have employed in most of his works and his world. I know, among other reasons, because I share the same Igbo ancestry with him.
Permit me to attempt a brief sentence, with that Achebean simplicty and clarity. Here, folks, what the world has known since 1958: Achebe is good! Eagle on the Iroko, may your Lineage endure! There has never been one like you! Ugo n'abo, chukwu gozie gi oo!
FULL text of this tribute-commentary at USAfricaonline.com click link https://usafricaonline.com/2013/03/22/long-live-chinua-achebe-by-chido-nwangwu/
——
WHY I CELEBRATE THE LIFE AND WORKS OF NELSON MANDELA. By Chido Nwangwu  https://usafricaonline.com/2010/07/15/mandela-why-i-celebrate-his-life-works-by-chido-nwangwu/
Mandela, others send tributes mourning Achebe
Special to USAfrica multimedia networks, and CLASSmagazine, Houston.                                                                 @Twitter.com/Chido247, Facebook.com/USAfricaChido n Facebook.com/USAfrica247
The death of the grand-father of modern African literature Prof. Chinua Achebe is drawing several messages from some of the world's leaders, Nigeria's president, his friends, contemporaries and writers.

A statement from the Nelson Mandela Foundation in South Africa has been sent to the family of the late renowned writer Chinua Achebe. It conveyed, on behalf of the Chairperson, Board of Trustees and staff of the Nelson Mandela Centre of Memory, "our condolences to the family of Prof. Chinua Achebe, a great African writer and thinker, who passed away on 21 March 2013 at the age of 82."
Nelson Mandela, a friend of Achebe's and an avid reader of his works, notably once referred to Prof. Achebe as a writer "in whose company the prison walls fell down" — a reference to Mandela's 27 years in apartheid South Africa jail.
Both men are known for their principled positions on issues of justice, opposition to bigotry, discrimination and commitment to fairness to all persons and support for progressive pan Africanism.                                                                                                                               By Chido Nwangwu, moderator of the Achebe Colloquium (Governance, Security, and Peace in Africa) December 7-8, 2012 at Brown University, is the Publisher of USAfrica and first African-owned, U.S-based newspaper published on the internet USAfricaonline.com
———
Eight lessons of the 1994 Rwanda Genocide. By Chido Nwangwu, Publisher of USAfrica multimedia networks, Houston. https://usafricaonline.com/2009/11/01/chido-8lessons-rwanda-genocide/
——
A PRAYER FOR THE ACHEBES
By C. Kingston Ekeke, Ph.D.
On behalf of my family, I wish to express my deepest sympathy and condolences to the Achebe family over the passing to glory (in March 2013) of Chinua Achebe in Boston, Massachusetts and his older brother, Philip Achebe in Atlanta, Georgia — a week prior. I pray God Almighty to encourage your hearts and for you to know that your beloved ones have departed this earthly realm to be with the LORD in heaven.  They have entered into everlasting peace and glory where there are no more pain, sickness, and suffering.
May God dry your tears and fill you and your family with comfort during this time of grieve, sorrow, and sadness.  May the Lord grant the dead eternal peace and give the bereaving family the fortitude to bear this huge loss.  May his soul rest in eternal peace!
May the Lord bless Albert Chinualumogu Achebe and keep you; May the Lord make His face shine upon you and be gracious to you; May the Lord turn His face toward you and give you peace" (Numbers 6:24). Amen.
U.S says it will investigate Zimbabwe presidential election violence; MDC disputes result; winner acknowledges there were "challenges"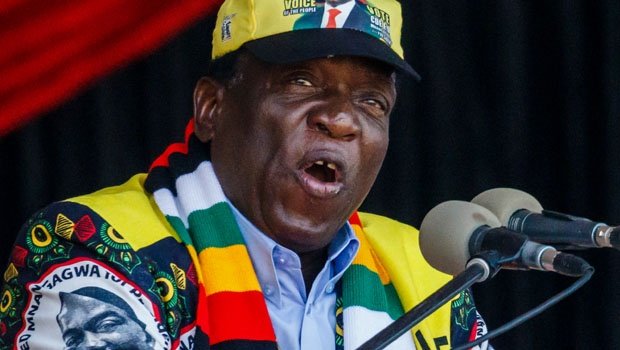 Special to USAfricaonline.com
The MDC Alliance led by 40-year-old Nelson Chamisa is disputing the outcome of the polls alleging that they were rigged to the point of having more votes than registered voters.
While the winner, ZANU PF leader and incumbent president, Emmerson Mnangagwa, 75, acknowledged that there were "challenges" he insisted the polls were free and fair.
The US Department of State said Zimbabwe's 30 July elections presented the country with a historic chance to move beyond the political and economic crises of the past and toward profound democratic change.
"Unfortunately, Zimbabwe's success in delivering an election day that was peaceful, and open to international observers, was subsequently marred by violence and a disproportionate use of deadly force against protestors by the security forces," the department's spokesperson Heather Nauert said in a statement.
Six people were shot dead on Wednesday by soldiers and many others were injured. A seventh person is reported to have succumbed to gunshot wounds on Friday at a hospital in Chitungwiza.
The US said it welcomes the commitment by Zimbabwe Electoral Commission (ZEC) to release comprehensive election results in a form that provides full transparency. ZEC maintains that the election results were an accurate reflection of the voters' will.
Former colonial master, Britain, also remained concerned about the developments.
"The UK remains deeply concerned by the violence following the elections and the disproportionate response from the security forces," said UK Minister of State for Africa, Harriett Baldwin.
She, however, urged electoral stakeholders to work together to ensure calm.
"While polling day passed off peacefully, a number of concerns have been raised by observer missions, particularly about the pre-election environment, the role of State media, and the use of State resources. There is much to be done to build confidence in Zimbabwe's electoral process."
Baldwin urged that any appeals against the results or the process be handled swiftly and impartially.– African News Agency (ANA)
Zimbabwe's presidential election offers opportunity for post-Mugabe progress. By Wilf Mbanga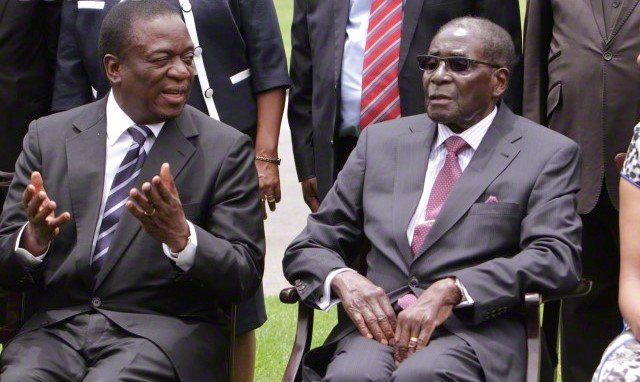 Today, Monday July 30, 2018, Zimbabweans [went] to the polls to elect Robert Mugabe's successor. For pretty much the average life expectancy of many Zimbabweans, one man has ruled the country with an iron fist. Eight elections were held during his rule – and every time, that fist ensured victory for Mugabe.
The current president, Emmerson Mnangagwa, 75, the man who finally ousted Mugabe in a bloodless coup last November, has also crushed his enemies ruthlessly in the past – but his iron fist lies within a well-padded velvet glove.
Mnangagwa goes head to head at the polls with Nelson Chamisa, 40, who took over as leader of the opposition Movement for Democratic Change (MDC) after Morgan Tsvangirai died earlier this year.
Whoever wins, this election heralds a new dawn for Zimbabwe. Mugabe has gone. Things will never be the same again. Certainly, Mnangagwa brings a lot of baggage from the Mugabe era – having been the former president's righthand man.
But he is different in many significant ways – today, Mugabe even urged voters to turn their backs on his leadership, and went so far as to wish Chamisa well. Most importantly, Mnangagwa understands business and is determined to resuscitate Zimbabwe's moribund economy and give the people what they so desperately want and need – jobs.
He is primarily a soldier, having left Zimbabwe as a teenager in the early 1960s for military training in China. He has fashioned himself after the former communist leader Deng Xiaoping, who modernised China and laid the foundations for the economic powerhouse it has become, while maintaining a strictly authoritarian regime.
Deng abandoned many orthodox communist doctrines to incorporate elements of the free-enterprise system. Mnangagwa seems determined to do the same for Zimbabwe. He is a wealthy man in his own right, having run Zanu-PF's and his own businesses since the early 1980s. He has been mentioned in a UN report on the plundering of mining and logging resources in the Democratic Republic of the Congo together with General Sibusiso Moyo, who is now the foreign affairs minister.
Over the eight months since he took the reins from Mugabe, Mnangagwa has given clear signals of a clean break with the past – actively courting the west, preaching and practising peace instead of violence, eschewing corruption, meeting business leaders and white farmers, and generally projecting himself as a reformist. He has met personally the many business missions that have visited the country this year, and has promised to get rid of the cumbersome bureaucracy that currently stifles new investment. He has suspended Mugabe's populist indigenisation act, which required foreigners to cede 51% of their shares to locals (ZANU-PF, of course) in all sectors except gold and diamond mining. He has even made it his election slogan – with party supporters everywhere sporting T-shirts proclaiming "Zimbabwe is open for business".
While Mugabe was a consummate manipulator, skilfully playing people off against each other and weaving a complex web of patronage, Mnangagwa is a much more of a strategist. He will be prepared to make tough decisions that could ultimately benefit the economy. He has certainly been more successful in attracting foreign investment in the short time he has been in power than Mugabe was in decades of berating the west.
The MDC's Chamisa is just as pro-business as Mnangagwa, and to his credit has surrounded himself with several capable technocrats. There is no whiff of corruption about him and he has been drawing massive crowds in many rural areas which, under Mugabe, were no-go areas for his party. And of course the MDC's democratic and human rights credentials are well established – while those of Zanu-PF are a constant cause for concern.
Should Chamisa win the election, there is no doubt that the world would welcome Zimbabwe back into the fold with open arms. But Mnangagwa is smart enough to realise that international recognition of his government can only come if this election is acknowledged as free and fair by the global community. While Britain has been unswervingly supportive of the post-Mugabe regime, the US has reserved judgment – recently renewing its sanctions on Zanu-PF leaders and companies, but promising to lift them once credible elections have taken place.
And there's the rub.
Many believe it is impossible for the Zimbabwe Electoral Commission to run a free and fair poll. It is accused of rigging every election since it was established in 2004; it is still staffed largely by the military and Zanu-PF loyalists; and it has shown shameful bias towards the ruling party in recent months. For example, the law says the ballot paper should be in alphabetical order, which places Chamisa second on the 23-person list. The commission cleverly formatted the paper into two lop-sided columns, in order to place Mnangagwa at the very top of column two.
So this election could bring three possible results: if Mnangagwa wins, the MDC already has enough ammunition against the electoral commission to cry foul.
If Chamisa wins convincingly, it will be a new dawn indeed – but the military might not
accept this, as the Generals have already invested a lot in Mnangagwa.
But if there is no clear winner, the most sensible way forward would be for the two protagonists to agree to a marriage of convenience – otherwise known as a government of national unity.
• Wilf Mbanga, once falsely classified by Mugabe's government as 'enemy of the people', is the founder, editor and publisher of The Zimbabwean weekly, published in the UK and Johannesburg
USAfrica: "Resign! Get out of office!" – Bishop Oyedepo tells Nigeria's President Buhari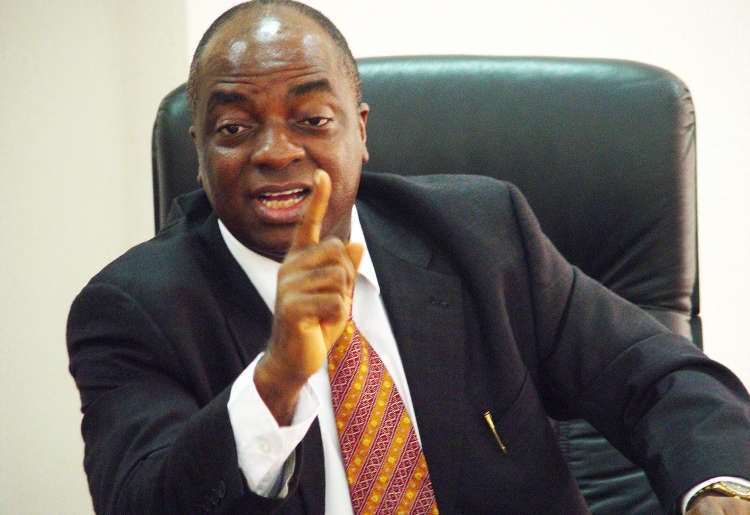 The founder of the Living Faith Church Worldwide, aka Winners' Chapel, Bishop David Oyedepo, has called on Nigeria's President Muhammadu Buhari, a retired army General, to resign due to what he considers to be the continuing failure of Buhari to stop  the incessant killings by militant Fulani herdsmen.
Oyedepo who spoke on the theme, "Enough is enough" recalled that "When I was talking in 2015, people were saying my own was too much, now everybody can see what's happening," he said. "What has moved forward in anybody's life? You don't know it's war. Why are they attacking the Christian communities? Why has nobody been arrested? I can tell you this, the authorities and the powers that be are behind them."
"We must wake up and push this evil back. Not one of those so-called herdsmen – they are jihadists – has been brought to book till date. Herdsmen don't shoot; they have been here all along. They are just taking cover under the herdsmen to assault innocent citizens. They wake up in the night and slice innocent children to pieces. Yet, you have a government in place. What!
"The most honourable thing for any non-performing leader to do is to resign. The most honourable thing is to resign. That's my own for Mr President. Resign! Get out of office! Even our Islamic friends in the North are calling on him to resign. Because that's the noblest thing to do. Or are we going to look at one system destroy a whole nation?"