"It wasn't just a terrorist attack, it was a massacre….", 22 yrs old South African woman's haunting narrative of Paris ISIS killing of 139
Isobel Bowdery, a  2014 graduate of the University of Cape Town, attended a rock concert at the Bataclan hall when 3 terrorists, reportedly members of the Islamic State (ISIS), started shooting into the crowd.
Bowdery wrote a haunting piece on her Facebook page — already liked by 2.5 million people including Mark Zuckerberg and shared 705,000 times as at Sunday night, Houston time. USAfricaonline.com republishes, as written, the moving narrative and reflections on mortality, love etc:
"you never think it will happen to you. It was just a friday night at a rock show. the atmosphere was so happy and everyone was dancing and smiling. and then when the men came through the front entrance and began the shooting, we naiively believed it was all part of the show. It wasn't just a terrorist attack, it was a massacre. Dozens of people were shot right infront of me. Pools of blood filled the floor. Cries of grown men who held their girlfriends dead bodies pierced the small music venue. Futures demolished, families heartbroken. in an instant. Shocked and alone, I pretended to be dead for over an hour, lying among people who could see their loved ones motionless.. Holding my breath, trying to not move, not cry – not giving those men the fear they longed to see. I was incredibly lucky to survive. But so many didn't. The people who had been there for the exact same reasons as I – to have a fun friday night were innocent. This world is cruel. And acts like this are suppose to highlight the depravity of humans and the images of those men circuling us like vultures will haunt me for the rest of my life. The way they meticoulsy aimed at shot people around the standing area i was in the centre of without any consideration for human life. It didn't feel real. i expected any moment for someone to say it was just a nightmare. But being a survivor of this horror lets me able to shed light on the heroes. To the man who reassured me and put his life on line to try and cover my brain whilst i whimpered, to the couple whose last words of love kept me believing the good in the world, to the police who succeded in rescuing hundreds of people, to the complete strangers who picked me up from the road and consoled me during the 45 minutes I truly believed the boy i loved was dead, to the injured man who i had mistaken for him and then on my recognition that he was not Amaury, held me and told me everything was going to be fine despite being all alone and scared himself, to the woman who opened her doors to the survivors, to the friend who offered me shelter and went out to buy new clothes so i wouldnt have to wear this blood stained top, to all of you who have sent caring messages of support – you make me believe this world has the potential to be better. to never let this happen again. but most of this is to the 80 people who were murdered inside that venue, who weren't as lucky, who didnt get to wake up today and to all the pain that their friends and families are going through. I am so sorry. There's nothing that will fix the pain. I feel priviledged to be there for their last breaths. And truly beliving that I would join them, I promise that their last thoughts were not on the animals who caused all this. It was thinking of the people they loved. As i lay down in the blood of strangers and waiting for my bullet to end my mere 22 years, I envisioned every face that I have ever loved and whispered I love you. over and over again. reflecting on the highlights of my life. Wishing that those i love knew just how much, wishing that they knew that no matter what happened to me, to keep belieivng in the good in people. to not let those men win. Last night, the lives of many were forever changed and it is up to us to be better people. to live lives that the innocent victims of this tragedy dreamt about but sadly will now never be able to fulfil. RIP angels. You will never be forgotten."
———-
 'Beyond Aspiration', JFK and notes on founding of USAfrica.
 By Chido Nwangwu
One of the remarkable, transformative leaders of the 20th century whose vision and mission moved mankind 'beyond aspiration' is John F. Kennedy (JFK), ex president of United States. Hear him: "We choose to go to the moon in this decade and do the other things, not because they are easy, but because they are hard." [Address at Rice University, September 12 1962]
I know that 'beyond aspiration' JFK took man to the moon!
First, I believe that at the center of achieving and operating 'beyond aspiration' is a summary of vision.
Second, you must have what I call that creative impetus and soaring courage to propel your determination to succeed and transform your environment — no matter the odds.
Third, beyond the mortal arrogations and the flawed genius of men and women, we must seek the extraordinary grace of God,
On my part, I left Nigeria for the US in August 1990 with media aspiration, faith in God's kindness and U.S$150 in my wallet as I arrived JFK airport in New York. After clearing the immigration and customs, I had my 'Welcome to America' hustle. The taxi driver who took me to nearby LaGuardia airport dealt me through my first 'The more you look the less you see experience' in America. He charged me $100 for the short trip and I was left with $50 only. Without any fanciful  description, the taxi driver made me a 'mugu' — the Nigerian slang for the person who's conned.
In 1992, I established USAfrica, with headquarters in Houston, Texas. Beyond my vision [aspiration], I have since almost 24 years walked and worked with a formidable team and the support of our international communities to establish the authoritative, pioneering,  respected and foremost multimedia company  for Africans and Americans that I named USAfrica. That is, Aspiration Beyond $50!                                                                                                       •Dr. Chido Nwangwu, moderator of the Achebe Colloquium (GOVERNANCE
, SECURITY
, and PEACE
 in Africa) December 7-8, 2012 at Brown UNIVERSITY
 in Rhode Island and former ADVISER
 on Africa business/issues to the Mayor of Houston, is the Founder & Publisher of Houston-based USAfrica multimedia networks since 1992, first African-owned, U.S-based newspaper published on the INTERNET
 USAfricaonline.com; CLASSmagazine, AchebeBooks.com, the USAfrica-powered e-groups of AfricanChristians, Nigeria360 and the largest pictorial events megasite on the African diaspora www.PhotoWorks.TV . He was recently profiled by the CNN International for his pioneering works on multimedia/news/public policy projects for Africans and Americans.    E-MAIL
: Chido247@Gmail.com WIRELESS
 1-832-45-CHIDO (24436).
[embedyt] http://www.youtube.com/watch?v=68DP3rtPS0c[/embedyt]
VIDEO #CNN special #CHIBOK Girls n #BokoHaram Live intvw wt the Founder of USAfrica multimedia and public POLICY
 networks Chido Nwangwu. CNN anchors John Berman n Michaela Pereira.  
———-
Forthcoming 2016 BOOK: In this engaging, uniquely insightful and first PERSON
 reportage book, MANDELA & ACHEBE: Footprints of Greatness, about two GLOBAL
 icons and towering PERSONS
 of African descent whose exemplary lives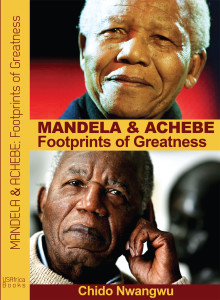 and friendship HOLD
 lessons for humanity and Africans, USAfrica Founder Chido Nwangwu takes a measure of their works and CONSEQUENCE
 to write that Mandela and Achebe have left "footprints of greatness."
He chronicles, movingly, his 1998 reporting from the Robben Island jail room in South Africa where Mandela was held for decades through his 20 years of being 
CLOSE
 to Achebe. He moderated the 2012 Achebe Colloquium at Brown 
UNIVERSITY
 in Providence, Rhode Island.
"I'll forever remember having walked inside and peeped through that HISTORIC
 Mandela jail cell (where he was held for most of his 27 years in unjust imprisonment) at the dreaded Robben Island, on March 27, 1998, alongside then Editor-in-chief of TIME magazine and later news chief EXECUTIVE
 of the CNN, Walter Isaacson (and others) when PRESIDENT
BILL
 Clinton made his first official trip to South Africa and CAME
 to Robben Island. Come to this island of scourge and you will understand, in part, the simple greatness and towering grace of Nelson Mandela", notes  Chido Nwangwu, award-winning writer, multimedia 
specialist and founder of USAfricaonline.com, the first African-owned U.S-based newspaper published on the 
INTERNET
, in his first book; he writes movingly from his 1998 reporting from South Africa on Mandela. 
http://www.mandelaachebechido.com/