Showdown begins as Atiku quits Buhari's APC ahead of 2019 elections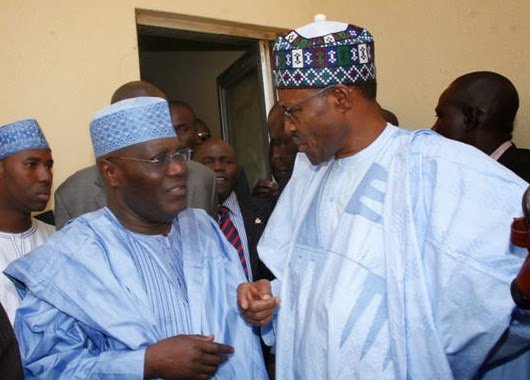 The jockeying for the 2019 presidency in Nigeria has seen the opening of a major and familiar ambition by former vice President Atiku Abubakar (1999-2007), today Friday morning. In an announcement which he signed, the controversial Atiku said his reason for quitting the ruling party (APC) was due to failure to govern optimally, exclusion of youths, arbitrariness and unconstitutional actions.
According to Atiku who has been severely opposed by former boss, former President Olusegun Obasanjo, "I admit that I and others who accepted the invitation to join the APC were eager to make positive changes for our country that we fell for a mirage. Can you blame us for wanting to put a speedy end to the sufferings of the masses of our people?"
He therefore concluded "after due consultation with my God, my family, my supporters and the Nigerian people whom I meet in all walks of life, I, Atiku Abubakar [Waziri Adamawa] hereby tender my resignation from the All Progressives Congress while I take time to ponder my future…. While other parties have purged themselves of the arbitrariness and unconstitutionality that led to fractionalization, the All Progressives Congress has adopted those same practices and even gone beyond them to institute a regime of a draconian clampdown on all forms of democracy within the party and the government it produced."
"Only last year, a governor produced by the party wrote a secret memorandum to the president which ended up being leaked. In that memo, he admitted that the All Progressives Congress had not only failed to manage expectations of a populace that
expected overnight 'change' but has failed to deliver even mundane matters of governance."
"Of the party itself, that same governor said Mr. President, Sir Your relationship with the national leadership of the party, both the formal (NWC) and informal (Asiwaju Bola Tinubu, Atiku Abubakar, Rabiu Musa Kwankwaso), and former Governors of ANPP, PDP (that joined us) and ACN, is perceived by most observers to be at best frosty. Many of them are aggrieved due to what they consider total absence of consultations with them on your part and those you have assigned such duties."
"Since that memorandum was written up until today, nothing has been done to reverse the treatment meted out to those of us invited to join the All Progressives Congress on the strength of a promise that has proven to be false. If anything, those behaviours have actually worsened."
"But more importantly, the party we put in place has failed and continues to fail our people, especially our young people. How can we have a federal cabinet without even one single youth. A party that does not take the youth into account is a dying party. The future belongs to young people."
USAfrica notes he was, in the early months of the Buhari presidency, one of the influential figures until he was edged out by the evidently more single-mindedly northern-centric clique working with the knowledge of Buhari. By Chido Nwangwu @Chido247
SOYINKA accuses OBASANJO of awarding OIL blocks in return for SEX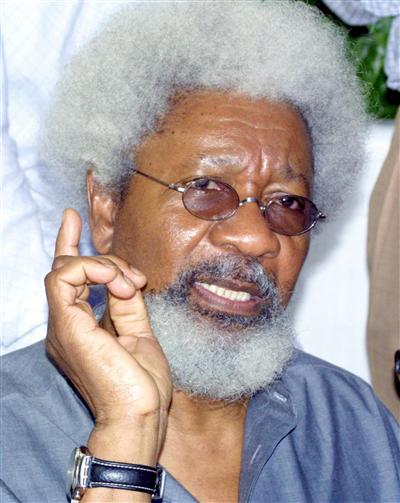 Special to USAfrica [Houston] and USAfricaonline.com
Nobel laureate Prof. Wole Soyinka, calling former President Olusegun Obasanjo, a degenerate, liar, predator and sadist, has challenged him to swear whether he never awarded oil blocks in return for sexual gratification while he presided over the affairs of Nigeria.
Soyinka spoke in his Interventions VIII series, titled: 'Quis Custodiet Ipsos Custodes?' also sub-titled 'Gani's Unfinished Business," launched recently in Lagos, Southwest Nigeria.
He said Obasanjo knows him so well that he does not make accusations lightly and that he despises snide insinuations. "I now challenge you (Obasanjo) to search your soul, very deeply, and swear to this nation that you never awarded oil blocks in return for sexual gratification. I do not make accusations lightly and I despise snide insinuations. I believe you know me well enough. And I am no prude, I am not a hypocrite of sexual desire, nor am I interested in the seamy side of Power. Take your time, think deeply and remember that each day brings you closer and closer to your Maker and the Day of Judgment-going by your own
professions."
Soyinka said sex-for-grades as a solution to that burdensome energy seemed to have become the practice, saying that even when Donald Trump and Bill Clinton were accused of sexual misconduct, no one ever accused Trump of using his nation's assets for a romp on the presidential desk of the oval office and that not even Clinton who nearly lost his office through Monica Lewinsky, was ever accused of passing off any of the White House heirlooms, or influenced contracts in return for sexual favour. "If I denounce you (Obasanjo) as a degenerate in need of help, remember that I do not require fiction. Verifiable truth is solemnly at my disposal. I do not concoct a thousand snipers for a thousand listed enemies of governance-one of the most impudent egregious fantasies ever manufactured by a former ruler, simply to destroy a successor and persuade oneself that one is a maker and breaker of governments," he said. Soyinka also said that during Obasanjo's celebration of the 10th anniversary of his Presidential library, the former president accused him of blocking his ambitions to become the Secretary General of the United Nations.
According to Soyinka, "could someone please stop crediting me with that level of international clout? Of course, I feel totally content and fulfilled with my contribution to that operation to 'save our world' from the clutches of a predator, sadist and liar-convincing evidence of which we provided in our successful diplomatic offensive-but the umbrage should also go to that very Femi Falana and the late Beko Ransome-Kuti, with whom I worked in close collaboration."
Soyinka also said that under Obasanjo's watch, and with proven collaboration, an elected governor was kidnapped, locked in a toilet and held there under duress to force him to sign cheques on the state treasury, saying that "he escaped confinement, thanks to a sympathetic policeman , but the state went up in flames. The state radio and television houses were torched. The House of Assembly and the law courts—my own special preserve-were vandalized. Who did you say was President at that time?" Soyinka made reference to a letter written to Obasanjo by Col. Abubakar Umar, in which the former military governor accused Obasanjo of awarding oil block indiscriminately and illegally. (News Agency of Nigeria and PMNews)