A major source of embarrassment for millions of Nigerians who travel into the United States of America is the tar of drug dealing caused by Nigerians who deal in it. Early today, Sunday September 19, 2010, USAfricaonline.com received the formal announcement that the United States has removed Nigeria from the list of major drug trafficking countries. Nigeria's anti-narcotics agency NDLEA described the move as recognition of its fight against trafficking.
"The United States has gone a step higher than the usual annual drug certification of the country to outright removal of Nigeria from the majors list," the National Drug Law Enforcement Agency (NDLEA) said in a statement.
"The removal, which is an acknowledgement of the agency's current drug control achievement, is contained in the 2010 annual drug certification report," it said.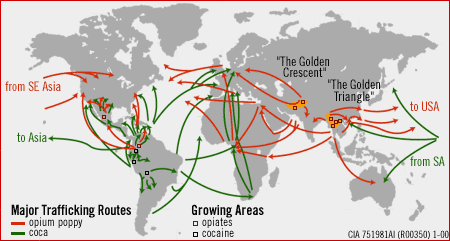 The west African country of Nigeria is a major transit point for South American drugs, notably cocaine, bound for Europe, and parts of the U.S. USAfricaonline.com wt AFP wire/
——–
Flashback to April 12, 2002 in USAfrica: HOW DRUG DEALERS
IN NIGERIA TURNED A 12-YEAR OLD NIGERIAN-AMERICAN KID INTO A COURIER WHO SWALLOWED 87 CONDOMS FILLED WITH HEROINE
---
The sad story of how Prince Nnaedozie Umegbolu, a 12-year old Nigerian-American kid was made to swallow 87 condoms filled with heroin from Lagos to New York. His Georgia-based African-American mother Alissa Walden says her son was made to work as a mule for Nigerian drug dealers because he was desperate to return to the United States. The boy's father, Chukwunweike Umegbolu, 40, of Atlanta, has served seven years of a 10-year sentence for his role in a heroin ring that trafficked more than $33 million into Atlanta. This report was published in USAfrica The Newspaper (Houston) and USAfricaonline.com on April 12, 2002.  https://usafricaonline.com/drugs.umegbolu.html
——–