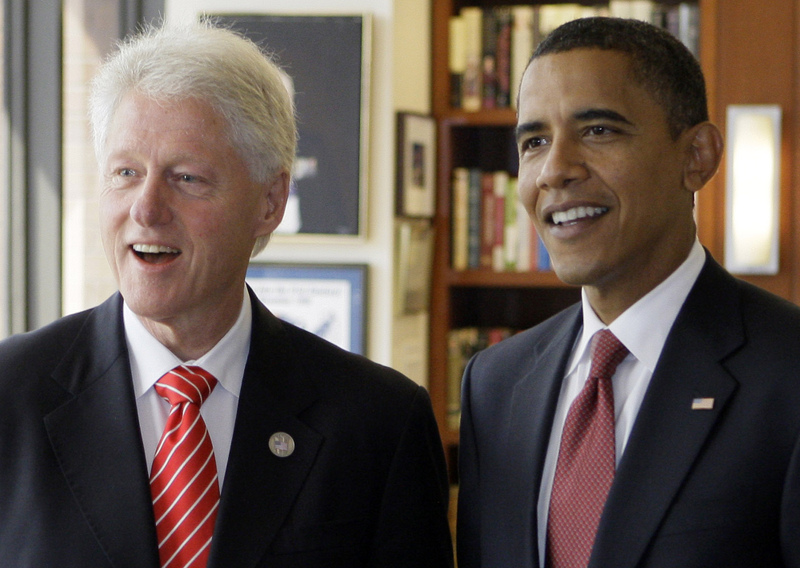 Obama, Liberian President Johnson-Sirleaf, Bill Gates, others join Bill Clinton for CGI 2010 in New York.
New York: U.S President Barack Obama will join President Bill Clinton at the 2010 Annual Meeting of the Clinton Global Initiative (CGI), which will take place September 21-23 in New York City. President Obama will introduce First Lady Michelle Obama, whose participation was previously announced, during the Closing Plenary session on September 23.
"I'm pleased that President Obama will participate in our sixth Annual Meeting of the Clinton Global Initiative," President Clinton said. "He'll be joining more than 64 heads of state from around the world, and hundreds of business leaders, directors of nongovernmental organizations, and Nobel Laureates, among others, who have made commitments to take action on pressing issues. Since 2005, commitments made by CGI members have improved the lives of more than 220 million people in 170 countries."
President Clinton also announced that the meeting would feature a special session on "Peace and Beyond in the Middle East." As the parties engage in direct negotiations for the first time in two years, panelists will discuss the role regional actors should play in support of successful negotiations. In addition, they will address practical and immediate initiatives that can improve the livelihood of the region's residents, and offer a vision for a post-conflict Middle East.
Other special sessions include "Profiting from the Poor? A Discussion on Microfinance IPOs," "Responsible Agricultural Value Chains," "Investing in the World's Forests," and the previously announced "Recovery in Haiti" and "Addressing Cancer in the Developing World." Furthermore, President Clinton will participate in a session on "The Future of the Global Economy," which will be broadcast as part of CNBC's Meeting of the Minds series.
Bill Gates, co-chair and trustee of the Bill and Melinda Gates Foundation, will join President Clinton for a one-on-one discussion during the Closing Plenary session. Other prominent participants include Tarja Halonen, president of the Republic of Finland; René Préval, president of the Republic of Haiti, José Maria Figueres Olsen, former president of the Republic of Costa Rica; Maria Bartiromo, CNBC anchor and host; Matthew Bishop, business editor and New York bureau chief of The Economist; Jim Carrey, actor and founder, Better U Foundation; General Wesley Clark, chairman and CEO, Wesley K. Clark and Associates; Katie Couric, anchor and managing editor, CBS Evening News; Philippe Cousteau, CEO and co-founder, EarthEcho International; Robert Diamond, president, Barclays PLC; Sanjay Gupta, chief medical correspondent, CNN; Andrew Liveris, chairman and CEO, The Dow Chemical Company; Wangari Maathai, founder and chair, The Green Belt Movement; Peter Sands, chief executive officer, Standard Chartered Bank; Achim Steiner, executive director, United Nations Environment Programme; and Secretary of Agriculture Thomas Vilsack.
The following participants were previously announced: Jean-Max Bellerive, prime minister of the Republic of Haiti; Ellen Johnson-Sirleaf, president of the Republic of Liberia; Hillary Rodham Clinton, U.S. Secretary of State; Cherie Blair, patron, Cherie Blair Foundation for Women; Richard Branson, chairman and founder, Virgin Group Limited; Laura Bush, former first lady of the United States; John Chambers, chairman and CEO, Cisco; Paul Farmer, co-founder, Partners In Health; Melinda Gates, co-chair, Bill & Melinda Gates Foundation; Jeff Gordon, NASCAR champion and founder of the Jeff Gordon Pediatric Cancer Foundation; Ruchira Gupta, founder of Apne Aap Women Worldwide; John Holdren, director, White House Office of Science and Technology Policy; Chad Hurley, co-founder and CEO, YouTube; Valerie B. Jarrett, senior adviser and assistant to the president for Intergovermental Affairs and Public Engagement; Andrea Jung, chairman and CEO, Avon Products; Muhtar Kent, chairman and CEO, The Coca-Cola Company; Klaus Kleinfeld, chairman and CEO, Alcoa; Wendy Kopp, CEO of Teach for All; Jack Ma, chairman and CEO, Alibaba Group; Shakira Mebarak, founder, the Barefoot Foundation; Robert McDonald, president and CEO, Procter & Gamble; Zainab Salbi, founder and CEO of Women for Women International; Eric Schmidt, chairman and CEO, Google; Arnold Schwarzenegger, governor of California; Ratan Tata, chairman, Tata Group; Jerry Yang, co-founder and chief-Yahoo, Yahoo! Inc; and Muhammad Yunus, founder and managing director, Grameen Bank.
USAfrica, USAfricaonline.com and CLASSmagazine will provide reporting from the event, here.
———–
USAfrica and USAfricaonline.com (characterized by The New York Times as the  most influential African-owned, U.S-based multimedia networks) established May 1992, our first edition of USAfrica magazine was published August 1993; USAfrica The Newspaper on May 11, 1994; CLASSmagazine on May 2, 2003; www.PhotoWorks.TV in 2005
——