#Terrorism State of Emergency in #Egypt #ISIS claims Palm Sunday bombing of church; killed 44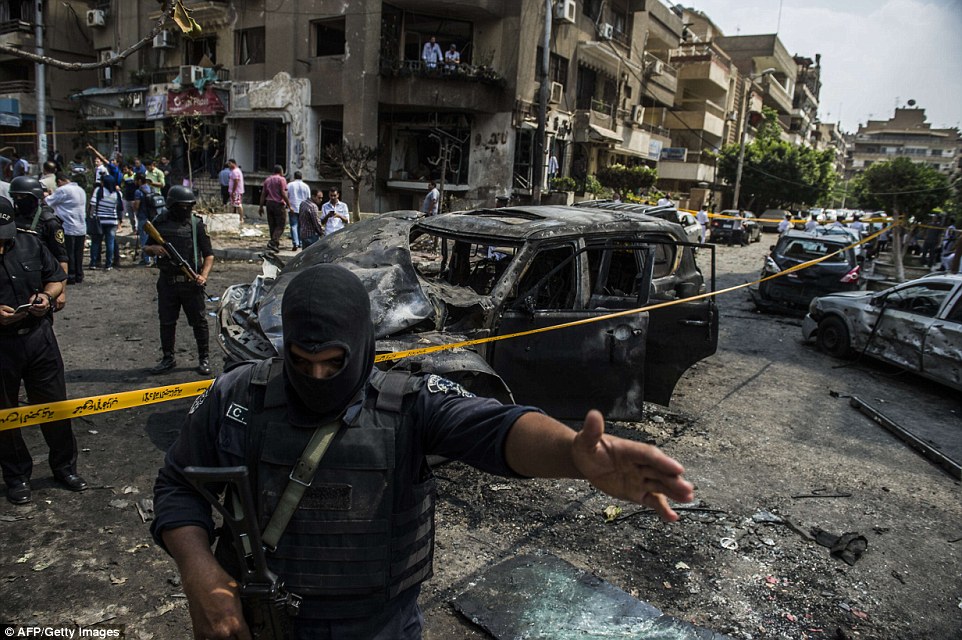 By Hamza Hendawi, (AP) Tanta, Egypt — Suicide bombers struck hours apart at two Coptic churches in northern Egypt, killing 44 people and turning Palm Sunday services into scenes of horror and outrage at the government that led the president to call for a three-month state of emergency.
The Islamic State group claimed responsibility for the violence, adding to fears that extremists are shifting their focus to civilians, especially Egypt's Christian minority.
The attacks in the northern cities of Tanta and Alexandria that also left 126 people wounded came at the start of Holy Week leading up to Easter, and just weeks before Pope Francis is due to visit.
It was the single deadliest day for Christians in decades and the worst since a bombing at a Cairo church in December killed 30 people.
Late Sunday night, President Abdel-Fattah el-Sissi called for a three-month state of emergency. According to Egypt's constitution, parliament must vote in favor of such a declaration — a virtual certainty since it is packed with supporters of the president. It cannot exceed six months without a referendum to extend it.
The army chief-turned-president also dispatched elite troops across the country to protect key installations and accused unidentified countries of fueling instability, saying that "Egyptians have foiled plots and efforts by countries and fascist, terrorist organizations that tried to control Egypt."
The attacks highlighted the difficulties facing el-Sissi's government in protecting Christians, who make up about 10 percent of Egypt's population.
"Where is the government?" screamed an angry Maged Saleh, who rushed to the church in the Nile Delta city of Tanta where his mother escaped the carnage. "There is no government!"
The first bomb exploded inside St. George's Church in Tanta, killing at least 27 people and wounding 78, officials said, overturning pews, shattering windows and staining the whitewashed walls with blood.
Video from inside the church broadcast by CBC TV showed people gathered around what appeared to be lifeless, bloody bodies covered with papers. Several doors had been blown off. Women wailed outside.
"After the explosion, everything became dark from the smoke," said Edmond Edward, attending Mass with his brother, Emil, who suffered head wounds and leaned on him for support at a nearby hospital.
"There was a clear lapse in security, which must be tightened from now on to save lives," he told The Associated Press. The blast appeared to be centered near the altar, he said.
Susan Mikhail, whose apartment balcony across the street has a clear view of the church and its front yard, said the explosion violently shook her building.
"Deacons were the first to run out of the church. Many of them had blood on their white robes," she told the AP. The more seriously wounded then were carried out by other survivors and taken to hospitals in private cars, she said.
Hundreds of residents gathered in the area, and church members blocked people from entering the church as police cordoned off the area.
A few hours later, a suicide bomber rushed toward St. Mark's Cathedral in the coastal city of Alexandria, the historic seat of Christendom in Egypt, killing at least 17 people and wounding 48.
CCTV images showed a man with a blue sweater tied over his shoulders approaching the main gate to St. Mark's and then being turned away by security and directed toward a metal detector. He passed a female police officer talking to another woman, and entered a metal detector before an explosion engulfed the area.
The Health Ministry said six Muslims were among the dead in Alexandria.
Pope Tawadros II, the Coptic church leader, had held Palm Sunday services at the cathedral, but his aides said he had escaped unharmed. The timing of the attack raised the question of whether the bomber had sought to assassinate him.
Pope Francis, who is due to visit Egypt on April 28-29, marked Palm Sunday in St. Peter's Square by expressing "deep condolences to my brother, Pope Tawadros II, the Coptic church and all of the dear Egyptian nation."
Magdy George Youssef, a deacon at St. George's, said the church was almost full when the blast occurred and threw him under a pew.
"All I could think of was to find my wife, and all I could see was smoke, blood and completely charred bodies," the distraught 58-year-old said. Youssef, who suffered only an injured ear, later found his wife at home, with burns to her face.
IS said in a statement that two Egyptian suicide bombers named Abu Ishaq al Masri and Abu al Baraa al Masri carried out the church attacks and vowed to continue attacks against Christians. "What happened is a dangerous indicator that shows how easy it is to attack a large gathering of people in different places," said researcher Ishaq Ibrahim with the Egyptian Initiative for Personal Rights. "There is a complete government failure in taking the IS threat seriously."
El-Sissi said in a statement that Sunday's attacks would only strengthen the resolve of Egyptians against "evil forces." He held an emergency meeting of the National Defense Council, which includes the prime minister, the defense and interior ministers, the speaker of parliament and top army commanders and security chiefs.
Regional police chief Brig. Gen. Hossam Elddin Khalifa was fired over the Tanta bombing, with Maj. Gen. Tarek Hassouna replacing him, state-run newspaper al-Ahram reported.
President Donald Trump tweeted that he is "so sad to hear of the terrorist attack" against the U.S. ally but added that he has "great confidence" that el-Sissi "will handle the situation properly." The two leaders met at the White House on April 3.
Grand Sheikh Ahmed el-Tayeb, head of Egypt's Al-Azhar — the leading center of learning in Sunni Islam — also condemned the attacks, calling them a "despicable terrorist bombing that targeted the lives of innocents."
Both Israel and the Islamic Hamas movement ruling neighboring Gaza condemned the bombings as well.
An Islamic State affiliate claimed the December bombing as well as a string of killings in the northern Sinai that forced hundreds of Christians to flee to safer areas. The militants recently vowed to step up attacks against Christians, whom they regard as infidels.
Egypt has struggled to combat a wave of Islamic militancy since the 2013 military overthrow of an elected Islamist president.
The Sinai-based IS affiliate has mainly attacked police and soldiers, but has also claimed bombings including the downing of a Russian passenger jetliner in the Sinai in 2015, which killed all 224 people aboard and devastated Egypt's tourism industry.
Egypt's Copts are one of the oldest Christian communities in the Middle East and have long complained of discrimination and that the government does not do enough to protect them. Security at churches is routinely increased around religious holidays.
The Copts largely supported the military overthrow of Islamist President Mohammed Morsi, and incurred the wrath of many of his followers, who attacked churches and other Christian institutions.
While the Copts have stood steadfast alongside the government, an increase in attacks on Christians has tested that support.
Egyptian media had previously reported that the church in Tanta had been targeted before, with a bomb defused there in late March.
As night fell, hundreds of Christians, mostly clad in black, streamed to the church to offer their condolences. Scuffles broke out between the mourners and church volunteers guarding the church's doors as many pushed and shoved to get in.
USAfrica: Buhari goes back to see his doctors in London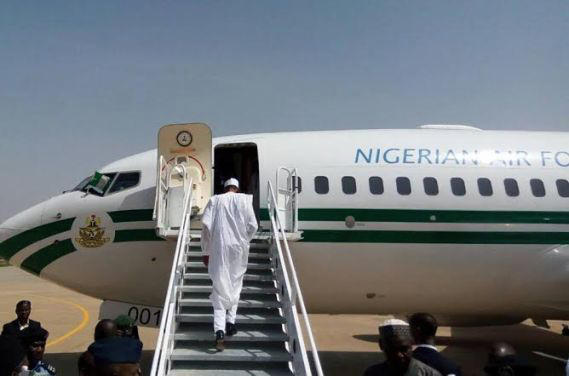 Special to USAfrica [Houston] • USAfricaonline.com  • @Chido247
Only a few days following his return from the United States, 

Nigeria's President Muhammadu Buhari has announced through his spokesman that 

he is travelling to the United Kingdom to see his doctor. "I will be travelling to the United Kingdom tomorrow [May 8], to see my doctor, at his request," retired Gen. Buhari stated on his official Twitter account.
Buhari who is 77-years added he will be away for four days, therefore, he has set Saturday, May 12, 2018 as his return date.
On his way back to Nigeria, he stopped over in London to get some medical attention — this fact was hidden from Nigerians with his special assistant [media] Garba Shehu claiming at that time that Buhari's health challenges did not force the re-routing through London.
On May 7, Shehu added "In the course of the technical stop-over for aircraft maintenance in London on his way back from Washington last week, the president had a meeting with his doctor."
USAfricaonline.com notes that Buhari  travelled to Britain from Abuja on Monday April 9, 2017. Buhari who has been facing severe criticism on his performance since May 2015 will held "discussions on Nigeria – British relations with Prime Minister Theresa May, prior to the Commonwealth Heads of Government Meetings scheduled for April 18 to 20."
Since Buhari became civilian President, his first trip to Britain for medical treatment, according to USAfrica News Index, took place from January to March, 2017. Soon, following the clear evidence of the challenges he had regarding his health, he made his longest and most talked about trip when he left Nigeria back to London on May 7, 2017 and returned to an apprehensive nation on August 19, 2017.
USAfrica: Mandelas say Winnie sacrificed her life for the freedom of South Africa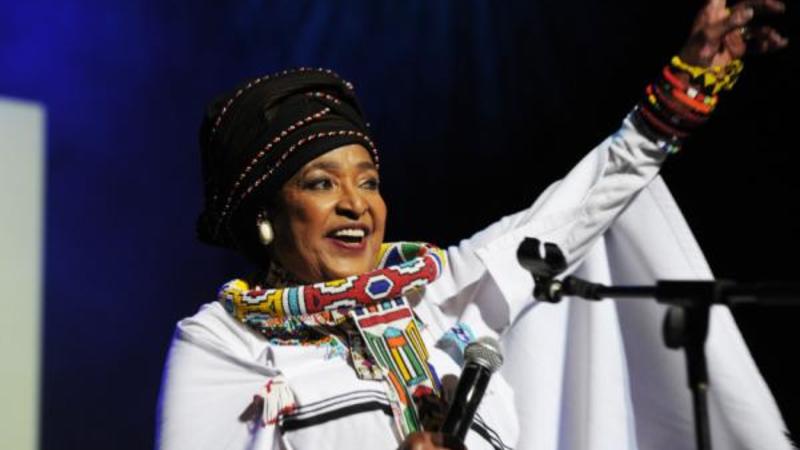 WINNIE MANDELA, the anti-apartheid activist and former wife of Nelson Mandela, died a few hours ago, today April 2, 2018 — following a long illness especially an infection of her kidney. She was 81 years old.
The following is the full text of the statement by the Mandela family on the death on Monday April 2, 2018 of Winnie Mandela.
Special to USAfrica [Houston] • USAfricaonline.com • @Chido247 •  @USAfricaLive
It is with profound sadness that we inform the public that Mrs Winnie Madikizela-Mandela passed away at the Netcare Milpark Hospital' Johannesburg' South Africa, on Monday April 2 2018.
She died after a long illness' for which she had been in and out of hospital since the start of the year. She succumbed peacefully in the early hours of Monday afternoon surrounded by her family and loved ones.
Mrs. Madikizela-Mandela was one of the greatest icons of the struggle against apartheid. She fought valiantly against the apartheid state and sacrificed her life for the freedom of the country. Her activism and resistance to apartheid landed her in jail on numerous occasions' eventually causing her banishment to the small town of Brandfort in the then Orange Free State.

She kept the memory of her imprisoned husband Nelson Mandela alive during his years on Robben Island and helped give the struggle for justice in South Africa one its most recognisable faces. She dedicated most of her adult life to the cause of the people and for this was known far and wide as the Mother of the Nation.

The Mandela family are deeply grateful for the gift of her life and even as our hearts break at her passing' we urge all those who loved her to celebrate this most remarkable woman.
The family will release details of the memorial and funeral services once these have been finalised.
WHY I CELEBRATE THE LIFE AND WORKS OF NELSON MANDELA. By Chido Nwangwu  https://usafricaonline.com/2010/07/15/mandela-why-i-celebrate-his-life-works-by-chido-nwangwu/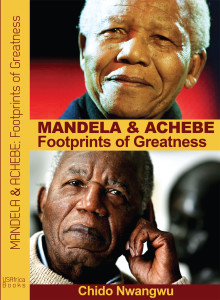 and friendship hold lessons for humanity and Africans, the author Chido Nwangwu takes a measure of their works and consequence to write that Mandela and Achebe have left "footprints of greatness."
He chronicles, movingly, his 1998 reporting from the Robben Island jail room in South Africa where Mandela was held for decades through his 20 years of being close to Achebe. He moderated the 2012 Achebe Colloquium at Brown University in Providence, Rhode Island."I'll forever remember having walked inside and peeped through that historic Mandela jail cell (where he was held for most of his 27 years in unjust imprisonment) at the dreaded Robben Island, on March 27, 1998, alongside then Editor-in-chief of TIME magazine and later news chief executive of the CNN, Walter Isaacson (and others) when President Bill Clinton made his first official trip to South Africa and came to Robben Island. Come to this island of scourge and you will understand, in part, the simple greatness and towering grace of Nelson Mandela", notes  Chido Nwangwu, award-winning writer, multimedia specialist and founder of USAfricaonline.com, the first African-owned U.S-based newspaper published on the internet, in his first book; he writes movingly from his 1998 reporting from South Africa on Mandela. http://www.mandelaachebechido.com/
RESIGN: Anglican Church tells Buhari over ill-health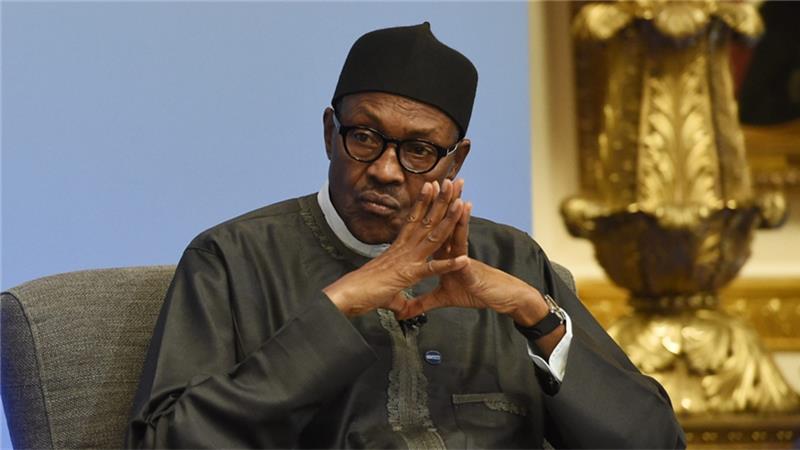 RESIGN: Anglican Church tells Buhari over ill-health
Special to USAfrica (Houston).  USAfricaonline.com  @USAfricaLive  @Chido247          
As tension and separatist groups increase, the health-challenged Nigerian President Muhammadu Buhari (who has been in London for additional medical treatment) has been advised to resign if he can no longer perform the duties of his office, due to ill health. 
"The synod thereby prays God to grant him divine healing. The synod, however, observes that in the event where the President is unable to discharge his duties and or perform the functions of his office owing to ill health, he is enjoined to resign from the office."
This position was part of the decisions made by the Nigerian Anglican Church during its 3rd session of the 16th Synod, held at the Christ Redemption Church, Enugu.
In a communiqué issued and signed by the Archbishop of the Enugu Province and Bishop of the Diocese, Most Rev. Dr. Emmanuel Chukwuma, Ven. Augustine Orah, the Synod Secretary and the Registrar, attorney H.B.C Ogboko, the Church underlined its point that "President Muhammadu Buhari's ill health, which has kept him out of office for long, [has been] impeding the growth of the nation."
Regarding the controversial and illegal pronouncements by a handful of northern Nigeria "youths" who said the Igbo resident in the North should go back to their south east homeland by October 1, 2017, the Anglican Church called those "hate speeches"; warning the "northern youths and their sponsors" against their history of violence against the Igbo. Hence, the Anglican Church and communities warned against "the repetition of the pogrom of 1967 whereof the Igbos were massively and brutally massacred in the Northern Nigeria and calls on the Federal Government to ensure adequate protection of the lives and properties of Ndi Igbo residing in the Northern part of Nigeria." 
Nigeria's Vice President, Prof. Yemi Osinbajo, was affirmed by Buhari to serve as "Acting President."