USAfrica: Why I joined protest against Buhari at U.N over killings and Biafra. By Jane Ikezi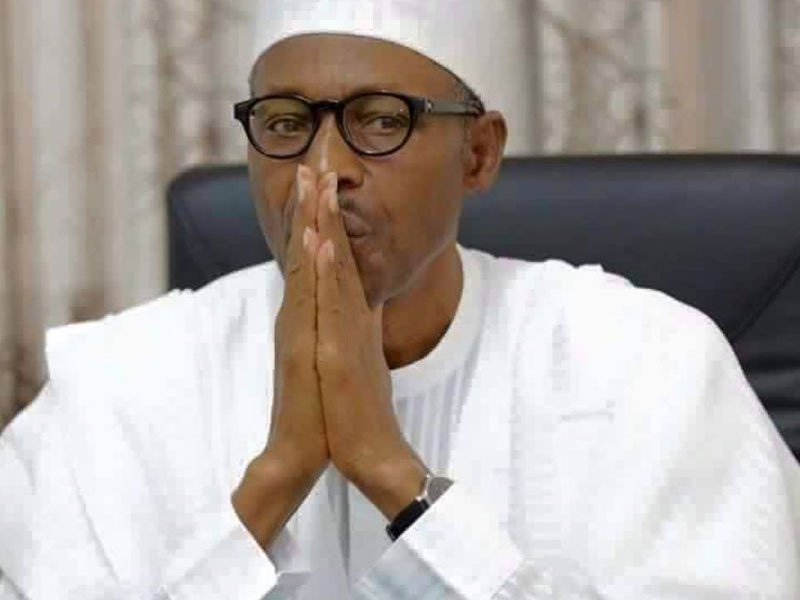 Exclusive special report for USAfrica & USAfricaonline.com
By JANE ONYINYE IKEZI, Esq.
First, there is an ongoing crime against humanity occurring in Nigeria. The Nigerian government has shown a reckless disregard for human lives, particularly the lives of the indigenous people of Biafra.
Second, since 1967, the Nigerian governments — especially the current one led by retired Gen. Muhammadu Buhari  — do not regard us [the Igbo/Biafrans] as equals or treat us as equal citizens of Nigeria, by their actions to date, they have shown that they do not consider us part of Nigeria. Hence, we are not "One Nigeria" as they would like the rest of the world to believe.
Consequently, on Tuesday, 19th of September 2017, in New York City, I joined a big rally, a peaceful protest, at the United Nations Headquarters, during the 72nd General Assembly of the U.N.
The main reason for the protest? Nigeria's President Muhammadu Buhari whose  
soldiers brutally killed young, unarmed Igbo/Biafrans/christians in several cities was scheduled to speak at the U.N. The rally successfully highlighted and condemned the massacres and outright human rights violations occurring continuously in Nigeria, against the indigenous people of Biafra, and others
Our brothers and sisters across the world joined us in solidarity to raise their voices in rallies in London, Houston and elsewhere. I was very proud to see that the attendance was overwhelming. That is the true spirit of Biafra. Everyone came in the spirit of brotherhood.
Most carried Biafran flags and placards, exhibiting slogans such as: "We Have Nothing to Lose But Our Chains," "Buhari Let the Youths Prosper," "Stop the Genocide Against the Igbo people of South Eastern Nigeria," "Biafra, Land of the Rising Sun" and a myriad of other catchy slogans. I displayed a two-sided placard stating on each side, "ONE NIGERIA is an ILLUSION!!! 100 YEARS EXPERIMENT IS OVER!!! FREE BIAFRA!!" and "DESTINY MAY BE DELAYED BUT NEVER DENIED!! ON BIAFRA WE STAND!!"
Despite the rain, people came en masse to support the cause. The solidarity displayed by the indigenous people of Biafra at the rally, created an atmosphere of hope. Some people came from different states. I was greeted by a very young man at the rally who traveled as far as North Carolina for the sole purpose of attending this rally. We were all there in one spirit, under one umbrella. It was a sight to behold.
The Nigerian government cannot silence us with intimidation or purchase us with amnesty. We are close to the actualization of a sovereign state of Biafra. We are freedom fighters and our only weapon of choice are our voices and the songs of sorrow from our ancestors to God. These songs could be heard from the voices of fellow Biafrans at the rally, as they sang in unison to Igbo tunes, in their call for self-determination and an end to genocide.
It is said that history is written by the victors and as it were, the Nigerian government not only erased the Bight of Biafra from its map, but from its curricula and from the story of Nigeria. Destiny may be delayed but it can never be denied. Our time has come and we appeal to the International Community and the United Nations, as its representative, to do what is right for the indigenous people of Biafra.
We have the right to self-determination. Only then, can we begin to heal as a people. Only then, will there be a rapprochement.                                                                          •Ms. Ikezi, attorney-at-law in New York, is an analyst for USAfricaonline.com
Aretha Franklin's melodious voice, dignity and clarity were triple drivers of her artistic excellence. By Chido Nwangwu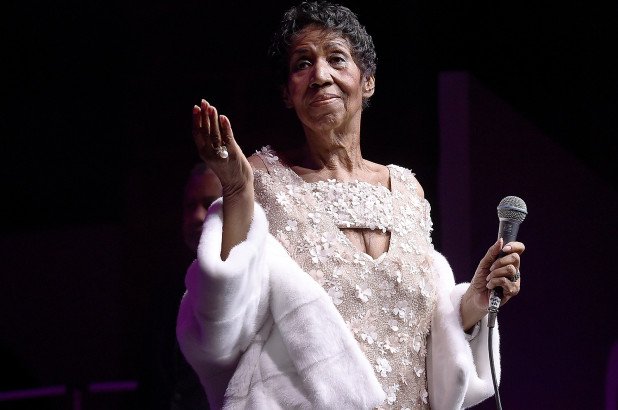 @Chido247
I believe that Aretha Franklin's melodious voice, dignity and clarity were triple drivers which continue to make her artistic excellence a trans-generational gift to humanity.
Aretha Franklin who made an outstanding entry into both gospel and soul music with the release of her first album in 1956, titled 'Songs of Faith', died today, August 16, 2018, at her home in Detroit. She was 76 years old.

Aretha was born on March 25, 1942, in Memphis, Tennessee.

She is the first woman to be inducted into the Rock & Roll Hall of Fame, and affectionately and deservedly called the Queen of Soul — especially in high regard for songs such as "Respect." She was a part of the U.S civil rights movement.

I believe that Aretha Franklin's melodious voice, dignity and clarity were triple drivers which continue to make her artistic excellence a trans-generational gift to humanity.
By Chido Nwangwu, Founder & Publisher of USAfrica [Houston], USAfricaonline.com and author of the soon-to-be-released 2018 book titled MLK, MANDELA & ACHEBE: Power, Leadership & Identity
SOYINKA accuses OBASANJO of awarding OIL blocks in return for SEX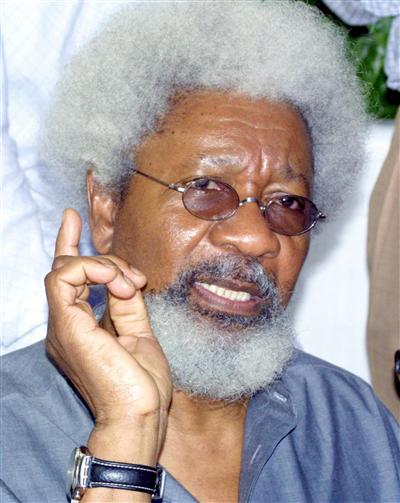 Special to USAfrica [Houston] and USAfricaonline.com
Nobel laureate Prof. Wole Soyinka, calling former President Olusegun Obasanjo, a degenerate, liar, predator and sadist, has challenged him to swear whether he never awarded oil blocks in return for sexual gratification while he presided over the affairs of Nigeria.
Soyinka spoke in his Interventions VIII series, titled: 'Quis Custodiet Ipsos Custodes?' also sub-titled 'Gani's Unfinished Business," launched recently in Lagos, Southwest Nigeria.
He said Obasanjo knows him so well that he does not make accusations lightly and that he despises snide insinuations. "I now challenge you (Obasanjo) to search your soul, very deeply, and swear to this nation that you never awarded oil blocks in return for sexual gratification. I do not make accusations lightly and I despise snide insinuations. I believe you know me well enough. And I am no prude, I am not a hypocrite of sexual desire, nor am I interested in the seamy side of Power. Take your time, think deeply and remember that each day brings you closer and closer to your Maker and the Day of Judgment-going by your own
professions."
Soyinka said sex-for-grades as a solution to that burdensome energy seemed to have become the practice, saying that even when Donald Trump and Bill Clinton were accused of sexual misconduct, no one ever accused Trump of using his nation's assets for a romp on the presidential desk of the oval office and that not even Clinton who nearly lost his office through Monica Lewinsky, was ever accused of passing off any of the White House heirlooms, or influenced contracts in return for sexual favour. "If I denounce you (Obasanjo) as a degenerate in need of help, remember that I do not require fiction. Verifiable truth is solemnly at my disposal. I do not concoct a thousand snipers for a thousand listed enemies of governance-one of the most impudent egregious fantasies ever manufactured by a former ruler, simply to destroy a successor and persuade oneself that one is a maker and breaker of governments," he said. Soyinka also said that during Obasanjo's celebration of the 10th anniversary of his Presidential library, the former president accused him of blocking his ambitions to become the Secretary General of the United Nations.
According to Soyinka, "could someone please stop crediting me with that level of international clout? Of course, I feel totally content and fulfilled with my contribution to that operation to 'save our world' from the clutches of a predator, sadist and liar-convincing evidence of which we provided in our successful diplomatic offensive-but the umbrage should also go to that very Femi Falana and the late Beko Ransome-Kuti, with whom I worked in close collaboration."
Soyinka also said that under Obasanjo's watch, and with proven collaboration, an elected governor was kidnapped, locked in a toilet and held there under duress to force him to sign cheques on the state treasury, saying that "he escaped confinement, thanks to a sympathetic policeman , but the state went up in flames. The state radio and television houses were torched. The House of Assembly and the law courts—my own special preserve-were vandalized. Who did you say was President at that time?" Soyinka made reference to a letter written to Obasanjo by Col. Abubakar Umar, in which the former military governor accused Obasanjo of awarding oil block indiscriminately and illegally. (News Agency of Nigeria and PMNews)
USAfrica BrkNEWS: Invasion of Nigeria's National Assembly, Trump's adviser says Daura is Buhari's enforcer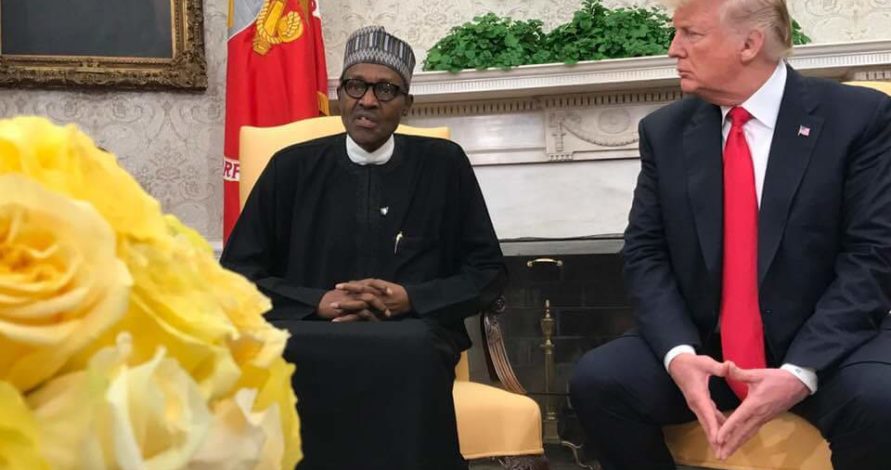 The latest disgrace brought upon Nigeria by a mix of masked and armed operatives of the Department of State Security [DSS], acting at the orders of the Director General of the DSS, Lawal Musa Daura, on Tuesday morning of August 8, 2018, prevented  lawmakers and staff from gaining access into the NASS building until voices were raised against the intrusion continues to draw local and international reactions.

One of U.S President Donald Trump's security advisers on Africa has told Houston-based USAfrica and USAfricaonline.com that "the White House has held cautious reservation about the genuineness of President Muhammadu Buhari's commitment to democracy and diversity in Nigeria."
He made the point that Mr. Daura is an enforcer of the Buhari agenda, spoken and unspoken; "they're very close…."
Meanwhile, retired General Buhari's deputy who is currently Nigeria's acting President, Yemi Osinbajo, a professor of law, has sacked Daura.
Also, the USAfrica News Index show that "U.S President Donald J. Trump, this afternoon Monday April 30, 2018 at the White House, told visiting Nigerian President Muhammadu Buhari that his government is not only monitoring but outraged by  "very serious problems with christians who are being murdered, killed in Nigeria."
The transcription of Trump's statement by USAfricaonline.com reads:
"We've had very serious problems with christians who are being murdered, killed in Nigeria. We're going to be working on that problem; and working on that problem very, very hard… because we can't allow that to happen."
Buhari, a retired army General and dictator/ruler (1984-1986), attempted to minimize those issues when he claimed, contrary to video evidence and eyewitness accounts, that the "farmers and herdsmen" only carry stick and machete; not AK-47s and other deadly weapons. Across the social media, Nigerians share pictures/videos of them brandishing weapons.
Obama administration and Buhari's started a deal for Nigeria to purchase up to 12 Embraer A-29 Super Tucano aircraft with sophisticated targeting gear for almost $600 million.
By Chido Nwangwu, Founder & Publisher of USAfrica [Houston], USAfricaonline.com and author of the soon-to-be-released 2018 book titled MLK, MANDELA & ACHEBE: Power, Leadership & Identity