USAfrica: Bakare blasts Buhari, 22 governors for attending a wedding while Boko Haram holds 110 Dapchi girls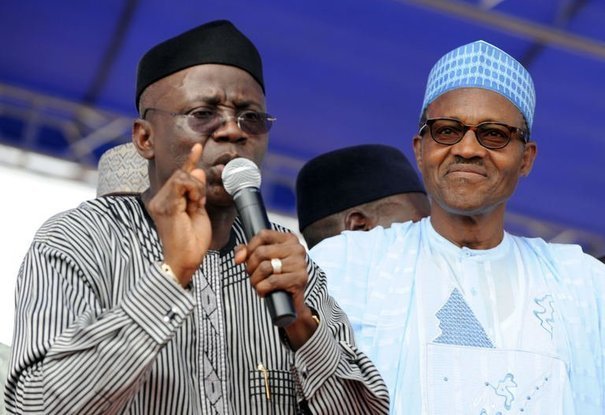 Special to USAfrica [Houston] • USAfricaonline.com @USAfricaLive • @Chido247
in a blunt expression of his disappointment, Tunde Bakare, pastor at Latter Rain Assembly, has criticized President Muhammadu Buhari for attending a wedding in Kano while 110 Dapchi girls are still being held in captivity by the Boko Haram.
Bakare, who was Buhari's running mate in the 2011 presidential election, while addressing his church congregation on Sunday, expressed surprise that Buhari and 22 governors attended the wedding of Governor Umar Ganjude's daughter and Governor Abiola Ajimobi's son, on Saturday.
Bakare said the action of the leaders showed the insensitivity of the people in power. The following are excerpts from his comments:
"Forgive my ill-mannerism, but I could not comprehend why a governor will celebrate the wedding of his daughter, and another governor of his son, on the front pages of newspapers, flashing it before our eyes, when other peoples' daughters are in captivity
"If any of them had lost a daughter in that captivity, would they celebrate that way? I know the Bible says rejoice with them that rejoice, but I do not know what the president of Nigeria was doing there.
"And somebody came to say, let me explain to you, it is Islamic tradition, before this time, about January, they had agreed, that he (Buhari) will be the one to give the bride away and (Bola) Tinubu will be the one to pay the dowry, and present the son, and they agreed long before now.
"I looked at him and said the president of Nigeria wanted to come to my daughter's wedding, and I said to him, sir, don't come. That is beneath your office. Face the work of the state and keep serving.
"And 22 governors showed up to mark register, when 110 daughters of citizens of your nation were captured by Boko Haram that you said you have already technically defeated?
"It just shows how insensitive our leaders are. We have gotten to a stage that our president has become a king and a monarch. That his son who rode his pleasurable bike that almost claimed his life, will be returning from an overseas trip, where he had received special healthcare that Nigerians cannot afford, that it took a whole minister of state to go and welcome him, because he has no job."
USAfricaonline.com recalls that after several months of not making significant assessments of Buhari and Nigeria, in January 2018, he said: "The current edifice of state has become a deathtrap. All around are cracks on the wall that originate from the structural foundations. Those cracks are dripping with blood and the stones in the wall are crying out. The stones are crying out from Benue State and every part of the country where herdsmen have slaughtered the innocent in unspeakably barbaric attacks while the government failed to act until there were yet more bodies in morgues. The stones are crying out in every state in the federation where workers' salaries are unpaid and poverty prevails because states are nothing but institutional and constitutional vegetables on life support from Abuja. The stones are crying out because young men and women are leaving the shores of a country so rich yet so poor and are enslaved, prostituted and murdered in other lands. By maintaining the status quo, Nigeria has once again become a land filled with crimes of blood."
SOYINKA accuses OBASANJO of awarding OIL blocks in return for SEX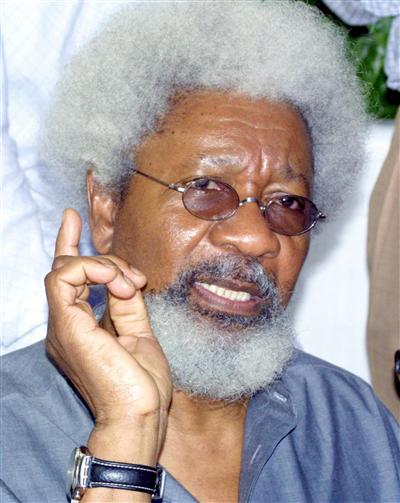 Special to USAfrica [Houston] and USAfricaonline.com
Nobel laureate Prof. Wole Soyinka, calling former President Olusegun Obasanjo, a degenerate, liar, predator and sadist, has challenged him to swear whether he never awarded oil blocks in return for sexual gratification while he presided over the affairs of Nigeria.
Soyinka spoke in his Interventions VIII series, titled: 'Quis Custodiet Ipsos Custodes?' also sub-titled 'Gani's Unfinished Business," launched recently in Lagos, Southwest Nigeria.
He said Obasanjo knows him so well that he does not make accusations lightly and that he despises snide insinuations. "I now challenge you (Obasanjo) to search your soul, very deeply, and swear to this nation that you never awarded oil blocks in return for sexual gratification. I do not make accusations lightly and I despise snide insinuations. I believe you know me well enough. And I am no prude, I am not a hypocrite of sexual desire, nor am I interested in the seamy side of Power. Take your time, think deeply and remember that each day brings you closer and closer to your Maker and the Day of Judgment-going by your own
professions."
Soyinka said sex-for-grades as a solution to that burdensome energy seemed to have become the practice, saying that even when Donald Trump and Bill Clinton were accused of sexual misconduct, no one ever accused Trump of using his nation's assets for a romp on the presidential desk of the oval office and that not even Clinton who nearly lost his office through Monica Lewinsky, was ever accused of passing off any of the White House heirlooms, or influenced contracts in return for sexual favour. "If I denounce you (Obasanjo) as a degenerate in need of help, remember that I do not require fiction. Verifiable truth is solemnly at my disposal. I do not concoct a thousand snipers for a thousand listed enemies of governance-one of the most impudent egregious fantasies ever manufactured by a former ruler, simply to destroy a successor and persuade oneself that one is a maker and breaker of governments," he said. Soyinka also said that during Obasanjo's celebration of the 10th anniversary of his Presidential library, the former president accused him of blocking his ambitions to become the Secretary General of the United Nations.
According to Soyinka, "could someone please stop crediting me with that level of international clout? Of course, I feel totally content and fulfilled with my contribution to that operation to 'save our world' from the clutches of a predator, sadist and liar-convincing evidence of which we provided in our successful diplomatic offensive-but the umbrage should also go to that very Femi Falana and the late Beko Ransome-Kuti, with whom I worked in close collaboration."
Soyinka also said that under Obasanjo's watch, and with proven collaboration, an elected governor was kidnapped, locked in a toilet and held there under duress to force him to sign cheques on the state treasury, saying that "he escaped confinement, thanks to a sympathetic policeman , but the state went up in flames. The state radio and television houses were torched. The House of Assembly and the law courts—my own special preserve-were vandalized. Who did you say was President at that time?" Soyinka made reference to a letter written to Obasanjo by Col. Abubakar Umar, in which the former military governor accused Obasanjo of awarding oil block indiscriminately and illegally. (News Agency of Nigeria and PMNews)