Special to USAfrica magazine (Houston) and USAfricaonline.com, first Africa-owned, US-based newspaper published on the Internet
Alex Otti remains best choice for Abia Governor. By Chido Nwangwu
Exactly 12 years ago, on March 1, 2011, Dr. Alex Otti, one of Nigeria's top bankers was appointed Group Managing Director/CEO of (then) Diamond Bank Plc.
He led Diamond Bank to a robust, optimized multi-billion balance sheet thereby making the bank more profitable and attractive.  It has since merged with Access.
Before that time, he worked at the UBA. Afterwards, he held an influential strategic clout and position as Executive Director in First Bank Nigeria Plc (Head of Commercial Banking and Head of the Regional Businesses in the South-Southern and South-Eastern business and geo-political zones).
On November 21, 2022, in Abuja, Otti, Mutiu Sunmonu and a few others launched Signature Bank, a tech-friendly commercial institution.
First, Why, you may ask, am I raising these credentials?
I believe it's important to have some business besides the business of politics.
Secondly, it is useful to know how to productively, properly and seriously run an organization before you jump into the arena of politics to lead a State or a country. Especially, the South-Eastern Abia State — which includes the commercial metroplex of Aba. Abia is about business!
Third, on March 18, 2023, the residents of Abia will be at the polling places to cast their votes to elect a new Governor. But the hard truth is that they are not looking to merely elect "a new" Governor, they seek and deserve someone who has what it takes, potentially, to serve and lead as a better Governor.
I make the important point that since the presidential and National Assembly elections of February 25, 2023, across Abia, like in many parts of Nigeria are littered with the political carcasses of a wider battle of the Past versus the Future. So will it be for Abia State on the governorship election day of March 11, 2023. Otti is contesting as the candidate of the Labour Party.
Fourth, the crucial question: What type of new leader does Abia need? Another stooge of scanty capacity, a transactional lightweight, an anything-goes passenger or a first-rate technocrat who has managed and continues to  add value to financial balance sheets and what I call definable outcomes?
Fifth, Aba, our Aba! Enyimba city!
In terms of the existential realities of daily living, the Abia Pharaohs and the overlords of Abia Babylon have held Aba, Abia's most important city and the region's economic engine, in criminal neglect, and almost abandonment.
The serial failures and inadequate infrastructural development of Aba by most of the Governors changed Abia's politics because every Abia community every major Igbo community has someone in Aba! No wonder Alex made Aba, strategically, his candidacy's spiritual home. The Past, the Present and the Future of the Igbo are largely set in Aba.
Sixth, the theology of the failed Past is the worship of clay-footed, incompetent gods of cronyism, godfatherism and hideous nepotism and handpicked "successors" versus Otti's sound roadmap/manifesto/plans for creating a greater Abia.
Seventh, it is an existential fight for millions of Abia youths and across  Nigeria who reject the tokenisms, fake and false promises, punctuated by fruitless cajoling, undermined by lack of transformative industrial projects and the pathetic, serio-comedy which have reduced even the most solemn official events to laughable but sad theaters of farcical drivel.
Eight, the battle lines have since been drawn on the deprivation of the retirees entitlements, pensions and government workers of Abia State. They are in the fights of their lives and livelihood; many of them are owed their paltry salaries for more than 6 months with families to feed, with children to cater for in schools….
Ninth, as someone who started out under modest circumstances but has through scholastic distinctions and hard work secured several achievements and reached the pinnacle of banking, Alex Otti embodies a unique story of inspiration, grit, determination, discipline and countless blessings. Especially, the power of education.
The early indicators of the stellar brilliance of the young man were evident in his primary and high school records in Ngwa land where he was born and raised. He's also an Aro, and proudly so! He would go on to etch his name on the honors rolls when he graduated from the University of Port Harcourt with a First Class Honors Degree in Economics in 1988. He was awarded best graduating student in the Department of Economics, best graduating student in the Faculty of Social Science where he won the Dean's Prize, and the overall Best Graduating Student for the Year and emerged as the Valedictorian. He got an MBA from the University of Lagos in 1994.
On March 18, 2023, I think there's a conducive convergence of historical and current circumstances, providence and determination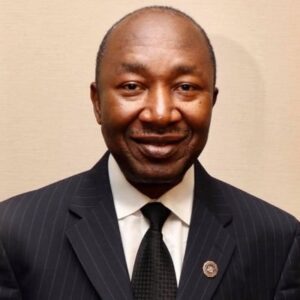 in Abia to vote for its greater, better Future, as embodied in the agenda of Alex Chioma Otti of the Labour Party.
•Dr. Chido Nwangwu, author of the forthcoming 2023 book, MLK, Mandela & Achebe: Power, Leadership and Identity., is Founder of the first African-owned, U.S-based newspaper on the internet, USAfricaonline.com, and established USAfrica in 1992 in Houston. He has appeared as an analyst on CNN, AlJazeera, SKYnews, and served as an adviser on Africa business to Houston's former Mayor Lee Brown. Follow him on Twitter @Chido247