Embattled Gaddafi offers $400 "subsidy" (bribe) to every Libyan family as his grip on power weakens.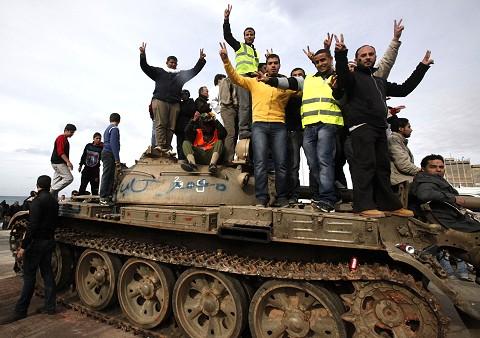 Embattled Gaddafi offers $400 "subsidy" (bribe) to every Libyan family as his grip on power weakens.
USAfricaonline.com: The embattled regime of Muammar Gaddafi has offered to raise public sector wages to 150% in bid to keep power. Also, every family will receive about $400 to help cover increased food prices.
These latest moves by the Libyan government announced on Libyan state tv on Friday February 25, 2011, according to to USAfrica multimedia networks' Founder Chido Nwangwu "reflect very desperate efforts to hold on to power through inducements and to minimize the rage of those who are demanding a more open society and democratization of the Libyan government. After 42 years in power, it's too little, too late and wasteful."
There were reports today regarding Gaddafi's forces firing live shots into protesting crowds in Tripoli. By Janet Johnson

———-
Libya on edge as dictator's regime turns more violent; eastern section of Libya largely freed from grip.
Benghazi, Libya (AFP) – Libya was on edge on Friday (February 25, 2011) as forces loyal to Moamer Kadhafi's crumbling regime staged a bloody fightback in western towns near Tripoli and the east declared itself free of his iron-fisted rule. Outraged Western governments scrambled to craft a collective response to the crisis in the oil-rich North African state, including possible sanctions against Kadhafi's remaining loyalists and a freeze on assets they are believed to have salted away abroad.But governments were constrained by fears of reprisals against nationals still stranded amid what escaping expatriates described as hellish scenes as evacuation efforts dragged on on the 11th day of the crisis.
In Az-Zawiyah, west of Tripoli, 23 people were killed and 44 wounded on Thursday when regime loyalists mounted a
ferocious rearguard action against protesters in the key oil refinery town, Libya's Quryna paper reported. "The wounded cannot reach the hospitals because of shots being fired in all directions," said the paper, based in the opposition-held eastern city of Benghazi quoting its correspondent in Az-Zawiyah.
Heavy fighting was also reported in Libya's third city Misrata, to the east of capital.In Zouara, further west towards the Tunisian border, fleeing Egyptian workers said the town was in the control of civilian militias after fierce fighting on Wednesday evening.Addressing his divided nation on Thursday for the second time in three days, Kadhafi, 68, accused residents of Az-Zawiyah of siding with Al-Qaeda."It is obvious now that this issue is run by Al-Qaeda," he said, addressing the town's elders.In marked contrast to a 75-minute address from a podium outside his Tripoli home on Tuesday, Kadhafi spoke by telephone from an undisclosed location for barely 20 minutes.animation.
His decision not to make an on-screen appearance raised questions about his whereabouts and the extent of his remaining power base, which has been hit by a new defection — that of his cousin and close aide Kadhaf al-Dam, who quit "all his official functions," Egypt's official MENA news agency reported.In Paris, protesters calling themselves the "children of the revolution" occupied the Libyan embassy and hoisted the old national flag from before Kadhafi's 1969 coup, the latest in a string of foreign missions to fall from his control.In Tripoli, the streets were largely deserted and shops closed on the Muslim day of rest.The UN's World Food Programme warned Libya's food distribution system was "at risk of collapsing", in an oil-producing country which is heavily dependent on imports that have largely come to a halt.Libya's second city of Benghazi, where the unprecedented protests against Kadhafi's four-decade rule first erupted, was firmly in the hands of his opponents, an AFP correspondent said.
But the initial euphoria of the city's liberation was giving way to fear that its weak defences could be vulnerable to a counter-attack by regime loyalists.Effigies apparently of Kadhafi hung from street lamps in the eastern city and children played on top of an abandoned tank.In the courthouse outside which the demonstrations started, regime opponents set up a revolutionary headquarters to take over the administration of the city as civilian militiamen and mutinous regular army troops patrolled the streets.Some soldiers were selling their weapons to the highest bidder even as their defecting commanders strove to forge their men into a defence force.Leading an international outcry over the regime's brutal crackdown, US President Barack Obama consulted the leaders of Britain, France and Italy on how to "immediately" respond.
France and Britain have proposed the UN Security Council pass a sanctions resolution including a total arms embargo against Libya, French Foreign Minister Michele Alliot-Marie said.She said the two governments would also propose bringing members of the Libyan regime before the International Criminal Court for crimes against humanity.In Geneva, the UN Human Rights Council met in special session to consider calls to expel Libya over a crackdown which High Commissioner Navi Pillay said was "escalating alarmingly with reported mass killings, arbitrary arrests, detention and torture of protesters."
EU foreign affairs chief Catherine Ashton said it was time for the 27-nation bloc to adopt "restrictive measures" of its own against Kadhafi's regime, which could include an assets freeze and a travel ban.US officials said no option had been ruled out, but State Department spokesman Philip Crowley stressed the extreme sensitivity of the situation. "Whatever steps that we do take, we want them to be effective. And we certainly don't want to take any actions that put either our citizens or the citizens of other countries at risk," he said.Western governments faced mounting domestic criticism for their failure to organise an evacuation operation more speedily as oil workers stranded in remote camps in Libya's vast desert spoke of their equipment and supplies being looted amid growing lawlessness.
BrkNEWS #BokoHaram overruns army base; hundreds of soldiers missing in northern Nigeria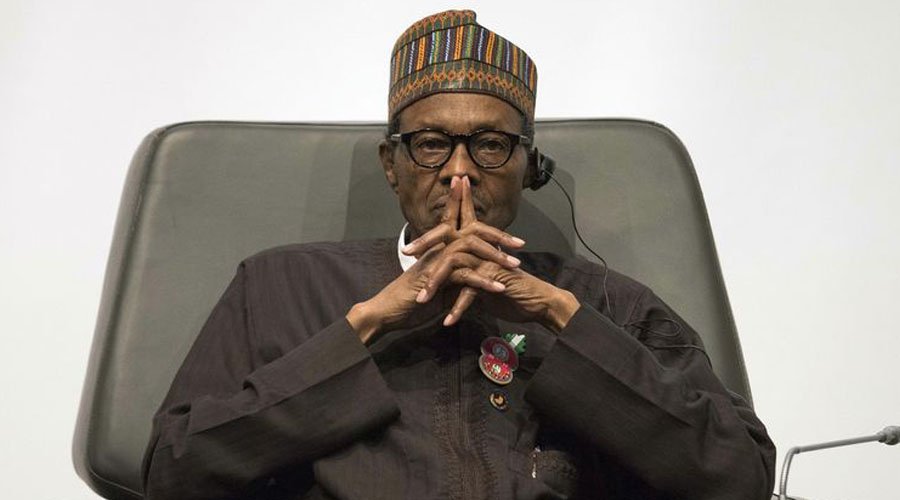 AFP: Hundreds of Nigerian troops are missing after Boko Haram jihadists overran a military base in the remote northeast, security sources said Sunday, in the second major assault on the armed forces in two days.
The militants invaded a base holding more than 700 soldiers in Yobe state — where they abducted over 100 girls from a school earlier this year — in an hours-long onslaught Saturday night, a military source told AFP on condition of anonymity.
Fewer than 100 soldiers have returned following the attack, which took place just 24 hours after Boko Haram fighters ambushed a military convoy in neighbouring Borno state on Friday.
The two assaults have highlighted the tenuous hold Nigerian forces have on the ravaged region despite claims by President Muhammadu Buhari's government that the country is in a "post-conflict stabilisation phase".
"Boko Haram terrorists attacked troops of the 81st Division Forward Brigade at Jilli village in Geidam district. The terrorists came in huge numbers around 7:30 pm (1830 GMT) and overran the base after a fierce battle that lasted until 9:10 pm," said the military source.
"The base had 734 troops. Currently the commander of the base and 63 soldiers have made it to Geidam (60 kilometres away) while the remaining 670 are being expected," he said, without elaborating on their possible fate.
"We don't know if there were any casualties among the troops. That will be known later," he said, adding that the base was new and the troops had recently arrived from Lagos, Nigeria's commercial capital.
A leader of a local anti-jihadist militia said the soldiers sustained casualties, but was unable to give a toll, attributing the attack to the Abu-Mus'ab Al-Barnawi faction of Boko Haram, which is known for targeting Nigerian forces.
"We learned that they drove from Lake Chad through Gubio (in nearby Borno state) and attacked the base," he said.
Geidam resident Fannami Gana said the jihadists "overwhelmed" the troops.
"We don't know the details of what happened but we learnt they were overwhelmed by hundreds of Boko Haram gunmen," said Gana.
Nigerian army spokesman Texas Chukwu said he did not know about the attack.
"I am not aware of the attack because (I) have not received information from there," Chukwu said in a text message to AFP.
On Friday, 23 Nigerian soldiers went missing after Boko Haram ambushed a convoy outside Bama, leading to the loss of several military vehicles.
According to a military officer, "around 100 terrorists" attacked the convoy.
The sophisticated attacks highlight the continued threat — and evolution — of Boko Haram, an Islamic State group ally, said Yan St-Pierre, counter-terrorism advisor and head of the Berlin-based Modern Security Consulting Group.
St-Pierre suggested the attacks could be because Boko Haram fighters are vying for control of the faction led by Abubakar Shekau, the long-time jihadist leader who is reportedly ill.
"When a near-mythical leader is on his way out there's always a battle to establish who could be next," said St-Pierre.
The attacks show the persistent threat of Boko Haram in the Lake Chad region, he said.
As the jihadists exploit rampant poverty in the region, the Nigerian army, which is overstretched and under-resourced, struggles to keep the insurgency in check.
"The supply of Boko Haram fighters is always there, either through kidnapping or economic reasons, they tap into a wide pool of personnel, they find a way to replenish their strength," St-Pierre said.
Buhari, a 75-year-old former military ruler, came to power three years ago on a promise to defeat Boko Haram.
But while there have been clear military gains since a counter-insurgency was launched in 2015, suicide bombings and raids remain a constant threat, particularly to civilians.
Boko Haram's Islamist insurgency has devastated the region since 2009, leaving at least 20,000 people dead, displacing more than two million others and triggering a humanitarian crisis.