#Biafra IPOB warns APC against pro-Buhari rally in Anambra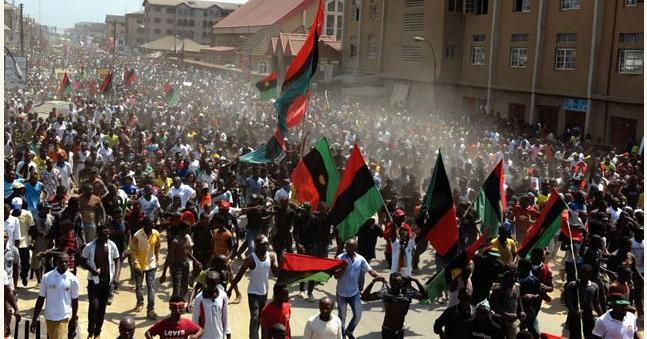 By Chido Nwangwu @Chido247
Amidst all the speculation by millions of Nigerians regarding the health status of the Nigerian president Muhammad Buhari, a retired army General, USAfricaonline.com is reporting the pro-Buhari APC political rally scheduled for March 10, 2017 in the capital of Anambra State, Awka, is likely to run into the countervailing agitation of the Indigenous People of Biafra (IPOB) movement.
The IPOB cites three major events and factors for its planned opposition, in the words of its publicity secretary Emma Powerful, arguing that "it smacks of crass insensitivity that certain Igbo speaking people in desperate need of money… would go as far as planning to shamelessly hold a rally in support of this Buhari administration that has killed and abducted over 1000 Biafran men and women."
IPOB referenced recently released reports by Amnesty International, Intersociety, Human Rights Watch and Civil Liberties Organization (CLO) on the "militarization of Igbo speaking parts of Biafraland" and what it called "the illegal detention of Mazi Nnamdi Kanu, the leader of IPOB."
"It was in the same Anambra State that Buhari ordered his Nigerian Army led by Brigadier General Tukur Buratai to massacre hundreds of defenceless IPOB rally goers at Nkpor and Onitsha Head-bridge with scores missing, presumed dead. Whoever came up with this idea of holding a rally in Anambra State in support of Buhari who has not hidden his hatred and genocidal intent towards Biafrans in general and Igbos in particular, must have his brain examined."
IPOB which operates and rallies in Abia, Anambra, Ebonyi, Imo, Bayelsa, Delta and Rivers States warned in the statement obtained by USAfrica that "Any person or group of persons stupid enough to come out to rally for Buhari on the 10th of March 2017, whatever they see they take…. We know this show of shame was planned by APC in Anambra State as an effort to diminish the the historically significant World Biafra Genocide Exhibition organised by IPOB Worldwide kicking off in Spain on the 10th of March 2017.
"This IPOB organised exhibition in Vittoria Basque Region Spain, is the first of its kind in the history of Biafra restoration and will attract visitors from all over the world including major European media houses. IPOB will feature pictures and video footage of genocide committed by the British and Nigerian governments from 1966 to date.
"The exhibition will feature in every major capital city of the world and is designed to bring home to the world the horrors of the genocide committed and still being committed against the people of Biafra by the likes of [retired Generals and former military rulers] Gowon, Obasanjo, Buhari and lately [the] Tukur Buratai-led Nigerian army."
USAfrica News Index 2001 to 2013, especially 2015 to date, 2017, show an exponential increase in the worldwide agitation for the "restoration of Biafra" by the younger generation Igbo and some from the areas of 1967-1970 defunct Biafra now known as South South of Nigeria. The late, charismatic Emeka Odumegwu Ojukwu served as the Head of State of Biafra. Ojukwu was interviewed 3 times by USAfrica founder & publisher Chido Nwangwu; first in 1988 at his Villaska Lodge residence in Ikoyi, Lagos; and in Houston, Texas. Excerpts from the exclusive interviews and insights from the editors of USAfrica form parts of the special e-book titled BIAFRA: 50 Years on The PATH OF THUNDER, to be released in May 2017 (USAfricaBooks).
USAfrica: Buhari goes back to see his doctors in London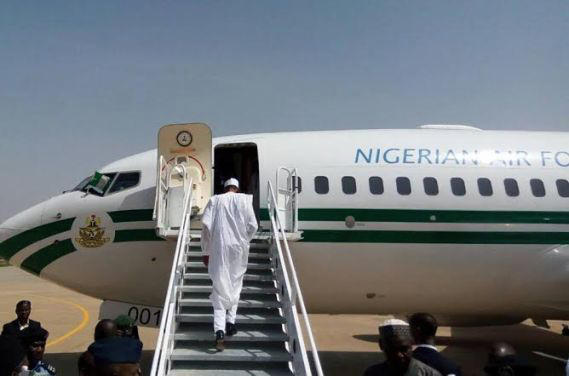 Special to USAfrica [Houston] • USAfricaonline.com  • @Chido247
Only a few days following his return from the United States, 

Nigeria's President Muhammadu Buhari has announced through his spokesman that 

he is travelling to the United Kingdom to see his doctor. "I will be travelling to the United Kingdom tomorrow [May 8], to see my doctor, at his request," retired Gen. Buhari stated on his official Twitter account.
Buhari who is 77-years added he will be away for four days, therefore, he has set Saturday, May 12, 2018 as his return date.
On his way back to Nigeria, he stopped over in London to get some medical attention — this fact was hidden from Nigerians with his special assistant [media] Garba Shehu claiming at that time that Buhari's health challenges did not force the re-routing through London.
On May 7, Shehu added "In the course of the technical stop-over for aircraft maintenance in London on his way back from Washington last week, the president had a meeting with his doctor."
USAfricaonline.com notes that Buhari  travelled to Britain from Abuja on Monday April 9, 2017. Buhari who has been facing severe criticism on his performance since May 2015 will held "discussions on Nigeria – British relations with Prime Minister Theresa May, prior to the Commonwealth Heads of Government Meetings scheduled for April 18 to 20."
Since Buhari became civilian President, his first trip to Britain for medical treatment, according to USAfrica News Index, took place from January to March, 2017. Soon, following the clear evidence of the challenges he had regarding his health, he made his longest and most talked about trip when he left Nigeria back to London on May 7, 2017 and returned to an apprehensive nation on August 19, 2017.
USAfrica: Mandelas say Winnie sacrificed her life for the freedom of South Africa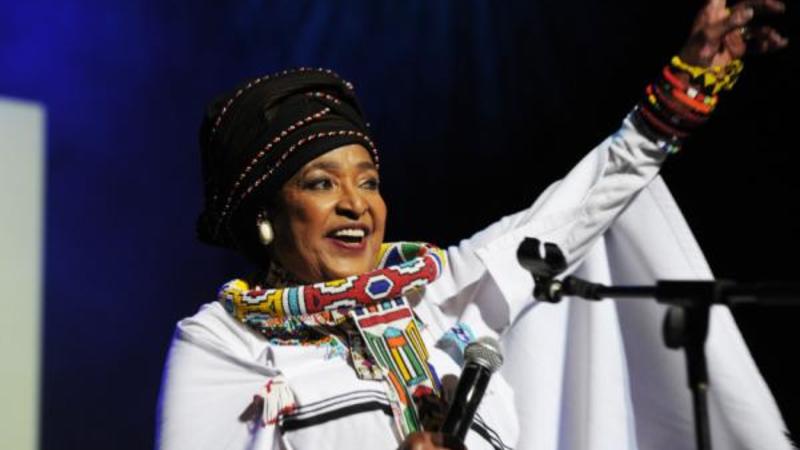 WINNIE MANDELA, the anti-apartheid activist and former wife of Nelson Mandela, died a few hours ago, today April 2, 2018 — following a long illness especially an infection of her kidney. She was 81 years old.
The following is the full text of the statement by the Mandela family on the death on Monday April 2, 2018 of Winnie Mandela.
Special to USAfrica [Houston] • USAfricaonline.com • @Chido247 •  @USAfricaLive
It is with profound sadness that we inform the public that Mrs Winnie Madikizela-Mandela passed away at the Netcare Milpark Hospital' Johannesburg' South Africa, on Monday April 2 2018.
She died after a long illness' for which she had been in and out of hospital since the start of the year. She succumbed peacefully in the early hours of Monday afternoon surrounded by her family and loved ones.
Mrs. Madikizela-Mandela was one of the greatest icons of the struggle against apartheid. She fought valiantly against the apartheid state and sacrificed her life for the freedom of the country. Her activism and resistance to apartheid landed her in jail on numerous occasions' eventually causing her banishment to the small town of Brandfort in the then Orange Free State.

She kept the memory of her imprisoned husband Nelson Mandela alive during his years on Robben Island and helped give the struggle for justice in South Africa one its most recognisable faces. She dedicated most of her adult life to the cause of the people and for this was known far and wide as the Mother of the Nation.

The Mandela family are deeply grateful for the gift of her life and even as our hearts break at her passing' we urge all those who loved her to celebrate this most remarkable woman.
The family will release details of the memorial and funeral services once these have been finalised.
WHY I CELEBRATE THE LIFE AND WORKS OF NELSON MANDELA. By Chido Nwangwu  https://usafricaonline.com/2010/07/15/mandela-why-i-celebrate-his-life-works-by-chido-nwangwu/
and friendship hold lessons for humanity and Africans, the author Chido Nwangwu takes a measure of their works and consequence to write that Mandela and Achebe have left "footprints of greatness."
He chronicles, movingly, his 1998 reporting from the Robben Island jail room in South Africa where Mandela was held for decades through his 20 years of being close to Achebe. He moderated the 2012 Achebe Colloquium at Brown University in Providence, Rhode Island."I'll forever remember having walked inside and peeped through that historic Mandela jail cell (where he was held for most of his 27 years in unjust imprisonment) at the dreaded Robben Island, on March 27, 1998, alongside then Editor-in-chief of TIME magazine and later news chief executive of the CNN, Walter Isaacson (and others) when President Bill Clinton made his first official trip to South Africa and came to Robben Island. Come to this island of scourge and you will understand, in part, the simple greatness and towering grace of Nelson Mandela", notes  Chido Nwangwu, award-winning writer, multimedia specialist and founder of USAfricaonline.com, the first African-owned U.S-based newspaper published on the internet, in his first book; he writes movingly from his 1998 reporting from South Africa on Mandela. http://www.mandelaachebechido.com/
RESIGN: Anglican Church tells Buhari over ill-health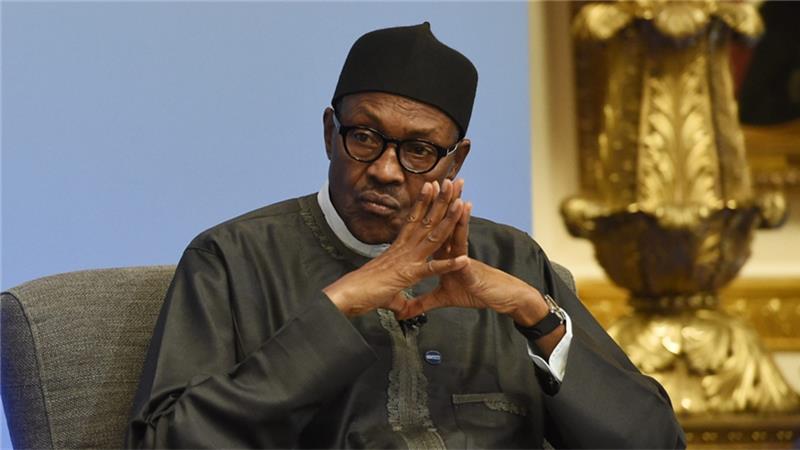 RESIGN: Anglican Church tells Buhari over ill-health
Special to USAfrica (Houston).  USAfricaonline.com  @USAfricaLive  @Chido247          
As tension and separatist groups increase, the health-challenged Nigerian President Muhammadu Buhari (who has been in London for additional medical treatment) has been advised to resign if he can no longer perform the duties of his office, due to ill health. 
"The synod thereby prays God to grant him divine healing. The synod, however, observes that in the event where the President is unable to discharge his duties and or perform the functions of his office owing to ill health, he is enjoined to resign from the office."
This position was part of the decisions made by the Nigerian Anglican Church during its 3rd session of the 16th Synod, held at the Christ Redemption Church, Enugu.
In a communiqué issued and signed by the Archbishop of the Enugu Province and Bishop of the Diocese, Most Rev. Dr. Emmanuel Chukwuma, Ven. Augustine Orah, the Synod Secretary and the Registrar, attorney H.B.C Ogboko, the Church underlined its point that "President Muhammadu Buhari's ill health, which has kept him out of office for long, [has been] impeding the growth of the nation."
Regarding the controversial and illegal pronouncements by a handful of northern Nigeria "youths" who said the Igbo resident in the North should go back to their south east homeland by October 1, 2017, the Anglican Church called those "hate speeches"; warning the "northern youths and their sponsors" against their history of violence against the Igbo. Hence, the Anglican Church and communities warned against "the repetition of the pogrom of 1967 whereof the Igbos were massively and brutally massacred in the Northern Nigeria and calls on the Federal Government to ensure adequate protection of the lives and properties of Ndi Igbo residing in the Northern part of Nigeria." 
Nigeria's Vice President, Prof. Yemi Osinbajo, was affirmed by Buhari to serve as "Acting President."