Nigeria, Biafra agitators and the Animal Farm. By Chido Nwangwu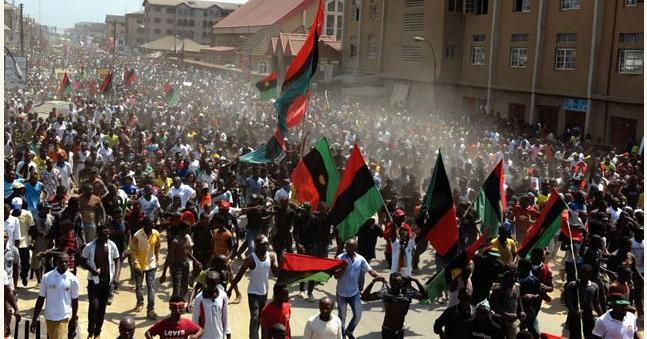 Special to USAfrica (Houston)  • @USAfricaLive  • @Chido247
Consequently, the law, the rule of law across Nigeria — for most of its history — reminds me of the timeless masterpiece, Animal Farm, written by George Orwell, where some animals are "more equal" than others. Who knows; may be Nnamdi Kanu will find out, soon. Or will his first and second time jailers realize that they, unwittingly, elevated the previously obscure, brash analyst on Radio Biafra and the now globally mobilized IPOB to the likeness of a hungry and angry tsetse-fly perched on Nigeria's scrotum!
The controversies, excitement, concerns, hopefulness and crises which have followed the activities of the leader of the Indigenous People of Biafra (IPOB) movement, Nnamdi Kanu, continue to grow.
First and ironically, the federal government of Nigeria led by retired army General Muhammadu Buhari's  appointees and representatives of his presidency who, willfully and serially, disobeyed and disregarded several orders on Biafra activists, unlawful detentions and other legal rights issues as decided by Nigerian courts of competent jurisdiction, are making filings with the courts. They are arguing that Kanu flouted his bail conditions; and should face the consequences.
Second, I believe that it is important to note that potentially volatile complications have emerged from Nnamdi Kanu's exercise, use and libertarian interpretation of the very stiff bail conditions granted him by Justice Binta Murtala Nyako. Essentially, it will require an unabridged assignment of the constitutional rights of citizenship and a Solomonic, judicious temperament. At the time of Justice Binta Murtala Nyako's announcement of the rigorous bail conditions, I assessed those as operationally punitive.
Third, on the same contentious issue of Nnamdi Kanu's politics, Biafra referendum agitation and the constitutional rights to freely express and associate, the President General of Ohaneze Ndigbo, John Nnia Nwodo, a lawyer, today accused Nigeria's Attorney General Abubakar Malami of "bias without regard to his oath of office. I am amazed that the distinguished attorney is prepared to contest the superiority of the provisions of the constitution on fundamental human rights of freedom of movement and freedom of association over an erroneous judicial proclamation violating those rights." ref: USAfricaonline.com
Fourth, in the interests of equity and fairness, application of the law should be consistent. But the problem is that there are different strokes for different folks in Nigeria. Any surprises that Malami & Co have not made even the most modest and signal enforcement of the existing laws against the felonious squad in the far northern Nigeria known as Arewa Youths! Their vicious ultimatum set for October 1, 2017, for the christian Igbo to vacate/le
ave/quit the muslim North hangs over the heads of productive and peace-loving Nigerians like the proverbial sword of Damocles!
Consequently, the law, the rule of law across Nigeria — for most of its history — reminds me of the
timeless masterpiece, ANIMAL FARM, written by George Orwell, where some animals are "more equal" than others. Who knows; may be Nnamdi Kanu will find out, soon. Or will his first and second time jailers realize that they, unwittingly, elevated the previously obscure, brash analyst on Radio Biafra and the now globally mobilized IPOB to the likeness of a hungry and angry tsetse-fly perched on Nigeria's scrotum!
•Dr. Chido Nwangwu [author of the 2018 book, Mandela & Achebe: Leadership, Identity and Footprints of Greatness], appears as an analyst on CNN and SkyNews. He's the Founder & Publisher of USAfrica since 1992, and established the 1st African-owned, U.S.-based professional newspaper published on the internet USAfricaonline.com  @Chido247
Kofi Annan's legacy complicated by genocide in Rwanda. By Prof. Danny Bradlow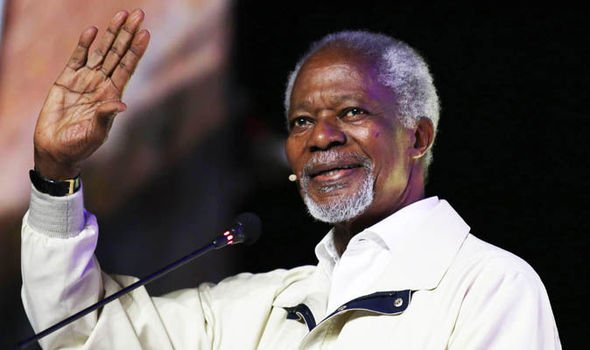 By Danny Bradlow, SARCHI Professor of International Development Law and African Economic Relations, University of Pretoria, South Africa.
Kofi Annan (80 years old) was an important historical figure who played a critical role in many key events of the 1990s and 2000s. His death is therefore an opportunity to both celebrate his life and to begin honestly assessing his contributions to the world.
The Ghanaian diplomat's legacy is complicated. He served as both head of the United Nations peacekeeping and as secretary general of the UN. His tenure in these high offices – from 1992 to 2006 – were marked by great human tragedies as well as episodes of progress. His role in these events raises difficult questions about individual responsibility and the role of international organisations and their leaders in creating a more peaceful and just world.

On the plus side, his contributions were impressive. He was an effective diplomat, a shrewd negotiator and an intelligent strategist. He was such a successful bureaucratic operator that he was the first UN employee to rise to the position of secretary general.

When he took over the organisation it was facing numerous challenges. They included a tense and often hostile relationship with its most powerful member state, the US, a difficult budgetary situation and what appeared to be an inability to fulfil its core peacekeeping, human rights and development functions.

By the end of his term, things looked very different. Relations with key member countries had been restored, the UN had a sound fiscal position and both he and the organisation had won the Nobel Peace Prize.
In addition, the organisation had launched some important new initiatives. It had adopted the Millenium Development Goals, which contributed to significant gains in health, education and human welfare in many countries around the world. The initiative was so successful that it was succeeded by the even more ambitious Sustainable Development Goals.
In addition, the international community had established the International Criminal Court and had begun prosecuting war criminals for their deeds in the wars in the former Yugoslavia and Rwanda.
He had also initiated the process of getting corporations to recognise and accept their responsibility for the environmental, social and human rights consequences of their activities. This process moved slowly. But his efforts ultimately led to the UN Human Rights Council unanimously endorsing the Guiding Principles on Business and Human Rights in 2011. These have now been incorporated into the human rights policies of many companies and have led to a number of countries adopting national action plans on the human rights responsibilities of business.
After he left the UN, Annan continued to do good work with both the Elders, a group of global leaders working for peace and human rights, and his own foundation. In these capacities he had some notable achievements. He helped resolve the post-election violence in Kenya, helped ensure peaceful elections in Nigeria and a number of other countries, and helped promote more productive and sustainable agriculture and good governance across Africa. He also tried, albeit unsuccessfully, to end the civil war in Syria and the campaign against the Rohingyas in Myanmar.
But there's also a darker side to Annan's record.
Annan was the head of UN Peacekeeping operations in the 1990s when two of the biggest failures in UN history happened. Under his watch both the Rwandan genocide and the massacres in Srebrenica took place.
In both cases his commanders on the ground requested authority to take stronger action to limit the risk of tragedy to those under their protection. In both cases he declined their request – with tragic results.
In addition, under his leadership UN peacekeepers in a range of countries, including Liberia, Sierra Leone and the Democratic Republic of Congo, were found to be sexually exploiting those they were charged to protect. The UN failed to respond promptly to these actions and they continued into the 2000s.
In most organisations, a leader who is responsible for such profound failures would be held accountable. If not fired, or forced to resign, they would at the very least be moved to a position of lesser authority. But this didn't happen because the UN has poor mechanisms and a weak culture of accountability. In fact, the UN and its member states, decided to promote Annan, selecting him to replace the first African secretary general, Boutros Boutros Ghali, who was deemed to be too independent minded by the US.
Annan continued relying on the UN's lack of accountability once he was in office. His son was implicated in the infamously corrupt food-for-oil programme that was initiated to help the Iraqi population during the period of sanctions against Saddam Hussein.
Eventually, under pressure, he appointed the independent Volcker Commission to investigate the programme. It concluded that, although Annan himself was not guilty of any wrongdoing, his actions in response to the abuses were inadequate, including that he had failed to refer the matter to the UN's independent watchdog agency.
He also tolerated sexual harassment within the UN Secretariat, protecting the former head of the UN refugee agency when he was accused of sexual harassment, penalising his accuser and then relying on the UN's legal immunity to avoid having to respond to her efforts to seek justice. The adverse publicity eventually forced the guilty official to resign.
There is no doubt that running a complex international institution like the UN is difficult and requires leaders who are willing to compromise. Given the secretary general's weak position, it may also be inevitable that its leaders will have to turn a blind eye to some acts and omissions that have tragic and possibly evil consequences in order to advance higher priorities.
Annan showed throughout his career that he was a master at playing this game. As a result, his record includes both some impressive achievements and some profound failures. It will be up to history to decide if he made the right choices and struck the correct balance between doing good and tolerating evil.
In the meanwhile, we should all draw lessons from the life of this important historical figure about the importance of holding leaders and the institutions that govern our world accountable for their actions and decisions.
Houston, April 2, 2009: April 7 is the 15th anniversary of the 1994 Rwanda genocide by the same country's Hutu zealots who viciously set upon Rwanda's 1 million Tutsis for the most brutal decimation of an ethnic group within 100 hours in Africa and the world.
On Wednesday April 7, 2004, Rwandan President Paul Kagame  specifically named Belgium, Britain and the United States for  withdrawing their forces when Rwandans needed them, asserting that: "Injustice of powerful nations should be stopped. Rwanda should be a good example to learn a lesson."
The first, key lesson of the Rwanda genocide is that moral and courageous leadership serve our collective and singular moral interests. Kagame's view dovetails with the words of the civil rights icon Martin Luther King Jr. in his  'Letter from Birmingham Jail (April 16, 1963) arguing that "Injustice anywhere is a threat to justice everywhere." Also, later the holocaust survivor, Nobel Peace Prize winner Elie Wiesel in his book 'Un die welt hot geshvign (And the World Kept Silent)' later updated as 'Night', wrote: "Sometimes we must interfere. When human lives are endangered, when human dignity is in jeopardy, national borders and sensitivities become irrelevant. Whenever men or women are persecuted because of their race, religion, or political views, that place must- at that moment- become the center of the universe."
Biafra. Rwanda. Darfur, and other geopolitical zones of killings and human tragedy are reminders of past and continuing centers of the universe.
Reflecting on the crises of 1994, Gen. Romeo Dallaire, the UN commander whose call for reinforcements was ignored said recently: "The international community didn't give one damn for Rwandans because Rwanda was a country of no strategic importance." Bill Clinton was the president of the United States at the time.
The second lesson of the Rwanda Hutu-imposed genocide is that we have all seen the face of evil; sometimes, they reside among us. The Rwanda genocide is still fresh as the zone where next door neighbors and teenagers used knives and machettes and dane guns and assault rifles to kill those they played soccer with and fetched water from the same stream only a few hours earlier. Hutus set Tutsi houses on fire to destroy the lives of those who sang and played at the church churches and village squares.
The slaughter of women and children and all moving objects with any and all available weapons marked a new low in the depravity of malice and prejudice. The Rwandans have been for decades almost 92% christians (57% Catholic). There are almost 10 million Rwandans. Demographically, the Hutus (Bantu) form 84% of the population while the endangered Tutsis (Hamitic) constitute only 13%. There are the Twas (Pygmy) who form 1.4%
A third lesson of the domestic slaughter in 1994 in Rwanda is the highlight of the wider bloody history of annual violent bigotry inside Africa by Africans, what I call Africans-on- Africans- violence. They remind me of an interview the Voice of America (VOA) international service on September 11, 2002 where I said that:  "The armies of bigotry, and murderous hatefulness have left a very severe and deadly impact on Africa." Those armies, to be sure, are both external and local.
Which leads to the fourth lesson; a question: when will the blame everything on  the "white man-white person" and "colonialists and colonialism" think beyond the instinct to hold external factors entirely responsible for the continent's problems? I must note, frankly, that for all the divide and conquer and arbitrary mapping and lumping of dissimilar ethnic nationalities into awkward countries, for all the despoliation and degradation and exploitation of our African continent, "White people" did not compel the Hutus to express such primitive, medieval hateful, mechanized malice against their compatriots, the Tutsis.

The fifth lesson of the Rwanda genocide reveals the nakedness of one of the dirty secrets of African leaderships over the past 60 years: the weak-kneed clause of "non-interference" into the "sovereign" issues in other "member states" of the defunct organization of African Unity (OAU), now the African Union. They strive to protect their priviledged ponds of opulence and umbrellas of dictatorship and autocracy.

It is important to note that long before 1994 Rwanda, it is to the eternal credit of the late, great sage and President of Tanzania, Dr. Julius Nyerere that he tore the veil off the tawdry non-interference/ sovereignty in the face of human catastrophe when he interfered progressively against Nigeria's starvation policies against then Biafrans (Igbos, Anangs, Efiks, and 13 million other south eastern Nigerians during their 1967-1970 war for survival and independence from the rest of Nigeria).

After Biafra, Nyerere stood up against the dictator Idi Amin of Uganda in 1979, forcing Amin's regime to fall.
The sixth lesson derives from another question: long before and 15 years after the bloody genocide in Rwanda, millions of people still wonder when the looters and dealers masquerading as African leaders will be responsive and sensitive to providing the basic, fundamental justification for the creation of these countries/nations/ states?
Why are Africans and other parts of the world held in some of these corrupt cages, sorry countries, by very corrupt leaders?
Who would have believed that for all his sanctimonious animations, holier-than- thou dramatics and posturing as Nigeria's morality high-priest, retired Gen. Olusegun Obasanjo, the country's two-time president reportedly collected several rounds of cash/bribe from the Halliburton squad?
The seventh lesson demands that the problems are not 100% local. Political economy fact is that the Western world and colonialist Europe, especially, have some responsibility for sowing the festering seeds to some of these problems by cobbling ethnic nations arbitrarily. Some of the countries have been hampered through neocolonialist financial structures and wealth transfers, predatory actions which fuel their collapse as another of bankrupt African economies and geo-politically failed states.
The eight lesson is that humankind overcomes evil, over time. Today, Rwandans are healing and rebuilding their infrastructure but the question remains.  When will Africans, their leaders and all of the world's leaders aggressively defend the lives of all people as a stand for the common thread of our shared humanity?
I entirely agree with the prophet Dr. King's global connectedness of injustice and justice. Those leaders who failed all of us on Rwanda failed to heed the lessons of history and King's moral challenge.
https://usafricaonline.com/2009/11/01/chido-8lessons-rwanda-genocide/
——–
Chido Nwangwu, honored by the Washington-D. C.based National Immigration Forum for utilizing multimedia to fight authoritarianism and foster freedom of expression in parts of the African continent, is the Founder & Publisher of first African-owned, U.S-based professional newspaper published on the internet USAfricaonline.com, The Black Business Journal and AchebeBooks.com. He served on the board of the oldest civil rights organization in the U.S., the NAACP Houston, a publicity committee of the Holocaust Museum, Houston and on Houston former Mayor Lee Brown's international business advisory board (Africa).
——–
USAfricaonline.com hás several article/reports/insights on Rwanda's genocide at www.usafricaonline.com/rwanda.genocideyears.html
Saraki: Flagrant persecution by Buhari's government forced me to quit APC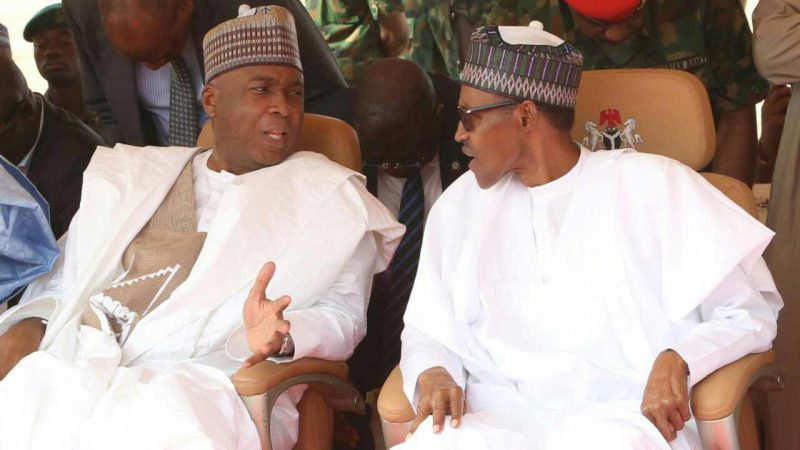 By Dr. Abubakar Bukola Saraki, CON
President of the Senate of Nigeria
Special to USAfrica [Houston] and USAfricaonline.com
I wish to inform Nigerians that, after extensive consultations, I have decided to take my leave of the All Progressives Congress (APC).
This is not a decision that I have made lightly. If anything at all, I have tarried for so long and did all that was humanly possible, even in the face of great provocation, ridicule and flagrant persecution, to give opportunity for peace, reconciliation and harmonious existence.
Perhaps, more significantly, I am mindful of the fact that I carry on my shoulder a great responsibility for thousands of my supporters, political associates and friends, who have trusted in my leadership and have attached their political fortunes to mine. However, it is after an extensive consultation with all the important stakeholders that we have come to this difficult but inevitable decision to pitch our political tent elsewhere; where we could enjoy greater sense of belonging and where the interests of the greatest number of our Nigerians would be best served.
While I take full responsibility for this decision, I will like to emphasise that it is a decision that has been inescapably imposed on me by certain elements and forces within the APC who have ensured that the minimum conditions for peace, cooperation, inclusion and a general sense of belonging did not exist.
They have done everything to ensure that the basic rules of party administration, which should promote harmonious relations among the various elements within the party were blatantly disregarded. All governance principles which were required for a healthy functioning of the party and the government were deliberately violated or undermined. And all entreaties for justice, equity and fairness as basic precondition for peace and unity, not only within the party, but also the country at large, were simply ignored, or employed as additional pretext for further exclusion.
The experience of my people and associates in the past three years is that they have suffered alienation and have been treated as outsiders in their own party. Thus, many have become disaffected and disenchanted. At the same time, opportunities to seek redress and correct these anomalies were deliberately blocked as a government-within-a-government had formed an impregnable wall and left in the cold, everyone else who was not recognized as "one of us". This is why my people, like all self-respecting people would do, decided to seek accommodation elsewhere.
I have had the privilege to lead the Nigerian legislature in the past three years as the President of the Senate and the Chairman of the National Assembly. The framers of our constitution envisage a degree of benign tension among the three arms of government if the principle of checks and balances must continue to serve as the building block of our democracy. In my role as the head of the legislature, and a leader of the party, I have ensured that this necessary tension did not escalate at any time in such a way that it could encumber Executive function or correspondingly, undermine the independence of the legislature. Over the years, I have made great efforts in the overall interest of the country, and in spite of my personal predicament, to manage situations that would otherwise have resulted in unsavoury consequences for the government and the administration. My colleagues in the Senate will bear testimony to this.
However, what we have seen is a situation whereby every dissent from the legislature was framed as an affront on the executive or as part of an agenda to undermine the government itself. The populist notion of anti-corruption became a ready weapon for silencing any form of dissent and for framing even principled objection as "corruption fighting back". Persistent onslaught against the legislature and open incitement of the people against their own representatives became a default argument in defence of any short-coming of the government in a manner that betrays all too easily, a certain contempt for the Constitution itself or even the democracy that it is meant to serve.
Unfortunately, the self-serving gulf that has been created between the leadership of the two critical arms of government based on distrust and mutual suspicion has made any form of constructive engagement impossible. Therefore, anything short of a slavish surrender in a way that reduces the legislature to a mere rubber stamp would not have been sufficient in procuring the kind of rapprochement that was desired in the interest of all. But I have no doubt in my mind, that to surrender this way is to be complicit in the subversion of the institution that remains the very bastion of our democracy. I am a democrat. And I believe that anyone who lays even the most basic claim to being a democrat will not accept peace on those terms; which seeks to compromise the very basis of our existence as the parliament of the people.
The recent weeks have witnessed a rather unusual attempts to engage with some of these most critical issues at stake. Unfortunately, the discord has been allowed to fester unaddressed for too long, with dire consequences for the ultimate objective of delivering the common good and achieving peace and unity in our country. Any hope of reconciliation at this point was therefore very slim indeed. Most of the horses had bolted from the stable
The emergence of a new national party executives a few weeks ago held out some hopes, however slender. The new party chairman has swung into action and did his best alongside some of the Governors of APC and His Excellency, the Vice President. I thank them for all their great efforts to save the day and achieve reconciliation. Even though I thought these efforts were coming late in the day, but seeing the genuine commitment of these gentlemen, I began to think that perhaps it was still possible to reconsider the situation.
However, as I have realized all along, there are some others in the party leadership hierarchy, who did not think dialogue was the way forward and therefore chose to play the fifth columnists. These individuals went to work and ensured that they scuttled the great efforts and the good intentions of these aforementioned leaders of the party. Perhaps, had these divisive forces not thrown the cogs in the wheel at the last minutes, and in a manner that made it impossible to sustain any trust in the process, the story today would have been different.
For me, I leave all that behind me. Today, I start as I return to the party where I began my political journey, the Peoples Democratic Party (PDP).
When we left the PDP to join the then nascent coalition of All Progressives Congress (APC) in 2014, we left in a quest for justice, equity and inclusion; the fundamental principles on which the PDP was originally built but which it had deviated from. We were attracted to the APC by its promise of change. We fought hard along with others and defeated the PDP.
In retrospect, it is now evident that the PDP has learnt more from its defeat than the APC has learnt from its victory. The PDP that we return to is now a party that has learnt its lessons the hard way and have realized that no member of the party should be taken for granted; a party that has realized that inclusion, justice and equity are basic precondition for peace; a party that has realized that never again can the people of Nigeria be taken for granted.
I am excited by the new efforts, which seeks to build the reborn PDP on the core principles of promoting democratic values; internal democracy; accountability; inclusion and national competitiveness; genuine commitment to restructuring and devolution of powers; and an abiding belief in zoning of political and elective offices as an inevitable strategy for managing our rich diversity as a people of one great indivisible nation called Nigeria.
What we have all agreed is that a deep commitment to these ideals were not only a demonstration of our patriotism but also a matter of enlightened self-interest, believing that our very survival as political elites of this country will depend on our ability to earn the trust of our people and in making them believe that, more than anything else, we are committed to serving the people.
What the experience of the last three years have taught us is that the most important task that we face as a country is how to reunite our people. Never before had so many people in so many parts of our country felt so alienated from their Nigerianness. Therefore, we understand that the greatest task before us is to reunite the county and give everyone a sense of belonging regardless of region or religion.
Every Nigerian must have an instinctive confidence that he or she will be treated with justice and equity in any part of the country regardless of the language they speak or how they worship God. This is the great task that trumps all. Unless we are able to achieve this, all other claim to progress no matter how defined, would remain unsustainable.
This is the task that I am committing myself to and I believe that it is in this PDP, that I will have the opportunity to play my part. It is my hope that the APC will respect the choice that I have made as my democratic right, and understand that even though we will now occupy a different political space, we do not necessarily become enemies unto one another.
Zimbabwe's presidential election offers opportunity for post-Mugabe progress. By Wilf Mbanga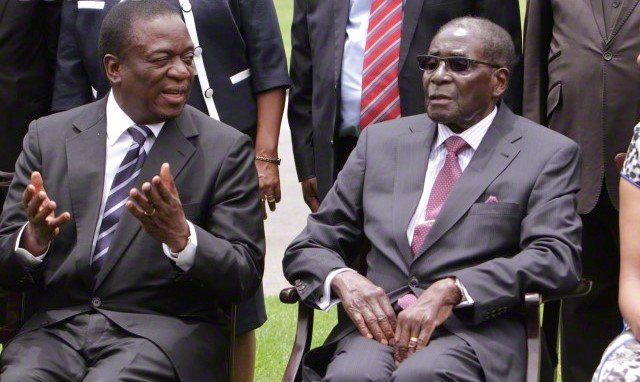 Today, Monday July 30, 2018, Zimbabweans [went] to the polls to elect Robert Mugabe's successor. For pretty much the average life expectancy of many Zimbabweans, one man has ruled the country with an iron fist. Eight elections were held during his rule – and every time, that fist ensured victory for Mugabe.
The current president, Emmerson Mnangagwa, 75, the man who finally ousted Mugabe in a bloodless coup last November, has also crushed his enemies ruthlessly in the past – but his iron fist lies within a well-padded velvet glove.
Mnangagwa goes head to head at the polls with Nelson Chamisa, 40, who took over as leader of the opposition Movement for Democratic Change (MDC) after Morgan Tsvangirai died earlier this year.
Whoever wins, this election heralds a new dawn for Zimbabwe. Mugabe has gone. Things will never be the same again. Certainly, Mnangagwa brings a lot of baggage from the Mugabe era – having been the former president's righthand man.
But he is different in many significant ways – today, Mugabe even urged voters to turn their backs on his leadership, and went so far as to wish Chamisa well. Most importantly, Mnangagwa understands business and is determined to resuscitate Zimbabwe's moribund economy and give the people what they so desperately want and need – jobs.
He is primarily a soldier, having left Zimbabwe as a teenager in the early 1960s for military training in China. He has fashioned himself after the former communist leader Deng Xiaoping, who modernised China and laid the foundations for the economic powerhouse it has become, while maintaining a strictly authoritarian regime.
Deng abandoned many orthodox communist doctrines to incorporate elements of the free-enterprise system. Mnangagwa seems determined to do the same for Zimbabwe. He is a wealthy man in his own right, having run Zanu-PF's and his own businesses since the early 1980s. He has been mentioned in a UN report on the plundering of mining and logging resources in the Democratic Republic of the Congo together with General Sibusiso Moyo, who is now the foreign affairs minister.
Over the eight months since he took the reins from Mugabe, Mnangagwa has given clear signals of a clean break with the past – actively courting the west, preaching and practising peace instead of violence, eschewing corruption, meeting business leaders and white farmers, and generally projecting himself as a reformist. He has met personally the many business missions that have visited the country this year, and has promised to get rid of the cumbersome bureaucracy that currently stifles new investment. He has suspended Mugabe's populist indigenisation act, which required foreigners to cede 51% of their shares to locals (ZANU-PF, of course) in all sectors except gold and diamond mining. He has even made it his election slogan – with party supporters everywhere sporting T-shirts proclaiming "Zimbabwe is open for business".
While Mugabe was a consummate manipulator, skilfully playing people off against each other and weaving a complex web of patronage, Mnangagwa is a much more of a strategist. He will be prepared to make tough decisions that could ultimately benefit the economy. He has certainly been more successful in attracting foreign investment in the short time he has been in power than Mugabe was in decades of berating the west.
The MDC's Chamisa is just as pro-business as Mnangagwa, and to his credit has surrounded himself with several capable technocrats. There is no whiff of corruption about him and he has been drawing massive crowds in many rural areas which, under Mugabe, were no-go areas for his party. And of course the MDC's democratic and human rights credentials are well established – while those of Zanu-PF are a constant cause for concern.
Should Chamisa win the election, there is no doubt that the world would welcome Zimbabwe back into the fold with open arms. But Mnangagwa is smart enough to realise that international recognition of his government can only come if this election is acknowledged as free and fair by the global community. While Britain has been unswervingly supportive of the post-Mugabe regime, the US has reserved judgment – recently renewing its sanctions on Zanu-PF leaders and companies, but promising to lift them once credible elections have taken place.
And there's the rub.
Many believe it is impossible for the Zimbabwe Electoral Commission to run a free and fair poll. It is accused of rigging every election since it was established in 2004; it is still staffed largely by the military and Zanu-PF loyalists; and it has shown shameful bias towards the ruling party in recent months. For example, the law says the ballot paper should be in alphabetical order, which places Chamisa second on the 23-person list. The commission cleverly formatted the paper into two lop-sided columns, in order to place Mnangagwa at the very top of column two.
So this election could bring three possible results: if Mnangagwa wins, the MDC already has enough ammunition against the electoral commission to cry foul.
If Chamisa wins convincingly, it will be a new dawn indeed – but the military might not
accept this, as the Generals have already invested a lot in Mnangagwa.
But if there is no clear winner, the most sensible way forward would be for the two protagonists to agree to a marriage of convenience – otherwise known as a government of national unity.
• Wilf Mbanga, once falsely classified by Mugabe's government as 'enemy of the people', is the founder, editor and publisher of The Zimbabwean weekly, published in the UK and Johannesburg