AHAMEFUNA: To their peaceful gods of mayhem. A poem by Chido Nwangwu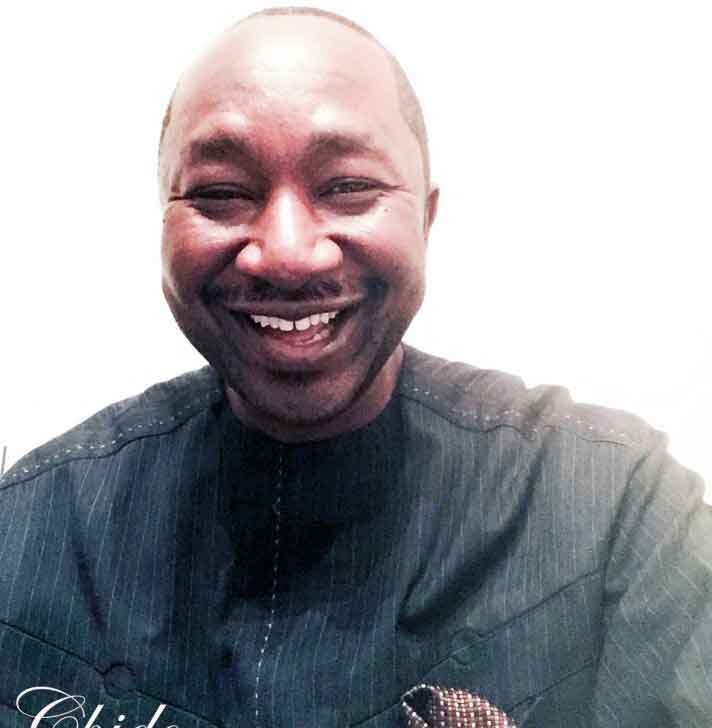 By Chido Nwangwu, Publisher of USAfrica, Houston.                                                                            •Follow Twitter.com/Chido247, Facebook.com/USAfricaChido
For how long
should I appease those/
all-knowing gods of mediocrity?
For how long
should I be that/
sacrificial, monthly burnt offering to their
peaceful gods of mayhem?
For how long
should I be that/
target of some reptilian, choking, bloody
dances of death, in my own village by these/
gentle troops of lethal impunity?
For how long
should I be that/
brave one without means and things to
defend the herd of goat in the homestead/
protect the frontline stock of
the courageous, at home and elsewhere?
AHAMEFUNA-AFAMEFUNA-AHAMEFULE
For how long
should I be that/
Overcomer who, continues to fall
for the instigation to cast all
my survivalists' discretion to their whirlwind,
foxtrotting, into their deathly reptilian dances?
For how long/
should I forget/
For their fear of Biafra,
targeted persons, we've become; all
offsprings of Odumegwu, the Lion of Biafra!
we've become; all
witness bearers and truth-tellers/
in unapologetic agreement with
Ugonabo Chinua Achebe who wrote:
There Was a Country!
I say, it was not Wakanda; it was Biafra!
AHAMEFUNA-AFAMEFUNA-AHAMEFULE
———
•Dr. Chido Nwangwu is Founder & Publisher of Houston-based USAfrica multimedia networks, first African-owned, U.S-based newspaper published on the internet USAfricaonline.com;  and recipient of several journalism and public policy awards. He has been profiled by the CNN International for his pioneering works on multimedia/news/public policy projects for Africans and Americans. He worked previously for the Nigerian Television Authority, Platform magazine, and the Daily Times of Nigeria; and has served as adviser on Africa business to Houston's former Mayor Brown. USAfrica, CLASSmagazine and USAfricaonline.com are assessed by the CNN and The New York Times as the largest and arguably the most influential African-owned, U.S-based multimedia networks. USAfrica established May 1992.
---
2018 book: In this engaging, uniquely insightful and first person reportage book, MLK, MANDELA & ACHEBE: Power, Leadership & Identity, about three global icons and towering persons of African descent whose exemplary lives hold lessons for humanity and Africans, the author Chido Nwangwu takes a measure of their works
and consequence to write that Martin Luther King, Jnr., Nelson Mandela and Chinua Achebe have left "footprints of greatness."
He chronicles, movingly, his 1998 reporting from the Robben Island jail room in South Africa where Mandela was held for decades through his 20 years of being close to Achebe. He moderated the 2012 Achebe Colloquium at Brown University in Providence, Rhode Island."I'll forever remember having walked inside and peeped through that historic Mandela jail cell (where he was held for most of his 27 years in unjust imprisonment) at the dreaded Robben Island, on March 27, 1998, alongside then Editor-in-chief of TIME magazine and later news chief executive of the CNN, Walter Isaacson (and others) when President Bill Clinton made his first official trip to South Africa and came to Robben Island. Come to this island of scourge and you will understand, in part, the simple greatness and towering grace of Nelson Mandela", notes  Chido Nwangwu, award-winning writer, multimedia specialist and founder of USAfricaonline.com, the first African-owned U.S-based newspaper published on the internet, in his first book; he writes movingly from his 1998 reporting from South Africa on Mandela. http://mlkmandelaachebe.com/
Aretha Franklin's melodious voice, dignity and clarity were triple drivers of her artistic excellence. By Chido Nwangwu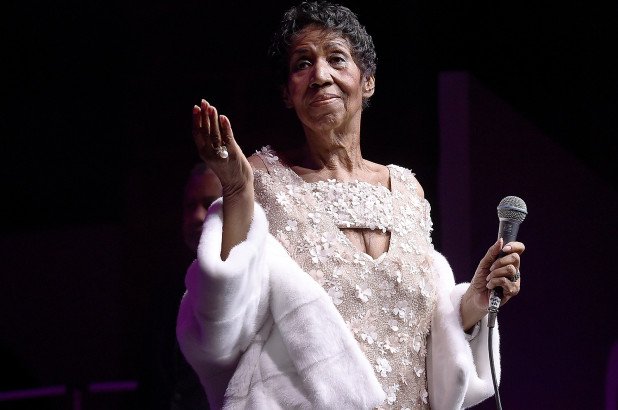 @Chido247
I believe that Aretha Franklin's melodious voice, dignity and clarity were triple drivers which continue to make her artistic excellence a trans-generational gift to humanity.
Aretha Franklin who made an outstanding entry into both gospel and soul music with the release of her first album in 1956, titled 'Songs of Faith', died today, August 16, 2018, at her home in Detroit. She was 76 years old.

Aretha was born on March 25, 1942, in Memphis, Tennessee.

She is the first woman to be inducted into the Rock & Roll Hall of Fame, and affectionately and deservedly called the Queen of Soul — especially in high regard for songs such as "Respect." She was a part of the U.S civil rights movement.

I believe that Aretha Franklin's melodious voice, dignity and clarity were triple drivers which continue to make her artistic excellence a trans-generational gift to humanity.
By Chido Nwangwu, Founder & Publisher of USAfrica [Houston], USAfricaonline.com and author of the soon-to-be-released 2018 book titled MLK, MANDELA & ACHEBE: Power, Leadership & Identity
SOYINKA accuses OBASANJO of awarding OIL blocks in return for SEX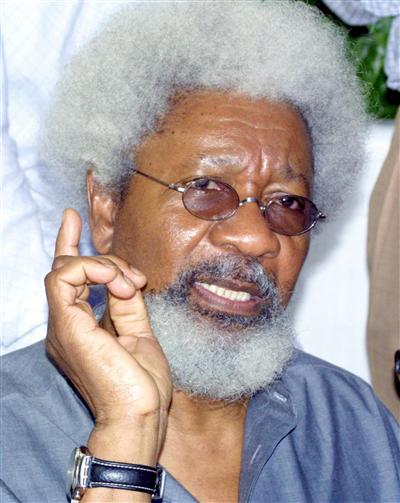 Special to USAfrica [Houston] and USAfricaonline.com
Nobel laureate Prof. Wole Soyinka, calling former President Olusegun Obasanjo, a degenerate, liar, predator and sadist, has challenged him to swear whether he never awarded oil blocks in return for sexual gratification while he presided over the affairs of Nigeria.
Soyinka spoke in his Interventions VIII series, titled: 'Quis Custodiet Ipsos Custodes?' also sub-titled 'Gani's Unfinished Business," launched recently in Lagos, Southwest Nigeria.
He said Obasanjo knows him so well that he does not make accusations lightly and that he despises snide insinuations. "I now challenge you (Obasanjo) to search your soul, very deeply, and swear to this nation that you never awarded oil blocks in return for sexual gratification. I do not make accusations lightly and I despise snide insinuations. I believe you know me well enough. And I am no prude, I am not a hypocrite of sexual desire, nor am I interested in the seamy side of Power. Take your time, think deeply and remember that each day brings you closer and closer to your Maker and the Day of Judgment-going by your own
professions."
Soyinka said sex-for-grades as a solution to that burdensome energy seemed to have become the practice, saying that even when Donald Trump and Bill Clinton were accused of sexual misconduct, no one ever accused Trump of using his nation's assets for a romp on the presidential desk of the oval office and that not even Clinton who nearly lost his office through Monica Lewinsky, was ever accused of passing off any of the White House heirlooms, or influenced contracts in return for sexual favour. "If I denounce you (Obasanjo) as a degenerate in need of help, remember that I do not require fiction. Verifiable truth is solemnly at my disposal. I do not concoct a thousand snipers for a thousand listed enemies of governance-one of the most impudent egregious fantasies ever manufactured by a former ruler, simply to destroy a successor and persuade oneself that one is a maker and breaker of governments," he said. Soyinka also said that during Obasanjo's celebration of the 10th anniversary of his Presidential library, the former president accused him of blocking his ambitions to become the Secretary General of the United Nations.
According to Soyinka, "could someone please stop crediting me with that level of international clout? Of course, I feel totally content and fulfilled with my contribution to that operation to 'save our world' from the clutches of a predator, sadist and liar-convincing evidence of which we provided in our successful diplomatic offensive-but the umbrage should also go to that very Femi Falana and the late Beko Ransome-Kuti, with whom I worked in close collaboration."
Soyinka also said that under Obasanjo's watch, and with proven collaboration, an elected governor was kidnapped, locked in a toilet and held there under duress to force him to sign cheques on the state treasury, saying that "he escaped confinement, thanks to a sympathetic policeman , but the state went up in flames. The state radio and television houses were torched. The House of Assembly and the law courts—my own special preserve-were vandalized. Who did you say was President at that time?" Soyinka made reference to a letter written to Obasanjo by Col. Abubakar Umar, in which the former military governor accused Obasanjo of awarding oil block indiscriminately and illegally. (News Agency of Nigeria and PMNews)
USAfrica BrkNEWS: Invasion of Nigeria's National Assembly, Trump's adviser says Daura is Buhari's enforcer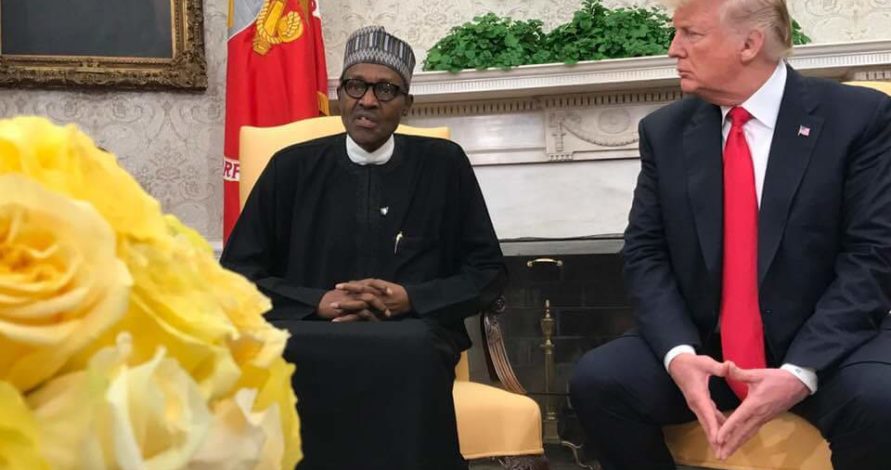 The latest disgrace brought upon Nigeria by a mix of masked and armed operatives of the Department of State Security [DSS], acting at the orders of the Director General of the DSS, Lawal Musa Daura, on Tuesday morning of August 8, 2018, prevented  lawmakers and staff from gaining access into the NASS building until voices were raised against the intrusion continues to draw local and international reactions.

One of U.S President Donald Trump's security advisers on Africa has told Houston-based USAfrica and USAfricaonline.com that "the White House has held cautious reservation about the genuineness of President Muhammadu Buhari's commitment to democracy and diversity in Nigeria."
He made the point that Mr. Daura is an enforcer of the Buhari agenda, spoken and unspoken; "they're very close…."
Meanwhile, retired General Buhari's deputy who is currently Nigeria's acting President, Yemi Osinbajo, a professor of law, has sacked Daura.
Also, the USAfrica News Index show that "U.S President Donald J. Trump, this afternoon Monday April 30, 2018 at the White House, told visiting Nigerian President Muhammadu Buhari that his government is not only monitoring but outraged by  "very serious problems with christians who are being murdered, killed in Nigeria."
The transcription of Trump's statement by USAfricaonline.com reads:
"We've had very serious problems with christians who are being murdered, killed in Nigeria. We're going to be working on that problem; and working on that problem very, very hard… because we can't allow that to happen."
Buhari, a retired army General and dictator/ruler (1984-1986), attempted to minimize those issues when he claimed, contrary to video evidence and eyewitness accounts, that the "farmers and herdsmen" only carry stick and machete; not AK-47s and other deadly weapons. Across the social media, Nigerians share pictures/videos of them brandishing weapons.
Obama administration and Buhari's started a deal for Nigeria to purchase up to 12 Embraer A-29 Super Tucano aircraft with sophisticated targeting gear for almost $600 million.
By Chido Nwangwu, Founder & Publisher of USAfrica [Houston], USAfricaonline.com and author of the soon-to-be-released 2018 book titled MLK, MANDELA & ACHEBE: Power, Leadership & Identity