USAfrica: Chimamanda, Feminism and her Misrepresentation of Igbo Culture. By Nkem Ekeopara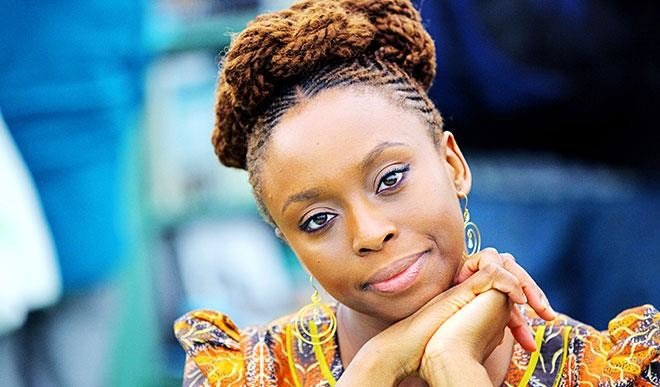 Chimamanda, Feminism and her Misrepresentation of Igbo Culture.         By Nkem Ekeopara
USAfrica [Houston] and USAfricaonline.com  @USAfricaLive
Increasingly, Chimamanda Ngozi Adichie is becoming more known for her far left feminism advocacy than her fiction writing. The writer of the critically acclaimed novel, Half of a Yellow Sun, and the winner of Orange Prize among other prizes is using the fame she has attained through writing to advance her feminism cause. Absolutely, there's nothing wrong with this except that she is now using it to manifest her extremely poor understanding of people's culture, including the culture of her own people, the Igbo of South-eastern Nigeria.
Still smarting out from the controversy she stirred in the interview she had with Mrs Hillary Clinton where she used the undiplomatic word 'upset' to describe her feeling about Mrs Clinton's twitter bio-data (where the superbly accomplished Hillary proudly listed Wife as a key part of who she is!), she quickly moved on to condemning the practice in Western societies where men open and close doors for ladies. For condemning this practice, which is an important aspect of chivalry, Adichie got a robust response from Dana Loesch. Dana Loesch is the National Rifle Association (NRA) spokesperson.
She told Adichie that she does not understand chivalry and that she should go back to her country and take up such causes like female genital mutilation (FGM) that is common in her country, Nigeria, rather than worrying about sexism in America. Some people have accused Loesch of racism. However, what I got from her response is a woman stepping out to defend an age long show of courtesy in her society. If in doing this she indirectly implied that Adichie is not part of that society so be it.
One had expected that after these two incidents that Adichie would become more circumspect in the pursuit of her extreme feminism cause. This expectation was dashed when one read a lot of Igbo people on social media strongly condemning her for denigrating Igbo culture. When I sought and understood what the issue was, I felt let down myself that Adichie could display that level of ignorance about Igbo culture.
The latest issue at stake is the rarely exercised culture [as in 1 out of 1million] where an Igbo woman "marries" another Igbo woman into her family for her husband; not for self. In Adichie's understanding, this could well be lesbianism at play. This is absurd. Was her assertion meant to portray the Igbo society as tolerant and sophisticated? Whatever was her intent, she got it wrong, very wrong this time. Sure, the Igbo are tolerant and sophisticated, but not in that aspect.
As someone who grew up in a traditional Igbo setting, I'm very familiar with the culture that Adichie sought to misrepresent. Unlike what Adichie claimed, the sole reason for contracting such marriages is for procreation. This practice arose due to Igbo people's obsession with male children and the way they respond to childlessness after marriage. The culture is and was never for the practice of lesbianism as she speculated during her talk as Keynote Speaker at the 7th Igbo Conference. This is the truth! And it's absolute. I know several instances, but I shall limit myself to two instances of varied circumstances.
The first one is a woman, who had eight beautiful daughters. Even though the couple were contented and expressed this by aptly naming their last daughter Obumnekegwamachi, which literally means it's not me that creates, tell God, the woman still hoped to have a male child. Unfortunately, the husband suddenly died. As the daughters grew up and got married off, it dawned on the woman that a day shall come when her household will be empty. So, she married a younger woman. Luckily, that woman had two male children for her. Those children are thriving in that family and relating well with their sisters, who are all married now. The thought of these two women sleeping together never sauntered into the mind of anyone in the community, because it's not who the Igbo are. Indeed, Adichie is the one who has awakened that ugly thought in me. And it's strange and very unreal to me. It's strange and very unreal not just to me, but also to many Igbo people judging from their reactions on social media.
The other instance of this sort of marriage I know about is where a woman was married for many years, without having any child for her husband. The woman who was very industrious went and married a younger woman for her husband. She did it for no other reason than procreation. And they were blessed with children.
Presently, this practice is waning in Igbo land. It's waning for three reasons.  First, the obsession for male children is decreasing. A lot of the Igbo people are beginning to realize that the female child is very important. Now, they crave for them. This is reflected in such names they give them like Nwanyibuihe, a woman is light/a resource. It is even true in the life of Adichie and many other women of Igbo ancestry like Dr Ngozi Okonjo-Iwuala, late Professor Dora Akunyili, Ms. Arumma Oteh just to mention but a few.  Another reason why the practice is waning in Igbo land is due to advancement in science. Through intro vitro fertilization (IVF), a lot of couples hitherto childless are able to have children. And for those, who cannot afford the cost of IVF, they're opting for adoption. It will just be a matter of time before this culture becomes extinct. Adichie should not through her feminism advocacy manufacture something unheard of in Igbo culture in its place.
Adichie is quite influential.  Her voice resonates with very young impressionable people across the globe. Her speaking engagements put her before highly esteemed and very powerful persons. Therefore, she should speak with utmost clarity when she wants to use the Igbo culture or any culture for that matter to advance her feminism cause. The impression she created in her referred talk titled, 'Igbo bu Igbo' which is the source of the current controversy left much room for speculation as to the real intent of the practice of women marrying women in Igbo land. Her question 'but how do we know?' during her talk was needless and almost marred her excellent talk for anyone conscious of that aspect of Igbo culture as this sought to create doubt about the real intent of the practice.  
That Adichie is a writer of note is not in doubt. This cannot be overstressed. So, I don't believe what some people are saying that she is deliberately stirring up these controversies to attract attention. She already has the attention. She has the attention of the Igbo. She has the attention of the world. And as a person, I'm proud of her and her achievements.
However, she should be humble enough to understand that she is not an authority in all areas of human endeavour. She should consult such authorities or research more on issues and be open and detailed with her findings to avoid future faux pas.
•Ekeopara is a columnist here at USAfrica and USAfricaonline.com, first African-owned, US-based newspaper published on the internet.
Saraki: Flagrant persecution by Buhari's government forced me to quit APC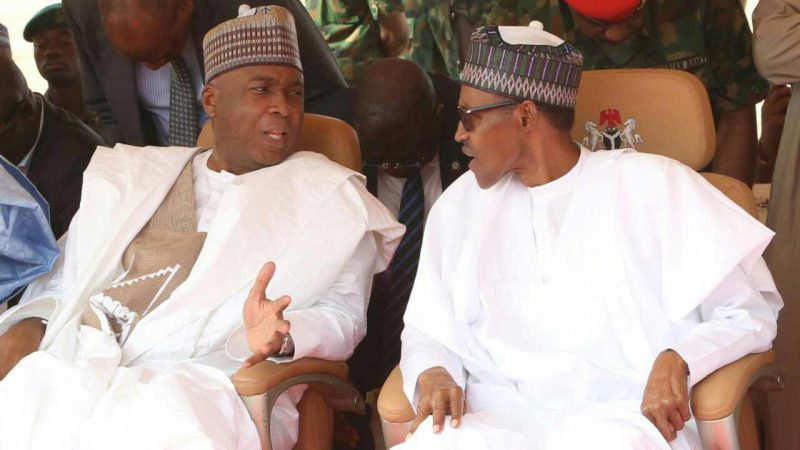 By Dr. Abubakar Bukola Saraki, CON
President of the Senate of Nigeria
Special to USAfrica [Houston] and USAfricaonline.com
I wish to inform Nigerians that, after extensive consultations, I have decided to take my leave of the All Progressives Congress (APC).
This is not a decision that I have made lightly. If anything at all, I have tarried for so long and did all that was humanly possible, even in the face of great provocation, ridicule and flagrant persecution, to give opportunity for peace, reconciliation and harmonious existence.
Perhaps, more significantly, I am mindful of the fact that I carry on my shoulder a great responsibility for thousands of my supporters, political associates and friends, who have trusted in my leadership and have attached their political fortunes to mine. However, it is after an extensive consultation with all the important stakeholders that we have come to this difficult but inevitable decision to pitch our political tent elsewhere; where we could enjoy greater sense of belonging and where the interests of the greatest number of our Nigerians would be best served.
While I take full responsibility for this decision, I will like to emphasise that it is a decision that has been inescapably imposed on me by certain elements and forces within the APC who have ensured that the minimum conditions for peace, cooperation, inclusion and a general sense of belonging did not exist.
They have done everything to ensure that the basic rules of party administration, which should promote harmonious relations among the various elements within the party were blatantly disregarded. All governance principles which were required for a healthy functioning of the party and the government were deliberately violated or undermined. And all entreaties for justice, equity and fairness as basic precondition for peace and unity, not only within the party, but also the country at large, were simply ignored, or employed as additional pretext for further exclusion.
The experience of my people and associates in the past three years is that they have suffered alienation and have been treated as outsiders in their own party. Thus, many have become disaffected and disenchanted. At the same time, opportunities to seek redress and correct these anomalies were deliberately blocked as a government-within-a-government had formed an impregnable wall and left in the cold, everyone else who was not recognized as "one of us". This is why my people, like all self-respecting people would do, decided to seek accommodation elsewhere.
I have had the privilege to lead the Nigerian legislature in the past three years as the President of the Senate and the Chairman of the National Assembly. The framers of our constitution envisage a degree of benign tension among the three arms of government if the principle of checks and balances must continue to serve as the building block of our democracy. In my role as the head of the legislature, and a leader of the party, I have ensured that this necessary tension did not escalate at any time in such a way that it could encumber Executive function or correspondingly, undermine the independence of the legislature. Over the years, I have made great efforts in the overall interest of the country, and in spite of my personal predicament, to manage situations that would otherwise have resulted in unsavoury consequences for the government and the administration. My colleagues in the Senate will bear testimony to this.
However, what we have seen is a situation whereby every dissent from the legislature was framed as an affront on the executive or as part of an agenda to undermine the government itself. The populist notion of anti-corruption became a ready weapon for silencing any form of dissent and for framing even principled objection as "corruption fighting back". Persistent onslaught against the legislature and open incitement of the people against their own representatives became a default argument in defence of any short-coming of the government in a manner that betrays all too easily, a certain contempt for the Constitution itself or even the democracy that it is meant to serve.
Unfortunately, the self-serving gulf that has been created between the leadership of the two critical arms of government based on distrust and mutual suspicion has made any form of constructive engagement impossible. Therefore, anything short of a slavish surrender in a way that reduces the legislature to a mere rubber stamp would not have been sufficient in procuring the kind of rapprochement that was desired in the interest of all. But I have no doubt in my mind, that to surrender this way is to be complicit in the subversion of the institution that remains the very bastion of our democracy. I am a democrat. And I believe that anyone who lays even the most basic claim to being a democrat will not accept peace on those terms; which seeks to compromise the very basis of our existence as the parliament of the people.
The recent weeks have witnessed a rather unusual attempts to engage with some of these most critical issues at stake. Unfortunately, the discord has been allowed to fester unaddressed for too long, with dire consequences for the ultimate objective of delivering the common good and achieving peace and unity in our country. Any hope of reconciliation at this point was therefore very slim indeed. Most of the horses had bolted from the stable
The emergence of a new national party executives a few weeks ago held out some hopes, however slender. The new party chairman has swung into action and did his best alongside some of the Governors of APC and His Excellency, the Vice President. I thank them for all their great efforts to save the day and achieve reconciliation. Even though I thought these efforts were coming late in the day, but seeing the genuine commitment of these gentlemen, I began to think that perhaps it was still possible to reconsider the situation.
However, as I have realized all along, there are some others in the party leadership hierarchy, who did not think dialogue was the way forward and therefore chose to play the fifth columnists. These individuals went to work and ensured that they scuttled the great efforts and the good intentions of these aforementioned leaders of the party. Perhaps, had these divisive forces not thrown the cogs in the wheel at the last minutes, and in a manner that made it impossible to sustain any trust in the process, the story today would have been different.
For me, I leave all that behind me. Today, I start as I return to the party where I began my political journey, the Peoples Democratic Party (PDP).
When we left the PDP to join the then nascent coalition of All Progressives Congress (APC) in 2014, we left in a quest for justice, equity and inclusion; the fundamental principles on which the PDP was originally built but which it had deviated from. We were attracted to the APC by its promise of change. We fought hard along with others and defeated the PDP.
In retrospect, it is now evident that the PDP has learnt more from its defeat than the APC has learnt from its victory. The PDP that we return to is now a party that has learnt its lessons the hard way and have realized that no member of the party should be taken for granted; a party that has realized that inclusion, justice and equity are basic precondition for peace; a party that has realized that never again can the people of Nigeria be taken for granted.
I am excited by the new efforts, which seeks to build the reborn PDP on the core principles of promoting democratic values; internal democracy; accountability; inclusion and national competitiveness; genuine commitment to restructuring and devolution of powers; and an abiding belief in zoning of political and elective offices as an inevitable strategy for managing our rich diversity as a people of one great indivisible nation called Nigeria.
What we have all agreed is that a deep commitment to these ideals were not only a demonstration of our patriotism but also a matter of enlightened self-interest, believing that our very survival as political elites of this country will depend on our ability to earn the trust of our people and in making them believe that, more than anything else, we are committed to serving the people.
What the experience of the last three years have taught us is that the most important task that we face as a country is how to reunite our people. Never before had so many people in so many parts of our country felt so alienated from their Nigerianness. Therefore, we understand that the greatest task before us is to reunite the county and give everyone a sense of belonging regardless of region or religion.
Every Nigerian must have an instinctive confidence that he or she will be treated with justice and equity in any part of the country regardless of the language they speak or how they worship God. This is the great task that trumps all. Unless we are able to achieve this, all other claim to progress no matter how defined, would remain unsustainable.
This is the task that I am committing myself to and I believe that it is in this PDP, that I will have the opportunity to play my part. It is my hope that the APC will respect the choice that I have made as my democratic right, and understand that even though we will now occupy a different political space, we do not necessarily become enemies unto one another.