Special to USAfrica magazine (Houston) and USAfricaonline.com, first Africa-owned, US-based newspaper published on the Internet.
Nigeria's next President, the electricity cabal is waiting for you.
There are Nigerian communities and towns where no one has seen any flicker of electric power for 6 months, and longer. They are, literally, wrapped in a medieval blanket of darkness!
To Nigeria's next President, I have a message for you: first, the electricity cabal is waiting for you! The godfathers of corruption in Africa's largest economy are repositioning. They know that one of the key issues of concern for millions of Nigerians, at home and abroad, is the unresolved, hydra-headed challenges of electric power and energy supply.
Hence, Nigerians are "hoping and believing" that the power supply infrastructure and data equipment deployed by the elections body INEC, and allied security agencies, will be adequate to allow and facilitate the timely and accurate delivery of election results. The INEC network and infrastucture, I understand, are battery and electricity supported.
Second, over the years, I have seen and read some reports which show that a lot of the funds have been squandered and are still being peeled in serial financial shenanigans in the murky power/electricity/energy sectors of Nigeria.
Third, no matter who wins the presidential election on Saturday, February 25, 2023, the severe limitations imposed by very poor electric power generation and energy supply in the country will impact his ambitions and attractive articulation of his agenda. Those limitations to electricity have remained negative factors in planning and implementing absolutely anything in Nigeria and most of the developing economies of the African continent.
Which raises the fourth point and critical question: Should Nigerians who cheer for those who stole their country's resources and wealth and electricity options be regarded as complicit in their sufffering by their support and votes for the same politician business men and women? Especially taking cognizance of the fact that across the entire country, it is estimated that more than 95% of the voting public have no access to viable supply of electricity.
Fifth, will Nigerians use their votes on Saturday to punish those politicians and candidates who deny our children in public schools, tertiary institutions and universities basic access to electricity to enable them to read or do their homework at night?
For these students, I know that the only illumination at night is the flashlight or torchlight built into virtually all mobile phones!
Sixth, for the electricity cabal, it's a long game. They worked successfully to destroy the capacity of the defunct National Electric Power Authority to do its basic assignment. Then, they privatized the national resources of NEPA at a firesale rate/value…. The acronym NEPA became traduced to 'Never Expect Power Always'.
I remember my younger days growing up in Nigeria  — especially between 1970s to 1980s — that you can compare the NEPA of that time to what obtains these days. I think that consideration must be given to reality that there are several more millions of Nigerians drawing from the national/regional electricity grids. It has become worse!
Seventh, I am for market-based economics but it has to be accountable and responsible. Will it be different this February 25th, when Nigerians go to cast their votes in the presidential and national assembly elections in all 36 States and the Federal Capital Territory (Abuja)? The States' governorship elections are set for March 11, 2023. 
Let's go back almost one year ago, the mid-March 2022 nationwide collapse of the electricity grid at all the e-DISCOs (Electric Distribution Companies), dramatically, revealed for the 100th time, the truly shameful and painful indifference of the political and business leaders of Nigeria to the suffering of the majority of Nigerians. 
Several Nigerians died from the lack of electric power to hospitals where they were being treated for health challenges. Economic crimes of corruption and wilful incompetence of the past and present leadership in collaboration with some of the business elite made a bad situation very disastrous.
It is even more so when we consider this is after trillions of Naira and billions of dollars have been budgeted and spent with very marginal results achieved.   
Respectfully, Mr. President, may I remind that you have been Nigeria's Minister of Petroleum for 8 years — during your-soon-to-end presidency in 90 days! You served in the same position during your military incarnation several decades ago. Specifically, from March 1976 to June 1978 — under then General. Olusegun Obasanjo.
When you assess the level of disregard with which Nigeria's ruling elite, military rulers and civilian leaders hold Nigerians, you will be embarrassed by the unreadiness and unseriousness of these fellows to deal with the reality that an expanded power generation and effective distribution are fundamental to national and regional development. It can not be only through basic electricity. It must include the latest renewable energy initiatives and some of the processes of generating reliable and scalable power. 
As Nigerians and the world await the outcome of the 2023 presidential elections, I can only hope that Nigerians will unleash with their votes in a nationwide effort to bring to an irreversible end 63 years of catastrophic incompetence and brutal disregard for the well-being of those who wake and toil for the country and their families, every day!  
Is it too much to ask President Muhamadu Buhari, born December 17, 1942, whatever happened to the "Change" you promised Nigerians in the areas of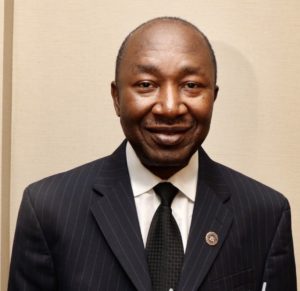 electricity and power supply? 
I think that in Nigeria's league of criminality regarding electricity funds and services, some of the Nigerian men and women in collaboration with other international gangsters took Nigeria's money and lived it up. They squander(ed) without mercy. They squander(ed) without decorum and without the fear of God! *Dr. Chido Nwangwu, the author of the forthcoming 2023 book, MLK, Mandela & Achebe: Power, Leadership and Identity, serves as Founder & Publisher of the first African-owned, U.S-based newspaper on the internet, USAfricaonline.com, and established USAfrica in 1992 in Houston. He has appeared as analyst on CNN, SKYnews, VOA, BET news, SABC, and served as an adviser on Africa business to Houston's former Mayor Lee Brown. Follow him on Twitter @Chido247
---
USAfrica: Why is America's Biden calling Russia's Putin "a war criminal"? By Chido Nwangwu