Special to USAfrica magazine (Houston) and USAfricaonline.com, the first Africa-owned, US-based newspaper published on the Internet.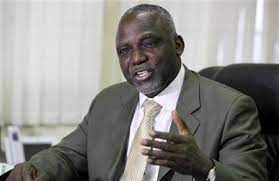 One of Africa's foremost scientists, Professor Bart Nnaji, has advised Nigerians to embrace artificial intelligence (AI) on an industrial scale in order to join the 4th Industrial Revolution sweeping across the globe.
"AI holds the key to our participation in the Fourth Industrial Revolution, driven by Big Data, Internet of Things, etc. We lost the First Revolution which is the Agricultural Revolution, the Second which is the Industrial Revolution, and the Third which is the Digital Revolution."
Nnaji, a former Minister of Science who did his Post-Doctoral Research Fellowship in AI at the Massachusetts Institute of Technology before joining the University of Massachusetts as a professor and Director of the Robotics and Automation Laboratory at the University of Massachusetts in the United States before his 27th birthday, made the appeal at the fifth convocation ceremonies of Michael and Cecilia Ibru University at Agbara-Otor near Ughelli in Delta State where he also received an honorary doctorate in science.
"AI has come to stay", he asserted before a large audience comprising academics and researchers from other universities, as well as business executives, philanthropists, and community leaders, including the founder of the university, Mrs. Cecelia Ibru, its vice-chancellor, Professor Ibiyinka Fuwape.
Nnaji, recognised as one of the three top academic engineers in the world in industrial engineering before he returned to Nigeria in 2004, said that AI "has become ubiquitous especially with Generative AI which enables machines, that is digital systems, to do things faster, cheaper and better through repetitive tasks and, in the process, achieve greater autonomy.
"This means that they perform tasks without human control or human input, and this process keeps on improving rapidly".
He said that, unlike previous revolutions in history, Nigeria does not require massive resource infusion before leapfrogging into the 4th Industrial Revolution
"The computer and the Internet have made things much cheaper, faster, and shorter, as a person can stay in the comforts of his or her home and still be in touch with cutting-edge technology, including AI", he declared.
Nnaji, a winner of the Nigerian National Order of Merit, the nation's highest honour for intellectual achievement, said AI is helping humanity in every area of life, ranging from healthcare to mass communication to business management to education to legal advice to creativity, crediting much of the new progress to ChatGPT4 launched last November by OpenAI.
"It can write a novel for you and in your name within a few minutes, just as it can write an office memo or an advert jingle or a legal opinion on a complex matter or solve a mathematical or scientific question", the AI and robotics expert stated.
"All you need do is write the keywords, or a few words, on what you want and prompt the words, and in a jiffy, everything is all yours".
While expressing delight that an increasing number of Nigerians are embracing AI, the erstwhile power minister advised the Nigerian government to immediately take concrete steps to make the country a significant AI participant, calling the United States, the United Kingdom, China, South Korea, the European Union, and India the frontline AI developers.
The Ministry of Communication and Creativity should be treated as a frontline development ministry, he argued, adding that the Nigerian Communication Commission and the National Office for the Acquisition of Technology should receive priority status.
He counseled the Federal Government to drastically reduce tariffs on certain information technology equipment or even abolish them.
He also called for intensive training of IT specialists in both academic and professional institutions in Nigeria and abroad.
He added: " Let us borrow a leaf from India which prioritized Science, Technology, Engineering, and Mathematics (STEM) and has consequently excelled in medical tourism, manufacturing, food security, and moon and sun exploration".
Nnaji, however, pointed out some of the dangers associated with AI, including job losses and deep fakes.
ChatGPT has replaced the customer teams in some companies because it is more efficient and faster in attending to customer needs than humans.
He named more dangerous consequences of AI use. "You can use it to make extremely dangerous bombs, for instance", he said, identifying plagiarism, misinformation, disinformation, invasion of privacy, pornography, blackmail, extortion, and even a possible nuclear catastrophe as well as a possible pandemic as some of the risks.
Nnaji, therefore, called on every government in the world to join hands with AI researchers and developers to create a global body to promote positive and safe AI use "just as the establishment of the International Atomic Energy Agency in 1957 in Vienna, Austria, has resulted in a safer world".
He stated that no government in the world should be left behind in the project to coordinate and regulate AI because a rogue AI developer can move to an ungoverned space and cause a human tragedy from there.