Special to USAfrica magazine (Houston) and USAfricaonline.com, the first Africa-owned, US-based newspaper published on the Internet.
SME Formalisation and Internationalisation in Commonwealth: Empowering Growth and Global Reach
Peter Obi, presidential candidate of Nigeria's Labour Party, served as Governor of Anambra State.
Introduction
Let me first, immensely thank the people and government of Bangladesh led by the Prime Minister Sheikh Hasina for hosting us and Lord Marland of Odstock and his team for organizing this workshop. I am deeply grateful for the invitation to share my little experience with an esteemed audience, our Commonwealth Family, thank you! The workshop and its focus on the Formalisation and Internationalisation of Small and Medium Scale Enterprises (SMEs) could not have come at a better time. It is most timely and pertinent as SMEs are unarguably emerging as the engine of rapid economic expansion across the globe particularly in the areas of job creation, innovation, and domestic investment. According to World Bank (2020), SMEs account for roughly 90% of businesses and more than 50% of jobs created globally.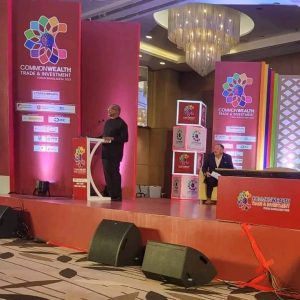 Moreover, while formal SMEs contribute up to 40% of national income (GDP) in developing and emerging markets (DEMs), their impact and contribution are significantly higher when informal ones are included (World Bank, 2020). In Bangladesh, SMEs contribute about 40% to GDP, in Nigeria 48% and China 60% with about 7 out of every 10 formal jobs created by SMEs. It has the same immense impacts in India where SMEs account for over 40% of the total workforce and in South Africa where over 91% of the formal business entities are SMEs which contribute over 55% of the GDP (Abubakar, Imran and Abba, 2021).
With such relevance and importance, it then means that for us to be truly referred to as Commonwealth, special attention must be paid to SMEs as they seem to be a fulcrum upon which sustainable and inclusive growth and development can be achieved across our Commonwealth countries. If we enhance the functionality and impacts of SMEs across Commonwealth countries through formalisation and internationalisation, we would have done it across the world with lives, communities and economies positively impacted.  Endowed with a population of about 2.5 billion people (almost one third of world's population), a home to over a billion young consumers and exports of over $1 trillion, the need for better support for SMEs cannot be over emphasised.[1] If it is about 21% cheaper to do business within the Commonwealth, imagine the possible impacts that can be achieved if SMEs are better supported through formalisation and internationalisation.
The need for formalisation and internationalisation drives from the fact that despite their importance and contributions, SMEs especially in DEMs including Commonwealth countries encounter many challenges. Many are unregistered and unlicensed, and further constrained by factors such as the peculiarities of the local environment, finance, taxation and high level of informality. They also lack international affiliations, export less than large companies and barely exploit the benefits of international trade, which limits the growth opportunities of both the SMEs and the countries.
To harness the full contributions and impacts of SMEs, reforms such as proper formalisation and internationalisation are therefore needed to address the identified challenges. Formalisation involves bringing SMEs into the formal economy through registration of their businesses and complying with legal and regulatory requirements. Expectedly, the process of formalisation will be beneficial not only to the SMEs, but the overall business environment and economic stability as significant segments of SMEs operate in the informal sector due to a lack of resources or awareness of the formalisation benefits. This limits their access to credit, markets, and government support which consequently results to reduced investment, innovation and growth opportunities.
For instance, according to International Finance Corporation (IFC), about 65 million firms, or 40% of formal micro, small and medium enterprises (MSMEs) in developing countries, have financing gaps of about $5.2 trillion every year, which is equal to 1.4 times of the existing level of the global MSME lending. In terms of ranking, East Asia and Pacific has the largest share (46%) of the total global finance need, followed by Latin America and the Caribbean (23%) and Europe and Central Asia (15%).  As financial institutions often require proper documentation and legal status before extending credits, proper formalisation can significantly help SMEs access loans and investment opportunities that were previously out of reach (World Bank, 2020).
Proper formalisation and internationalisation of SMEs particularly in today's globalised economy therefore requires urgency and full support of all stakeholders as it allows SMEs to tap into global markets, access international resources and grow their businesses with immeasurable positive global impacts.
Formalisation of SMEs
Formalisation refers to the transformation of informal and unregistered businesses into legally recognised entities. This involves registering the business with the appropriate government authorities, obtaining necessary licenses and permits, and complying with regulatory requirements. Formalisation provides SMEs with legal protection, access to government services and support, and credibility in the eyes of customers, financiers, suppliers, and other stakeholders. While there has been an increasing advocacy for the formalisation of SMEs, it is important to note that incentive policies to encourage the formalisation of SMEs should take cognizance of the nature of the business, the business's own benefits, the issues for the business to remain small and informal, as well as the key peculiarities of the overall economy.
The following are some key aspects of the formalisation of SMEs:
Legal Structure: Choosing the appropriate legal structure for the business, such as sole proprietorship, partnership, limited liability company (LLC), or corporation. Each structure has different implications for liability, taxation, and management.
Documentation: Creating proper documentation for various aspects of the business, including contracts, agreements, terms and conditions, employee handbooks, and policies.
Financial Management: Implementing accounting systems and practices to track finances accurately. This includes maintaining proper bookkeeping, financial statements, and ensuring compliance with tax regulations.
Human Resources: Developing formal job descriptions, hiring procedures, and performance evaluation processes. Implementing HR policies related to employee benefits, leave, and code of conduct.
Standard Operating Procedures (SOPs): Developing SOPs for various business processes to ensure consistency, quality, and efficiency in operations.
Compliance: Adhering to local, national, and international regulations that pertain to the industry and the geographic locations in which the business operates.
Internationalisation of SMEs
International trade is widely recognised as being the engine of growth and has the capability to drive competitive gains at firm level, and expectedly translates into improved economic performance at both national and regional levels. However, despite accounting for about 90% of businesses and 2 out of every 3 jobs in most developing countries, SMEs are heavily underrepresented in international trade, as they account for less than half of all exports and imports. Internationalisation of SMEs involves the process of expanding the business activities of SMEs beyond their domestic markets. This usually takes various forms, such as exporting products or services to foreign markets, establishing partnerships or joint ventures with international companies, or setting up subsidiaries or branches in other countries of the world. Internationalisation offers SMEs the opportunity to access larger customer bases, diversify their revenue streams, and learn from international best practices[2].
Some key steps in the internationalisation of SMEs include:
Market Research: Identifying potential target markets based on factors such as demand for the product/service, competition, cultural considerations, and regulatory environments.
Adaptation: Modifying products, services, or marketing strategies to cater to the preferences and needs of the target international market. This might include adjusting packaging, pricing, or messaging.
Market Entry Strategy: Choosing the appropriate entry mode, which could be exporting, licensing, joint ventures, franchising, or establishing foreign subsidiaries.
Legal and Regulatory Considerations: Understanding and complying with the legal and regulatory frameworks of the target market, including trade regulations, intellectual property rights, taxation, and customs.
Cultural Awareness: Being sensitive to cultural differences in business practices, communication styles, and customer expectations.
Logistics and Distribution: Setting up efficient logistics and distribution networks to ensure timely delivery of products/services to international customers.
Risk Management: Assessing and managing risks associated with currency fluctuations, political instability, and economic changes in the target market.
While we have discussed the need for formalisation and internationalisation, it is important to note that formalisation is an important prerequisite for internationalisation. Informal SMEs will find it extremely difficult penetrating the international market without proper formalisation. Hence, internationalisation is a strategic move that enables SMEs to tap into global opportunities and enhance their competitiveness. Internationalisation offers several advantages to SMEs in developing and emerging markets. Entering international markets helps SMEs diversify their revenue streams, reducing reliance on a single market. It aids in technology and knowledge transfer, internationalisation exposes SMEs to new technologies, knowledge, and business practices, fostering innovation and growth. With access to larger markets, SMEs gain access to larger consumer bases, enabling them to scale their operations and increase their impact. With the signing of AfCFTA in Africa, internationalisation will mean a broader market for SMEs and expansion of their activities beyond their countries.
While the benefits are substantial, SMEs in developing and emerging markets must address specific challenges when going global, SMEs often lack the resources for comprehensive market research, competitive analysis, and adaptation to foreign market requirements. Understanding cultural nuances and consumer preferences is crucial for effective market entry and successful business operations. For instance, West Africa is responsible for 90% global production of yam, with Nigeria having 70% share and Ghana having 20%. Ironically, 90% of yams in the international market is from Ghana. SMEs in Ghana's agricultural sector have been able to formalise and internationalise thereby reaping the benefits of both. Furthermore, regulatory and legal differences between countries can affect internationalisation. Each market has its own set of regulations and legal requirements that SMEs must navigate to ensure compliance.
What Commonwealth and Government of Commonwealth Countries Can Do
In addition to supporting the proper formalisation and internationalisation of SMEs in commonwealth countries, the respective governments of Commonwealth countries and the Commonwealth organisation should provide further support to SMEs through the following:
Establishment or creation of a Special SMEs Fund at both Commonwealth Organization and Commonwealth countries. This is critical given that access to capital remains a big challenge to our SMEs. Ideally, the funds should be provided at a low interest rate and administered by the respective Commonwealth Countries in a counter-part funding arrangement with an oversight supervision and peer reviewed ranking/performance provided by Commonwealth Secretariat. If possible, the Fund can be upgraded to a Commonwealth SME Bank with the initial capital provided by all commonwealth countries in a segmented contribution format.
Agreement to establish a free trade arrangement across all Commonwealth Countries for all goods and services produced by SMEs in the Commonwealth.
Agreement that about 10% of each member country imports must come from SMEs of other Commonwealth Countries.
Agreement that any SMEs with a total revenue of about 250, 000.00 British pounds or equivalent be exempted from all taxes in their respective countries. Government must be willing to give tax incentives to small businesses so that they can compete favourably within and outside their local business environment and contribute their quota through impactful corporate social responsibility.
To achieve formalisation and internationalisation, there must be a rethink of the regulatory framework guiding the SMEs. Regulations must now begin to factor in the peculiarities of the immediate local environments. Governments must adopt a bottom-up approach to regulate the market so that SMEs can have a better understanding of the business
Another important step the government must take is to consistently encourage SMEs by patronizing them. It is important for SMEs to feel and have government support which among other benefits will enhance their innovation, research and development. Through policy formulation, the process of formalisation and internationalisation of SMEs should be simple and less bureaucratic. In an age of digitalization, the government should ensure that every SME can seamlessly go through the process of formalisation from the comfort of their homes and offices. This will go a long way in removing the bottlenecks faced by SMEs during the formalisation
Governments and non-governmental organizations can provide training and workshops on business management, finance, export promotion and global trade practices. With government support, Business Development Organizations, Business schools and Consultancy Services can offer market research, legal guidance, and strategic insights to help SMEs successfully navigate international markets. Creating market access platforms will go a long way in bringing SMEs closer to the market. Digital platforms and marketplaces can connect SMEs with global buyers, reducing the barriers to international market entry.
Let me conclude this section with some insights into what we did when I served as the governor of Anambra State, Nigeria.
Conclusion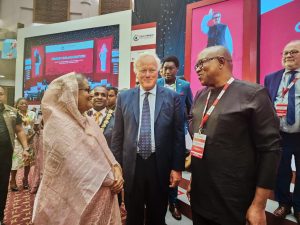 SMEs in Commonwealth countries are essential drivers of economic development and poverty reduction. Formalisation and internationalisation are crucial pathways to unlocking their potential, fostering innovation, and increasing competitiveness. While challenges are many, supportive policies, capacity-building initiatives, and strategic partnerships can empower SMEs to thrive in the global economy. By investing in the formalisation and internationalisation of SMEs, the sustainable socio-economic growth and development of Commonwealth Organisation and Countries can be significantly enhanced. This will require high level of involvement of all stakeholders particularly the Commonwealth Organisation and the Government of Commonwealth Countries.
References
Abubakar, U., Imran, I. A., & Abba, M. M. (2021). SMEs and GDP contribution: an opportunity for Nigeria's economic growth. The International Journal of Business Management, 8(1), 252-259.
Brida, G., & Pulina, M. (2010). A literature review on the tourism-led-growth hypothesis.
World Bank (2020), 'Small and Medium Scale Enterprises (SMEs) Finance: Improving SMEs access to finance and financing innovative solutions to unlock sources of capital', World Bank Publications, Washington DC.
[2] https://www.oecd.org/cfe/smes/2090740.pdf