Margaret Thatcher, Mandela and Africa: brief notes.                                                                                                 By Chido Nwangwu, Founder & Publisher of USAfrica, and the first African-owned, U.S-based newspaper published on the internet USAfricaonline.com            @Twitter.com/Chido247, Facebook.com/USAfricaChido Facebook.com/USAfrica247
(London-based SkyNEWS, the global, 24-hour British international tv network, interviewed USAfrica's Publisher Chido Nwangwu on April 11, 2013 regarding this latest commentary http://youtu.be/G0fJXq_pi1c 
USAfrica, Houston: Upon the death today of the former, famous Prime Minister of Britain, several voices have understandably spoken about her qualities while creating straw arguments about other matters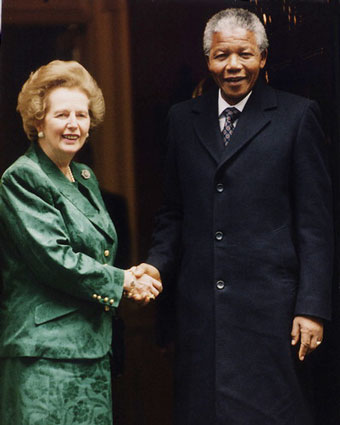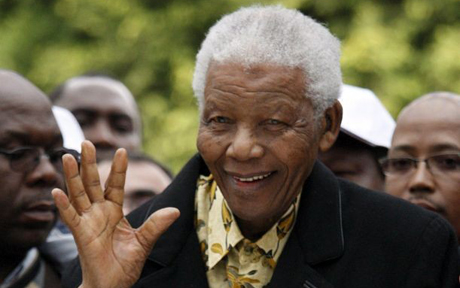 concerning her tenure and Africa. Some have been responses to my 7-word note about her death on my Facebook.com/USAfricaChido page and twitter @Chido247 where I stated: "Her policies were not favorable to Africa."  
1. For a long time, Mrs. Thatcher took, firmly, the side of the brutal, inhuman apartheid regime in South Africa. It is a fact of history that the brusque "Iron Lady" in October 1987 recklessly denounced Nelson Mandela's progressive, nationalist and multi-ethnic (now ruling party of South Africa) "The ANC is a typical terrorist organisation … Anyone who thinks it is going to run the government in South Africa is living in cloud-cuckoo land" Her prediction was as wrong as predicting a thunderstorm in the Sahara desert! The ANC has been running the government of South Africa since 1994 – with Mandela as the first post-apartheid leader from a multi-racial election.   
2. Mrs. Thatcher pushed for more money, materials and diplomatic cover for the racist goons in South Africa and southern Africa who preached the swine gospel of brutal segregation, subjugation and suppression of Africans/Blacks and colored people(s) — as written law and government policy.
3. Lest we forget, one of  Thatcher's aggressive champions in parliament, Teddy Taylor, demanded that the great "Nelson Mandela should be shot."  It takes a certain level of depravity to make a statement like that. To the best of my knowledge, Thatcher never disavowed or condemned Mr. Taylor.
Some of the British conservative politicians were overdosing on who will make the most anti-Mandela rants!
They called Mandela "terrorist" for standing up and fighting for a society where all human beings are treated equally. Thankfully, David Cameron (now British Prime Minister) at the time an up and coming party member disagreed publicly with Thatcher & Co! In 1990, during a trip to London, the dignified Mandela declined to meet Mrs. Thatcher; to which Conservative MP Terry Dicks, in another supremacist rage queried: "How much longer will the Prime Minister allow herself to be kicked in the face by this black terrorist?"
4. The critical contextual issues are Not about the late PM Margaret Thatcher and who will "save Africa"; it's not about the naked fallacy of her being "gentle" (even she disagreed) and all the other ahistorical misdirections.    
5. For historical accuracy, let me restate a major historical date in Mandela's life — which took place on June 12, 1964, when Nelson Mandela, alongside 7 other activists and anti-apartheid freedom fighters were unjustly sentenced to life imprisonment. From 1964 to 1982, he was incarcerated at Robben Island Prison, a few minutes from Cape Town. (He was later moved to the Pollsmoor Prison); and was released after 27 years of incarceration in 1990.
6. I'll forever remember having walked inside and peeped through that historic Mandela jail cell at the dreaded Robben Island on March 27, 1998, alongside then Editor-in-chief of TIME magazine and later news chief of CNN, Walter Isaacson (and others) when President Bill Clinton made his first trip to South Africa and came to Robben Island.  Mandela is 92: Why I celebrate his life, struggles and works. By Chido Nwangwu.
https://usafricaonline.com/2010/07/15/mandela-why-i-celebrate-his-life-works-by-chido-nwangwu/
https://usafricaonline.com/tag/nelson-mandela/
http://www.google.com/search?client=safari&rls=en&q=mandela+chido+nwangwu&ie=UTF-8&oe=UTF-8

7. The truth is we revere and honor Mandela at USAfrica. In fact, one of our publications, USAfrica The Newspaper, was established to make its first release just in time in May 11, 1994 in Houston, to be part of the voices and pillars of progress against apartheid, a news vehicle championing the pan-human quest for justice and equity for all, and to serve as The Authoritative Link for Africans in the diaspora –especially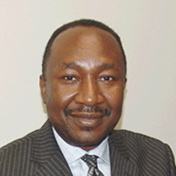 across the U.S .
8. In conclusion, let me make an interesting note on mortality, leaders and history: many of those who lent their voices and resources to stifle and, for some, to have Mandela dead have joined their own ancestors while our beloved, towering pillar for equity and decent leadership Mandela is still here. Permit me to say, again: Long Live Madiba!! Long Live Mandela!!!                                                                                                        • Dr. Chido Nwangwu, former adviser on Africa business/issues to Houston's ex-Mayor Lee Brown serves as Founder & Publisher of USAfrica multimedia networks, first African-owned, U.S-based newspaper published on the internet USAfricaonline.com;  recipient of several journalism and public policy awards, has been profiled by the CNN International for his pioneering works on multimedia/news/public policy projects for Africans and Americans. http://edition.cnn.com/video/#/video/international/2010/07/29/mpa.african.media.bk.a.cnn
WHY I CELEBRATE THE LIFE AND WORKS OF NELSON MANDELA. By Chido Nwangwu  https://usafricaonline.com/2010/07/15/mandela-why-i-celebrate-his-life-works-by-chido-nwangwu/
——
USAfrica 20th ANNIVERSARY :: May 11, 2013 @Hilton Westchase Houston.                                           http://usafrica20.eventbrite.com
Nigeria's Federal Republic of Insecurity. By Chido Nwangwu, Publisher of USAfrica, USAfricaonline.com and the Nigeria360 e-group. https://usafricaonline.com/2011/12/17/nigeria-federal-republic-of-insecurity-by-chido-nwangwu/ : IF any of the Nigerian President's 100 advisers has the polite courage for the extraordinary task of reminding His Excellency of his foremost, sworn, constitutional obligation to the national interest about security and safety of Nigerians and all who sojourn in Nigeria, please whisper clearly to Mr. President that I said, respectfully: Nigerians, at home and abroad, are still concerned and afraid for living in what I call Nigeria's Federal Republic of Insecurity. FULL text of commentary at USAfricaonline.com https://usafricaonline.com/2011/12/17/nigeria-federal-republic-of-insecurity-by-chido-nwangwu/
—- 
• Nigeria's bin-Laden cheerleaders could ignite religious war, destabilize Africa. By USAfrica's Publisher Chido Nwangwu. https://usafricaonline.com/chido.binladennigeria.html http://www.google.com/search?client=safari&rls=en&q=USAfrica+Chido+Nwangwu+al-qaeda+terrrorism+nigeria&ie=UTF-8&oe=UTF-8 https://usafricaonline.com/tag/al-qaeda/ 310 killed by Nigeria's 'talibans' in Bauchi, Yobe n Maiduguri; crises escalate. USAfricaonline.com  on  July 28, 2009. www.usafricaonline.com/chido.ngrtalibans09.html http://www.groundreport.com/World/310-killed-by-Nigerias-talibans-in-Bauchi-Yobe-n-M/2904584
Obama's Africa agenda, our business and democracy. By Chido Nwangwu, Publisher of USAfricaonline.com and CLASS magazine and The Black Business Journal
USAfrica: As Egypt's corrupter-in-chief Mubarak slides into history's dustbin.  By Chido Nwangwu. https://usafricaonline.com/2011/01/30/chido-nwangwu-as-egypt-corrupter-in-chief-mubarak-slides-into-historys-dustbin-egyptians-not-waiting-for-obama-and-united-nations/
Tunisia, Egypt . . . Is Nigeria next? By Prof. Rosaire Ifedi           https://usafricaonline.com/2011/02/13/tunisia-egypt-is-nigeria-next-by-prof-rosaire-ifedi/
USAfrica: Awolowo's Starvation Policy against Biafrans and the Igbo requires apology not attacks on Achebe. By Francis Adewale.
How and Why Romney beat Obama in first presidential debate. By Chido Nwangwu, Publisher of USAfrica. https://usafricaonline.com/2012/10/03/how-and-why-romney-beat-obama-in-first-presidential-debate-by-chido-nwangwu/
Related insight: USAfrica's October 17, 2001 special report/alert: Nigeria's bin-Laden cheerleaders could ignite religious war, destabilize Africa. By USAfrica's Publisher Chido Nwangwu. https://usafricaonline.com/chido.binladennigeria.html
http://www.google.com/search?client=safari&rls=en&q=USAfrica+Chido+Nwangwu+al-qaeda+terrrorism+nigeria&ie=UTF-8&oe=UTF-8
https://usafricaonline.com/tag/al-qaeda/
• For seasoned insights and breaking news on these issues, log on to USAfricaonline.com and USAfrica powered e-groups including USAfrica at googlegroups. Follow us at Facebook.com/USAfricaChido, Facebook.com/USAfrica247 n Twitter.com/Chido247