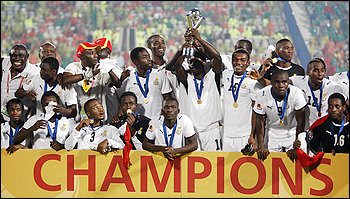 Ghana wins Under-20 World Cup for first time, beats Brazil in shootout
By Jerome Pugmire (CP) –
Special to USAfricaonline.com
CAIRO, Egypt — Ghana held on with 10 men to beat Brazil in a penalty shootout to become the first African team to win the Under-20 World Cup on Friday and end a decade of South American dominance.
The final finished 0-0 after extra time at Cairo International Stadium, and Ghana's Emmanuel Agyemang-Badu scored the winning penalty to make it 4-3 after Brazil's Maicon missed a chance to win it at 3-2. Agyemang-Badu's confident shot uncorked wild scenes of jubilation by Ghana's players and staff, and their fans among the 68,000-strong crowd. Agyemang-Badu peeled off his shirt and thumped his chest as Brazil's dejected players fell to the turf in disbelief. "We achieved something people said would be impossible," Ghana captain Andre Ayew said. "I hope an African team wins the World Cup next year. We have a great team. The Ghana fans demand a lot, I hope we live up to their expectations."
After Ghana's players, draped in their national flags, climbed the stadium stairs to receive the trophy, they returned to the field to continue their jumping, jubilant celebration. "This is a wonderful historic event for Africa. Now Africans can believe in themselves that they can do it," said Ghana coach Sellas Tetteh. He said Ghana's win would boost African teams at the World Cup next year in South Africa.
"We've shown them the way. Africa will surely have a lot of hope and confidence (at the World Cup) that they can do it like we did here." Another shootout decided third place, when Hungary beat Costa Rica 2-0 after their match finished 1-1. Hungary goalkeeper Peter Gulacsi saved straight three penalty kicks. Ghana defender Daniel Addo was sent off in the 37th minute for a late tackle on Alex Teixeira as he ran through midfield. Despite the man advantage for more than an hour, Brazil wasted chances and struggled to break down the tenacious defence of Ghana's Black Satellites. "There's a feeling of sadness. We were better in the match, created more chances, against a strong team," Brazil's Giuliano said. "If you look at the whole match, it was an unfair result." Brazil coach Rogerio Lourenco had little praise for his opponents. "Of course, if you have 11 players creating chances they get more tired than a team with nine men at the back," he said. "I told the players to create chances and they did – we were not able to score today but they've done a great job throughout the tournament. When it gets to penalties, there's nothing you can blame or regret."
In the shootout, Alan Kardec confidently scored Brazil's first kick, while Ayew did the same. After Brazil goalkeeper Rafael saved poor penalties from defenders Jonathan Mensah and Bright Addae, Maicon stepped up to the spot with a chance to give Brazil its fifth tournament win. But Maicon hesitated and sent his shot high over.
Then Dominic Adiyiah buried his chance past Rafael, Alex Teixeira's kick was saved, and Agyemang-Badu struck home for Ghana to become the first champion from outside South America since Spain in 1999. Ghana had lost its two previous finals, against Brazil in 1993 and Argentina in 2001. Brazil had pressured early on, with Teixeira hitting a cross from Paulo Henrique over the crossbar, Dalton forcing a save from goalkeeper Daniel Agyei and Teixiera also testing Agyei after being set up by striker Alan Kardec. Ghana was reduced to 10 men when Belgian referee Frank De Bleeckere showed Addo a straight red, even though his foul on Teixeira was late rather than malicious. After the break, Brazil played short passes and made Ghana do the running, and Brazil almost scored when Giuliano's header bounced off a Ghana defender.
With Ghana's tired right flank becoming vulnerable, Kardec headed over and Souza poked a shot wide as the favourites continued to squander chances. Ghana defended stubbornly and with great determination, but the supply line to tournament top scorer Adiyiah was easily cut off by Brazil's midfield. Tetteh withdrew his other striker, Ransford Osei, midway through the second half to strengthen his midfield. Ayew lasted the whole match despite twisting his ankle days earlier in the semifinal against Hungary, and struck Ghana's first penalty in the shootout. Agyei made a brilliant point-blank save from Brazil substitute Maicon in the first period of extra time. His save from Teixeira in the shootout was even more crucial.
Lineups:
Ghana: Daniel Agyei, Samuel Inkoom, Jonathan Mensah, Daniel Addo, David Addy, Emmanuel Agyemang-Badu, Abieku Quansah (Opoku Agyemang, 107), Mohammed Rabiu (Bright Addae, 101), Andre Ayew, Ransford Osei (Ghandi Kassenu, 65), Dominic Adiyiah.
Brazil: Rafael, Douglas (Wellington Junior, 41), Dalton, Rafael Toloi, Diogo, Renan (Maicon, 75), Souza, Giuliano, Paulo Henrique (Douglas Costa, 64), Alex Teixeira, Alan Kardec.                                                                                                           Associated Press Writer Derek Gatopoulos and AP Sports Writer Ricardo Zuniga contributed to this report.
——–
Those Republicans? Not Guilty! It's the opportunists….By Raynard Jackson
https://usafricaonline.com/republicans-notguilty-raynardjackson-oct80/
——
President Obama, hate-mongers and mob cons. By Chido Nwangwu, Publisher of USAfricaonline.com, www.Achebebooks.com, CLASS magazine, The Black Business Journal,  USAfrica.TV, and the largest digital images/pictorial events domain for Africans  abroad www.PhotoWorks.TV
https://usafricaonline.com/president-obama-hate-mongers-and-mob-cons-by-chido-nwangwu/
https://usafricaonline.com/chido.obamavshatemongers09.html
Follow Chido at FaceBook.com/usafrica
and at Twitter.com/chido247