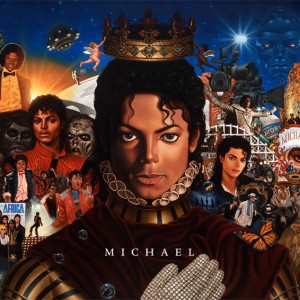 Michael Jackson's new album to be released December 14
A new album of previously unheard Michael Jackson songs will be released on December 14, the first such release since the pop star died last year, his Sony Music label has said.
Called simply "Michael," the album marks the latest commercial venture by Jackson's estate since the "Thriller" singer succumbed to a fatal overdose of prescription drugs in June 2009, aged 50.
But apart from revealing the album's title, regal artwork, and the name of one track, "Breaking News," Sony Music is keeping a firm lid on the project.
A spokeswoman declined to say how many tracks were on the album, reveal any other song titles, or indicate the extent of production work that was done after Jackson's death.
The secrecy follows an embarrassing debacle last year when "This Is It," a new Jackson single touted as his first posthumous release, turned out to have been first recorded 18 years earlier under a different title by an obscure Puerto Rican singer. The song's co-writer, Paul Anka, threatened to sue Jackson's estate and was quickly assigned half the copyright.
Jackson's commercial fortunes were on the wane long before his death, though grieving fans turned him into one of the biggest selling artists last year. His last studio album, "Invincible," was a commercial and critical disappointment in 2001. But a posthumous concert film and related soundtrack album, both also called "This is It," topped the worldwide charts last November.
Sony said "Breaking News" was recorded at a friend's place in New Jersey in 2007 and "recently brought to completion." Beginning next Monday, it will be streamed for one week on the www.michaeljackson.com website.
Other tracks were recorded at studios in Las Vegas and Los Angeles with various unidentified collaborators, Sony Music said. At the time of his death, Jackson was reported to be working with contemporary hitmakers like R&B star Akon and Lady Gaga collaborator RedOne.
The album cover artwork features two naked cherubs placing a crown on Jackson's head against a mural depicting the singer throughout his career. It comes from an oil painting by Kadir Nelson, who told Reuters via email that Jackson approached him several years ago to create a project detailing his life and career. The project stalled, but was revived last year by one of the estate's executors, John McClain. Most of the work was done during a five-month period through last month.
"Michael wears a golden suit of armor and stares at the viewer as he is crowned by cupids," Nelson said. "He places his hand over his heart and looks directly at the viewer, a symbol of Jackson's big heart and strong connection to his fans and music. A monarch butterfly sits on his shoulder, another symbol of Jackson's metamorphosis as a singer and entertainer, as well as a symbol of royalty. His musical history unfolds behind him."
The executors of Jackson's estate have been busy extracting value from the singer's catalog, both to pay off his debts and to provide for his mother and children. Other projects in the works include a Jackson-themed Cirque du Soleil tour that will open in Montreal next October, and a dance videogame due in stores later this month. (ref: Reuters;  reporting by Jill Serjeant, editing by Dean Goodman)
——–
USAfrica and 
USAfricaonline.com
(characterized by The New York Times as the largest (and arguably) most influential African-owned, U.S-based multimedia networks) established May 1992, our first edition of USAfrica magazine was published August 1993; USAfrica The Newspaper on May 11, 1994; CLASSmagazine on May 2, 2003; 
www.PhotoWorks.TV
in 2005.
——