Ojukwu trouble and Ikemba titles.                                                                                                                        
By Chido Nwangwu
Founder & Publisher of USAfrica multimedia networks, first African-owned, U.S-based newspaper published on the internet USAfricaonline.com,  the USAfrica-powered e-groups of  Nigeria360, IgboEvents, UNNalumni,  and CLASSmagazine Houston.
https://usafricaonline.com/2012/02/22/ojukwu-trouble-and-ikemba-titles-by-chido-nwangwu/
Special & Exclusive commentary.
USAfrica: February 22, 2012: A few days before the March 2, 2012 burial of the late, charismatic leader of the Republic of Biafra, Ikemba Chukwuemeka Odumegwu Ojukwu, his second biological son, Emeka Odumegwu-Ojukwu, Jnr., has become embroiled in what I consider an un-winnable, toxic and perennially divisive battle: his hasty and untimely decision to accept and take the title of Ikemba II, from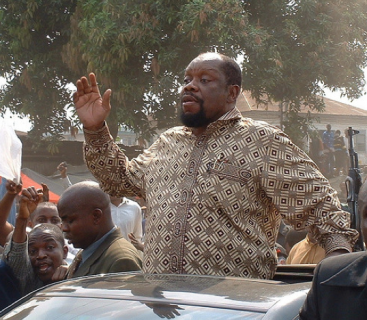 his maternal kinsmen/chieftains in Nawfia, Anambra State. His great and battle-tested father was given the title of Ikemba (the strength of the community/nation) Nnewi, shortly after his return from 13 years exile in Côte d'Ivoire (Ivory coast) in 1982, following a presidential pardon by Shehu Shagari.
First, I believe that this controversial, hasty and untimely chieftaincy award by the Igwe Nawfia Chijioke Nwankwo of the certain and prestigious title of Ikemba II to Emeka Ojukwu Jnr on February 19, 2012 are reflections of unwise local maneuvers, petty tactical gamesmanship and matrimonial political struggles hiding under maternal sentiments and some grandiose Nri claims over Nnewi.
Igwe Nwankwo is the current traditional ruler of Nawfia, the home town of Emeka Jnr's mother, Njideka, daughter of a previously prominent Nawfia man, Chief C.T Onyekwelu.
Second, it is not surprising that the hurried award of Ikemba II to Emeka Ojukwu Jnr has set off what will be a long-drawn uncivil war of sorts, within the immediate family and among the Ikemba faithfuls. In short order, the three issues are: the timing of the chieftaincy, the title and the issuing chieftaincy authority for the title.
Pointedly, many Igbo activists and leaders of various interest groups consider the award of the Ikemba II title a derogation to the memory of the brave, late Ojukwu.
Third, for valuable context, on what, in part, it means to be the Ikemba, here are the words of The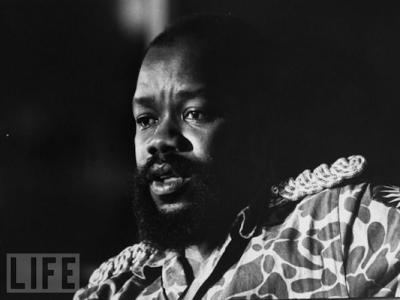 Ikemba, himself: "For you (the Igbo and eastern Nigerians), I abandoned all ease and embraced pain. For you, I impoverished myself to buy your protection. For you, I walked every battlefront to assure your welfare. For you I stood when every other person crouched. For you, I endured 13 years of bitter exile. For you, I endured 10 months of maximum security prison. For you, I embraced priestly poverty. For you, I continue to struggle…What I have said is not harsh, it is only the naked truth and it reflects only the intensity of the love I habour for my people."
I believe you have to be the Ikemba to be the Ikemba.
To be sure, any one can take any title. But I know that the Igbo nation, the Igbo tradition and almost every culture make no room for inherited warrior-hood; you can only earn the title of lion killer!
Fourth, Igwe Nwankwo claims, contrary to the facts and living witnesses, that ''the Ikemba title did not come from Nnewi; it came from Nri  kingdom and we are restoring it; and, since Ojukwu Jnr's mother is from here (Nawfia – a part of the Nri kingdom), we have chosen to honour him (Emeka Ojukwu Jnr) with the title." It came from Nnewi; not Nri. I do know that the Ikemba title was given to the People's General by his Nnewi community as a measure of respect for his bravery and leadership in war and peace. I was, at the time, a very young staff of the electronic news gathering (E.N.G) team of the Nigerian Television channel 6.
Fifth, I think that the imperial arrogations and condescending tone of Igwe Nwankwo over Nnewi, Nnewi's chieftaincies and authority constitute a risky overreach of tradition, privilege and slap on commonsense. He undercuts Nnewi as a community deserving of their own independent royalty/chieftaincies.
I believe that the ahisotrical and illogical public square dance by Igwe Nwankwo whereby he stomps, giddily, on the scrotal sacks of Nnewi leaders and royalty is unbecoming of an Igbo king; any king! He continues to kick the Nnewi collective dignity by continuing the untidy argument that he is right to deny the Nnewi people of their basic Igbo canon and privilege of naming titles after their own sons and daughters, in respect of their own town, for example: Ikemba Nnewi, Okosisi Nnewi, Ikenga Nnewi, Oduma Nnewi….
Sixth, without mincing words, Igwe Nwankwo and those who encouraged and gave Emeka Ojukwu Jnr the unwieldy title of 'Ikemba II' have failed the Igbo nation, under the present circumstances of the Ikemba's body still in a land foreign to his ancestors and the Igbo nation.
Recall that it is the same concern millions among the Igbo and million of other Nigerians felt that Nigeria's President Goodluck Jonathan should have showed more sensitivity and discretion by telling him, bluntly, he was lacking in discretion to announce his nomination of the late Ikemba's loving wife Bianca for an ambassadorial position a few days following the death of the great Ikemba in London on November 26, 2011; and before burial plans or burial was to occur. I believe Jonathan's presidency made the announcement on December 2, 2011. To be sure, Bianca deserves many professional appointments; she's qualified.
Let's get back to the chieftaincy title palaver, and my seventh point.
If the "Ikemba Nnewi" title came from Nri kingdom which Nwankwo claims "authorized" the Nnewi people to use the name of their own home town Nnewi to come up with "Ikemba Nnewi", please permit me to say this, in the best possible polite manner, that:
I, Chidozie Nwangwu, have been to Nnewi several times, I have been to Nawfia and several parts of the Nri kingdom, including a memorable 1988 exclusive interview with a prominent Nri king, the Igwe Enugwu Ukwu Osita Agwuna, in his abode (at the direction of the late former President of Nigeria's Senate Dr. Chuba Okadigbo), No One ever told me that the resourceful, boisterous and enterprising people and royalty of Nnewi, umu Anaedo, as embodied and led by Igwe Orizu III, are colonial outposts and footstools of any of their neighboring Nri chieftaincies and kingdoms, especially Nawfia.
What do I know?
Did I just hear the now humbled and subdued Nnewi colonial citizens of Nri kingdom grind out their deep, loaded words: ehiemewolu….
Sorry, for the land of The Ikemba; the home of Odumegwu….
Eighth, I do know, however, that the triple challenges of tradition, culture and common sense have combined to become a thorny burden on the neck of one of the legendary Ojukwu's sons, Emeka Ojukwu Jr. Fact is, he remains a young man who is yet to cut his teeth on the frontlines of Igbo struggles, Igbo enterprise, Igbo distinctions and specifically on any of the key defining issues of the younger generation, his generation, my generation.
Hence, the prominent pan-Igbo group which the late Ikemba Ojukwu signally inspired, MASSOB, harshly stated on Tuesday February 21, 2012, that "Ojukwu Jnr took the traditional title of Ikemba II with utmost disregard and disrespect to Igbo tradition and culture. The Ikemba II title conferred on Ojukwu Jnr by Igwe Chijioke Nwankwo (of Nawfia) is unacceptable to MASSOB and Ndigbo in general…. The Ikemba Nnewi title bestowed on the late Dim Chukwuemeka Odumegwu Ojukwu was a mark of respect and honour to him by the Igwe Nnewi. It was a result of his outstanding and eloquent performances…. Igbo leadership is not hereditary. Even if it is, Ojukwu Jnr is not the first son."
As a communications specialist, I know the chieftaincy title awarders/givers in Nawfia/Nri cannot un-ring the bell. Unfortunately, their actions and its consequences will remain an embarrassing disservice to the courageous Odumegwu Ojukwu heritage, to the Nri kingdom, Igbo tradition and a bigger blight on the Nawfia chieftaincy institution. I'm personally concerned — especially — for the fact that Ikemba Odumegwu Ojukwu whom I interviewed 3 times (in his Villaska Lodge residence and here in Houston) is one of my eternal heroes. He lived a life of definable consequence and rose to history's challenge; no matter his failings. I spoke to the trans-generational meaning and legacy of Odumegwu Ojukwu at the memorial in his honor on February 2, 2012– at the invitation of the Igbo community in Dallas, Texas. He deserves more respect than the searing shenanigan and games being played by the awarders of the Ikemba II title.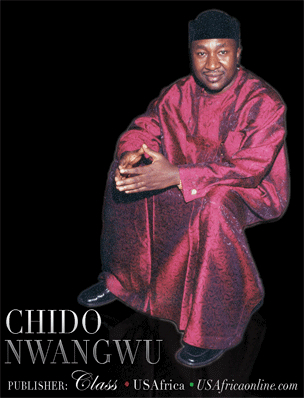 Equally risky, is what I consider an untimely, needless, personal burden and, without a doubt, an increasingly explosive situation for young Emeka Ojukwu Jnr (whom I chatted with about his late father in December 2011). If he does not properly handle and defuse this hot issue, this Ikemba II title tangle and bungle will follow him like his shadow. If sorted well, he could gain less trouble; otherwise, it seems more like a title that will only yield heavy, episodic rain of arrows and thunder.
Long Live The Ikemba!
•Dr. Chido Nwangwu, Founder & Publisher of USAfrica multimedia networks, first African-owned, U.S-based newspaper published on the internet USAfricaonline.com; and recipient of several journalism and public policy awards, was recently profiled by the CNN International for his pioneering works on multimedia/news/public policy projects for Africans and Americans. http://edition.cnn.com/video/#/video/international/2010/07/29/mpa.african.media.bk.a.cnn. He traveled with and covered U.S. President Clinton's visit to parts of Africa March-April 2, 1998. He's writing a book on recent African immigrant experiences in America.
• For seasoned insights and breaking news on these issues, log on to USAfricaonline.com and USAfrica powered e-groups including Nigeria360 at yahoogroups and USAfrica at googlegroups. Follow us at Facebook.com/USAfricaChido and Twitter.com/Chido247
News: At Ojukwu memorial in Dallas Texas, USAfrica's Chido Nwangwu challenges the Igbo nation to say never again like Jews.
Nigeria's Federal Republic of Insecurity. By Chido Nwangwu, Publisher of USAfrica, USAfricaonline.com and the Nigeria360 e-group. https://usafricaonline.com/2011/12/17/nigeria-federal-republic-of-insecurity-by-chido-nwangwu/ : IF any of the Nigerian President's 100 advisers has the polite courage for the extraordinary task of reminding His Excellency of his foremost, sworn, constitutional obligation to the national interest about security and safety of Nigerians and all who sojourn in Nigeria, please whisper clearly to Mr. President that I said, respectfully: Nigerians, at home and abroad, are still concerned and afraid for living in what I call Nigeria's Federal Republic of Insecurity. FULL text of commentary at USAfricaonline.com https://usafricaonline.com/2011/12/17/nigeria-federal-republic-of-insecurity-by-chido-nwangwu/
Related insight: USAfrica's October 17, 2001 special report/alert: Nigeria's bin-Laden cheerleaders could ignite religious war, destabilize Africa. By USAfrica's Publisher Chido Nwangwu. https://usafricaonline.com/chido.binladennigeria.html
http://www.google.com/search?client=safari&rls=en&q=USAfrica+Chido+Nwangwu+al-qaeda+terrrorism+nigeria&ie=UTF-8&oe=UTF-8
https://usafricaonline.com/tag/al-qaeda/
310 killed by Nigeria's 'talibans' in Bauchi, Yobe n Maiduguri; crises escalate. USAfricaonline.com  on  July 28, 2009. www.usafricaonline.com/chido.ngrtalibans09.html
http://www.groundreport.com/World/310-killed-by-Nigerias-talibans-in-Bauchi-Yobe-n-M/2904584
Related and prior reporting on the Jos crises on USAfrica, click here: https://usafricaonline.com/2011/08/16/10-killed-in-renewed-violence-near-jos/
News archives related to Jos, here https://usafricaonline.com/?s=jos
USAfrica: As Egypt's corrupter-in-chief Mubarak slides into history's dustbin.  By Chido Nwangwu. https://usafricaonline.com/2011/01/30/chido-nwangwu-as-egypt-corrupter-in-chief-mubarak-slides-into-historys-dustbin-egyptians-not-waiting-for-obama-and-united-nations/
Tunisia, Egypt . . . Is Nigeria next? By Prof. Rosaire Ifedi           https://usafricaonline.com/2011/02/13/tunisia-egypt-is-nigeria-next-by-prof-rosaire-ifedi/
For racist Soccer actions, Liverpool's player Suarez should be suspended.  By Chido Nwangwu. Follow us at Facebook.com/USAfricaChido and Twitter.com/Chido247