Nigeria's Labour Party (LP) Presidential candidate, Peter Obi, Abia State Governor, Alex Otti and its National Chairman, Julius Abure, attended and campaigned in Owerri, Imo State for the party's governorship campaign candidate, Sen. Athan Achonu.It marked the flag off of the campaign. The leaders promised that a Labour Party government will give the people of Imo State better opportunities for development, security and peace.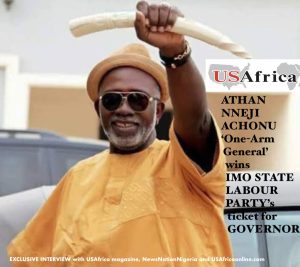 USAfrica politics index shows that Chief Achonu recently addressed a major group  of Imo indigenes residing in Lagos, "The Concerned Imo Influencers", and made a passionate plea in his quest to lead Imo State: "Let us join the movement to take back Imo from inept administrators that had run the state aground, by returning home en masse to vote in the November 11, 2023 election…. The primary function of the government is to protect lives and property of the people, unfortunately, this is non-existent in Imo State. Imo State has become the most insecure place on the face of the planet now, comparable only to Somalia and Afghanistan."
Sen. Achonu told USAfricaTV that he is a strong advocate with peactical records of empowerment for the youths and the needy in Imo State and beyond.
---
USAfrica: Beyond cancer, this blessed man named Pat Utomi. By Chido Nwangwu