USAfrica: Nigeria's LOOTERS LIST and Buhari's selective corruption targets. By Majeed Dahiru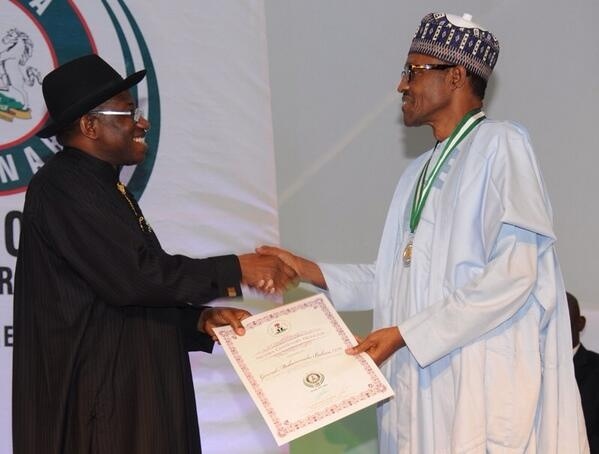 PDP vs APC Looters List and Buhari's selective corruption targets
By Majeed Dahiru
Special to USAfrica {Houston] • USAfricaonline.com • @USAfricaLive
Timipriye Silva, a former governor and PDP chieftain, who became a founding member and financier of APC, had his corruption charges quashed by a federal high court and Buhari's Economic and Financial Crimes Commission (EFCC) failed to appeal the N19.5 billion fraud case.

More curious are the missing names of some accused looters with marital ties to Nigeria's First and Second families. Gimba Yau Kumo, the PDP appointed former managing director of the Federal Mortgage Bank and now son-in-law of President Buhari, who was similarly accused of fraudulent activities amounting to about N3 billion and reportedly being investigated by EFCC, is missing from [Buhari's Information Minister] Lai Mohammed's list.

For a party that has been accused of destroying Nigeria by squandering accrued oil revenues estimated at over $500 billion in sixteen years, it is confounding that Lai's list is not only exclusively comprised of PDP looters but also captures the last two years of PDP's last lap in power and included just Goodluck Jonathan's associates, who supported him against candidate Buhari, while also relating only to funds used in the last electioneering campaign of the PDP.
Whenever the obviously abysmal performance of the Muhammadu Buhari administration appears to be gaining sustained attention, and leading to murmuring within the rank and file of his supporters, a tale of humungous looting by opposition elements is usually spun and thrown into the public space to distract people away from the core issue of the failure of governance.
Like a fit of deja vu, the recently unveiled list of looters by Lai Mohammed, a fellow who comes across as more of President Muhammadu Buhari's chief propagandist than a minister of the federal republic of Nigeria in charge of information and culture, didn't come as a surprise. The list is all too familiar as the unveiling was a summarised rehash of politically exposed individuals who are members of the opposition party, close associates of former President Goodluck Jonathan, particularly his appointees in government, who have been named and shamed several times in well-coordinated media trials.
First on Lai's list is Uche Secondus, the chairman of the opposition Peoples Democratic Party (PDP). Lai had this to say of Secondus: "On the 19th of February 2015, he took N200 million only from the office of the NSA". An unidentified former financial secretary of the PDP was similarly accused of "taking" N600 million from the same office of the National Security Adviser. Lai Mohammed also re-revealed that frontline member of PDP and media mogul, who deployed his media power to promote Goodluck Jonathan by de-marketing the Buhari candidacy in the run up to 2015 presidential election, Raymond Dokpesi, is on trial for "taking" N2.1 billion from the office of the then NSA. Lai also reminded Nigerians that his shouting match and former spokesman of the PDP, Olisa Metuh is on trial for "collecting" N1.4 billion from the same office of the NSA.
Lai Mohammed's expanded follow up list included the usual suspects – former ministers, PDP state governors, service chiefs, presidential aides, associates and family members of former President Goodluck Jonathan, who were collectively accused of looting Nigeria of close to $2.1 billion through the office of the former NSA, Col. Sambo Dasuki (rtd.).
The choice of words like "took" and "collected" deployed by Lai to describe the manner in which those named received these monies was deliberate for the maximum effect of propaganda, portraying the accused persons as looters who broke into NSA vault and catered away boxes of cash at something akin to a gun point.
While the clamp down on PDP looters who supported Goodluck Jonathan and are still members of the former ruling party has been heavy handed, others who decamped from PDP to the All Progressives Congress (APC) on the eve of the 2015 elections and supported candidate Buhari's campaign with their share of loot have been forgiven. For example, former NSA, Sambo Dasuki is being treated as an apostate for his role in the disbursement of funds that were used to oil Goodluck Jonathan's electioneering effort. He has been kept in detention illegally and in defiance of several judicial rulings. Judging by the Buhari administration's anti-corruption standard of an accusation being tantamount to guilt, in clear contempt of court proceedings by the resort to the naming and shaming suspects even before investigations and criminal prosecution are concluded and convictions obtained, it becomes curious that Lai's list didn't reveal any new name. Rather some names were either missing or omitted from what is a familiar list. This appears so because the bulk of PDP bigwigs who "destroyed" Nigeria in sixteen years of national rule are firmly in control of the APC, from its elected national executives to the National Assembly and appointed members of the federal executive council. The majority of APC-elected governors were also former members of the PDP. Even recently decamped PDP members to APC, such as Musiliu Obanikoro and Sulivan Chime, who have been prominently named and shamed in the recent past, were conspicuously missing from the released list of looters.
More curious are the missing names of some accused looters with marital ties to the first and second families. Gimba Yau Kumo, a former PDP appointed managing director of the Federal Mortgage Bank and now son-in-law of President Buhari, who was similarly accused of fraudulent activities amounting to about N3 billion and reportedly being investigated by EFCC, is missing from Lai's list. Also missing on that list is Bola Shagaya.
Arguably one of Africa's richest women, with a reputation for close business and political ties to all first families in the past two decades, Bola Shagaya was exceptionally close to the Goodluck Jonathan family. Often described as a bosom friend of former first lady Patience Jonathan, she has been accused, in numerous instances, allegedly, of acting as Patience Jonathan's front for the laundering of illicit money estimated at over N13 billion, while engaging in other fraudulent activities involved in state capture. All that may be in the past now as she has found her way back to reckoning with the marriage of her son, Seun Bakare to Damilola, the daughter of Vice President Yemi Osinbanjo. Little wonder then, Bola Shagaya's name is not on Lai's looters list.
In a clear display of the arrogance of ignorance, the Buhari administration has narrowed its war on corruption to the hounding of members of the Jonathan administration, other individuals and organisations that were known to have worked against the emergence of the President [Buhari] in the 2015 presidential elections. This is clearly evident in the selective nature of the current anti-corruption effort.
The tone of generalisation of the PDP as the problem of Nigeria, as an indicator of corruption, should make all members of PDP (both former and present) and their collaborators in other parties guilty, hence qualifying them for naming and shaming, while being liable for criminal prosecution.
Therefore, Buhari's list of looters is devoid of integrity, because his selective war on corruption is indicative of corruption in itself. All that is required of a former PDP looter is to get baptised into APC and profess Buhari as the saviour of Nigeria. This is precisely responsible for the failure and ineffectiveness of the war on corruption. Nothing has changed as the current APC looters continue to loot Nigeria, while the redeemed former PDP looters continue to enjoy their loot in hibernation under the abundant grace of the infallible Buhari.
• Dahiru is based in Abuja 
World SOCCER SHOWDOWN: South Africa backs Morocco; U.S under pressure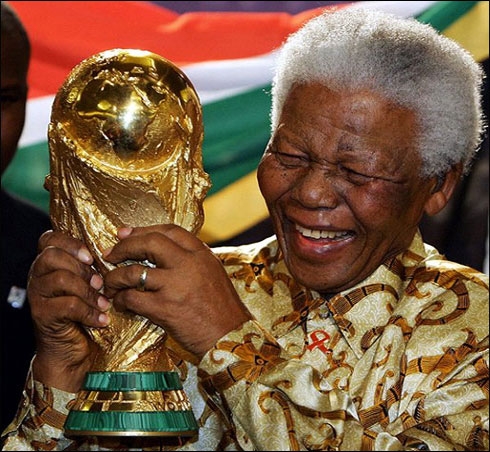 Special to USAfrica [Houston]  • USAfricaonline.com  •  @Chido247  @USAfricalive
"It is an old myth that Africa doesn't have the capacity, and naysayers should stop using the political argument. Africa hosted the best Fifa World Cup ever and with good support, Morocco can emulate South Africa," said the SAFA president Jordaan.
Johannesburg – South Africa Football Association (SAFA) president Danny Jordaan has promised Morocco that South Africa will give its unqualified support to secure another World Cup on the African continent in 2026.
Morocco is vying to stage the world's biggest football prize against a joint bid by Canada, Mexico and the U.S.
The Moroccan delegation comprises ex-Senegal and Liverpool striker El Hadji Diouf and former Cameroonian goalkeeper Joseph-Antoine Bell.
Jordaan said it would be great for Africa to have a second bite of the World Cup cherry, adding Morocco's bid was Africa's bid.
Jordaan assured Morocco that he would personally lobby for the Council for Southern Africa Football Associations (Cosafa) and the rest of the continent to rally behind the Moroccans.
In his remarks, Antoine Bell said Morocco had all the ingredients to host another spectacular World Cup.
"South Africa showed the way and I am confident Morocco will follow suit. The country has international standards, from the stadiums to top infrastructure. Morocco can compete with the best in the world," he said.
By giving Morocco its support, South Africa's voice would make all the difference on the continent, Bell said.
"When South Africa talks on the continent, the rest of the continent listens hence it is vital for South Africa to support Morocco. South Africa has the experience and Morocco will use this experience to win the 2016 bid," added Bell. African News Agency
USAfrica: Catholic priest Etienne killed by militia in DR Congo, after a wedding mass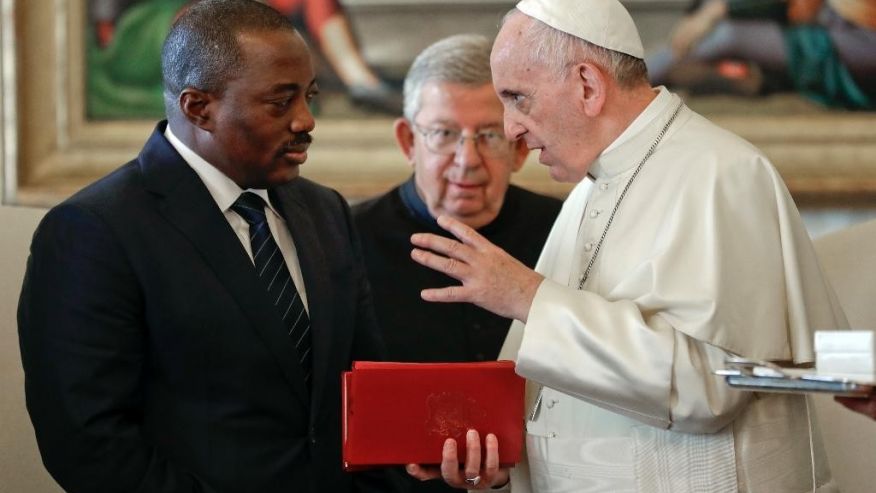 Special to USAfrica [Houston]  •  @USAfricaLIVE
Goma – A Catholic priest was found shot dead hours after he said mass in Democratic Republic of Congo's restive North Kivu province, a member of the church told AFP.
"Father Etienne Sengiyumva was killed [on] Sunday by the Mai Mai Nyatura (militia) in Kyahemba where he had just celebrated a mass including a baptism and a wedding," father Gonzague Nzabanita, head of the Goma diocese where the incident occurred, told AFP.
The Mai Mai Nyatura are an armed group operating in North Kivu, in eastern DRC.
Nzabanita said Sengiyumva, 38, had had lunch with local faithful before "we found him shot in the head".
North and South Kivu provinces are in the grip of a wave of violence among militia groups, which often extort money from civilians or fight each other for control of mineral resources.
Last week unknown assailants kidnapped a Catholic priest in North Kivu, demanding $500 000 for his release.
Eastern DRC has been torn apart by more than 20 years of armed conflict, fuelled by ethnic and land disputes, competition for control of the region's mineral resources, and rivalry between regional powers.
USAfrica: Mandelas say Winnie sacrificed her life for the freedom of South Africa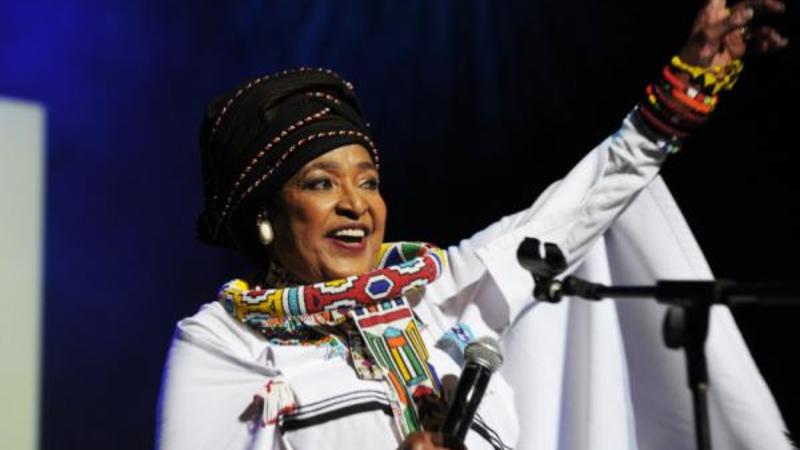 WINNIE MANDELA, the anti-apartheid activist and former wife of Nelson Mandela, died a few hours ago, today April 2, 2018 — following a long illness especially an infection of her kidney. She was 81 years old.
The following is the full text of the statement by the Mandela family on the death on Monday April 2, 2018 of Winnie Mandela.
Special to USAfrica [Houston] • USAfricaonline.com • @Chido247 •  @USAfricaLive
It is with profound sadness that we inform the public that Mrs Winnie Madikizela-Mandela passed away at the Netcare Milpark Hospital' Johannesburg' South Africa, on Monday April 2 2018.
She died after a long illness' for which she had been in and out of hospital since the start of the year. She succumbed peacefully in the early hours of Monday afternoon surrounded by her family and loved ones.
Mrs. Madikizela-Mandela was one of the greatest icons of the struggle against apartheid. She fought valiantly against the apartheid state and sacrificed her life for the freedom of the country. Her activism and resistance to apartheid landed her in jail on numerous occasions' eventually causing her banishment to the small town of Brandfort in the then Orange Free State.

She kept the memory of her imprisoned husband Nelson Mandela alive during his years on Robben Island and helped give the struggle for justice in South Africa one its most recognisable faces. She dedicated most of her adult life to the cause of the people and for this was known far and wide as the Mother of the Nation.

The Mandela family are deeply grateful for the gift of her life and even as our hearts break at her passing' we urge all those who loved her to celebrate this most remarkable woman.
The family will release details of the memorial and funeral services once these have been finalised.
WHY I CELEBRATE THE LIFE AND WORKS OF NELSON MANDELA. By Chido Nwangwu  http://usafricaonline.com/2010/07/15/mandela-why-i-celebrate-his-life-works-by-chido-nwangwu/
and friendship hold lessons for humanity and Africans, the author Chido Nwangwu takes a measure of their works and consequence to write that Mandela and Achebe have left "footprints of greatness."
He chronicles, movingly, his 1998 reporting from the Robben Island jail room in South Africa where Mandela was held for decades through his 20 years of being close to Achebe. He moderated the 2012 Achebe Colloquium at Brown University in Providence, Rhode Island."I'll forever remember having walked inside and peeped through that historic Mandela jail cell (where he was held for most of his 27 years in unjust imprisonment) at the dreaded Robben Island, on March 27, 1998, alongside then Editor-in-chief of TIME magazine and later news chief executive of the CNN, Walter Isaacson (and others) when President Bill Clinton made his first official trip to South Africa and came to Robben Island. Come to this island of scourge and you will understand, in part, the simple greatness and towering grace of Nelson Mandela", notes  Chido Nwangwu, award-winning writer, multimedia specialist and founder of USAfricaonline.com, the first African-owned U.S-based newspaper published on the internet, in his first book; he writes movingly from his 1998 reporting from South Africa on Mandela. http://www.mandelaachebechido.com/