USAfrica: Obiano's 2nd term in Anambra offers hope in governance. By C. Don Adinuba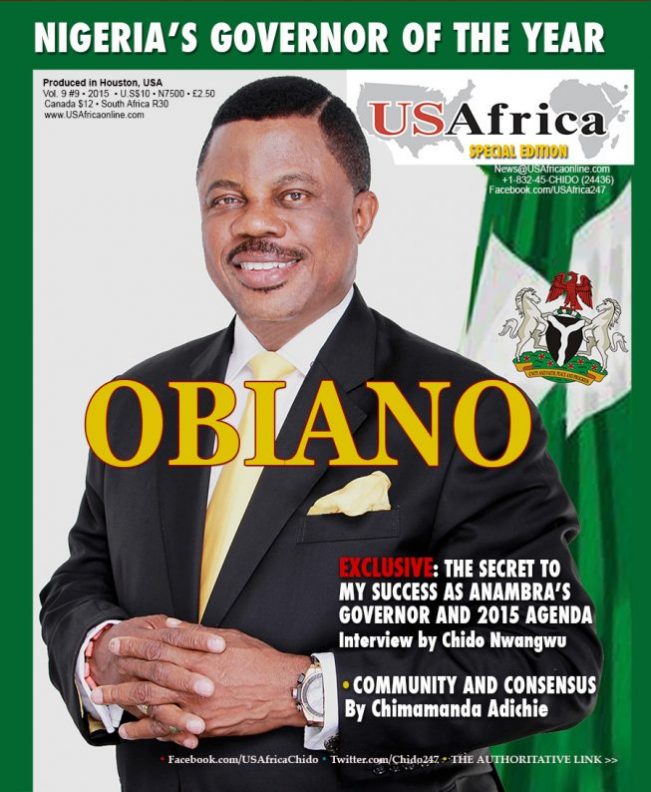 Obiano's 2nd term in Anambra offers hope in governance
By C. Don Adinuba
Special to USAfrica [Houston]  @USAfricaLive
Since the relationship school, closely associated with Peter Drucker, made a robust comeback in the 1990s among leadership and management researchers, top management schools around the world have displayed a greater interest in the role of passion in the success of organizations.
The resource-based view (RBV) in strategic human resource management argues that a fundamental difference between high achieving organizations and average ones is the passion difference. While ordinary firms are run by people who work without passion, super performing organizations have members who go far beyond the call of duty to deliver the goods.
Two expressions which are closely associated with passion by organizational members are deliberate practice and stretch. By deliberate practice, applied psychologists refer to the fact that people who put in greater effort than most of their competitors. Stretch in management science is a term first used in 1990 by General Electric under Jack Welch to refer to a task that seemed initially impossible but eventually got done.
Passion is extremely important in political leadership, too, especially in crisis situations and transformation of societies. Passion, sometimes referred to as commitment, is the heart of nationalism. One of the critical success factors for the phenomenal transformation of South Korea, Singapore, Taiwan, Hong Kong and other southeastern societies is the passion of the people and their leaders. Nationalism is now regarded as one of the core Asian values. We all saw how everyday people in South Korea brought out highly cherished personal assets like trinkets and sold and gave the proceeds to the government to enable it to weather the storm when their country's economy went into a tailspin in the late 1990s. Western scholars, who used to mock the Asian countries for their acute nationalism, have since acknowledged that nationalism was a key factor in the quick recovery of Asian nations and territories from the profound currency crisis. That Biafra survived for a whole 30months during the Nigerian civil war of 1967 to 1970, despite all the great odds, owed to the passion of the people.
The first thing which struck new members of the Willie Obiano administration in Anambra State as they assumed office on Monday, March 25, was passion writ large. In fact, the passion thing had become manifest three days earlier, on the first day of the two-day retreat to prepare the members for the task ahead. The governor arrived at the retreat when most of the commissioners, special advisers, permanent secretaries and heads of the agencies were still eating. Because he uses no siren, the governor took most people by surprise. On the second day, he also arrived ahead of the time.
Obiano sat through the two-day retreat, taking notes, contributing to every discussion on the scintillating presentations by Chukwuma Soludo, ex Central Bank of Nigeria governor; Osita Ogbu, an economics professor and director of Development Studies at the University of Nigeria, Enugu Campus, who is a former chief economic adviser to the president and chairman of the National Planning Commission; Ibrahim Magu, head of the Economic and Financial Crimes Commission; Daniel Okafor, a director of the Code of Conduct Bureau; Bismarck Rewane, the chief executive of Financial Derivates, a Lagos-based consulting firm; Macaulay Atasie of Nextzon, also in Lagos; Twinkle Oruware, an engineer and management consultant in Ibadan, Oyo State; Collins Onuegbu, a software consultant; and Fela Durotoye, an exceptional motivational speaker . Each presenter provided sufficient food for thought.
Passion was also at display on the day the new appointees were inaugurated. Just before the inauguration, a short ceremony was conducted for those who worked with Obiano in his first term. John Emeka, the Anambra State deputy governor from 1999 to 2003 who was to serve under Obiano as Commissioner for Science and Technology, delivered a soul-stirring speech which was apparently spontaneous. Far from showing bitterness for not being reappointed like most departing members of the council, Emeka told Obiano: "I will cherish participating in your government every day of my life. People of Anambra are very proud of you. This is why they voted for you overwhelmingly in the last November 18 governorship election". Turning to the new members of the council, the ex deputy governor said: "You must prove your mettle from Day One. He is accessible and amenable. He wants you to disagree with him because he knows you are no robots; he likes good, healthy debates". Like other members of the outgoing council, Emeka received a certificate of merit, a lapel pin of the state and all his entitlements right there.
The inauguration was followed immediately by the first Executive Council meeting which the governor led, and he spoke for about four hours on various topics without leaving his seat for a second and without notes. He remembered the minutest detail of discussions held at the last Exco meeting on March 5.Throughout the long hours the first Exco meeting lasted, he left no one in doubt that he genuinely believes in his mantra of "achieving more with less".
The governor was passionate during his meeting with the board of the Anambra Broadcasting Service (ABS) two days later. Having built the most technologically advanced radio and television stations in Africa, he demanded that the TV channel go digital in less than three months and that it do 24-hour broadcasting which has to be available on DSTV, the popular pay channel operated by Multichoice of South Africa. Expressing disgust at the quality of buildings at the ABS, he said work would soon begin on the construction of tall and elegant buildings there. Turning to me, he declared: "We must learn how to use our land resource very efficiently, since the state is the smallest in the country in terms of land mass, after Lagos. Even so, erosion has reduced our land mass considerably. See how Singapore, Israel, Hong Kong and Taiwan use their limited lands to create wonders".
The meeting with the ABS board had hardly ended when he entered the weekly Security Council meeting where he dominated the environment. Members of the council include not just the state police commissioner, the DSS director in the state, the Civil Defence and security Corps commander, the army and naval commanders in the state, the Commissioner for Information and Public Enlightenment, the governor's special adviser on security, his special assistant on security and head of the state vigilante who is a respected retired police commissioner, but also heads of the Customs Service, the Immigration Service, the Prison Service, and the Federal Road Safety Corps.
Obiano invites some other people to participate in the security council meetings depending on the issues for deliberations; this time a representative of the traders unions attended because of some market issues. The governor takes security so seriously that he counts the number of road blocks by security agents and the number of soldiers and policemen manning each at any point. He even noticed that some sandbags used by the police in remote riverine communities sharing border with Kogi State were torn and ordered their replacement.
The next day, he ran straight from Onitsha where he was attending the Maundy Thursday mass in Onitsha, as part of the Christian Holy Week of Easter, and headed straight to the Alex Ekwueme Square in Awka where he handed over 40 vehicles from the Innoson Vehicles Manufacturing firm in Nnewi to security agencies. He promised an additional "100 made in Anambra vehicles soon to the agencies to ensure our state remains the most peaceful in West Africa". Val Ntomchukwu, the Deputy Inspector General of Police who represented IGP Abubakar Idris on the occasion, said: "Other states should emulate Anambra which has become the country's safest state. The governor means every word he utters".
I have never seen the Anambra people so optimistic of their state as they have been in the last few months. Having been in office for just two weeks, I now have a better understanding of why Chukwuma Soludo, Bart Nnaji, Victor Umeh, Chris Okoye, Okey Ndibe and even Emeka Anyaoku and the Obi of Onitsha encouraged me to go to Anambra State and make my contribution to the development of the state, after my initial hesitance. Babatunde Fashola, the Minister of Power, Works and Housing, calm , cool and very measured as ever, spoke about Obiano the way I have never heard him praise any governor. Anambra State provides a glimmer of hope for Nigeria.
Adinuba is Commissioner for Information and Public Enlightenment, Anambra State.
USAfrica: Fani-Kayode tells Buhari to "step down" like Nigeria's Finance Minister Adeosun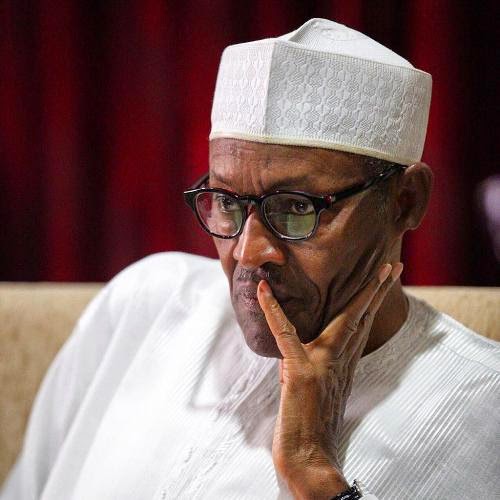 Special to USAfrica [Houston] and USAfricaonline.com @Chido247
Femi Fani-Kayode, one of the prolific critics of Nigeria's President retired Gen. Mohammadu Buhari has called on Buhari to emulate his Finance Minister Kemi Adeosun who resigned two days ago over national youth service misrepresentations.

"I was one of her harshest critics but the fact that she has stepped down impresses me. How I wish that Buhari himself would take a cue from her and step down as well." Fani-Kayode, former Aviation Minister commended Adeosun "for courageously treading the path of honor by resigning."
Buhari has also faced criticism for his factually lopsided appointments especially against the south eastern Igbo who.form at least 1/5th of Nigeria's population.
Aretha Franklin's melodious voice, dignity and clarity were triple drivers of her artistic excellence. By Chido Nwangwu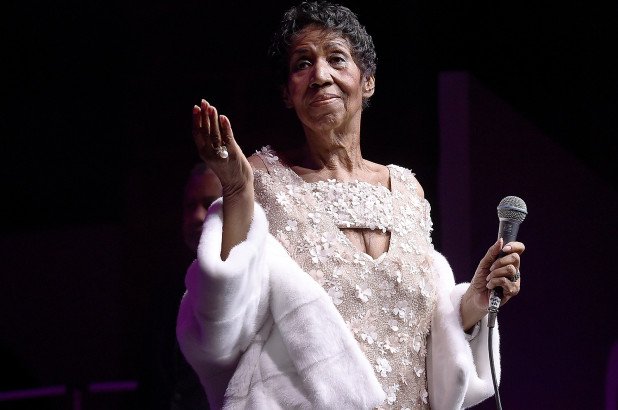 @Chido247
I believe that Aretha Franklin's melodious voice, dignity and clarity were triple drivers which continue to make her artistic excellence a trans-generational gift to humanity.
Aretha Franklin who made an outstanding entry into both gospel and soul music with the release of her first album in 1956, titled 'Songs of Faith', died today, August 16, 2018, at her home in Detroit. She was 76 years old.

Aretha was born on March 25, 1942, in Memphis, Tennessee.

She is the first woman to be inducted into the Rock & Roll Hall of Fame, and affectionately and deservedly called the Queen of Soul — especially in high regard for songs such as "Respect." She was a part of the U.S civil rights movement.

I believe that Aretha Franklin's melodious voice, dignity and clarity were triple drivers which continue to make her artistic excellence a trans-generational gift to humanity.
By Chido Nwangwu, Founder & Publisher of USAfrica [Houston], USAfricaonline.com and author of the soon-to-be-released 2018 book titled MLK, MANDELA & ACHEBE: Power, Leadership & Identity
SOYINKA accuses OBASANJO of awarding OIL blocks in return for SEX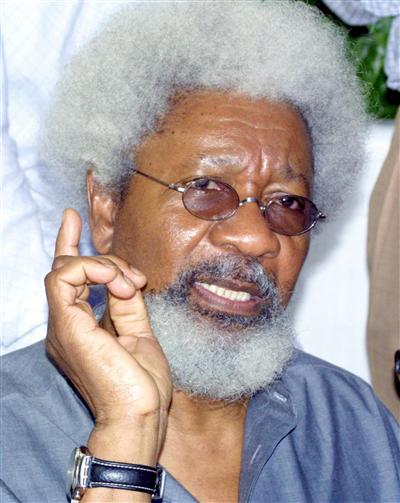 Special to USAfrica [Houston] and USAfricaonline.com
Nobel laureate Prof. Wole Soyinka, calling former President Olusegun Obasanjo, a degenerate, liar, predator and sadist, has challenged him to swear whether he never awarded oil blocks in return for sexual gratification while he presided over the affairs of Nigeria.
Soyinka spoke in his Interventions VIII series, titled: 'Quis Custodiet Ipsos Custodes?' also sub-titled 'Gani's Unfinished Business," launched recently in Lagos, Southwest Nigeria.
He said Obasanjo knows him so well that he does not make accusations lightly and that he despises snide insinuations. "I now challenge you (Obasanjo) to search your soul, very deeply, and swear to this nation that you never awarded oil blocks in return for sexual gratification. I do not make accusations lightly and I despise snide insinuations. I believe you know me well enough. And I am no prude, I am not a hypocrite of sexual desire, nor am I interested in the seamy side of Power. Take your time, think deeply and remember that each day brings you closer and closer to your Maker and the Day of Judgment-going by your own
professions."
Soyinka said sex-for-grades as a solution to that burdensome energy seemed to have become the practice, saying that even when Donald Trump and Bill Clinton were accused of sexual misconduct, no one ever accused Trump of using his nation's assets for a romp on the presidential desk of the oval office and that not even Clinton who nearly lost his office through Monica Lewinsky, was ever accused of passing off any of the White House heirlooms, or influenced contracts in return for sexual favour. "If I denounce you (Obasanjo) as a degenerate in need of help, remember that I do not require fiction. Verifiable truth is solemnly at my disposal. I do not concoct a thousand snipers for a thousand listed enemies of governance-one of the most impudent egregious fantasies ever manufactured by a former ruler, simply to destroy a successor and persuade oneself that one is a maker and breaker of governments," he said. Soyinka also said that during Obasanjo's celebration of the 10th anniversary of his Presidential library, the former president accused him of blocking his ambitions to become the Secretary General of the United Nations.
According to Soyinka, "could someone please stop crediting me with that level of international clout? Of course, I feel totally content and fulfilled with my contribution to that operation to 'save our world' from the clutches of a predator, sadist and liar-convincing evidence of which we provided in our successful diplomatic offensive-but the umbrage should also go to that very Femi Falana and the late Beko Ransome-Kuti, with whom I worked in close collaboration."
Soyinka also said that under Obasanjo's watch, and with proven collaboration, an elected governor was kidnapped, locked in a toilet and held there under duress to force him to sign cheques on the state treasury, saying that "he escaped confinement, thanks to a sympathetic policeman , but the state went up in flames. The state radio and television houses were torched. The House of Assembly and the law courts—my own special preserve-were vandalized. Who did you say was President at that time?" Soyinka made reference to a letter written to Obasanjo by Col. Abubakar Umar, in which the former military governor accused Obasanjo of awarding oil block indiscriminately and illegally. (News Agency of Nigeria and PMNews)