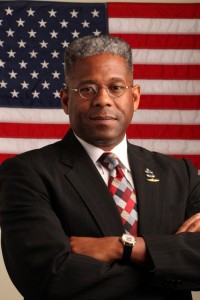 What will Black Republican winners of November 4 election do with power positions?
By Raynard Jackson, USAfricaonline.com and CLASSmagazine columnist.
USAfrica, November 4, 2010: With all the pundits giving their views on the November 4, 2010 Tuesday night's election results, I found very little insightful analysis of what really happened.  So, if you want the traditional election analysis, then go on the internet and read all the conventional analysis.  I want to deal with the election results from a different slant.
Tuesday's elections proved to be historic for the Republican Party.  Two Blacks were elected to the U.S House of Representatives, two Hispanics were elected as governors, and one Indian female was elected governor.  Listening to all the election night coverage, you would have never known that this took place.  This is why diversity within media (at all levels) is critically important.
Tim Scott (45 years of age) was elected to represent the first congressional district of South Carolina.  He is the first Black elected from the South since Reconstruction (the period following the Civil War during the 1860s).  The district runs from Charleston to Myrtle Beach.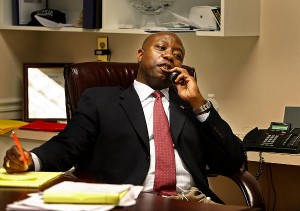 Scott is a member of the Tea Party and was endorsed by Sarah Palin.  In Scott's district, White voters outnumber Blacks three to one.
Allen West, a 49 year old retired Army lieutenant colonel, won Florida's 22nd congressional district.  Like Scott, he is also a Tea Party member and was endorsed by Sarah Palin.  The district is evenly split between Democrats and Republicans and is home to one of the highest concentrations of independent/no party voters in the state. It takes in some of the most affluent communities along the coast in Broward and Palm Beach counties. Obama won the district with 52 percent of the vote in 2008.  The district is over 82% white, with almost 4% Black.
Brian Sandoval is the incoming governor of Nevada.  He was a judge for the U.S. District Court for the District of Nevada before resigning to run for the office of attorney general of Nevada.  He was the first Hispanic to win statewide office in the history of Nevada.  Don't be surprised to see this 47 year old Latino as a candidate for vice president in 2012.
Susana Martinez, 51, is the incoming governor of New Mexico.  She is the first Latina ever elected as governor in the history of the U.S. and the first in New Mexico.  Prior to this office, Martinez was elected as the District Attorney for the 3rd Judicial District of New Mexico.
Nimrata "Nikki" Randhawa Haley, is the newly elected governor of South Carolina.  The 38 year old Haley formerly served in South Carolina legislature.  She is the first person of Indian descent ever elected to a statewide position in the history of the state.
Despite the historic night for these candidates, I will be looking for specific signals coming from Scott and West.  Will either of them hire Blacks for the "power" positions on their staffs?  These positions are:  chief of staff, legislative director, press secretary, or state director.  I don't expect either of them to put a Black in any one of these positions.
Republicans (and especially Black Republicans) always claim to not hire based on race.  Well, if one is so colorblind that one doesn't realize that one has no Blacks in positions of power on their staffs, then maybe they are just blind to people of color.
Now, juxtapose this with Sandoval and Martinez.  I can almost guarantee you that they will have Hispanics in one of the power positions.  It's not about being race conscious, but rather being cognizant that you have the opportunity to open the doors for the next wave of operatives from within your own community.
Whites from both parties always complain about Blacks (and other minorities) don't have the necessary experience for the power positions, yet they rarely give them the opportunity to rise to those positions.  When Blacks get into a position of power, it is incumbent upon us to provide opportunities for those who are underrepresented to get the necessary skill set to ascend to these higher levels of power.  If we don't open the doors to those from within our own communities, then who will?
I have operated at the highest levels of the Republican Party and have yet to see Blacks in power open doors of opportunities to other Blacks in any significant way. I hope I am proven wrong.  To do so would truly be historic!                                                                                                                                                                    Jackson, the Washington Dc-area contributing editor and columnist for Houston-based USAfricaonline.com and CLASSmagazine, is a radio talk show and rated one of the most informative on the American Talkers list.
————
USAfrica and 
USAfricaonline.com
(characterized by The New York Times as the largest and arguably most influential African-owned, U.S-based multimedia networks) established May 1992, our first edition of USAfrica magazine was published August 1993; USAfrica The Newspaper on May 11, 1994; CLASSmagazine on May 2, 2003; 
www.PhotoWorks.TV
in 2005.
——