'The Economist', Buhari's 8 years and Nigeria's next President.
By Chido Nwangwu
On February 25, 2023, millions of Nigerians are expected to go the polls to cast votes for a new President, Buhari's successor. Hopefully, they will vote in the consequential contexts of the seemingly intractable problems for Buhari's 8 years, especially, in the areas of insecurity, jihadists' violence, 'gunmen' attacks, corruption, nepotism, economic hardships, lack of necessary infrastructure, lack of good roads, insignificant electricity/power generation/supply, unemployment, ethnic clashes, religious bigotry and escalating regional schisms.
To be sure, Nigerians know the realistic truths and combustion of their existential realities, embattled and bloodied lives, daily. They know! The President's propagandists cannot spin those, credibly— no matter how hard they try…. They are unable to convince his 2015 jaded supporters in Buhari's home State of Katsina — which has been wracked by assorted attacks and kidnappings and crimes and agonizing brutalities than they ever knew! It's almost the same tales of woes and wickedness across the country!
In its latest news report on Nigeria's February 2023 presidential election, London-based The Economist magazine  has assessed and described the retired General Muhammadu Buhari presidency as "eight dismal years" 
Complaints of insecurity and unemployment are made additionally remarkable by the fact that Buhari's political party All Progressives Congress' Vice-Presidential candidate in the election, Kashim Shettima, concedes that Mr. Buhari has done only "modestly well".
The Economist which endorsed Buhari during the polling when he was first elected in 2015, stated pointedly that "he has floundered on almost every measure. Between 2015 and 2020 the average income per person (adjusted for local purchasing power) slid from $5,400 to $4,900 a year. The share of Nigerians living on less than $1.90 a day, which had fallen from about 43% to 37% in the previous five years, increased to almost 40% in 2019, before covid-19 hit. Violence has spread across the country. Last year jihadists, bandits, and separatists hit at least 550 of the country's 774 local government areas (see map.) More than 3,000 people were kidnapped last year, an almost 30-fold increase on 2016. Many were children."
The colonial era and post-colonial rulers and leaders of Nigeria are very familiar with The Economist, first issued in September 1843.  
Significantly, in December 2021, President Buhari's Senior Special Assistant on Media & Publicity, Garba Shehu, in his rejoinder to a scathing Comment/Editorial of December 12, 2021, titled 'Life has lost its value under Buhari's Nigeria', by the Daily Trust newspaper based in Kaduna, referenced the British international publication, in these words:  
"The Economist magazine in a recent publication wrote about 'The Next Afghanistan', warning the global community of the horrifying security in our neighborhood, citing specifically the states of Mali, Burkina Faso and Niger…."
It was evident a few weeks ago at the White House-sponsored U.S-Africa Leaders Summit in Washington, DC., from December 13-15, 2022. It was attended by U.S President Biden, Nigeria's President Muhammadu Buhari, Democratic Republic of the Congo (DRC) President Félix Tshisekedi and several others. The major, defining headline read: Insecurity, violence in Nigeria obscure Buhari's promises at U.S-Africa Summit.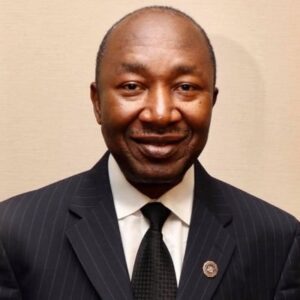 Of course, the world is also aware of the collapsing/collapsed security capacities of the famous "giant of Africa."
Those are drowning any viable, significant and credible legacy claims by Preasident Buhari & Co! Buhari and most of his governance team  have already escalated, exponentially, the number of items and complication of tasks awaiting the next President.
•Dr. Chido Nwangwu, author of the forthcoming 2023 book, MLK, Mandela & Achebe: Power, Leadership and Identity., is Founder of the first African-owned, U.S-based newspaper on the internet, USAfricaonline.com, and established USAfrica in 1992 in Houston, Texas. Follow him @Chido247