USAfrica magazine (Houston) and USAfricaonline.com, the first African-owned, US-based newspaper published on the Internet.
Organ harvesting Sentencing of Ike and Beatrice Ekweremadu set for May 5 in UK
The former deputy president of the Nigerian Senate, Ike Ekweremadu, 60, his wife Beatrice Ekweremadu, 56, and a medical doctor, Obinna Obeta, 51, have been scheduled for sentencing on May 5, 2023, in the United Kingdom. 
Earlier today, March 23, 2023 they were found guilty of exploiting a vulnerable victim for illegal organ harvesting — following the trial at the Old Bailey court.  
They faced trial for conspiring to arrange the travel of a man for the purpose of harvesting his organs. According to court documents and the charges, the harvesting was being arranged to benefit the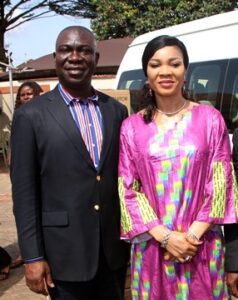 Ekweremadus' daughter, Sonia. Sonia was found not guilty.
A report by the UK Crown Prosecution Service (CPS) stated that: Working together, the Metropolitan Police and CPS found evidence that her parents, Ike and Beatrice Ekeweremadu, conspired with Dr. Obeta to identify individuals in Nigeria whose kidneys might be harvested for Sonia's benefit.
The victim in this case was recruited in Lagos, Nigeria. At the time, he was selling telephone parts in public markets.
In February 2022, the victim was transported to London and was kept under the direction and financial control of the defendants. The conspirators' plan was for the victim to provide a kidney to Sonia Ekweremadu in exchange for the suggested amount of either £2,400 or £7,000 (these two figures were uncovered in the investigation and prosecution case review) and the promise of work in the UK."
 Joanne Jakymec, Chief Crown Prosecutor, said: "This was an horrific plot to exploit a vulnerable victim by trafficking him to the UK for the purpose of transplanting his kidney. The convicted defendants showed utter disregard for the victim's welfare, health and well-being and used their considerable influence to a high degree of control throughout, with the victim having limited understanding of what was really going on here."
Detective Inspector Esther Richardson, from the Met's Modern Slavery and Exploitation Command, said: "This is a landmark conviction and we commend the victim for his bravery in speaking against these offenders…. We do understand the challenges around modern slavery cases as no two investigations are the same. Specialist officers from the Met's Modern Slavery and Exploitation team understand this and we will ensure victims are supported, signposted and safeguarded with the help of partners."
The CPS added that it is "committed to working closely with law enforcement partners to bring those who exploit vulnerable people for modern slavery purposes to justice."
Old Bailey is a criminal court building in central London.
---
U.S presidential, diplomatic heavyweights travel across Africa to enhance strategic influence