Why I'm seeking Lowell's council seat: Ben Opara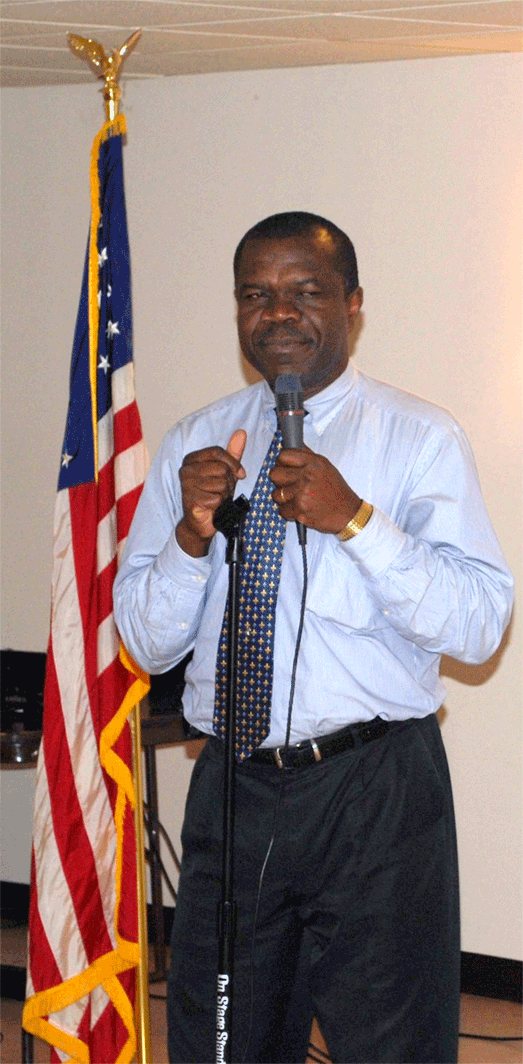 Why I'm seeking Lowell's council seat: Ben Opara campaigns in Massachussetts
USAfricaonline.com and CLASSmagazine's Publisher Chido Nwangwu  interviewed Benjamin Tyndale Opara, an aspirant in 2009 for a seat in the Lowell City Council in Massachussetts. Here are excerpts:
Tell us about Lowell?
Lowell is the northernmost city in the state of Massachusetts. To its immediate border to the north is the state of New Hampshire. It is governed by a slate of nine councilors amongst whom there is a mayor. It is for one of those seats that I am vying.

What will set you apart from your opponents?
I bring a wealth of knowledge and life experience to the table. Our city is a unique city that has seen a lot of challenges and setbacks in recent times. Our council has been plagued by infighting and discord. In such atmosphere, not a lot get done. In several boards that I've had the opportunity to serve on, my colleagues have termed me Mr. Congeniality.
I have a knack for working with people, despite differences, to get things accomplished. Results, results and nothing but results-oriented. Further, besides being the only person of African descent in the race, I will be an excellent representative of all blue-collar workers, irrespective of their ethnicity, gender or immigration generation. I have made it a point that while recognizing who I am, I run no race of color, as we know that term. I know no color outside of green for the environment and blue for blue-collar workers. With almost twenty years of running two businesses in the city, I know first-hand, what challenges small businesses routinely face; make payroll, balance budgets, personnel and human resource issues and still deal with governmental bureaucracy.
What are your key items for leadership for your district?
I have served in various boards in and around the city and the region. I have served in different capacities in these boards including chairman. I was a two-term vestry member in the oldest and most elite church in the city and ended up the canonical head of same church, as its warden.
I was able to guide that parish through what has been described as the toughest time in the life of that parish. That church is presently seen as one of the healthiest in the community and the diocese. I helped found and still sit on the board of the African Cultural Association (ACA) which has organized a world-class African Festival each year for nine years. All cylinders are already firing for next years' tenth anniversary. Cities and towns around the Commonwealth of Massachusetts and beyond have been coming to us to emulate what we have succeeded in doing here. That is the Lowell pride!

Share with USAfricaonline.com and CLASSmagazine readers a brief bio-profile of you….
I was born at the Owerri General Hospital in southeastern Nigeria to Moses and Agnes Opara of Irete, Imo State, I attended Saint Augustine's Grammar School, a parochial high school built and ran by the Anglican Church. Upon graduation in 1977, I worked briefly with the Federal Ministry of Works and Housing before proceeding to the University of Nigeria. In 1985, I graduated with a Bachelor degree in Civil Engineering. I completed a year-long national service under the National Youth Service Corps program before immigrating to the United States.
I worked at American Engineering and Testing in Braintree, MA before moving to Lowell to attend U-Mass Lowell in 1990. Upon completion in 1992, reluctant to move away from Lowell, I started Princeton Ritz Industries. We manufacture a complete array of personal-care products which sell across the country and the globe.
In 1993 I married my lovely wife Valerie (nee Langley) and moved to Dracut. We have been blessed with three lovely children; Ukachukwu 15, Adarema 12 and Chikere 9. Our children have attended and are still attending public schools in Lowell.
In 1998, with a desire to fulfill an entrepreneurial dream and to further contribute to the local economy, we started M & E Beauty Supply on Bridge Street. We run both businesses till date.
I currently live in Pawtucketville section of Lowell, MA.
How is the African community especially supporting you?
The African community has been incredible. The Nigerian Association of Merrimack Valley (NAMV) which I helped form ten years ago is fifty-something-family strong. Our members and the entire African community have been nothing but stellar. Simply incredible! To be able to raise close to eight thousand dollars on the first fundraiser by a first-time candidate, filling the banquet hall to capacity was energizing. What has been  even more gratifying is the support my campaign has received from outside the African and African-American communities. 

Were you inspired by Obama's election to run?
As much as I would like to say that I was inspired by Obama, the thought of running for an elected office has always been there. His race did a lot though, to buttress what I have suspected in the past; that people are indeed more open-minded than they are given credit for.

What are your thoughts on regularizing the immigration status of persons who have been here and paying taxes and raising their families across your constituency and the U.S?
At the local level of politics that I am involved, I have little or no say on such issues as immigration and regularization of peoples' status. Now, having said that, I believe that every legal immigrant deserves the right to the better future that this country promises its citizens, so long as they work hard and play by the rules.

Where do you see Nigeria heading, and your assessment of the leadership since 1960?
I have been out of Nigeria for a while, though I visit occasionally. Now, am I qualified to assess their leadership? Answers will be subjective. I will, albeit, take a bite at it.
Nigeria is a frustrating case, in the sense that one wonders if the leaders have any resolve to truly serve the country. There are two things primarily; do they have the resolve and do they have the talent, the intellectual ability to bring forth meaningful changes? I will score them very low in both.
(Published on USAfricaonline.com on Thursday October 8, 2009)
——
President Obama, hate-mongers and mob cons. By Chido Nwangwu, Publisher of USAfricaonline.com, www.Achebebooks.com, CLASS magazine, The Black Business Journal,  USAfrica.TV, and the largest digital images/pictorial events domain for Africans  abroad www.PhotoWorks.TV
http://usafricaonline.com/president-obama-hate-mongers-and-mob-cons-by-chido-nwangwu/
http://usafricaonline.com/chido.obamavshatemongers09.html
Follow Chido at FaceBook.com/usafrica
and at Twitter.com/chido247
—–
USAfrica and USAfricaonline.com (characterized by The New York
Times as the  most influential African-owned, U.S-based multimedia
networks) established May 1992, our first edition of USAfrica magazine
was published August 1993; USAfrica The Newspaper on May 11, 1994;
CLASSmagazine on May 2, 2003; www.PhotoWorks.TV in 2005
——
Following May 30 successes, will Biafra agitators compel restructuring Nigeria? By Olu Ojewale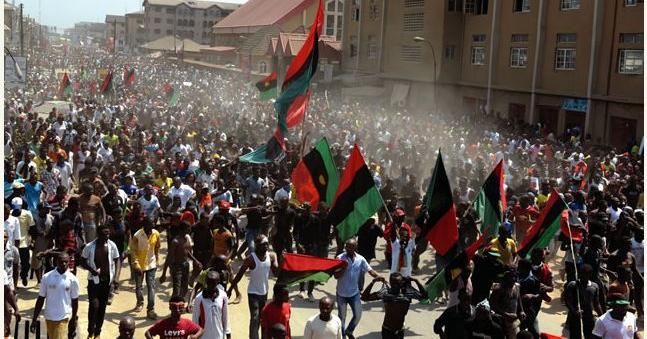 By Olu Ojewale
Special to USAfricaonline.com  • @USAfricaLIVE
[quote font="georgia" bgcolor="#eded9c"]
IT was a day that would be remembered for a long time to come. On Tuesday, May 30, the Ndigbo from different walks of life chose to commemorate the day the agitation for a Biafran state was declared 50 years by the late Chukwuemeka Odumegwu-Ojukwu, a soldier, politician and statesman.
As it happened, Odumegwu-Ojukwu and fellow agitators after fighting in a civil war that lasted for about 31 months, eventually decided to keep Nigeria as one. Although Ojukwu and probably majority of those who shared his Biafran dreams have all passed away, the younger generation of agitators appear unwilling to let them die.
Hence, all the pressure groups that have been formed over the years came together to declare that all the South East indigenes should participate in the stay home protest to commemorate the day. The protest turned out to be a resounding success as many as 75 countries all over the world participated in the protest. It is now common knowledge that activities, business, social and all others were paralysed in the whole of South East that day. Mercifully, there were no reports of bad incidents throughout the period the protest lasted.
[/quote]
That notwithstanding, the message to the federal government, albeit the political class, was unambiguous: Nigeria needs to change it attitudes to the Igbo nation or give it a country of its own. But it appears that the Ndigbo would need more than such agitation to change the current configuration of the country to suit every segment of the country.
In the past 50 years there appears to be an unending agitation for the realisation of Biafra dream as envisioned by Odumegwu-Ojukwu when he led the region in a civil war in which more than three million people were killed. Since then, the same old issue of marginalisation of the Ndigbo has almost been turned into a sing-song, no matter which government was or in power.
Articulating those issues recently, many Igbo extractions said when the civil war ended in 1970, the then military government had declared a no-victor-no-vanquish situation but the reality on ground have always showed the opposite
as Ndigbo were regarded as a conquered people.
Not only that, the apostles of Biafra State have also said that the Ndigbo have been marginalised in all aspects of the Nigerian polity including the economy and politics. They have similarly pointed that despite the pogrom that they suffered, the promise of the Gowon government of reconciliation, rehabilitation and reconstruction were never applied to the people of the South East. Besides, instead of the federal government to harness the industry of the Ndigbo people they are being treated like second class citizens in a country where they should have equal rights.
That, perhaps, gave Uchenna Madu, leader of the Movement for the Actualisation of the Sovereign State of Biafra, MASSOB, to say that: "the existence and sojourn of the people of Biafra can be likened to the affirmation of Jesus Christ himself when he compared the Hebrew children to the salt of the earth noting that the earth, would be worthless without its salt.
"Just as the children of light is the salt of the earth, so are the Igbos the salt of Nigeria. Political scene without the Igbo, Nigeria will lose its taste and Nigeria will be no more. In all ramifications, men of goodwill and uprightness know that this assertion is true."
Madu said trouble appeared to have started for the Ndigbo as far back as before and after the war. He said: "This attempt at establishing an independent state of Biafra was dependent upon the premeditated genocidal pogrom against the Igbo and other people of eastern region of Nigeria then outside of their homeland. This choreographed genocide was followed by the coup of July 29, 1966, during which Nigerian troops of Northern origin systematically killed many southern officers and men, of whom at least three quarters were easterners.
"It is apt to say that the involvement of military officers of Northern extraction in these massacres effectively destroyed the Nigerian army as an effective agent of Nigerian unity.
"The subsequent massacre of citizens of the Eastern region in the north, starting again in September 1966 and the mass migration back to the east that ensued widened the rupture in national unity. It was at this point that issues such as problems of refugees, economic support of displaced persons and intensified fears of citizens of the Eastern region for their personal safety combined to escalate the tension between the Eastern region and central government.
"Nobody could have blamed Ojukwu for declaring Biafra, which was brutally resisted by the Nigerian state but today the situation has not changed. What Ndigbo suffer today seems to be more. Harsh economic policies aimed at reducing the capacity of the Igbo."
Madu argued that the policies of marginalisation were efficiently and effectively carried out throughout the military era which dominated Nigerian politics at the time from 1970 to 1999. "Interestingly, the current democratic dispensation has also coincided with the emergence of a post-war Igbo generation who do not accept the obvious marginalisation of the Igbos in Nigeria. The manifestation of this resentment is seen in the number of Biafran groups and movements that have emerged to demand for the re-establishment of an independent Biafran state as a panacea to the alienation of the Igbos in the Nigerian polity," MASSOB boss said.
According to him, the new Igbo nationalism is anchored on a shared vision that the Ndigbo are better off as an independent state than being an integral part of the Nigeria state.
He vowed: "We the people of Biafra will never relent in promoting, projecting and upholding all the legacies of General Chukwuemeka Odumegwu Ojukwu, the supreme leader and Commander of Biafra Nation."
Supporting the separatist idea, Elliot Ugochukwu-Uko, the founder of Igbo Youth Movement, IYM, said that there was not much for him to say because of the grim situation in the country, especially among the youths. He said: "You need no other barometer to  feel the pulse of the people judging from their feelings of despair. The youths are so despondent that they are now asking to be allowed to opt out of the country. I do not need to say anything further.
"We are a country and but not a nation. As we celebrate the 50th anniversary of the declaration of Biafra, we remember the time we were invaded; we remember the killing of over three million Igbo and we also remember how we managed to survive. We are asking for self- determination
Kanu
Similarly, Chilos Godsent, president of the Igbo National Council, INC, said in an interview that the economic policies of Nigeria had made things for the Igbo difficult. Godsent expressed the fear the Igbo would continue to find it difficult until the Nigerian  state is liberalised to accommodate every ethnic nationalities in the country. He said he was convinced that the marginalisation of the Igbo people was deliberate.
The INC president said: "I can tell you authoritatively that those issues before and after the Nigeria/Biafra civil war have not been addressed. The issue of lopsidedness of political structure of the Nigerian state is still there. The deliberate marginalisation of the Igbo, the conspiracy of the Arewa and Oduduwa bloc against the Igbo nation is still very strong. Let me tell you that these issues led to the fear of uncertainty and made the Igbo feel so unwanted in the Nigeria federation.
"That was what started self determination, which they eventually called the Biafra Republic. The struggle is ongoing but what we are concerned about is the tactical approach and the existing frame work on the modus operandi of all the organisations that are struggling for the sovereign state of Biafra."
That notwithstanding, Nnamdi Kanu, leader of the Indigenous People of Biafra, IPOB, was pleased with the success of the sit-at-home protest, saying the realisation of a Biafra republic was near.
Speaking through Emma Powerful, the IPOB'S media and publicity secretary, Kanu said he was encouraged by the outing, vowing that he would stop at nothing in ensuring that the people of the area were liberated from the stranglehold of their oppressors.
He used the medium to thank "friends of Biafra and lovers of freedom all over the world for their tenacious efforts that made our Heroes Day Sit-At-Home Order a resounding success."
The IPOB leader said the fact that people obeyed the order to sit at home "is confirmation that IPOB which I lead has the mandate of all Biafrans to spearhead the ongoing Biafra restoration effort."
He added: "With near total compliance with this sit-at-home order I issued when I was still in Kuje Prison Abuja, it has proven to me beyond every conceivable doubt that Biafra restoration is a priority to all and sundry and I promise never to let Biafra down even upon the pain of death because you never let me down.
"We must join hands together, with all genuine and sincere individuals and groups, to restore Biafra with truth and honesty."
However, rather than join hands with the IPOB leader, the South East Peoples Assembly, SEPA, has asked the federal high court, Abuja, to revoke the bail granted Kanu.
The IPOB in collaboration with other groups, on Tuesday, May 30, organised a successful sit-at-home in South East, an action SEPA regarded as a breach of the bail conditions granted Kanu.
Indeed, the IPOB leader has been facing trial for treason and terrorism, being a major sponsor for the secession of South East from Nigeria on the platform of his group.
He was arrested on October 15, 2015, in Lagos, and eventually granted bail in May this year on health grounds with some conditions.
Justice Binta Nyako said that she was convinced that Kanu was ill and needed more medical attention than the Nigerian Prisons was giving him and therefore, granted him bail on conditions that he must not hold any rally, grant any interview or be in a crowd of more than 10 people.
Nyako gave other bail conditions to include three sureties in the sum of N100 million each and ordered that Kanu to deposit both his Nigerian and British passports with the court and that a report on the progress of his health must be made available to her on a monthly basis.
She adjourned the matter till July 11 and 12, for definite commencement of trial.
However, based on the sit-at-home order, the SEPA has accused Kanu of infringing on the bail conditions.
In a letter to Justice Ibrahim Auta, the chief judge of the high court, Chukwuemeka Okorie, president of the SEPA, asked the court, as a matter of urgency, to revoke Kanu's bail.
He said that Kanu had continued to conduct himself in a manner that was totally at variance with terms and conditions of his bail.
He listed the infractions to include holding rallies, grant of interviews or be in a crowd of more than 10 people.
"Obviously, the recklessness with which he made media statements and even organised the 'Sit at Home and Stay Indoor' protest to mark the so called Biafra heroes day on Tuesday, 30th May, 2017, is a threat to the unity, security and peace of Nigeria as a sovereign nation.
"We have no iota of doubt that he is trying to push our dear country Nigeria into an unnecessary precarious situation for his personal agenda and those of his paymasters.
"Sir, our decision to write this demand letter to your good office at this time is to forestall another civil unrest in Nigeria, particularly around the Igbo speaking region.
"As you well know, the struggle by Kanu to be relevant under the guise of actualisation of Biafra does not enjoy the support of right thinking Igbo people both at home and in diaspora.
"That he suddenly addresses himself as the Supreme Leader of Biafra points to how arrogant and disrespectful he is to legitimately constituted authority in the Federal Republic of Nigeria.
"The pertinent question on our minds as stakeholders is: Has Kanu been consistent in providing the court with reports on the progress of his health and treatment on a monthly basis since he was granted bail?
"We fear that if Kanu is not tamed by Your Lordship as a matter of urgency, the IPOB may create a situation where it becomes difficult if not impossible for genuine development to take place in the South East under the administration of President Muhammadu Buhari.
"History has taught us that the Civil War of 1967-1970 started gradually and later turned out to be something that caused our people unimaginable losses.
"We cannot afford to fold our arms this time and allow a stooge imported from the United Kingdom by stark enemies of Nigeria to maintain a state of belligerence against the nation and keep the name of Igbo people in the news for the wrong reasons."
In any case, the SERAP's opposition has, no doubt, shown that not everyone is in support of the separatist movement of Kanu and his co-travellers.
Monday Ubani, a human rights lawyer and second national vice president of the Nigerian Bar Association, similarly disagreed with the agitation for Biafran state. Rather, he said that the Igbo cause could be better realised within the context of one Nigeria instead of plunging the whole South East into another avoidable crisis.
He admitted that there had been elements of marginalisation against the Ndigbo in the structure of Nigeria, but it was now left for the Ndigbo to build confidence with other ethnic groups in order to get whatever they want.
Ubani said: "If you say you want Biafra, in asking for Biafra what are the plans in place. Have you consulted your political office holders who are holding offices everywhere? Who is going to be the President and then where is the capital to be located? I don't have any problem with Biafra but I want to see what the plans are. Let's agree before you pull out."
He also said Biafra would be difficult to actualise by being hostile and rebellious to other ethnic groups in the country. According to him, the last Biafran war was a waste of lives and opportunities. "I will not at this level of my education now support the Igbo man to go to that level again, war, because I have kids. I will rather like us to get a larger chunk of our right in a more legitimate way in this country God has blessed.
"If you say Igbo should return home because of war, where are the industries to work. Please you don't sit down and create problems for others and generations yet unborn because you are frustrated. I will advise if we love our land let's begin to carry our investment home and attract foreign investors," he said.
Besides, he said that Odumegwu-Ojukwu who started Biafra, before his death said that Biafra was now a thing of the heart. Hence, Ubani said that if Ndigbo want to achieve Biafra "all of us must sit down and work out the modalities of a Biafra state."
For Nnia Nwodo, president general of the Ohanaeze Ndigbo, the marginalisation of the South East by successive administrations necessitated agitation by the youths for a sovereign state of Biafra. At the forum of leaders of the South-South and South-East geo-political zones earlier in May, Nwodo noted that he aspired for a country where every part would be fully involved and the future generation would have a better country than the current generation.
"Our children are agitating. Our children do not want to be part of this country anymore because they feel that we are second-class citizens and because they feel that their parents are incapable of standing out for them.
"They want the Republic of Biafra because most of them feel they are discriminated against and are not equal with others," he said. He, however, argued that the country would be better as one, as the impact of war on any country could never be over-emphasised.
"We think that in the African continent, our size is our asset. We have built a brotherhood over the years since 1960 and we cannot break. Consequently, we have to put our heads together and find a better federal structure, a constitutional structure, which gives every part of this country satisfaction. In weeks and few months to come, the socio-cultural organisations will come together to seek an end to this impending catastrophe," Nwodo said.
On his part, former President Olusegun Obasanjo said engaging in dialogue with those agitating for an independent state of Biafra would be a sure way to resolving the issue.
At the Biafra conference in Abuja, on Thursday, May 25, the former president said Nigerians must treat the country with care. He recalled what happened during the Biafran war and why such should be avoided.
"I have maintained that the young officers who struck in 1966 were naive but there were some element of nationalism in some of them. Be that as it may, it set us back. The language used in the war did not help matters, the people on the Biafra side called us vandals and we called them rebels…
"We thought we would end the war in three months, but it took us 30 months, and the federal side nearly lost it. Civil war is more difficult than fighting in a foreign land because we are fighting to unite… Some of the people agitating for Biafra today were not even born then. They don't know what it entails," he said.
"But I think, we should even appeal to those saying they want to go, we should not tell them to go. We should make them understand that there is enough cake to share. We should massage Nigeria just like in a love relationship."
Similarly, Balarabe Musa, a veteran politician and a former of Kaduna State, in a newspaper interview, agreed that the Ndigbo have not had their fair share in the scheme of things in Nigeria since the time of the civil war. Musa, however, disagreed that majority of the Igbo are in support of Biafra.
He said: "Sincerely speaking, the South-East has not had a fair-share since the civil war. Their marginalisation is quite obvious. But if the policy of reconstruction, reintegration and reconciliation of General (Yakubu) Gowon and the late General (Murtala Mohammed) Murtala's administrations had continued, the agitation by the few Igbo for Biafra state would have been a thing of the past. It is the marginalisation that is making a small section of the Igbo to agitate for Biafra.
"If the reconstruction and reconciliation had been sustained, there wouldn't have been any need for Biafra because the number of those Igbo asking for Biafra is not more than 10 percent. The majority of the Igbo crave for a better Nigeria particularly because of their experience and they are prepared to fight for the unity of Nigeria. Majority of Igbo leaders have said in clear terms that they want a better Nigeria where they can expand because they are enterprising in nature.
"As you are aware, people who are enterprising would prefer a big community as against a small one. Some of them desire a better Nigeria because they don't want the previous experience of war to repeat itself. But the agitation for Biafra is a ticking time-bomb just as the level of poverty in Nigeria.
"Like I said earlier, the system of development in Nigeria tends to divide the people. There were times in history when the Igbo were targeted and isolated because they were enterprising and because of the system that operates in Nigeria. And probably the system could marginalise everybody until there is a brutal revolution."
Perhaps, fearing the untold damages that may result from another civil war in Nigeria, the only popular agitation in the country today is restructuring, which appears to be unpopular among some Northerners. But that has not diminished the debate for the need to restructure Nigeria to speed up its development.
Lending a voice to the argument, Olusegun Adeniyi in his newspaper column of May 25, said: "All said, as we reflect on 50 years after the declaration of Biafra and what might have been, I agree with the proponents of restructuring that there are sufficient grounds to question some of the assumptions on which the unity of Nigeria is predicated, especially in the light of our serial failings. But to beat war drums at the least provocation or to continue to marginalise (in critical appointments and projects) a significant section of our country are signposts that we have not come to terms with our past and that we have not learnt enough lessons from that tragic episode in our history to say NEVER AGAIN!"
Indeed, that was the view of the late Odumegwu-Ojukwu, who declared Eastern Nigeria a sovereign state on May 30, 1967, known as Biafra, when he gave his candid opinion on the same agitation in a video that had gone viral on social media.
He said in the video: "I led the first one and I can say I led 'proudly' the first one  I don't think a second one is necessary. We should have learnt from the first one, otherwise, they would all have been in vain."
But whether the agitators for a Biafran state are going to heed to the advice is another matter. That notwithstanding, the fear of Biafra state, may after all be the necessary harbinger to reconfigure the country and give everyone a sense of belonging.