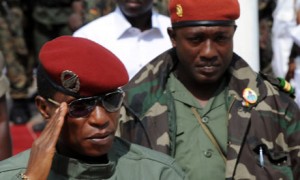 CRISIS IN GUINEA: Assassination attempt by one of his aides in troubled west African country, Guinea's junta leader Camara 'critical'; flown to Morocco….
Guinea's junta leader Captain Moussa Dadis Camara, who was wounded in an assassination attempt, is in a "difficult but not desperate condition," the president of Burkina Faso has said.
Moussa Dadis Camara, leader of the military junta that seized power 11 months ago, was shot at by Aboubacar "Toumba" Diakité, according to communications minister Idrissa Cherif. Cherif said Toumba clearly intended to kill the president. "When you pull a gun on someone, is it your intention to scare him? No. Your intention is to kill him."
He declined to say whether the shot just grazed Camara or wounded him. He said Camara was "doing well" and "the situation is under control". He added: "The president of the republic is still the president of the republic and he is in good health."
Guinea's leadership played down the extent of Camara's injuries and denied his departure left a power vacuum in the unstable West African nation, the world's top exporter of the aluminium ore bauxite. His powerful deputy Sekouba Konate returned to the capital Conakry from a trip abroad.
But Camara's evacuation for treatment in Morocco's main military hospital raised questions about his health and political future, with many observers believing he may not return to Guinea and could be persuaded to go into exile.
"I think he will probably undergo an operation because he was hit by bullets," Burkina Faso President Blaise Compaore told reporters in his capital, Ouagadougou.
"The information we had from his personal doctor an hour ago is that Dadis is in a difficult but not desperate situation," said Compaore, who has led mediation on the Guinea crisis and whose presidential plane was used to evacuate Camara to Morocco.
Guinean Communications Minister Idrissa Cherif said earlier Camara had merely been grazed in the head in the attack in Conakry late on Thursday, and the situation was under control.
"Power is in the hands of the CNDD (junta) and the government," he told Reuters. Camara took power at the head of the junta after a bloodless coup in December 2008 that followed the death of strongman leader Lansana Conte.
However, a diplomat in Guinea said earlier: "If he leaves the country, that would be it for him."
Metals analysts said aluminium prices could rise if Guinea's troubles escalated, but that there was no lack of global supply and so the impact would be limited for now.
'El Tigre returns'
Camara was rushed to the Hay Riyad military hospital outside Morocco's capital Rabat for treatment on what the Moroccan Foreign Ministry said were "strictly humanitarian grounds".
Morocco has been a longstanding destination for West Africa's elite to seek medical care. Officials there did not comment on his injuries.
Political analysts have said any outbreak of wider unrest in Guinea threatens to destabilise neighbours Ivory Coast, Sierra Leone and Liberia, still recovering from civil wars that ended earlier this decade.
Ex-colonial power France, which cut off defence ties with Guinea after it crushed pro-democracy protesters in September, said it had received "reassuring news" about the safety of the French community there since Thursday's incident.
The attack on Camara happened as U.N. investigators in Conakry wound up their inquiry into the crackdown on Sept. 28, which witnesses said killed more than 150 people. The inquiry could lead to international prosecutions of those responsible.
A junta statement late on Thursday said Lieutenant Aboubacar "Toumba" Diakite, Camara's former aide de camp and the soldier named by witnesses as a leading figure in the September killings, had carried out the gun attack on Camara.
Sources in Conakry said tensions had been mounting for weeks between Camara and Toumba, who suspected that he would be made to shoulder the blame for the massacre.
"This was the only way out for him (Camara)," one diplomat said of the theory that Camara would try to implicate Toumba in the Sept. 28 killings and so remove any blame from himself.
Residents said Conkary was calm on Friday but there were conflicting reports as to whether Toumba was still at large.
Konate, Camara's deputy, widely known as "El Tigre" because of his ferocity in combat against rebels in 2000 and 2001, returned to Conakry on Friday after a trip to Lebanon, sources close to Konate said. TheGuardianLondon/Reuters/France24/wire/USAfricaonline.com