USAfrica: A Tribute to Dan Orji of Peacocks. By Mazi E.A.C Orji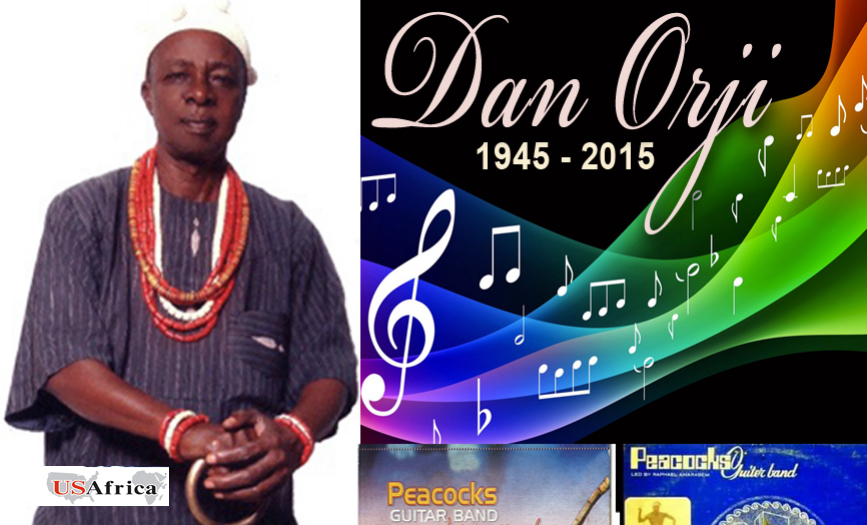 A Tribute to Nze Dan Chukwuemeka Orji.                                                                                                                               By Mazi E.A.C. Orji (and the Orji Chima Family of Aro-Orji, Urata, Owerri North LGA, Imo State, Nigeria)
Special to USAfricaonline.com,  and USAfrica multimedia networks, Houston. Follow USAfrica at Facebook.com/USAfricaChido , Facebook.com/USAfrica247 and Twitter.com/Chido247 
"In the midst of life, we are in death." The unexpected and sudden demise of Nze Daniel Chukwuemeka Orji aptly confirmed the truth of the quote above taken from the Episcopal Book of Common Prayer.
In the language of literature, arts and music,  Dan Orji (as he was popularly and widely known and called), was a great classical musician. The  beauty of his works and the wisdom expressed in them have continued to hold out massive appeal to people of different ages and in differen
t countries. People of all ages that have tasted the lyrics and music of his songs have continued to want to read or hear them over and over again. They never seem to get tired of discovering new beauties and new truths in the works of this artful musician, insightful composer, versatile arranger and inimitable vocalist.
Born on December 6, 1945 to Maazi Joseph Chima Orji and Orihe Cecilia Nwachi Orji at Aro-Orji, Urata, Owerri North Local Government area of Imo State of Nigeria, Danny was educated in Orji Town Primary School where he manifested great musical talent by singing at social events around Owerri. He had his Secondary education at the prestigious Saint Patrick's College, Ikot Ansa, Calabar, where he played meritoriously in the College Band.
At the end of the Nigeria/Biafra war in 1970, he played a major role in the founding of the famous Peacocks International  Guitar Band. It was while with Peacocks that he produced some of his greatest hits, including the ever popular and classical SAMBOLA MAMA, which earned a gold, and sold more records in Ghana than in Nigeria, demonstrating  the wide appeal  of his compositions, a further proof of the truism that music knows no boundaries, as well as the English saying that ' good wine needs no bush'( which translates into Igbo as ahia oma na ere onweya). When the Peacocks International Guitar  Band disbanded, he founded the Skylarks Universal Band of Nigeria in 1976.
Nze Dan Orji's abundant natural musical endowment was inherited from his mother, who was a good singer, and his maternal uncle, late J. U. Kamalu  of Umuonyeche, Owere(which the British called Owerri), who played the Accordion with great skill. Danny's natural musical endowment was enhanced by his incredible capacity for hard work that is easier imagined than described. Little wonder that he  produced such classical masterpieces and dominated the music scene for more than four decades. Danny  had a large and generous heart and was always quick to forgive. Although his works have been severally plagiarized, he never exercised his rights  under the existing Copyright Laws to sue for compensation.  Rather, he would chuckle  and say that those artists may continue to plagiarise his work if that would make them survive in life. What good spirit ! What bonhomie !
Danny was a good family man, a great family builder, who would resist any temptation to compromise the peace and progress of the Orji Chima family of which he was a proud member. His talent was not restricted to music alone; he was also an accomplished builder; and this was not surprising because architecture  has been defined metaphorically as 'FROZEN MUSIC.' Danny was also a committed farmer. Indeed,  he was a versatile talent who excelled in whatever he focused his interest and attention. Full of initiative and drive, Danny had the capacity to carry anything before him.
During  his lifetime, Danny was conferred with a lot of accolades. He was made an Nze with the title Aku Jeshiobi ike of Orji. During the interregnum that followed the demise of the first Eze of the Orji Autonomous Community, Nze Dan Orji served as the Vice Chairman of the Orji Regency Council. The Arochukwu Kingdom conferred its highest honour, namely, Ugwu Aro, on him. And until his death, Nze Dan Orji was serving his second term as Chairman of the Aro-Orji village meeting.
We shall all  miss Danny's wisdom which was ever spiced with humour and profound imagery. The more you saw Danny, the more you admired him; the better you knew him the greater you valued his friendship. He had the knack for knowing peoples great needs and when they needed them most. In concluding, I seek understanding;  and if I appear to write with the affection of a brother, I am just one of a large number.
Danny did not live long.  He did not reach the biblical age of three scores and ten (indeed, he was to have been 70 years old on December 6, 2015!). But we are consoled by the fact that it is more important to live well than to live long. The quality of life lived takes precedence over its length, for life is a matter of art rather than mere duration. "Life is not a matter of counting years. It is a matter of making years count." Danny did make his years count in blessing. Although we shall miss Danny physically, he will continue to live in the memories of all those he has left behind.
We prefer to end this tribute therefore, with the following immortal words of United States hymnist, Ira David Sankey (1840 – 1908):-
"Fading away like the stars of the morning,
Losing their light in the glorious sun,
Thus would we pass from the earth and its toiling,
Only remembered by what we have done."
Thank you for sharing our moment with us. Shalom.
Maazi E. A. C. ORJI is the head of the Orji Chima family.                                                                                                       August 12, 2015
USAfrica: Basil Nnanna Ukegbu lived a life of excellence. By Emmanuel A. C. Orji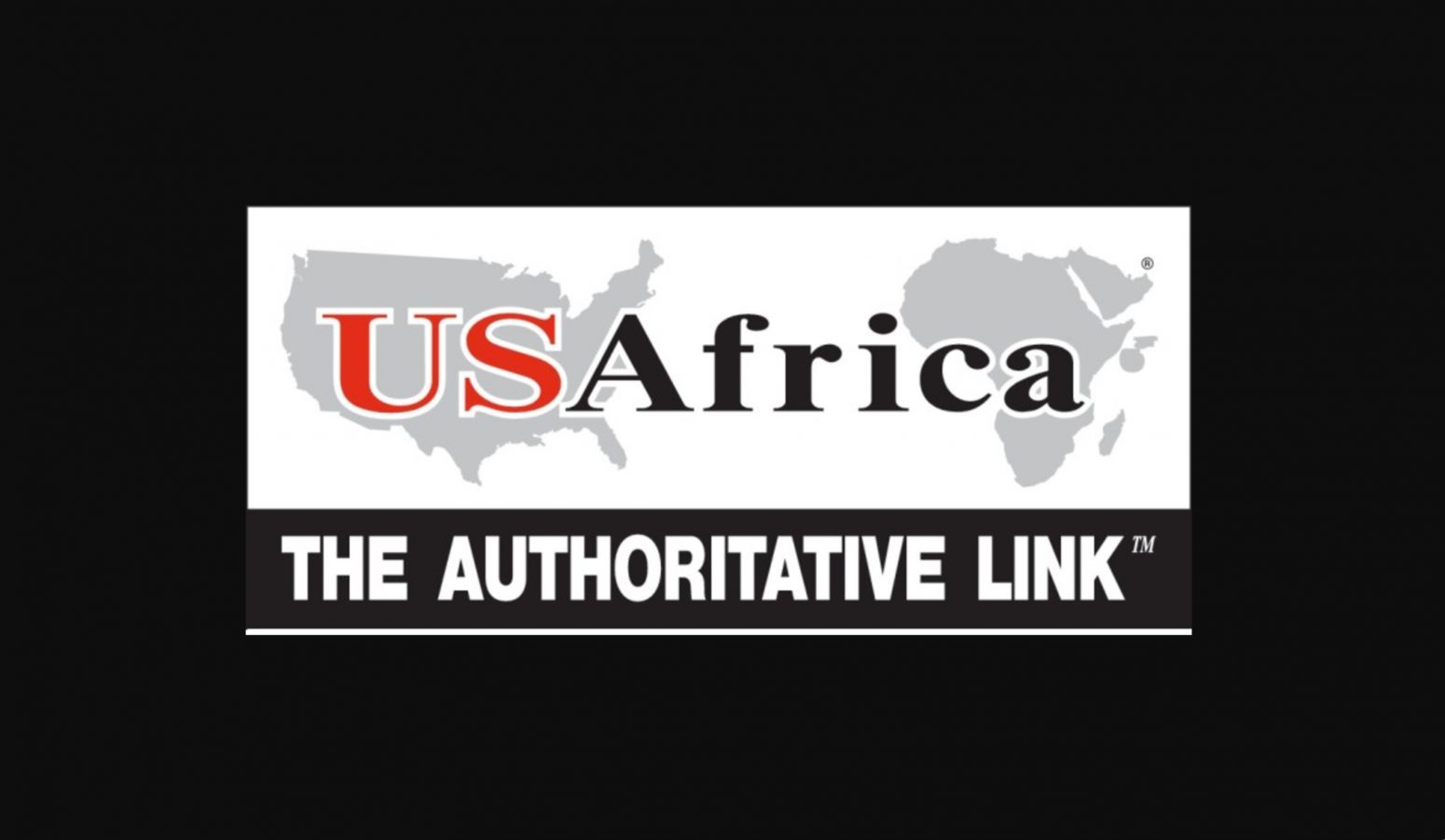 A TRIBUTE TO BASIL NNANNA UKEGBU
By Emmanuel A. C. Orji
Special to USAfrica and USAfricaonline.com  @USAfricaLIVE
It is with a deep sense of loss that I received the sad news of the passing of a fellow Patrician, Basil Nnanna Ukegbu, who did our alma mater, Saint Patrick's College, Ikot Ansa, Calabar (SPACO),  proud.
"Excellence is a difficult concept to communicate because it can easily be misread as neurotic perfectionism or snooty sophistication. But it is neither. On the contrary, it is the stuff of which greatness is made. It is the difference between just getting by and soaring – that which sets apart the significant from the superficial, the lasting from the temporary. Those who pursue it do so because of what pulsates within them, not because of what others think or say or do. Authentic excellence is not a performance. It is there whether anyone ever notices or tries to find out." According to Aristotle, "we are what we repeatedly do. Excellence, then, is not an act, but, a habit." And so it was with Basil.
A personification of habitual excellence, Basil Nnanna Ukegbu, PhD(Lond), born 88 years ago,  under very ordinary circumstances at Immerienwe in Ngor Okpala Local Government area of Imo State, had always manifested excellence since his infancy. His studies at  St. Patrick's College, Ikot Ansa, Calabar (SPACO), brought out the best in him. Whereas students spent five years ordinarily to do the Senior Cambridge School Certificate examination, Basil sat for and passed London Matriculation (known to be superior to Senior Cambridge School Certificate) after only three years sojourn in SPACO,  a  rare academic feat. On leaving SPACO, he took up teaching appointment, while studying for a degree by correspondence. In record time, he sat for and passed the Bachelor of Arts degree of the University of London.
A great believer in education, rather than join the civil service, as was fashionable at the historic time, he founded a secondary school modeled after SPACO at  his home town of Immerienwe. The great and broad mind that he was, rather than name the school after his home, he called it Owerri Grammar School, a clear manifestation of his largeness of heart.
In furtherance of his life ambition to promote science and technology in Africa, it is on record that he was the first Nigerian to think of a private university and in fact opened a technical university at Immerienwe. However, lack of vision, jealousy and ignorance conspired to sabotage his efforts.
A man that was always  driven by his own conviction, he moved at his own pace ignoring all distractions and defying all negative forces and scaling through all obstacles in his avowed belief that we can be beaten not by circumstances,  but only by ourselves, and that if we fall down seven times we should get up eight.
In public service, he excelled demonstrably beyond all Nigerian expectation. As Chairman of the Governing Council of the Alvan Ikoku College of Education, Owerri, he proved that, in Nigeria, public money could be judiciously used, when he built the many hostels in the college at about half the cost of those built before his tenure. He accomplished this feat within six months through his resource conversion efficiency maximisation strategy. Impressed by that performance, the Academic Board decided to name the hostels after him,  but he rejected the offer on the ground that it would be immoral to do so while he was still in office. Thus, when he was rigged out of election that he contested for governorship of Imo State, those who blocked him out of the office were the greatest enemies of  progress in Imo State.  He would have made all the difference through his well articulated economic  programme which could have struck a miraculous chord.
His life ambition was to lead a bloodless revolution to transform Africa to catch up with Europe and America technologically in this millennium. Even as he  aged and  progressively wore a frail body, the revolutionary fire in him did not dim.
Basil was an indefatigable civil right crusader and he started being so from SPACO where he resisted corporal punishment by his immediate senior students of just one class above his own (of which I was one),  which he saw as a violation of his fundamental human right. When Abacha frightened Nigerians, Basil dared and defied the brutish maximum dictator when he staged a one-man demonstration by even sleeping in the open opposite the Assumpta Cathedral in Owerri.
As a member of the Federal House of Representatives, he was a fearless legislator who presented his views with courage borne out of knowledge and patriotic conviction.  On January 12, 1966, even as Chief Whip of the then ruling party, he moved a vote of no confidence on the government for failing to address a serious security situation in Nigeria of  the historic time. Three days  after he moved that motion, on January 15, 1966,  the army struck. A man of principle, he rejected a ministerial appointment offered to him by the then Administrator of the East Central State, Ukpabi Asika, himself an old boy of SPACO.
To summarise, Basil was an erudite scholar, a patriotic parliamentarian, a fearless and selfless leader of people, a human right crusader, an accomplished academic giant, a man full of what President Bush the father calls "the vision thing", a practical community worker, the best governor that Imo State never had, and above all,  a Patrician among Patricians,  who did SPACO proud by living up to the highest ideals of our college motto: cor mundum, manus firma, verbum constans (Clean heart, strong hand, reliable word).
May the good Lord who heals broken hearts take care of Basil's family and all those who are touched by his death.  May He help and comfort them always, increase their faith, dispel their fears, revive their hope and lift them from the darkness of their grief to the light of His presence, through Christ our Lord. Amen.
And may the soul of Basil and the souls of all the faithful departed, through the mercy of God, rest in peace. Amen.
USAfrica names Okey Ndibe African Writer of the Year 2014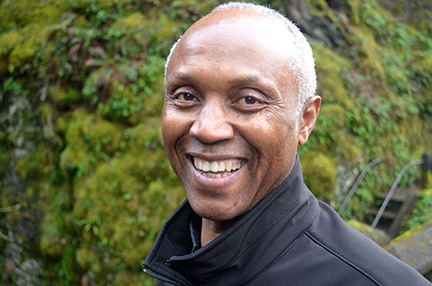 USAfrica names Okey Ndibe 'African Writer of the Year 2014'
Houston, Texas,
December 28, 2014
: The international multimedia networks and public policy organization, USAfrica, has named Okey Ndibe, prolific commentator, professor of English/African Literature and author of the highly-acclaimed 2014 novel,
Foreign Gods, Inc.
, as the African Writer of the Year 2014.
A statement issued from Houston, Texas, by the Founder & Publisher of USAfrica and the first African-owned, U.S.-based professional newspaper published on the internet, USAfricaonline.com, Dr. Chido Nwangwu, notes that "the trinity of Okey Ndibe's contributions as a critical commentator, a first-rate scholar and a novelist validates USAfrica editors' decision to recognize his outstanding skills. The riveting testimonial to his creative capacities is fresh and evident in Foreign Gods, Inc., which I had the privilege of reading in its advance/pre-publication galley in 2013."
The novel tells the engaging story of Ike, a New York-based Nigerian, college-educated cab driver who undertakes a trip to his natal hometown in order to steal the statue of an ancient war deity and sell it to an arts gallery in New York City.
According to USAfrica founder, Dr. Nwangwu, "Foreign Gods, Inc. continues to draw warm reviews for the author who holds the inept or corrupt Nigerian political class in contempt. Prof. Ndibe began his journalism career in Nigeria, but relocated to the US in 1988 to serve as the founding editor of the defunct African Commentary magazine (co-owned by the great writer Prof. Chinua Achebe). Ndibe has written commentaries on diverse topics, including corruption, failure of public/governmental agencies, Biafra, youth unemployment, religious hypocrisy and exploitation, and the abuse of female students by male lecturers in Nigerian colleges and universities. He has served since 1995 as a contributing editor of USAfrica (print) and USAfricaonline.com. He also writes for the Daily Sun newspaper (Lagos) and, from 2006, for saharareporters.com."
Ndibe, who earned MFA and PhD degrees from the University of Massachusetts in Amherst, is the author of another novel,
Arrows of Rain
, and co-editor (with Zimbabwean writer Chenjerai Hove) of
Writers, Writing on Conflicts and Wars in Africa
.
Arrows of Rain
was first published in 2000 in Heinemann's African Writers Series. Soho Press (New York) will release an North American edition of the novel on
January 6, 2015
. Ndibe, who has taught at Brown University, Connecticut College (New London), Trinity College in Hartford, Simon's Rock College (in Great Barrington, Massachussetts), and the University of Lagos (as a Fulbright lecturer), is currently working on a series of memoir vignettes titled
Going Dutch and other American Mis/Adventures
.
USAfrica — with almost 23 years of professional journalism and multimedia publishing business from its headquarters in Houston, Texas — has been acclaimed by the CNN, The New York Times, international scholars and public policy leaders as the largest and arguably the most influential African-owned, U.S-based multimedia networks.
VIDEO #CNN special #CHIBOK Girls n #BokoHaram Live intvw wt the Founder of USAfrica multimedia and public policy networks Chido Nwangwu. CNN anchors John Berman n Michaela Pereira.  
VIDEO of the CNN International broadcast/profile of USAfrica and CLASSmagazine Publisher Chido Nwangwu.
——-
 and friendship hold lessons for humanity and Africans, USAfrica Founder Chido Nwangwu takes a measure of their works and consequence to write that Mandela and Achebe have left "footprints of greatness."
He chronicles, movingly, his 1998 reporting from the Robben Island jail room in South Africa where Mandela was held for decades through his 20 years of being close to Achebe. He moderated the 2012 Achebe Colloquium at Brown University in Providence, Rhode Island.
"I'll forever remember having walked inside and peeped through that historic Mandela jail cell (where he was held for most of his 27 years in unjust imprisonment) at the dreaded Robben Island, on March 27, 1998, alongside then Editor-in-chief of TIME magazine and later news chief executive of the CNN, Walter Isaacson (and others) when President Bill Clinton made his first official trip to South Africa and came to Robben Island. Come to this island of scourge and you will understand, in part, the simple greatness and towering grace of Nelson Mandela", notes  Chido Nwangwu, award-winning writer, multimedia 
specialist and founder of USAfricaonline.com, the first African-owned U.S-based newspaper published on the internet, in his first book; he writes movingly from his 1998 reporting from South Africa on Mandela. 
http://www.mandelaachebechido.com/
  •Dr. Chido Nwangwu, moderator of the Achebe Colloquium (Governance, Security, and Peace in Africa) December 7-8, 2012 at Brown University in Rhode Island and former adviser on Africa business/issues to the Mayor of Houston, is the Founder & Publisher of Houston-based USAfrica multimedia networks since 1992, first African-owned, U.S-based newspaper published on the internet USAfricaonline.com; CLASSmagazine, AchebeBooks.com, the USAfrica-powered e-groups of AfricanChristians, Nigeria360 and the largest pictorial events megasite on the African diaspora www.PhotoWorks.TV . He was recently profiled by the CNN International for his pioneering works on multimedia/news/public policy projects for Africans and Americans.         e-mail: Chido247@Gmail.com wireless 1-832-45-CHIDO (24436).
IF any of the Nigerian President's 100 advisers has the polite courage for the extraordinary task of reminding His Excellency of his foremost, sworn, constitutional obligation to the national interest about security and safety of Nigerians and all who sojourn in Nigeria, please whisper clearly to Mr. President that I said, respectfully: Nigerians, at home and abroad, are still concerned and afraid for living in what I call Nigeria's Federal Republic of Insecurity. FULL text of commentary, exclusively, at USAfricaonline.com https://usafricaonline.com/2011/12/17/nigeria-federal-republic-of-insecurity-by-chido-nwangwu/
USAfrica: BOKO HARAM's latest killings sharpen divide for security team at Nigeria's presidency. By Chido Nwangwu
https://usafricaonline.com/2013/10/21/usafrica-boko-harams-latest-killings-sharpen-divide-for-security-team-at-nigerias-presidency-by-chido-nwangwu/
————————————
Dancing with "ghosts" of BOKO HARAM, President Jonathan, Sultan Abubakar and Nigeria's national security. By Dr. Chido Nwangwu
https://usafricaonline.com/2013/04/05/dancing-with-ghosts-of-boko-haram-president-jonathan-sultan-abubakar-and-nigerias-national-security-by-chido-nwangwu/
Lupita effect: Inspiring Kenya
CNN's Soni Methu explore how Hollywood star Lupita Nyong'o is inspiring members of Kenya's creative arts industry.
CNN's Soni Methu explore how Hollywood star Lupita Nyong'o is inspiring members of Kenya's creative arts industry.