Bombshell! Trump's lawyers sue porn star $20m for discussing her affair with the U.S President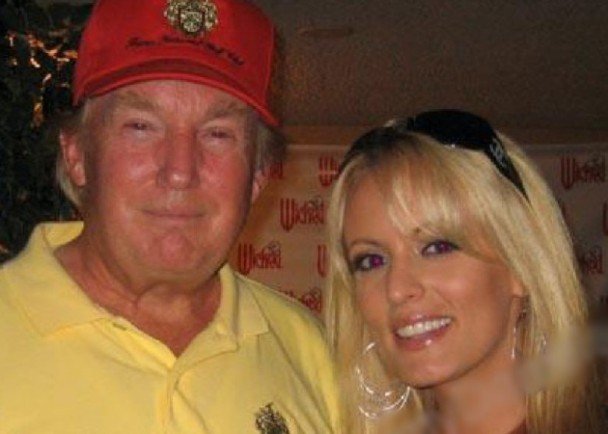 Special to USAfrica {Houston] • USAfricaonline.com
Los Angeles (AFP) -Donald Trump's lawyer claims porn actress Stormy Daniels is liable for at least $20 million for violating a nondisclosure agreement she says prevents her from discussing an affair with the president, according to a Friday court filing.
A lawyer for Michael Cohen's Essential Consultants limited liability company — which paid Daniels $130,000 under the agreement — made the filing, which said that Daniels violated the deal "at least" 20 times.
"The Settlement Agreement provides for liquidated damages of one million dollars ($1,000,000) per instance of breach," the court filing says.
Daniels signed the agreement pertaining to an alleged affair a decade earlier shortly before the 2016 election, leading to allegations that the payment amounted to an illicit contribution to Trump's campaign.
Lawyer Michael Avenatti filed a lawsuit on behalf of Daniels — whose real name Stephanie Clifford — earlier this month seeking to toss out the confidential settlement.
The suit alleged that Daniels began an "intimate relationship" with Trump in the summer of 2006 that continued well into 2007.
On July 12, court proceedings will get under way to decide whether Daniels can dissolve the agreement.
The White House has denied any sexual encounter between Trump and Daniels — who has offered to return the $130,000 she received so that she can be free to "speak openly and freely about her prior relationship with the president and the attempts to silence her."
She is also asking to be allowed to publish text messages, photos and videos relating to the president, Avenatti said in a letter to Cohen.
Using the pseudonyms Peggy Peterson and David Dennison, Daniels and Trump were to sign the agreement, along with Essential Consultants.
— 'Bullying tactic' —
But Trump never signed, providing the basis for Avenatti's attempt to have it thrown out and release Daniels from her obligations.
Avenatti took to Twitter on Friday to criticize the court filing.
"The fact that a sitting president is pursuing over $20M in bogus 'damages' against a private citizen, who is only trying to tell the public what really happened, is remarkable. Likely unprecedented in our history. We are NOT going away and we will NOT be intimidated," Avenatti wrote on the social media site.
"The filing today is yet another bullying tactic from the president and Mr Cohen. They are now attempting to remove this case to federal ct in order to increase their chances that the matter will be decided in private arbitration, thus hiding the truth from the public," he wrote.
According to the court filing, Essential Consultants began an "arbitration proceeding" as provided for by the agreement at the end of February.
Trump has ample reason to want to keep the affair quiet.
The issue could hurt the president with religious voters, who were key to his electoral success, and appears to have already caused strains between the president and First Lady Melania Trump.
— Physical threat to Daniels? –
Earlier Friday the White House condemned any threat against Daniels after the porn star's lawyer claimed she was threatened with physical violence if she revealed details of the alleged tryst.
"Obviously we take the safety and security of any person seriously," said press secretary Sarah Sanders.
The White House "certainly would condemn anyone threatening any individual, but I have no knowledge of that situation," she said.
White House officials have tried to deflect questions about the alleged affair, pointing to previous denials by the Trump campaign.
Aretha Franklin's melodious voice, dignity and clarity were triple drivers of her artistic excellence. By Chido Nwangwu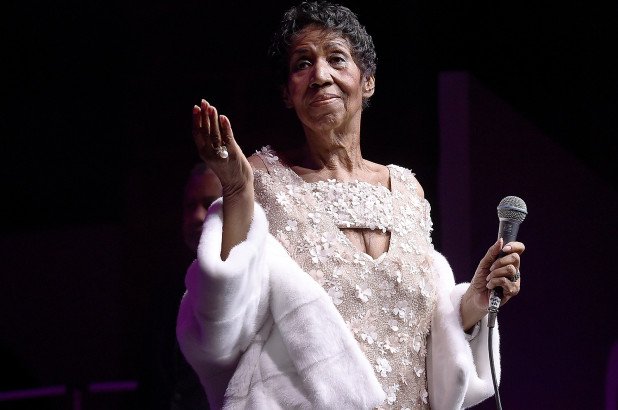 @Chido247
I believe that Aretha Franklin's melodious voice, dignity and clarity were triple drivers which continue to make her artistic excellence a trans-generational gift to humanity.
Aretha Franklin who made an outstanding entry into both gospel and soul music with the release of her first album in 1956, titled 'Songs of Faith', died today, August 16, 2018, at her home in Detroit. She was 76 years old.

Aretha was born on March 25, 1942, in Memphis, Tennessee.

She is the first woman to be inducted into the Rock & Roll Hall of Fame, and affectionately and deservedly called the Queen of Soul — especially in high regard for songs such as "Respect." She was a part of the U.S civil rights movement.

I believe that Aretha Franklin's melodious voice, dignity and clarity were triple drivers which continue to make her artistic excellence a trans-generational gift to humanity.
By Chido Nwangwu, Founder & Publisher of USAfrica [Houston], USAfricaonline.com and author of the soon-to-be-released 2018 book titled MLK, MANDELA & ACHEBE: Power, Leadership & Identity
USAfrica: Nollywood actor Kenneth Okonkwo's misguided hustle for Buhari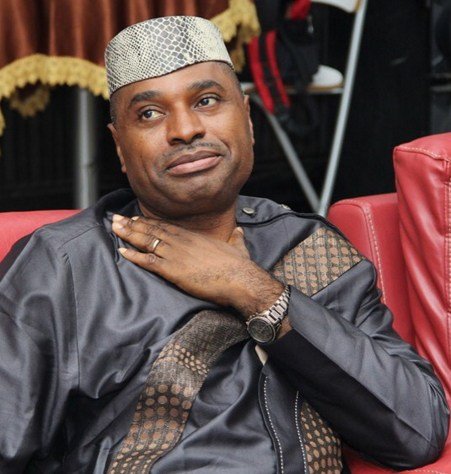 By Attorney Jane Ikezi
Special & Exclusive commentary for USAfrica [Houston] and USAfricaonline.com
A controversial political video by Nollywood actor, Kenneth Okonkwo has been making rounds in the social media.
In the video, he endorsed the non-performing and overwhelmed President of Nigeria, retired Gen. Muhammadu Buhari for the 2019 election. Okonkwo said, "I am an ambassador of good governance…he (President Buhari) is committed to good governance. You can't get a better person than President Muhammadu Buhari…."
Really!?
Ordinarily, I would have simply said to myself that "Silence is the best answer to a fool"; but a lot of fools rule the world because people kept silent.
To whom much is given, much is expected. Mr. Okonkwo has a platform, which he has been blessed with through acting, with support from the Igbo for many years throughout his acting career. This is particularly true given that he is known primarily for his Igbo language films, which brought him to fame in Nigeria. Especially, the movie called Living in Bondage.
Lest anyone be deceived or suffer from amnesia, let me enumerate some of President Buhari's failures and atrocities:
– Brutal attack of unarmed civilians
– Outright refusal to recognise the right of self-determination of the Indegenous People of Biafra. This is an internationally recognised right.
– Increase of economic hardship throughout the country. People are starving.
– Increase in mortality (particularly with young children).
– Mortuaries are filled to the brim and families lack money to claim bodies of the deceased.
– Increase in joblessness due to lack of opportunity. Yet, Mr. Buhari refers to Nigerian youths as "lazy."
-Citizens are brutally dealt with for simply expressing their political views, as Mr. Okonkwo is doing).
– Medical and Academic institutions are in disarray and squalid conditions. Is that not the reason President Buhari travels to Britain for medical care and his children are educated abroad?
– Increase of Internally Displaced People in Nigeria, due to Boko Haram and Fulani Herdsmen activities.
– Nigeria has not met its Millennium Development Goals, whereas other least developed countries that were on the same point, have surpassed their target.
The list goes on and on… Why must people lack in the land of plenty?
Moreover, let us remember that President Buhari's order of Operation Python Dance, a brutal military operation, left many dead and Mazi Nnamdi Kanu, leader of IPOB and his parents remain missing.
Additionally, let us not forget the brutal Civil War fought against Biafra from 1966 to 1970, resulting in the horrific and calculated death of millions of Biafran civilians, especially Igbos. That was a genocide. The same President, who Kenneth Okonkwo praises, played a role in that war.
It is a shame that Kenneth Okonkwo, an Igbo man, would choose a path in direct contradiction with his heritage and existence.
A while back, I read an article or a letter in which Mr. Okonkwo expressed his disagreement with the latest Biafran struggle. I disagreed with him (and still do) but like the French say, "chacun à son goût" (to each, his own). Nevertheless, I too have my "Red Line."
I do not believe that Mr. Okonkwo should be condemned for exercising his freedom of speech in support and praise of President Buhari. On the contrary, the condemnation or criticism must be focused on the content thereof.
Earlier this year on TMZ, the U.S. television show, Kanye West (a musician) made derogatory statements about fellow African Americans regarding their history of slavery. Kanye West received a lot of backlash and repudiation after his statements, and rightfully so. He has a responsibility stemming from his 'stardom'.
Whether he accepts it or not, his statements, albeit unfortunate, are heard by many people. Like Kanye West, Kenneth Okonkwo has a social responsibility to his people and that includes all Nigerians. In exercising his freedom of speech and civic duty, he should not loose sight of his social responsibility.
Kenneth Okonkwo, as the Igbo adage states, "use your tongue to count your teeth." Is this the legacy for which you want to be remembered?
•Jane O. Ikezi is the New York-based contributing analyst for USAfrica multimedia networks, Houston.
SOYINKA accuses OBASANJO of awarding OIL blocks in return for SEX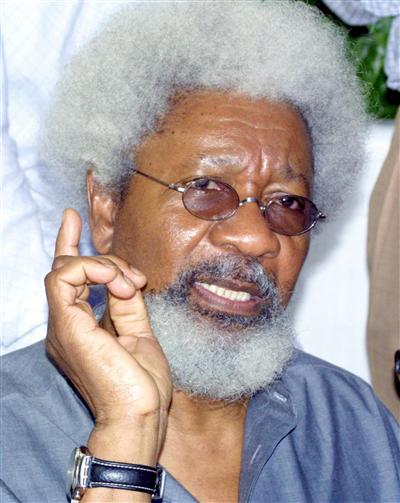 Special to USAfrica [Houston] and USAfricaonline.com
Nobel laureate Prof. Wole Soyinka, calling former President Olusegun Obasanjo, a degenerate, liar, predator and sadist, has challenged him to swear whether he never awarded oil blocks in return for sexual gratification while he presided over the affairs of Nigeria.
Soyinka spoke in his Interventions VIII series, titled: 'Quis Custodiet Ipsos Custodes?' also sub-titled 'Gani's Unfinished Business," launched recently in Lagos, Southwest Nigeria.
He said Obasanjo knows him so well that he does not make accusations lightly and that he despises snide insinuations. "I now challenge you (Obasanjo) to search your soul, very deeply, and swear to this nation that you never awarded oil blocks in return for sexual gratification. I do not make accusations lightly and I despise snide insinuations. I believe you know me well enough. And I am no prude, I am not a hypocrite of sexual desire, nor am I interested in the seamy side of Power. Take your time, think deeply and remember that each day brings you closer and closer to your Maker and the Day of Judgment-going by your own
professions."
Soyinka said sex-for-grades as a solution to that burdensome energy seemed to have become the practice, saying that even when Donald Trump and Bill Clinton were accused of sexual misconduct, no one ever accused Trump of using his nation's assets for a romp on the presidential desk of the oval office and that not even Clinton who nearly lost his office through Monica Lewinsky, was ever accused of passing off any of the White House heirlooms, or influenced contracts in return for sexual favour. "If I denounce you (Obasanjo) as a degenerate in need of help, remember that I do not require fiction. Verifiable truth is solemnly at my disposal. I do not concoct a thousand snipers for a thousand listed enemies of governance-one of the most impudent egregious fantasies ever manufactured by a former ruler, simply to destroy a successor and persuade oneself that one is a maker and breaker of governments," he said. Soyinka also said that during Obasanjo's celebration of the 10th anniversary of his Presidential library, the former president accused him of blocking his ambitions to become the Secretary General of the United Nations.
According to Soyinka, "could someone please stop crediting me with that level of international clout? Of course, I feel totally content and fulfilled with my contribution to that operation to 'save our world' from the clutches of a predator, sadist and liar-convincing evidence of which we provided in our successful diplomatic offensive-but the umbrage should also go to that very Femi Falana and the late Beko Ransome-Kuti, with whom I worked in close collaboration."
Soyinka also said that under Obasanjo's watch, and with proven collaboration, an elected governor was kidnapped, locked in a toilet and held there under duress to force him to sign cheques on the state treasury, saying that "he escaped confinement, thanks to a sympathetic policeman , but the state went up in flames. The state radio and television houses were torched. The House of Assembly and the law courts—my own special preserve-were vandalized. Who did you say was President at that time?" Soyinka made reference to a letter written to Obasanjo by Col. Abubakar Umar, in which the former military governor accused Obasanjo of awarding oil block indiscriminately and illegally. (News Agency of Nigeria and PMNews)