USAfrica: Why SaharaReporters Sowore's disrupt-the-Nigerian-system message is gaining momentum. By Chido Nwangwu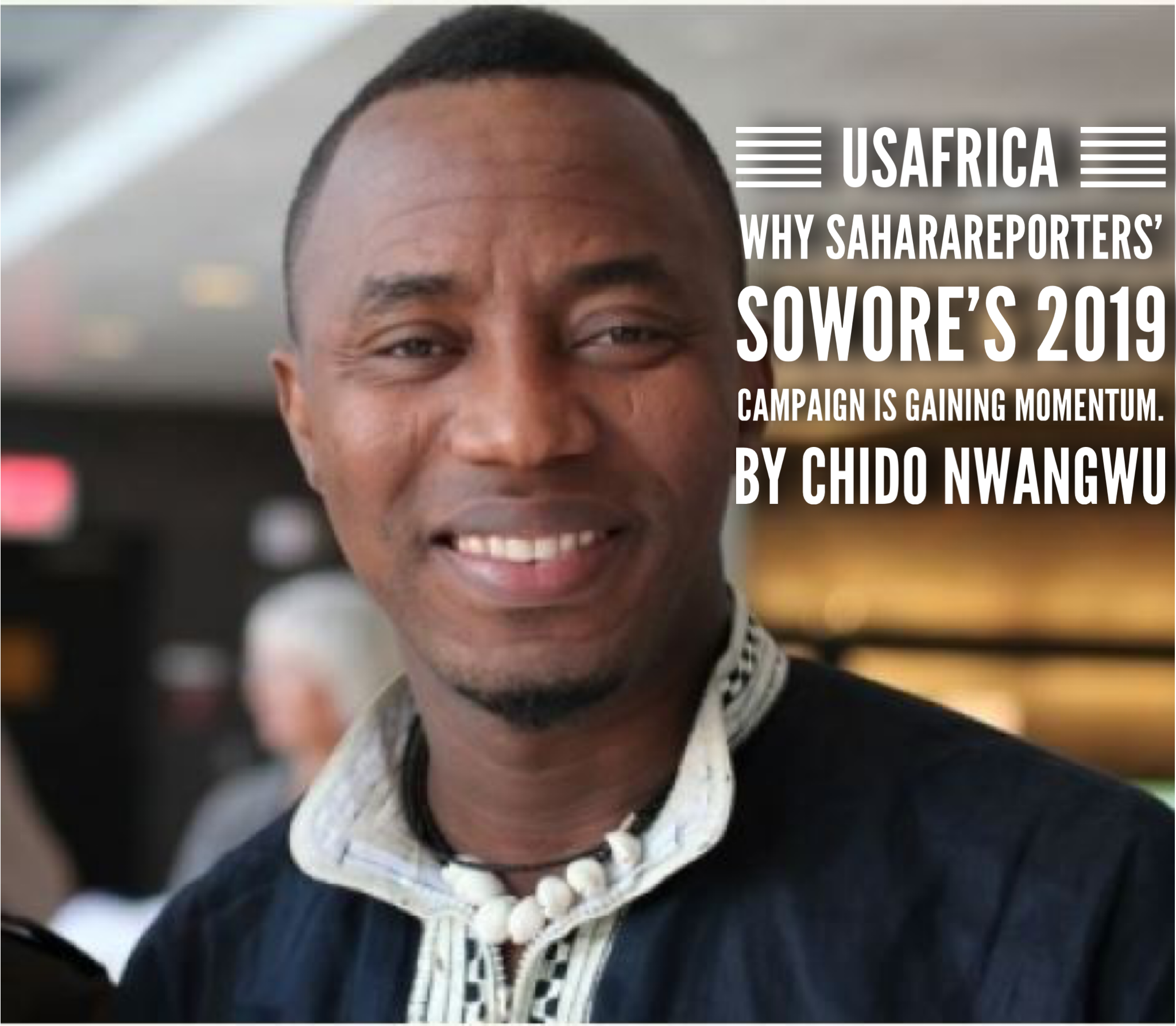 By Chido Nwangwu, Publisher of USAfrica, Houston.                                                                            •Follow Twitter.com/Chido247, Facebook.com/USAfricaChido
I remember my first meeting with Omoyele Sowore has been almost 10 years — at the residence of the profoundly resourceful Dr. Chidi Achebe — where we (including Prof Okey Ndibe and Prof Chukwuma Azuonye) gathered to learn and interview the great novelist Prof Chinua Achebe.
He came as SaharaReporters.com Publisher which opened a few years earlier in 2006, in New York; supported by grants from the Ford Foundation and the Omidyar Foundation. I came as Publisher of the print and online platforms USAfrica [established 1992, in Houston], USAfricaonline.com, CLASSmagazine and AchebeBooks.com
I had a brief chat with Sowore middle of May 2018 whereby he informed me about his campaign for the presidency of Nigeria 2019. I congratulated him "for the courage to present an alternative outlook on Nigeria."
Before that day, I observed his campaign events and use of the social elements of technology to enable me make these points.
First, Sowore, an equal opportunity offender [especially of the corrupt], is undertaking a relatively bold challenge of the entrenched forces and groups who have held Nigeria's potentially greater fortunes as their playground, a barnyard for primitive accumulation and consumption.
Second, the campaign's financial support is primarily derived from the social media funding site, gofundme.com
His fundraising results there has been a catalyzing factor for the operations and mobilization of supporters. It has not been optimal. Yet, he's doing what no other Nigerian politician has attempted: Raise money for politics through small donations by everyday folks rather than depend on the overbearing weight of funding from the fat cats!
Third, the former students union leader at the University of Lagos has made swift but effective campaign events across Nigeria's major cities and North America. As it were, it is factual to note that the attendance of these rallies have been modest. The master stroke and strategy of Sowore are the facts that he has made the most mileage issue in the utilization of social media better than any other potential candidates, so far, in the race.
Fourth, he is capturing the imagination and civic interests of millions of unemployed, underemployed, yet very talented demographics of Nigerian youth. He speaks in their lingo, wrapped
Fifth, besides the youth segment of Nigeria, Sowore has impressed many Nigerians and accountability organizations in the fight over corruption. To be sure, he has equally alienated a huge swath of the Nigerian political and business elite over published materials on his website. The truth of the matter is that he is usually, to use a Nigerian slang, "more correct" than those who accuse him of being driven by malice or sponsored by some special interests.
How all those will impact his ambition to lead Nigeria reside in the dynamic turns and twists of time and real politik.
I'll close with the realistic engagement in the battle for power as stated by the 1960s Black feminist Audre Lorde that ""For the master's tools will never dismantle the master's house…"
———
•Dr. Chido Nwangwu is Founder & Publisher of Houston-based USAfrica multimedia networks, first African-owned, U.S-based newspaper published on the internet USAfricaonline.com;  and recipient of several journalism and public policy awards. He has been profiled by the CNN International for his pioneering works on multimedia/news/public policy projects for Africans and Americans. He worked previously for the Nigerian Television Authority, Platform magazine, and the Daily Times of Nigeria; and has served as adviser on Africa business to Houston's former Mayor Brown. USAfrica, CLASSmagazine and USAfricaonline.com are assessed by the CNN and The New York Times as the largest and arguably the most influential African-owned, U.S-based multimedia networks. USAfrica established May 1992.
---
2018 book: In this engaging, uniquely insightful and first person reportage book, MANDELA & ACHEBE: Footprints of Greatness, about two global icons and towering persons of African descent whose exemplary lives and friendship hold lessons for humanity and Africans, the author Chido Nwangwu takes a measure of their works
and consequence to write that Mandela and Achebe have left "footprints of greatness."
He chronicles, movingly, his 1998 reporting from the Robben Island jail room in South Africa where Mandela was held for decades through his 20 years of being close to Achebe. He moderated the 2012 Achebe Colloquium at Brown University in Providence, Rhode Island."I'll forever remember having walked inside and peeped through that historic Mandela jail cell (where he was held for most of his 27 years in unjust imprisonment) at the dreaded Robben Island, on March 27, 1998, alongside then Editor-in-chief of TIME magazine and later news chief executive of the CNN, Walter Isaacson (and others) when President Bill Clinton made his first official trip to South Africa and came to Robben Island. Come to this island of scourge and you will understand, in part, the simple greatness and towering grace of Nelson Mandela", notes  Chido Nwangwu, award-winning writer, multimedia specialist and founder of USAfricaonline.com, the first African-owned U.S-based newspaper published on the internet, in his first book; he writes movingly from his 1998 reporting from South Africa on Mandela. http://mlkmandelaachebe.com/
Exclusive: Court nullification of APGA Senate primary, Chidolue tells USAfrica it's "a great day in Anambra against impunity."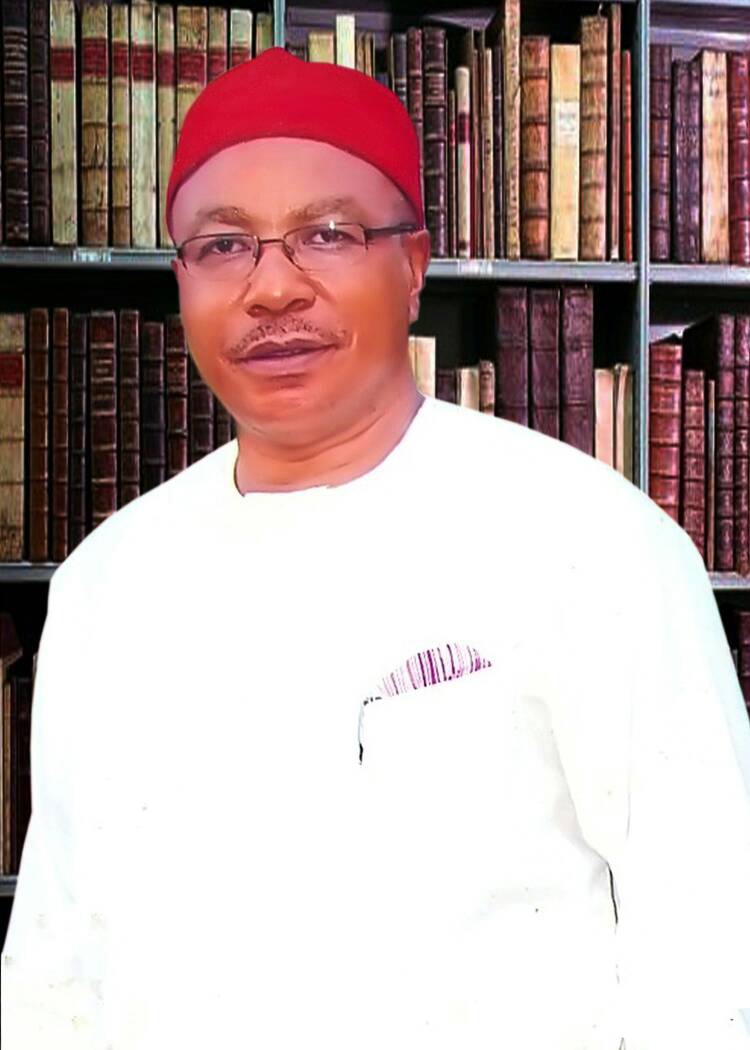 The Senate seat for the Anambra State South zone took a new twist in the Abuja high court, earlier today.
The billionaire businessman who bagged the All Progressives Grand Alliance ticket through the controversial primary elections, Nicholas Ukachukwu, has seen his electoral plans nullified, unless he secures a favorable appeal.
The court's decision is in response to the lawsuit/pleadings to the court by one of the APGA candidates for the Senate seat, attorney OJ Chidolue (Oduma Nnewi, the 2nd).

In an exclusive chat with USAfrica and USAfricaonline.com Publisher Chido Nwangwu, the plaintiff Dr. Chidolue called it "a great day for justice and democracy in Anambra against impunity. You already know my position remains that everyone must follow the rule of law in order for us to have a better society. Also, this court, this judge reinforced my confidence in our judicial system."

The Judge condemned what he assessed to be unethical conduct by the party leadership for giving Nicholas Ukachukwu the certificate of Return dated October 3, 2018 —which was the same day of the alleged controversial, violent and disputed APGA primaries.
Chidolue, former executive director of operations and regulatory services (south east – south south zone) of the Nigerian Ports Authority, is from a lineage of public service, successful businessman and a forensic accountant.*For the purposes of full disclosure, since 1994, attorney Chidolue has been a member of the editorial Advisory board of USAfrica The Newspaper and USAfricaonline.com
USAfrica: Buhari to debate Atiku, Moghalu on January 19; rising Sowore not listed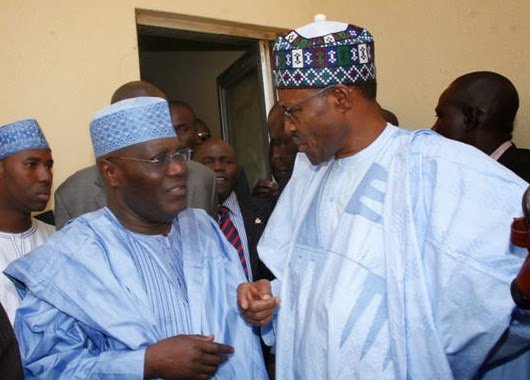 As the countdown to the February 2019 presidential elections in Africa's most populated country continues, Nigerian Elections Debate Group (NEDG) and the Broadcasting Organisations of Nigeria (BON) have announced the "names of political parties" that they have pre-qualified to participate in the 2019 vice presidential and presidential debates.
The Executive Secretary of the NEDG, Eddie Emesiri, listed the parties as the following: Allied Congress Party of Nigeria (ACPN), Alliance for New Nigeria (ANN), All Progressives Congress (APC), Peoples Democratic Party (PDP) and Young Progressives Party (YPP).
The Presidential debate will hold on Saturday, January 19, 2019 while the VP debate will be in Abuja on Friday, December 14, 2018.
President Buhari, a retired army general who does not warm up to contrary even if helpful views, USAfrica notes, will have the opportunity of counterpoint exchanges with his 2015 former ally Atiku Abubakar, and especially from the  former deputy Governor of Nigeria's Central Bank Prof. Kingsley Moghalu. 
Significantly, the debate excludes Omoyele Sowore, the activist-journalist and young candidate who is among the top canvassers and most travelled candidates (inside and outside Nigeria) in search of votes. By Chido Nwangwu, Founder & Publisher of USAfrica [Houston] and USAfricaonline.com
https://usafricaonline.com/2018/05/19/usafrica-why-saharareporters-sowores-disrupt-the-nigerian-system-message-is-gaining-momentum-by-chido-nwangwu/
Global Terrorism Index ranks Nigeria, Somalia and Egypt among the worst hit.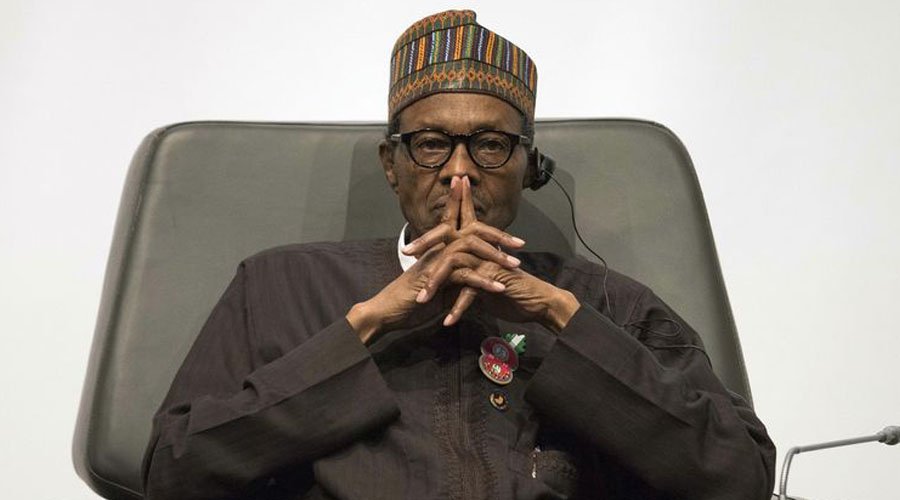 The Global Terrorism Index for 2018 has been released by the Institute for Economics and Peace, which recorded 3 African countries of Nigeria, Somalia and Egypt among the worst hit. Iraq's almost daily blasts placed it at the top, followed by Afghanistan, Nigeria, Syria, and Pakistan.
The GTI found that "the global impact from terrorism is on the decline, it also shows that terrorism is still widespread, and even getting worse in some regions."
The United States is at number 20.
The Index ranked 138 countries based on the severity of terror attacks throughout 2017, and found that "The total number of deaths fell by 27 percent between 2016 and 2017, with the largest falls occurring in Iraq and Syria. The overall trend of a decline in the number of deaths caused by acts of terror reflects the increased emphasis placed on countering terrorism around the world since the surge in violence in 2013."
"In the Maghreb and Sahel regions of Northern Africa, there has been a resurgence of terrorist activity in the past two years, most notably of al-Qa'ida. As of March 2018 there were more than 9,000 members of terrorist groups active in the region, mostly concentrated in Libya and Algeria," it noted.
The GTI assessed the total global economic impact of terrorism at almost $52 billion.
USAfricaonline.com notes that the attacks by Nigeria's Boko Haram and its affiliates mainly in the north east and exponential rise in the violence unleashed by the Fulani herdsmen negatively affected the country. By Chido Nwangwu @Chido247