USAfrica: Why SaharaReporters Sowore's disrupt-the-Nigerian-system message is gaining momentum. By Chido Nwangwu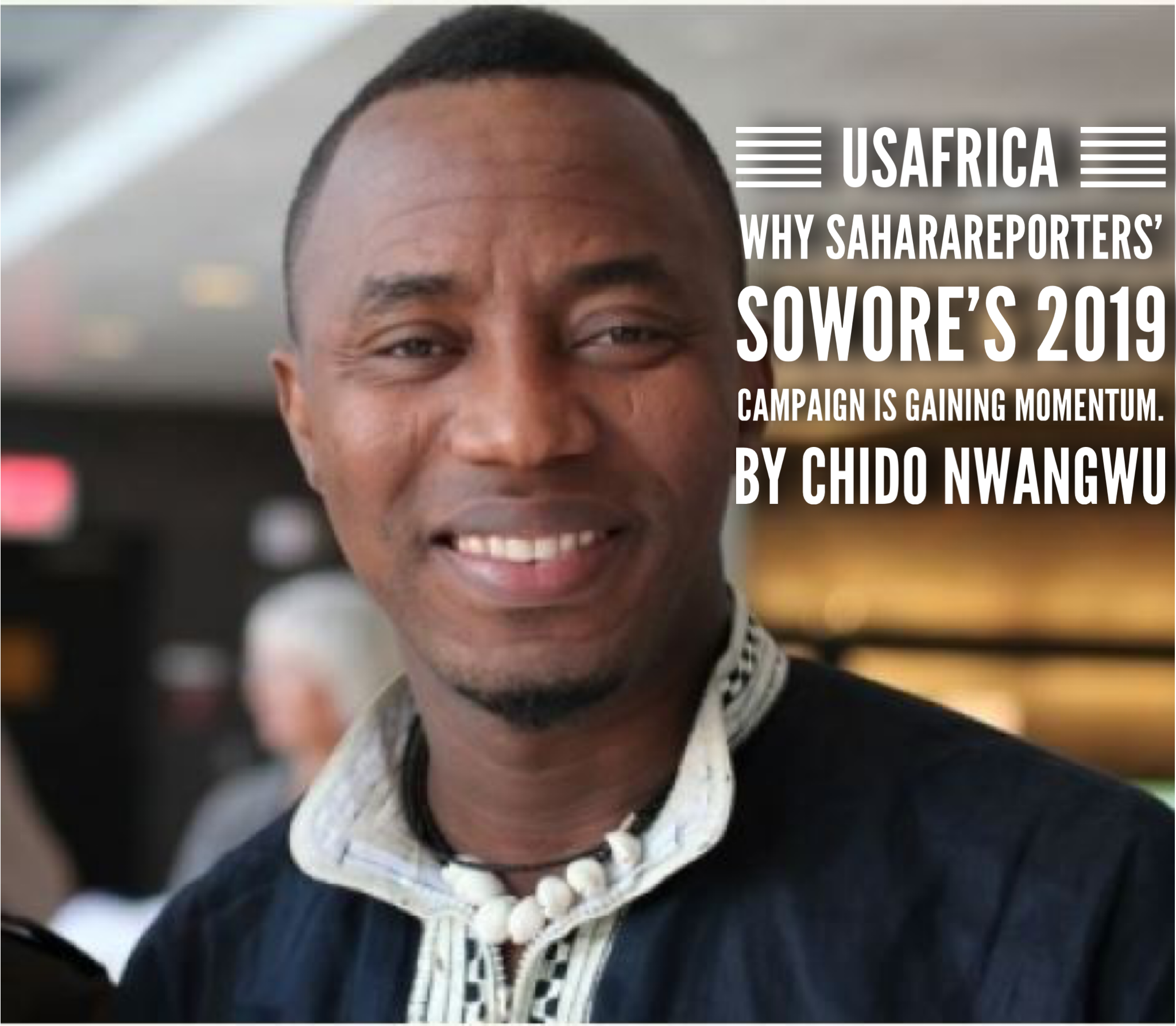 By Chido Nwangwu, Publisher of USAfrica, Houston. •Follow Twitter.com/Chido247, Facebook.com/USAfricaChido
I remember my first meeting with Omoyele Sowore has been almost 10 years — at the residence of the profoundly resourceful Dr. Chidi Achebe — where we (including Prof Okey Ndibe and Prof Chukwuma Azuonye) gathered to learn and interview the great novelist Prof Chinua Achebe.
He came as SaharaReporters.com Publisher which opened a few years earlier in 2006, in New York; supported by grants from the Ford Foundation and the Omidyar Foundation. I came as Publisher of the print and online platforms USAfrica [established 1992, in Houston], USAfricaonline.com, CLASSmagazine and AchebeBooks.com
I had a brief chat with Sowore middle of May 2018 whereby he informed me about his campaign for the presidency of Nigeria 2019. I congratulated him "for the courage to present an alternative outlook on Nigeria."
Before that day, I observed his campaign events and use of the social elements of technology to enable me make these points.
First, Sowore, an equal opportunity offender [especially of the corrupt], is undertaking a relatively bold challenge of the entrenched forces and groups who have held Nigeria's potentially greater fortunes as their playground, a barnyard for primitive accumulation and consumption.
Second, the campaign's financial support is primarily derived from the social media funding site, gofundme.com
His fundraising results there has been a catalyzing factor for the operations and mobilization of supporters. It has not been optimal. Yet, he's doing what no other Nigerian politician has attempted: Raise money for politics through small donations by everyday folks rather than depend on the overbearing weight of funding from the fat cats!
Third, the former students union leader at the University of Lagos has made swift but effective campaign events across Nigeria's major cities and North America. As it were, it is factual to note that the attendance of these rallies have been modest. The master stroke and strategy of Sowore are the facts that he has made the most mileage issue in the utilization of social media better than any other potential candidates, so far, in the race.
Fourth, he is capturing the imagination and civic interests of millions of unemployed, underemployed, yet very talented demographics of Nigerian youth. He speaks in their lingo, wrapped
Fifth, besides the youth segment of Nigeria, Sowore has impressed many Nigerians and accountability organizations in the fight over corruption. To be sure, he has equally alienated a huge swath of the Nigerian political and business elite over published materials on his website. The truth of the matter is that he is usually, to use a Nigerian slang, "more correct" than those who accuse him of being driven by malice or sponsored by some special interests.
How all those will impact his ambition to lead Nigeria reside in the dynamic turns and twists of time and real politik.
I'll close with the realistic engagement in the battle for power as stated by the 1960s Black feminist Audre Lorde that ""For the master's tools will never dismantle the master's house…"
———
•Dr. Chido Nwangwu is Founder & Publisher of Houston-based USAfrica multimedia networks, first African-owned, U.S-based newspaper published on the internet USAfricaonline.com; and recipient of several journalism and public policy awards. He has been profiled by the CNN International for his pioneering works on multimedia/news/public policy projects for Africans and Americans. He worked previously for the Nigerian Television Authority, Platform magazine, and the Daily Times of Nigeria; and has served as adviser on Africa business to Houston's former Mayor Brown. USAfrica, CLASSmagazine and USAfricaonline.com are assessed by the CNN and The New York Times as the largest and arguably the most influential African-owned, U.S-based multimedia networks. USAfrica established May 1992.
---
2018 book: In this engaging, uniquely insightful and first person reportage book, MANDELA & ACHEBE: Footprints of Greatness, about two global icons and towering persons of African descent whose exemplary lives and friendship hold lessons for humanity and Africans, the author Chido Nwangwu takes a measure of their works
and consequence to write that Mandela and Achebe have left "footprints of greatness."
He chronicles, movingly, his 1998 reporting from the Robben Island jail room in South Africa where Mandela was held for decades through his 20 years of being close to Achebe. He moderated the 2012 Achebe Colloquium at Brown University in Providence, Rhode Island."I'll forever remember having walked inside and peeped through that historic Mandela jail cell (where he was held for most of his 27 years in unjust imprisonment) at the dreaded Robben Island, on March 27, 1998, alongside then Editor-in-chief of TIME magazine and later news chief executive of the CNN, Walter Isaacson (and others) when President Bill Clinton made his first official trip to South Africa and came to Robben Island. Come to this island of scourge and you will understand, in part, the simple greatness and towering grace of Nelson Mandela", notes Chido Nwangwu, award-winning writer, multimedia specialist and founder of USAfricaonline.com, the first African-owned U.S-based newspaper published on the internet, in his first book; he writes movingly from his 1998 reporting from South Africa on Mandela. http://mlkmandelaachebe.com/
USAfrica: Petition to rename street opposite Trump Tower the Barack Obama Avenue inches to target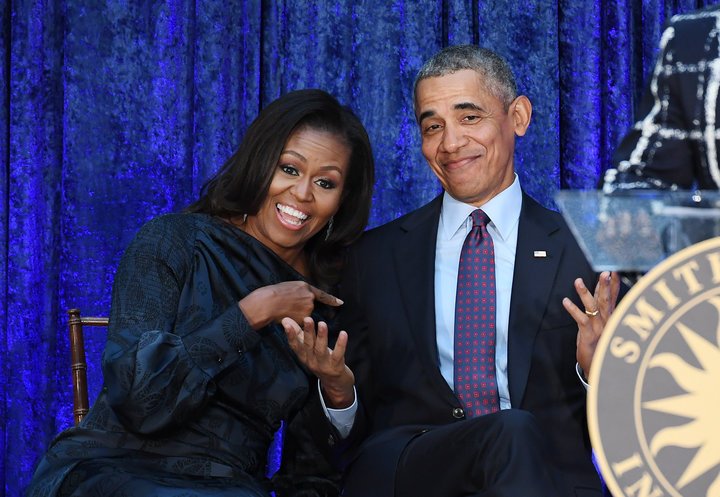 Evidently, "the thorny, combative paths of incumbent President Donald Trump and those of his immediate predecessor Barack Obama will not only cross but may, soon, permanently face each other", writes USAfricaonline.com Publisher Chido Nwangwu, a few minutes ago Saturday January 5, 2019.
This is as thousands of people continue to sign a new petition to rename part of New York City's Fifth Avenue after former President Obama.
The coordinators of the popular online petition, which has more than 12,414 signatures (as at this Saturday morning), states "We need 15,000" for the renaming of the block between 56th and 57th Streets in Manhattan "President Barack H. Obama Avenue."
They referenced a recent renaming of a stretch of highway in downtown Los Angeles after Obama, the 44th U.S. president.
"We request the New York City Mayor and City Council do the same by renaming a block of Fifth Avenue after the former president who saved our nation from the Great Recession, achieved too many other accomplishments to list, and whose two terms in office were completely scandal free."