Special to USAfrica magazine (Houston) and USAfricaonline.com, first Africa-owned, US-based newspaper published on the Internet.
On Soludo's Day 1, Mrs. Ojukwu-Mrs. Obiano fracas dominates news of Inauguration as Gov Anambra; offers apology.
USAfrica: Chukwuma Charles Soludo, professor and technocratic former Governor of the Central Bank of Nigeria, shortly after his inauguration today Thursday, March 17, 2022 moved on to work on the business of the State. He promised the people at his swearing-in that "Today is my first day at work. I just reported for duty and will work for at least eight hours. Now is the time to work, and there is no minute or kobo to waste in fanfare."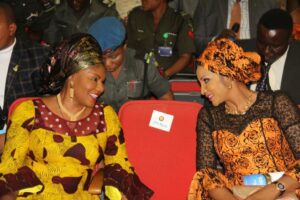 He said that he knew "the lean financial base of the state. I know the limitations imposed upon a sub-national state such as Anambra by the peculiar structure of our (Nigerian) federation. But here's my promise: … Every kobo of your tax money will be deployed to provide you maximum value."
He said that "Within the next one week, the list of commissioners will be laid before the House of Assembly. Tomorrow, we will head to Okpoko in Ogbaru Local Government Area and parts of Onitsha and Idemili as we signpost our commitment to fundamental urban regeneration, beginning with the greater Onitsha metropolis."
However, USAfricaonline.com notes that the reports and video clips of the physical conflict at Soludo's inauguration between the immediate former First Lady of Anambra State, Mrs. Ebelechukwu Obiano and the widow of the former Head of State of Biafra Mrs. Bianca Ojukwu dominates the social media and trending on key platforms.
Soludo has apologized  via his media team that "The breach was caused by improper communication which itself arose from a personal issue between the two parties involved in the breach". The statement avoided mentioning their names.
---
UPDATE: Iyom Bianca Ojukwu told Arise TV on Friday March 18, 2022: "I did not pay any attention to her arrival. Surprisingly, she walked towards me and I thought she was coming to greet me. Instead she verbally attacked me with her voice raised, taunting me and asking me what I was there to do, using unprintable, vile language…. I left her but she kept on aggressively putting her hand on my shoulders and shouting."
She added that "While I ignored her verbal onslaught as advised by people sitting around me, I requested twice that she refrains from touching me with her hands. She proceeded to do so yet again and tried to touch my head and remove my headtie. It was at that point I stood up to defend myself and gave her a dirty slap to stop her from attacking me. As she made it towards me, I removed her wig, she then held on to her wig with her two hands and tried to take the wig away from me."
Ambassador Ojukwu pointed out that while some people tried to separate them, she was surprised by what she identified as the stench of whisky in the former First Lady's breath at such an early hour of the day. She wondered, she recalled: "How could the first lady be so drunk at that time? I stayed back to watch the ceremony till the end and left with my dignity intact."
As Obama turns 60 in the age of the pandemic. By Chido Nwangwu