Special to USAfrica magazine (Houston) and USAfricaonline.com, the first African-owned, US-based newspaper published on the Internet.
Amaopusenibo Bobo Sofiri Brown, editorial opinion contributor to USAfrica and USAfricaonline.com, served as pioneer Manager of PR at NAFCON Nigeria, founder of the SUNRAY multimedia group in 1992 in Port Harcourt and is currently CEO of GRAIN Consulting.
Nigerians who watch events in the US, UK and other parts of Western democracy, seem to marvel at how the courts can throw governments out of office or bring them to their knees, to show respect to the constitution of their respective countries.
Turkey is the latest one.
A Sunday ago while the population were setting up for a hectic business week, a sitting-President learnt from the electoral body that he scored 49.52% of the general election just concluded .
He had beaten his closest opponent by about 5%.
The small matter was that the constitution required a score of 50% for him to retain the job as President.
Some Nigerians have gone haywire on media platforms wondering how the President of Turkey reacted.
Please don't blame us.
There is a fundamental systemic reason why things tend to follow a different but predictable pattern in our country Nigeria.
I seek to explore some of the tendencies we are likely to witness as the legal battle over Feb 25 intensifies.
1). Nigerians are curious that that the President of Turkey didn't call the electoral committee to a midnight banquet.
A whole executive President?
We shrug in disbelief.
It doesn't matter to us that there is no title like Executive President, Executive Governor or Ezecutive LG Chairman in our constitution.
Government officials and jobless Party supporters would have made the situation in Turkey look more serious.
So they will invent many Nigerian Professors as part of the process.
This would keep the bloody Vice Chancellors and their other colleagues on their toes, to know that "power pass power."
In Nigeria, that is very important because power is a systemic weapon of social intimidation.
Period!
Have you ever heard of any spokesman of government or a government official say the opposition meant well or even to thank the opposition for any good suggestion?
Now it is only the lucky Professor among his colleagues that would have been allowed to sit close to the electoral committee boss.
The lucky one will know he or she jumped the queue as a special favour, to read the President's election score.
It is an opportunity to be reckoned among the friends of the all powerful electoral committee boss.
Such a recognition by the national electoral committee is to many Professors and their fake colleagues, a juicy promisory note.
It is not lost on the recipient.
So the person will do a hasty Inaugural Lecture to show himself or herself as a mathematical genius invented by the electoral committee, by performing the herculean task of quickly approximating 49.52 to 50%!
Champagne and very costly cocktails bought at State expenses, would have been used to wash this moment of mathematical genius!
2. In Turkey they handled the matter in a different way.
The President followed due process and submitted himself to a run off election.
We remember one Boris Johnson who was famous for doing bicycle rounds along the highways in London, as the Mayor of the City.
He was not a stranger to any merry crowd at London pubs that would pass for average beer joints at Ojuelegba or Yaba in Lagos.
He became UK Prime Minister in the thick fog triggered by a social storm called BREXIT, which claimed at least two Prime Minsters before his tenure.
But by 2019 September as Prime Minister, Boris Johnson was stung by a vicious bee in the Judicial system in UK.
He was found guilty of misleading Late Queen Elizabeth II, to prorogue Parliament for 5 weeks.
Dandy Boris Johnson thought he was doing a smart thing to use the Queen to send the legislators home, while he sorted out a few delicate things in his office.
It was at the height of BREXIT implementation row among legislators.
And the court ruled that the UK Prime Minster had acted unlawfully.
His action was declared void and of no effect.
Then again look at the Master mmanwu himself: Donald Trump!
How many times US courts threw him off his high horse for not providing any proof that he won the 2020 Presidential election?
Can Nigerians imagine Lai Mohammed or Femi Fani-Kayode working for that one as a match made in heaven?
They would have put Sean Spicer to shame.
He swept into the White House Press room in 2016 as a mini hurricane to clear the way for Trump's rage against America.
But you know US institutions.
Sean Spicer lost his spice after about his first year on the job.
The Trump storm swallowed him!
Whether in UK or US the Press and judicial systems are among the institutions trusted to defend the core values of society.
3. Many Nigerians appear confused by the kind of "democracy" brought to us in 1999: how did it get launched without the tool kit of accessories to assure that State institutions would show rugged back- bones to defend the core values of social justice, due process and human dignity in Nigeria?
The current legal fireworks over February 25 general elections, is sending Nigerians running helter-skelter.
We don't know what Spirit is running the show, while Lawyers are going through an expensive and demanding ritual of court processes.
Since teh Association of Witches came to the party, we hear Wig and gowns are flying all over the place, and some are flying on broomsticks!
4. This brings us to ask what spirit runs the Nigerian state as well as its institutions, especially since 1999.
By the logic of the Feudal System, the Judiciary like other institutions of State, has to defend the core interests of the establishment.
Period!
It does so by interpretations that often mystify the public and by daylight invocation of self- serving technicalities.
This is not accidental.
Rather it is part of a systemic network to see that the few who are in positions of power, continue to monopolize public wealth and other resources with their cronies.
The rest of society is made poorer deliberately to weaken the people's capacity to resist oppression.
In 23 years, this logic has not failed in Nigeria.
It partly explains why the same Nigerian people who rose to battle against military regimes are idle in a refuse dump at the corner under Civilian administrations.
For instance the military tried to raise pump price of Petroleum products 4 times between 1991 (at 70k per litre) and 1998 (at N25 per litre).
The people fought back with bare hands to restrain the military. On a number of times the military rolled back the price they had fixed in preference for consensus.
But the Nigerian people have surprisingly turned dumb from 2015 when price per litre of fuel rose from N85 to even N300/ litre by Jan 2023!
The secret behind the relative silence of the masses includes the massive looting of public treasury that has become public knowledge since 1999.
It has led to the steady and periodic market sqeezing of the Naira by foreign exchange rate.
Such steady erosion of value in the local currency, left a population with devalued life and pinned down to survival struggles.
You cannot measure in % terms the harm done to the quality of life of citizens since 1999.
Simply put, it is horrific
And the loss of purchasing power has been a major weapon to achieve it.
For instance between 1994 and 1998 the exchange rate was $1= N50 about 1994 and later $1=N80.
But by 1999- 2007 the exchange rate had dwindled from an inception rate of $1=N80 to $1= N100 by 2006.
By 2007-2014 the exchange rate made the Naira stand like a critical patient in the emergency ward: from an inception rate in late 2007 of $1=N120 it went to a surprising exit rate in May 2015 of $1=N180.
But from 2015-2023, the exchange rate has become far worse than a clear crisis case.
Even the thermometer in a chronic mad people's ward will not run to such extremes as the Naira!
At an inexplicable inception rate of $1=N350 by June -July 2015, the exchange rate has brought Naira to an all time disaster level of $1=N800 in 2023!
5. Against the hundred of millions of dispossessed citizens since 1999, the Judiciary has escaped with the arrogance of state authority.
It serves to cover the institutions decreasing efficiency, lack of transparency and generally a perceived tendency to avoid fact-based judgments.
Those who have stolen the Presidency at notional level or Governorship position in a State, try to keep it at all costs.
They cannot return it, based on what people can see as clear judicial application of social justice to uphold fairness and due process for the proverbial common man or for national healing.
Rather the pursuits of our judiciary in electoral and other political issues, fall far from public applause. The widely held suspicion is that the Judiciary at State and national levels have tended to support the highest bidder to take the Cake.
Yet our Judiciary seems to be protected at State and Federal levels from public opinion, by their big robes with deep pockets!
Still, all religions known to Nigerians preach that justice will come in due course.
God's wheels of vengeance keep turning against the tide of the ruling elite.
We dont see it because it seems to move ever so slowly or not at all in human view.
Those who benefit from the system so not shoe remorse.
Rather and expectedly so as the Feudal System, they make a mockery of the growing tide of expectation of social justice, by an enslaved population.
It doesn't matter.
Logically, institutions in a Feudal System that is skewed towards oppression, institutional inefficiency and abuse of due process as INEC has shown on Feb 25 & March 18, cannot and will not do justice.
But the more injustice it perpetrates, the more it increases the contradictions that will push the masses in society to the tipping point.
Claude Ake one of Africa's leading Eagles of Political Economy, in one of his last works before his home call in the early 1990s (Democracy And Development) warned that such contradictions indicate Revolutionary Pressures breathing down our necks.
The political elite didnt take it seriously, until they woke up on Feb 25, 2023 and started receiving early reports from Polling booths.
One day the full story woukd be told of the heroic exploits of youths and their parents who rose as Obidients to use Labour Party to "Take Back Nigeria" from systemic decadence.
Nigeria's 2023 elections, began showing to the keen observer that there are unusual elements in the arena.
We do not know if the system is at the tipping point as yet.
When it gets there, those in charge will feel the pressure of righteous public anger.
Then they will seek to embrace either of these options:
a) damage control measures thru deal arrangements to preserve its grip on rulership at the centre.
An unprecendented trip to Labour Party recently by those who claim to be APC Senate caucus, suggests that lots of underground moves are on-going.
b) Negotiation or a political "plea bargain" to enable the Robber barons behind the armed robbery of Feb 25 and March 18, to keep part of what they have stolen, especially at the national level.
c) "Go for broke" mentality by pushing an "all or nothing" agenda.
This is likely a fall- back strategy based on the wrong assumption by the political elite that once you acquire political power, the society will be cowed into silence.
d) The unexpected option.
For now we don't know what will play out.
But what we know is that signs are growing in two directions:
First, is that the robbers won't give up.
They will fight to death because it is the only job they know well.
INEC's reported persistent denial to comply with court order about election details, seem to point in that direction.
To be clear, we are talking about the same election result details that Professor Yaqoob Mahmood waited until witchcraft hours at oast midnight, to use to crown Asiwaju Bola Tinubu as President-elect.
It was done in a manner that suggested there was no omission of any punctuation mark from a written script!
A playbook to corruptly grab the Presidency and run with it, seems to be studiously unfolding.
Secondly, there is a big cloud ahead.
All of the calculation of the political elite is that the Nigerian public will never rise to the challenge of what appears to us as daylight robbery.
Or that the public will not have the stamina to stay the course.
What they dont seem to understand is that oppression can change people in an unexpected way, as Frantz Fanon argued with clinical evidence in "Wretched of the Earth".
On Feb 25 and March 18 enslaved Nigerians from the North, South, West and East joined hands to dismantle the Feudal System.
Should our political elite push them to join hands to fire the "Arrow of God" which fears no foe, against an establishment that has kept us backward and oppressed?
6. Nigeria's dispossessed are driven by deprivation to get better organized, one step at a time.
It is possible but we dont know when: the Akusa drum of the Ibani that brings the big Masquerade to the arena, may play a different tune.
Look at some indicators:
a) The intensity of attrition in various camps of the political elite is increasing.
Within APC various champions of the party as at 2015 -2022 are left on the way side to fight their way back to relevance;
In PDP, it is even more intense, as the future of the party is on the chopping block!
The backbone of each of either APC or PDP is their shared passion to deny Obi- Datti ticket a well deserved victory.
Imagine for one second if the truth unfolds beyond doubt, that Obidients won the Feb 25 election!
The establishment in Nigeria from business empires to political empires will face a sweeping storm!
So the hands of various cabals in both empires are joined in resistance.
b). Social forces are being formed into anti- establishment groups by a citizenry awakened by the increasing impunity of those who hold power.
At home and overseas Nigerians are beginning to ask unsettling questions, as organized groups. They have not done so in this way since 1999.
But they need to dig deeper.
How much stamina they have, is suspect.
But remember: a pro- Biafra movement overseas, especially since 2015 hasn't turned cold . Boko Haram remains a monster at our heels.
Should the poor and impoverished get organized, Nigeria's story will change for the better.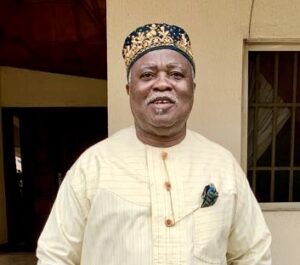 c). Foreign-based associations such as NADECO, are throwing their hats into the ring over February 25, 2023 election results.
They may lead the fight against the regime, after the suspected on-going establishment "baptism" of this electoral robbery.
What we face is not a 100 metres race to justice.
We need stamina and steady focus on the objective of building a NEW Nigeria where social justice is the engine room to drive national productivity, efficiency, due process and citizen dignity.