Special to USAfrica magazine (Houston) and USAfricaonline.com, the first Africa-owned, US-based newspaper published on the Internet.
By Chido Nwangwu is Publisher of USAfrica. Follow on X (Twitter) @Chido247
The United Nations' General Assembly session in New York, this week of September 17 to 22, 2023, is an event of presidential heavyweights, bumbling dictators, spin doctors and hangers-on around the diplomatic circuits.
I'll cite, very briefly, the main points in two speeches from two African leaders at the UN event.
First, Nigeria's recently sworn-in President, Bola Ahmed Tinubu, told the delegates that "African nations will improve our economies so that our people do not risk their lives to sweep the floors and streets of other nations."
Tinubu whose credibility, education and identity cases are still in Court in the United States and in Nigeria exclaimed that "What we seek is an equal, firm commitment to partnership. Walk with us as true friends and partners."
He characterized the issue as being hinged on these points: "Africa is not a problem to be avoided. Nor is it to be pitied. Africa is nothing less than the key to the world's future."
I think that far beyond the flowery seduction and attractive spin of the Tinubu speeches, and comparable promises by other politicians and previous leaders, the existential realities of Nigerian, South African and African persons in the continent have become worse.
The truth and facts of the realities of Tinubu's countrymen and women, especially the youths, tell a different story from the saccharine optimism and artful description of his speech.
Among many factors, the continued, exponential collapse of the Naira and the Nigerian electricity national grid a few days in mid-September 2023 have since become towering and outrageous calamities! It's today N990 for $1.
Is there any doubt, therefore, why the present Nigerian socio-economic circumstances and future have become agonizing struggles and steep battles to survive in seemingly hopeless situations?
On his part, South Africa's President Cyril Ramaphosa on September 19, 2023, stated at the same UN event, that: "It is a grave indictment of this international community that we can spend so much on war, but we cannot support action that needs to be taken to meet the most basic needs of billions of people…. As the international community, we must do everything within our means to enable meaningful dialogue, just as we should refrain from any actions that fuel the conflict,"
However, his ANC-led government is Putin's ally in the punitive invasion of Ukraine where billions of dollars are being spent on the battlefield and residential, sensitive nuclear, energy and medical infrastructures of Ukraine.
Understandably, Ramaphosa commented on the recent military coups in West and Central Africa, indicating that: "As a global community, we should be concerned by recent incidents of unconstitutional changes of government in some parts of Africa."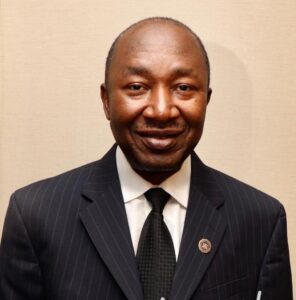 African leaders should also be reminded that very bad, incompetent, tenure-elongating, lawless civilian and undemocratic governments, sometimes, instigate military interventions. It does not mean that the soldiers are better, or….
•Dr. Chido Nwangwu, author of the forthcoming 2023 book, MLK, Mandela & Achebe: Power, Leadership and Identity, is Founder of the first African-owned, U.S-based newspaper on the internet, USAfricaonline.com, and established USAfrica in 1992 in Houston.He has appeared as an analyst on CNN, ALJazeera, SKYnews, and served as an adviser on Africa business to Houston's former Mayor Lee Brown. Follow him on Twitter @Chido247