#USAfricaLIVE #Biafra Aba shutdown by pro-Biafra demonstrators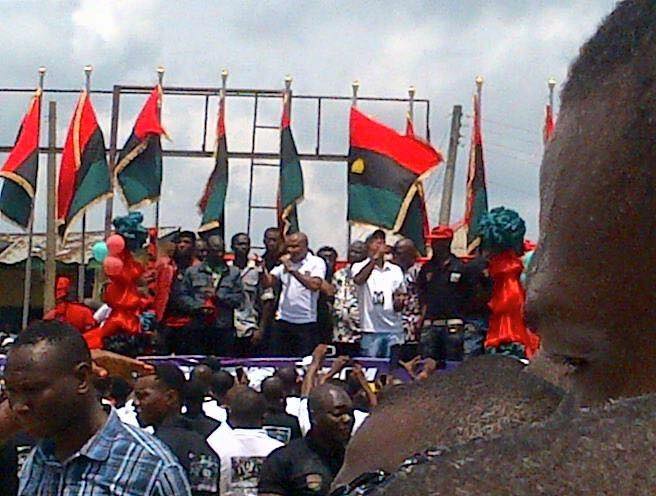 #USAfricaLIVE #Biafra Aba shutdown by pro-Biafra demonstrators.
Special to USAfricaonline.com,  and USAfrica multimedia networks, Houston. Follow USAfrica at Facebook.com/USAfricaChido , Facebook.com/USAfrica247 and Twitter.com/Chido247
Parts of the commercial heartland of south eastern Nigeria, Aba in Abia State, were brought to several disruptions and operational challenges as members and sympathizers for the peaceful movement called the Indigenous People of Biafra (IPOB) marched across the city.
Among their issues, reports USAfricaonline.com correspondent Ugo Nwangwu in Aba, is their call "for a peaceful. non-violent exit from Nigeria" and a demand for the immediate release of the leader of the controversial and popular Radio Biafra. Nnamdi Kanu.
He is being detained by the federal government of Nigeria — for yet unspecified charges — when he travelled from London, reportedly, to Nigeria.
There were several demonstrations in different parts of the pre-1967 Eastern Nigeria, including Port Harcourt, Asaba, Onitsha, and major cities in the world. 
Aba, a multi-community city, historically, offers an indication of the political and socio-economic currents of the Igbo. I was born and raised in Aba.                                                                                                    By Chido Nwangwu, moderator of the Achebe Colloquium (GOVERNANCE
, SECURITY
, and PEACE
 in Africa) December 7-8, 2012 at Brown University in Rhode Island. is the Founder & Publisher of Houston-based USAfrica multimedia networks since 1992, and first African-owned, U.S-based newspaper published on the internet USAfricaonline.com
——————–
@Chido247 

Boko Haram: SkyNews London interview wt USAfrica Publisher Dr. Chido Nwangwu on BOKO HARAM vs BUHARI (Nigeria's President inaugurated May 29, 2015). Interview on May 30 (Houston) May 31 (London) 2015
————–
VIDEO #CNN special #CHIBOK Girls n #BokoHaram Live intvw wt the Founder of USAfrica multimedia and public POLICY networks Chido Nwangwu. CNN anchors John Berman n Michaela Pereira.  
USAfrica:: Buhari's rejection of Rolls-Royce ride in London, Obasanjo and lessons of history. By Chido Nwangwu.  https://usafricaonline.com/2015/05/24/buharis-rejection-of-rolls-royce-ride-in-london-obasanjo-and-lessons-of-history-by-chido-nwangwu/
Forthcoming 2016 BOOK: In this engaging, uniquely insightful and first PERSON
 reportage book, MANDELA & ACHEBE: Footprints of Greatness, about two GLOBAL
 icons and towering PERSONS
 of African descent whose exemplary lives
 and friendship HOLD
 lessons for humanity and Africans, USAfrica Founder Chido Nwangwu takes a measure of their works and CONSEQUENCE
 to write that Mandela and Achebe have left "footprints of greatness."
He chronicles, movingly, his 1998 reporting from the Robben Island jail room in South Africa where Mandela was held for decades through his 20 years of being 
CLOSE
 to Achebe. He moderated the 2012 Achebe Colloquium at Brown 
UNIVERSITY
 in Providence, Rhode Island.
"I'll forever remember having walked inside and peeped through that HISTORIC
 Mandela jail cell (where he was held for most of his 27 years in unjust imprisonment) at the dreaded Robben Island, on March 27, 1998, alongside then Editor-in-chief of TIME magazine and later news chief EXECUTIVE
 of the CNN, Walter Isaacson (and others) when PRESIDENT
BILL
 Clinton made his first official trip to South Africa and CAME
 to Robben Island. Come to this island of scourge and you will understand, in part, the simple greatness and towering grace of Nelson Mandela", notes  Chido Nwangwu, award-winning writer, multimedia 
specialist and founder of USAfricaonline.com, the first African-owned U.S-based newspaper published on the 
INTERNET
, in his first book; he writes movingly from his 1998 reporting from South Africa on Mandela. 
http://www.mandelaachebechido.com/
  •Dr. Chido Nwangwu, moderator of the Achebe Colloquium (GOVERNANCE
, SECURITY
, and PEACE
 in Africa) December 7-8, 2012 at Brown UNIVERSITY
 in Rhode Island and former ADVISER
 on Africa business/issues to the Mayor of Houston, is the Founder & Publisher of Houston-based USAfrica multimedia networks since 1992, first African-owned, U.S-based newspaper published on the INTERNET
 USAfricaonline.com; CLASSmagazine, AchebeBooks.com, the USAfrica-powered e-groups of AfricanChristians, Nigeria360 and the largest pictorial events megasite on the African diaspora www.PhotoWorks.TV . He was recently profiled by the CNN International for his pioneering works on multimedia/news/public policy projects for Africans and Americans.   E-MAIL
: Chido247@Gmail.com
USAfrica: Atiku's America trip boosts U.S assessment as realistic alternative to Buhari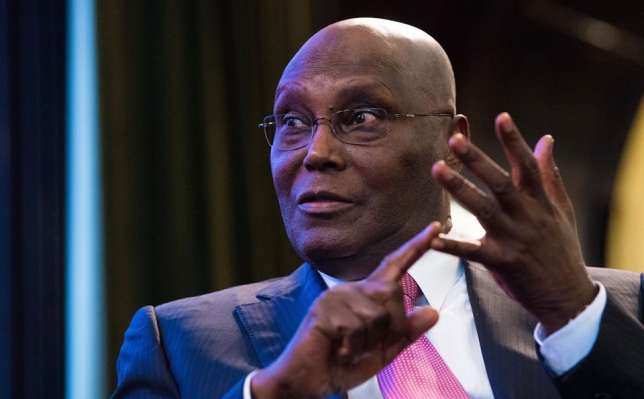 By CHIDO NWANGWU, Founder & Publisher of USAfrica [Houston] • USAfricaonline.com • ChidoNwangwu.com
The first time I met Atiku Abubakar was the first Thursday of May, 1999 when he attended the world's largest oil and. gas conference, OTC, as Nigeria's Vice President-elect, and I co-managed with Chris Mammah his participation on behalf of NAPIMS/NNPC.
Since 2001, somehow, millions of Nigerians believe(d) and spread the allegation that Atiku Abubakar had a "guilty charge awaiting him to be arrested" for criminal culpability, should he "set his feet" on the continental shelf of the United States….
Since 2015, for the opponents of Atiku, particularly outspoken members of retired general Muhammadu Buhari's ruling All Progressives Congress (APC), those are "Incriminating evidences" as well as the most visible disqualifiers, open for everyone to see as proof of his "corruption records.…"
But on Wednesday evening of January 16, 2019, in Abuja, the capital city of Nigeria, the country's former Vice President (1999 to 2007 during the presidency of retired general Olusegun Obasanjo) packed his bag with his visa. He was ready for the awaited trip to the United States of America, accompanied by some of his advisers. The jet was airborne around 1:30 Thursday morning. He arrived later in the day at the Washington Dulles international airport.
What are the key points and implications from his trip?
First, Atiku, one of the most formidable businessmen in the critical sector of logistics, effectively used the opportunity and platforms to announce to the world that he is the Nigerian free market forces candidate and the champion of privatization! And, it's jobs, jobs, jobs! Exactly what the American leadership needed to hear.
Second, with a mix of other factors and aggregation of interests, I think the man left the U.S, operationally enhancing his international bona fides, mid-January 2019, as a realistic alternative to Buhari.
Third, there was no mention of his controversial business tango with some Americans including Louisiana congressman Jefferson (who is in jail.). Plus, no reference to the complications from his multi-nodal transfer of substantial sums of funds into the U.S.
Fourth, the man's upfront and non-pretentious interest in State power specifically to become president of Nigeria is likely to draw the admiration of some American political activists and Nigerian-Americans. On the other hand, there are many who still charge him of an extraordinary ambition for apex political power which led him to move from the PDP to the APC and then back to the PDP. It fueled the flames of antagonism and corrosive questions against him.
On this issue, with deserving regards to history and facts, the cheerleader of the choir which sang all manner of stuff against "Atiku's character" was his former boss, Obasanjo.
To borrow the Warri context of the word, it was Atiku who "come provoke" the unforgiving soldier who could have been a great head of state, Obasanjo!
Unfortunately, Obasanjo's quest for an unprecedented 3rd term distracted him from the higher purposes of good governance; especially his positioning himself as the Nigerian Mandela. I addressed this comparison in my summer 2019 book titled MLK, Mandela and Achebe: Power, Leadership and Identity [ISBN 978-0-9893970-0-1]
Fifth, by wrapping up the two-day trip to the United States without any problems, I believe that Atiku has gained an excellent opportunity to refresh his narrative regarding the twin issues of integrity and corruption.
Sixth, by coming to exchange ideas with some of the most influential business executives and public policy leaders here in the United States, the moderate Muslim, who was born on November 25, 1946, has also enhanced his stature among leaders from the emerging markets.
Seventh, Atiku has began the unavoidable task of clearing the wet blanket of doubt covering the important, strategic and thoughtful manifesto he presented with Peter Obi over his third attempt to be elected President. •00——————————————•
Dr. Chido Nwangwu, analyst on CNN & SKY news, moderator of the Achebe Colloquium (Governance, Security, and Peace in Africa) December 7-8, 2012 at Brown University in Rhode Island and former adviser on Africa business to the Mayor of Houston, is the Founder & Publisher of Houston-based USAfrica multimedia networks since 1993, first African-owned, U.S-based newspaper published on the internet USAfricaonline.comChido is completing the 2019 book titled MLK, MANDELA & ACHEBE: Power, Leadership and Identity. E-mail: Chido@USAfricaonline.com
———————————————